A hilarious account of life in the Army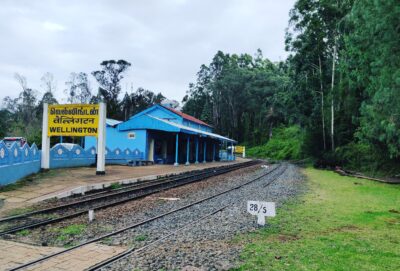 I used to be a prolific letter writer. That is until social media and cell phones took over and conquered the world. Along with writing letters, I also wrote my Dear Diary ramblings about the many cantonment towns I lived in over the years – Babina, Nagar, Suratgarh, et al. Dear Diary in Wellington was written at the turn of the century in the year of our Lord, 1999. It goes back to the days when the physical act of writing, the scrawl of the pen on paper, would make the words come alive. So, typing them out, I thought, would be different. Luckily for me, it wasn't to be as a delicious sense of déjà vu came over me as the words came alive on my screen. I hope the same feeling reaches out to you with the first of my ramblings, Dear Diary In Wellington.
Dear Diary,
Finally, I am sitting down to write the promised epistle. Let me start by telling you a bit about where I am these days – in Wellington, Tamilnadu, India (not the New Zealand one).
A quaint little hill station surrounded by tea plantations in the Nilgiri Hills, Wellington is blessed with 'salubrious' (favorable to health or well-being) weather, or so I am told every three minutes into a conversation with whosoever has lived there longer than three months. That said, its rolling landscape comes with stunning views that are straight out of picture-perfect postcards of old British Army Cantonments. Also, the mountain air here is so pure and bracing that it's only a matter of time before somebody makes their billions by packaging it into fashionable "wellness" la di da pouches.
Sounds like a dream place? Well, a wise man/woman/person said, "There are no free lunches in life". And this same person definitely said it with Wellington in mind and they were most certainly doing their Staff Course when they said it. I mean, how else would you explain the above visage of pastoral beauty packaged in layers of the ultimate in deception?
When I came to Wellington, I thought my days of being a lone ranger while the husband prepared for "the" exam were a painful albeit distant memory, much like childbirth and mom-in-law woes. Little did I know the fate that awaited me in the green-blue hills.
In the pre-Wellington era, at least some exchange of conversation took place in the breaks between studies. Now, the moments in a day I can talk to my significant other can be counted on my toes.
As for the kids, they don't even think their Dad lives with them. They have told their friends he's away to the deserts of Rajasthan on a scientific expedition to confirm that camels indeed are best suited to dwell in temperatures exceeding 50 degrees Celsius.
If that sounds like I'm coming apart at the seams, I'm not. As a matter of fact, I quite like this place and its sense of history. In fact, it is believed that even Winston Churchill stayed in Wellington for a brief period of time. I'm betting though that the brevity of his stay might have had something to do with Mrs. Churchill's ideas on the division of parental responsibilities.
Ok, maybe I'm losing it just a bit. You just caught me at a trying time, and though I am told it gets better from here, I am going to reserve my judgement until the evidence presents itself. I would hate for you to think badly of the many splendours of the magnificent Nilgiris, but with my rose coloured glasses a tad bit askew right now, Shelley's words offer some comfort, "If winter comes, can spring be far behind?"
Closing with the usual…much love,
Rashmi
[Note to self: Check if Shelley can be trusted…confirm if he was ever in Wellington.]

---
Read more articles by Rashmi B. Nayar

Share

Picture Credit : Simmi Waraich, Mohita Sharma
Thanks to Bundo Kim