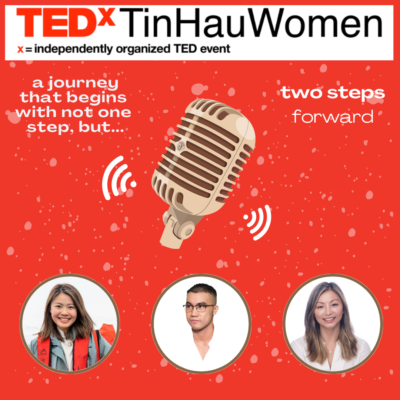 TEDxTinHauWomen is back with an impressive and varied line-up of speakers for their seventh year. This year's theme "Two Steps Forward", encourages transformation through action, however small, and promotes growth and positivity, revealing new paths. A long-standing event dedicated to women in Hong Kong, nine speakers with diverse, inspiring, and thought-provoking conversations take the stage on the 14th of November, 2023.
Coffee and Conversations sits with three speakers, Dr Laurena Law, Henry Tse and Natalie Chung to talk about their work and the message they want to send out through their talk.
Dr Laurena Law is a medical doctor who has worked in Hong Kong and Australia, focusing on women's health through menopause and midlife. She has also worked as a fitness professional and an athlete representing Hong Kong in Muay Thai Fitness and has competed in the Hong Kong Powerlifting Championship, placing first in her category in bench press. She is the co-founder of Choy Sum Health Clinic, where she and her husband combine spirituality with science for healthy longevity. By utilising health technology and lifestyle medicine, she empowers her patients to take a proactive, precise and personalised approach to optimal health and resilience.
What, according to you, are the top five concerns for women's health today?
Heart disease is under-recognised as the number 1 cause of mortality in older age and affects women of all ages.
Women will spend almost 40% of their lives in post-menopause with important biological and social changes that can benefit from more awareness, and access to information and services to better prepare women for this transition.
The risk of depression is doubled in women and timely recognition and treatment offer benefits and prevent critical consequences.
Women are twice as likely to develop dementia and need to be aware of the significant role that lifestyle behaviours play in prevention.
Overcoming the barriers in breast cancer screening in Asia where the uptake lags behind global rates.
Can you talk a little about why spirituality, along with science, is important for health and longevity?
Science has made remarkable progress in extending our physical lifespan by deepening our understanding of the human body and providing advanced medicines and life-saving procedures. However, health goes beyond the absence of disease; it serves as a reserve we can rely on during health crises until we recover. Spirituality, on the other hand, grants significance and purpose to our physical existence, irrespective of its length, state of health, or illness, and this significance is personal to each individual. It gives context to the physical body, helps us cope with challenges, supports psychological well-being and fosters connection with others.
What drives your passion and keeps you motivated in your work?
I believe everyone deserves the opportunity for a long, healthy, and pain-free existence. It is a privilege to support individuals in their most vulnerable moments and witness the positive transformations they are capable of achieving. I am thankful to have a profession that aligns with my passion and allows me to make a meaningful difference in people's lives.
Who's someone in your profession you really admire?
I must express my admiration for my mother, who is now retired as a medical doctor. As one of the few women in the field of medicine during her time, she faced numerous challenges. However, she persevered with remarkable empathy, integrity, and humility. She is truly exceptional in her interactions with colleagues, friends, and family, treating everyone with utmost respect. Even now, she continues to dedicate her time and knowledge to support those in her community. Her selfless commitment serves as an inspiration to all who know her.
What's one key takeaway you'd like the audience to remember from your presentation?
Regardless of age, initiating a journey towards a healthier life and discovering its meaning and purpose is always possible. It doesn't require overwhelming actions, extravagant gestures, or costly equipment. Instead, focus on simple and manageable steps that align with our capabilities and resources. The key lies in making choices that are within our means and abilities, and understanding that even small changes can have a significant impact on our well-being and overall health.
What does having a platform like the TEDxTinHauWomen to share your work mean to you?
It is a wonderful platform to raise awareness about women's health across the lifespan since we make up 50% of the population! And if we live long enough 100% of women will experience menopause. Its global and regional relevance allows an exploration of the unique impact on women as well as the broader community. With a diverse range of speakers and topics, it creates a valuable space for learning, mutual support, and advancing our collective work and passion.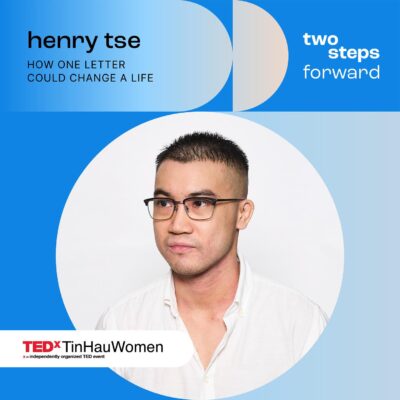 As an LGBT+ activist, Henry Tse has extensive experience in sharing his and other members of the LGBT+ community's stories with various stakeholders locally and overseas. Earlier this year, Henry won a 6-year battle in the courts against the Hong Kong Government for refusing to issue a male Hong Kong identity card because he did not undergo full sex reassignment surgery. In 2020, he founded Transgender Equality Hong Kong and now leverages his personal story as a vehicle to push for gender recognition legislation. Henry is the 2018 Community Business Transgender Inclusion Champion, a 2023 TIME Next Generation Leader, and a 2023 Tatler Gen.T Honouree. In 2020, he received the Pam Baker Human Rights Scholarship of LLM (Human Rights) Programme at the University of Hong Kong.
In your view, what is the biggest misperception about the transgender community?
Although things have certainly improved over the years, there is still a lot of stigmatization and misrepresentation of the trans community circulating in the media under the influence of yellow journalism. For example, one of the biggest misperceptions is 'letting trans people use the bathroom (or locker room) matching their gender identity is dangerous', applying this to my case that would mean I should use the female bathroom (lol).
What do you think are the biggest challenges facing the transgender community?
Not having the correct ID in our acquired gender is a burning issue for us the trans community in Hong Kong.
What drives your passion and keeps you motivated in your work?
I was forced to file the case in the beginning (in 2017) as it was the only viable way to live a normal life in Hong Kong. I became an activist as a result – the fact that I and many transfolk still don't have the correct ID and are not legally recognised is the main motive behind my activism.
Who's someone in your profession you really admire?
Professor Stephen Whittle, who is a legal scholar-activist. As a transman himself, he is a pioneer that made non-surgical legal gender recognition happen in the UK 20 years ago, paving the way for transpeople who came after him. His domestic and international advocacy work inspired me a great deal, and I had the honour to meet him in person a few years ago.
What's one key takeaway you'd like the audience to remember from your presentation?
Transmen are men, and we need our ID to reflect that.
What does having a platform like the TEDxTinHauWomen to share your work mean to you?
The global rhetoric around the LGBT+ movement is much dominated by the West. By taking part, I hope to show an important historic milestone in the Asian movement and bring our overlooked part of the world, one that takes up 60% of the world's population, to the international discussion table. While we need allies from around the world, I believe we have much to contribute to the world as well.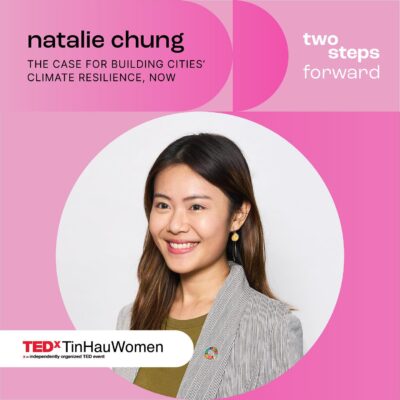 Inspired at the age of 11 by the polar explorer Dr. Rebecca Lee, the world's first woman to set foot on the Artic, Antarctic and Mount Everest regions, Natalie has established herself as a climate advocate and social entrepreneur. In 2015, she co-founded V'air, a start-up promoting sustainable tourism to enhance public climate literacy. Serving at the Council for Carbon Neutrality and Sustainable Development and the Green Tech Fund Assessment Committee of the Hong Kong Government, Natalie is accelerating carbon neutrality through research informing policies in Hong Kong and mainland China. In 2021, she was recognized by the Japan Times and Eco-Business as one of the most impactful youth climate leaders driving change in Asia. In 2023, she was elected as the only Hong Kong representative on the Dr Sylvia Earle Antarctic Climate Expedition, advocating for climate policies at the intersection of ocean conservation alongside 110 renowned marine biologists, climate researchers and policymakers. Natalie holds an MPhil in Environmental Change and Management from The University of Oxford and a BSSc in Geography and Resource Management from The Chinese University of Hong Kong.
How would you describe the current climate crisis in layman's terms?
"It is unequivocal that human influence has warmed the atmosphere, ocean and land." This quote from the UN IPCC report, backed by top climate scientists and policymakers globally, accurately depicts the climate crisis. Such changes lead to widespread and rapid changes in the atmosphere, ocean, cryosphere and biosphere. It is also worth noting that the climate crisis is largely caused by the burning of fossil fuel historically by more developed countries, but extreme weather events are disproportionately affecting the least developed countries, putting them in a vulnerable position.
"You can't have climate justice without gender equality." Please share your thoughts on this.
I echo strongly with this statement, particularly in Asia! Women in Asia are the solution to solving the climate crisis if we can develop and harness their compassion and long-term view to be natural stewards of the planet. For instance, gathering fuelwood for cooking is the daily chore of millions of women and children in China, posing a huge burden on them and preventing them from getting an education. Burning biomass also creates significant greenhouse gas emissions and indoor air pollution, posing threats to women's health and the climate system.
By investing in solar cookers or LPG cookers for women in rural communities, we can kickstart a positive feedback loop and bring enormous benefits to women and climate change. A study found that improved cookstoves can save about 60% of the time and human energy expenditure of women in Nepal, releasing their time for education and productive economic activities. It also reduces healthcare expenses from inhaling soot from burning fuel wood and cuts greenhouse gas emissions. This could contribute to preventing the next pandemic, given climate change is one of the drivers.
TEDxTinHauWomen provides the perfect platform to illustrate the intersectional linkage between climate and gender issues, which is also a theme at the upcoming UNFCCC COP28 Climate Change Conference in UAE.
What drives your passion and keeps you motivated in your work?
The global emphasis on sustainability has given me hope and keeps me motivated in my climate advocacy journey. During and after the COVID-19 pandemic, we observed surges of ESG, green bonds, and sustainable finance initiatives in Hong Kong, but there has also been a lot of greenwashing involved which we must be vigilant about. Moving forward, I think it is integral to match visions with actions on the ground. When we are planning the new era of the city and mobility systems, we should ensure that our plans are in line with climate resilience.
In Hong Kong, we witness approvals for infrastructure projects that are vulnerable to climate impacts like extreme weather events and rising sea levels, at the same time causing irreversible ecological damage to the natural environment. Historically, the infinite growth mentality is rooted in Hong Kong as a capitalist society. As an advocate, I hope that Hong Kong can pursue quality instead of quantity, thriving instead of growing. I hope to urge our government to adopt the "doughnut economy" mindset, where we meet basic societal needs and narrow inequality without surpassing the environmental thresholds, altogether ramping up our ambition to tackle poverty, inequality, social mobility and climate justice.
Who's someone in your profession you really admire?
Dr Rebecca Lee and Dr Sylvia Earle. Back in primary 5, I conducted a school project on "Climate Change – What can we do?". Our teacher reached out to polar explorer Dr. Rebecca Lee to conduct an interview with us. She shared photographs of melting glaciers, and starving polar bears and shared an analogy, "The earth is trapped in a microwave, with continually escalating temperature". These powerful images have been engraved in my mind ever since, inspiring me to care for our planetary well-being and paved the way for my climate advocacy. Fast forward to 2023, I had the incredible privilege to be part of the Dr Sylvia Earle Antarctic Climate Expedition, following the legacies of Dr Lee! The expedition has been crucial for reinforcing my storytelling capacity, through witnessing the change in the cryosphere first-hand in the Anthropocene.
What's one key takeaway you'd like the audience to remember from your presentation
One of the core messages from the presentation is the superpower of the ocean. We tend to focus on terrestrial climate solutions and overlook the crucial role of the ocean in mitigating the climate crisis, as well as fostering adaption and resilience. Through illustrating examples of how we harness the ocean and blue carbon in Hong Kong, I endeavour to illuminate hope and incentivize individual action on marine conservation. You can start today, by switching from Antarctic krill oil to the more sustainable algae oil! Learn more about the importance of krills to the Antarctic marine ecosystem through my reel, as part of the deliverables for the Antarctic Climate Expedition I attended in February 2023 with Dr Sylvia Earle and international experts!
What does having a platform like the TEDxTinHauWomen to share your work mean to you?
I am extremely fortunate to stand on the TEDxTinHauWomen stage as a female climate advocate. Through this experience, I hope to instil a sense of urgency to awaken urbanites living in skyscrapers to reflect on climate resilience. I especially hope to inspire young people to dedicate their time or even careers for climate action. I also aim to form partnerships and coalitions with other women and HERoes in the audience to co-create innovative, interdisciplinary solutions to accelerate progress towards a more adaptive and resilient society. I would like to take this opportunity to thank my mentors and coaches – Treena, Samantha and Amanda, my stylist Amanda, as well as the rest of the TEDxTinHauWomen team for all their support throughout this inspiring growth journey!
You can check out the full lineup here. Book your tickets, and prepare to be inspired and transformed.