With #makeup at approximately 270M posts and #makeuphygiene at 500+ on Instagram, there is a flood of information about makeup, DIY skincare, hair styling, etc.on social media. The beauty and skincare industry is constantly selling new products, treatments, and trends with celebrities and influencers talking about them. Unfortunately, as many countries don't have written guidelines and licenses for the Makeup and Beauty service sector, it raises a big concern about the safety and hygiene behind the beauty industry. It is quite easy for anyone to put a kit together and become a makeup artist or install two mirrors with lights and open a studio, salon or even an academy!
Today, the threat of the Corona virus has ensured the use of hand sanitizers, bacterial wipes, paper towels, and masks the world over. While bacteria and viruses are microscopic organisms that have always existed and are easily transferable (cross-contamination), they are not as deadly as the COVID-19 but can still be very dangerous and harmful. Imagine what all is passed on while doing makeup or a facial from one client to another through the tools and products if they are not properly cleaned and sanitized.
Do you know that after our mouth, our eyelash area has the most bacteria and not to mention other microscopic organisms as well? If proper precautions are not taken, these are then picked up by the mascara wand, put back into a dark moist tube to multiply and grow till it's used again on the next client. So, you are potentially putting yourself at risk of contracting pink eyes, conjunctivitis, or worse. There are many such aspects that are overlooked and neglected in the beauty industry and quite often people are not even aware of such practices.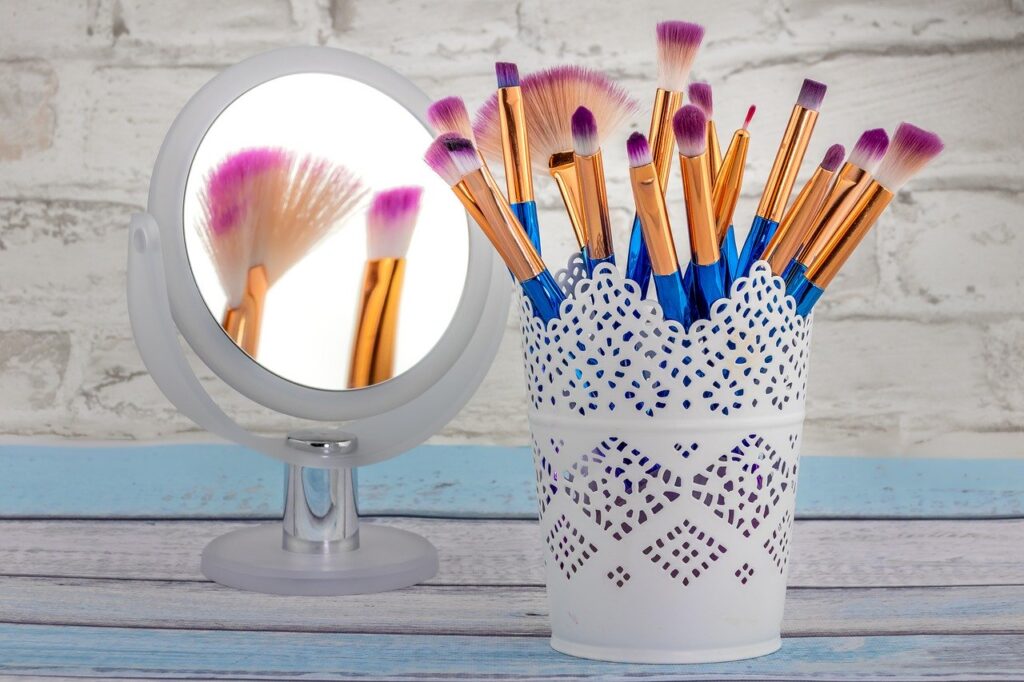 Here are some tips to get you started on some good hygiene:
Do not dip your fingers in jars, instead use clean sanitized spatulas.
Do not share mascara, eyeliners, kohl pencils, lip gloss, or lip balms, basically anything that is touching your skin directly with anyone else.
When getting makeup done by a professional, make sure they cut off the wands and use disposables.
Use Isopropyl alcohol (Iso) 70% – 90% to disinfect all your tools like brushes, tweezers, lash curler, spatula, mani-pedi tools, etc. (less than 70% is not effective and more than 90% evaporates too fast)
All powder products should be sprayed generously with Iso. It dries up quickly and doesn't change the product at all.
Sponges – For personal use, you can shampoo and then microwave in a bowl with water and lime juice or vinegar for a couple of mins. Professionals should use disposable sponges
Add two tablespoons of Hydrogen peroxide (easily available at a pharmacy) in your mani-pedi water.
Do not allow your beautician to blow air on the hot wax while waxing or on the brushes as it carries saliva particles
Check the expiration date of your products. If it looks or smells funny, chuck it out and buy a new one.
All pencils should be dipped in Iso and then sharpened. Sanitize the sharpener too.
These tips are highly advised and should ideally be followed by professionals and anyone doing makeup on themselves and clients. When you go to get services done at salons or from makeup artists, if they are not following these practices you can always request them to do so. Ignorance is not bliss and prevention is always better than cure. Cheers to looking beautiful and healthy.


---
Share
---
Image by analogicus from Pixabay