---
The Beginning
Himalini and Santayan graduated with Masters of Design (MDes) from the National Institute of Design (NID) Ahmedabad in 1994. With specialisation in Communication Design and Product Design respectively, they both are at the helm of the Thoughtshop Foundation, an NGO based in Kolkata.
For Himalini, NID was the opportunity to learn skills to raise awareness on social issues. That desire came from "having an older brother born with cerebral palsy and seeing my parents creatively solve problems to address his special needs. People would stare and mock my brother, which made raising awareness integral for me. My early projects involved working with Delhi's street children shining shoes or picking rags. The streets were their 'living school'. Being accustomed to so much freedom, bringing them into a conventional classroom was almost impossible. I attracted them to learning sessions, under pavement street lamps, by creating pictorial playing cards and film poster-inspired board games (A is for Amitabh) using pictures of Bollywood stars that they were obsessed with. It was here that I discovered the power of games."
Santayan introduces, "for my first project at design school, I chose to work with blind kids at a school. It was a joy to meet kids who were not the least self-conscious of their 'disabilities'. My meetings with them yielded a solution – a set of squishy building blocks, as large as the children themselves, that sighted and blind children could enjoy together. Later, I joined a tech company where I built an interactive game to teach kids the basics of music. Building on those early experiences over 30 years, we focused on young people and developed games and other creative techniques to raise awareness on subjects like sexuality, gender-based violence, fundamentalism, and taboo issues."
In the mid-1990s, HIV/AIDS was raging and Sex Education was unmentionable. Thoughtshop Foundation published a half-page interactive newspaper feature called 'the ASK columns' to reach out to school-going students, answering their questions about sex and sexuality. It was like opening Pandora's Box; thousands of letters poured in. While some parents supported the endeavour, others lashed out saying these were inappropriate ideas for the minds of their innocent teenagers! These popular, yet highly controversial columns led to a fiery debate for over a year. The letters affirmed the urgent need to continue this conversation with diverse youngsters. This sparked a series of future initiatives, including a helpline, and a peer education programme.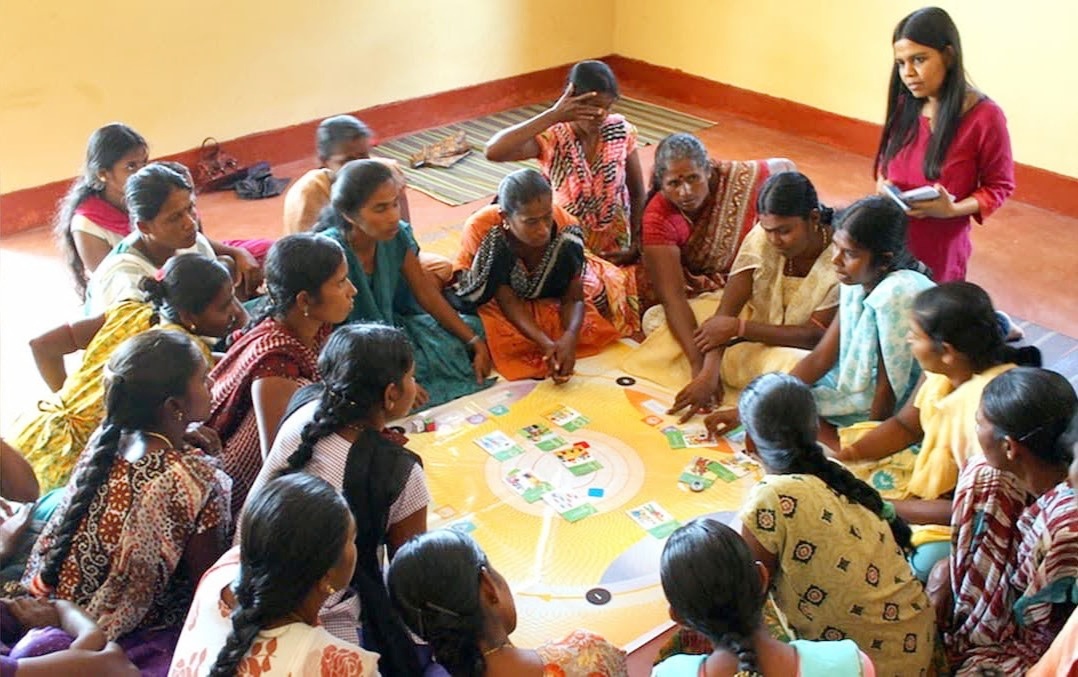 How tools are created
Santayan explains, "the first step to developing any tool is to experience empathy. For example, in order to empower rural women against domestic violence, we first meet the women, village influencers, and field workers, and understand the barriers and nuances of their lives, using a participatory process to craft the key messages. Then we ideate to make graphical tools – thought-provoking yet non-threatening, playful, and memorable. Next, a prototype is field-tested for an emotional response from the community. We observe how the audience interprets images, connects with the stories, and whether the games enable a safe space for dialogue. The toolkit is then refined, produced, and field workers are trained on its use.
Thoughtshop Foundation's crafts pictorial toolkits and games are used across diverse contexts in multiple languages. To ensure longevity, content is updated to keep up with evolving ideas. The Champa Kit, for example, is in its 18th edition in 2022!
Thoughtshop Foundation pictorial tool on Gender reached another five million users across India and neighbouring countries – Bangladesh, Pakistan, Nepal, and Sri Lanka. This was achieved by the 'We Can Campaign to End Violence Against Women' (2006-2011), in which TF was the communication partner. Today, hundreds of partners across 20 states in India, Tanzania, Philippines, Indonesia, Myanmar, and South Asian countries use a range of Thoughtshop Foundation toolkits and games.
The Youth Programme
"Everything we have experienced through social-design partnerships has contributed to the building of our own flagship programme – Youth Resource Cell (YRC) – now in its 15th year. Designed in partnership with youth, it transforms the lives of young people coming from resource-poor, marginalised, rural, and urban slum communities, where the experience of severe violence and discrimination is normalised. The curriculum focuses on inner transformation and resilience building. It explores themes like self, empathy, values and ethics, goals, happiness, life skills, child rights, gender, sexuality, and identities.
"Initially, participants were 18 years or older. We soon realised that to afford any protection from harsh life experiences, we needed to start with younger people. YRCs are now open to children aged six till they are young adults. Starting with eight young men and women in 2007, presently, there are 2200 children organised in 117 support groups, managed by 150 peer mentors.
"The YRC model's sub-programmes strengthen collectives, address healing and well-being, gender and sexuality, education and livelihood. Youngsters, parents, and stakeholders are collectively working towards building inclusive, violence-free communities where children live free of violence and grow to their fullest potential," details Santayan.

Himalini takes over, "Childhood abuse triggers trauma responses, and this reduces the ability of children to cope with life. They barely make it through school and are constantly looking for an escape through risky relationships, early marriage or addictions. They make unsafe decisions, and their lives go into a downward spiral.
"The only way to provide constant support to hundreds of children across remote locations is to enable young people to help each other. When young people imbibed listening skills and developed empathy, the healing process began, and magic happened! The experience of being seen and heard was critical for children to begin their healing journey.
"Our Theory of Change starts with Belonging – a safe space that accepts the child unconditionally. This sets the ground for the journey that follows – Belong – Heal – Explore – Confront – Lead. Each word represents a significant stage in the journey to leadership. Participants move back and forth through these stages as they navigate their lives."
Thoughtshop Foundation's USP
"We believe our Design background gives us a distinctive approach to problems and solutions. We chose to apply Design in the development sector back in the 1990s, even though professionals from the Social Sciences stream usually helm NGOs. 'Social Design' is only now emerging as a specialisation in Design schools, where the traditional curriculum mainly served the needs of industry" Santayan sums up.

Contact details:
Thoughtshop Foundation
Address: 2nd floor, 456 Block K, New Alipore, Kolkata 700053
Email: [email protected]
Website: https://thoughtshopfoundation.org
Social media:
---
---