With Photographer Sujata Setia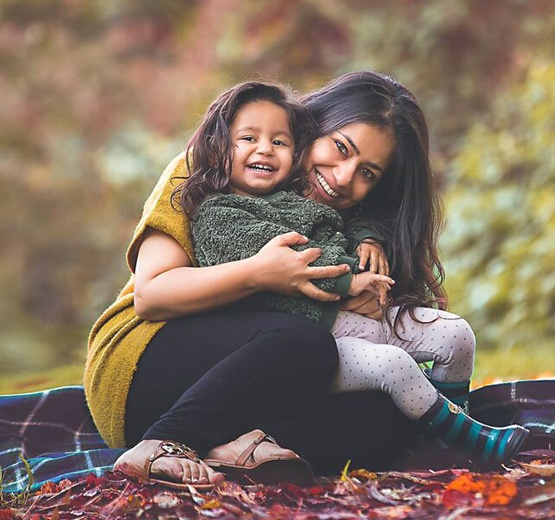 Sujata Setia is best known for her award-winning photography skills and her evocative storytelling through her brand Butnaturalphotography. Having chanced upon photography eight years back, Sujata's work has since gained international recognition. She is a recipient of many prestigious awards, the most recent being the TIFA (Tokyo International Photo Awards) photographer of the year. Setia has been featured in the New York Post, Good Morning America, Forbes, Huff Post, to name a few, and is also a professor of photography at Spain's most reputable photography institute EFTI.
Diverging from children and family, Sujata has launched a new series called Changing the Conversation, which is raw, powerful and captures beauty in unexpected places. Born partly out of grief after losing her mother in 2019, Sujata admits that the loss impacted her personal and professional life. Even to the extent that the famed photographer had trouble picking up her camera and capturing "happy childhood moments". It wasn't until Aayat, Setia's eight-year-old daughter started asking questions about how she looked, whether she was a pretty girl or not, and started having conversations about people's physicalities that Sujata got drawn to the idea which became Changing the Conversation.

"I wanted to change the narrative around how beauty is perceived for my daughter's generation, and at the same time honour my mother's memory. Coming from a very patriarchal society and family, right from childhood, I was told that my main purpose in life was to get married. It was my mother who insisted from day one that she didn't want me to live the life she had. She taught me to think of myself and everyone as equals and to appreciate everyone's differences."
The journey has been one of exploration for Sujata, who confesses she doesn't completely understand the extent of what she is currently doing or how far it will go. "I can't fully describe its horizons, and I don't want to", she adds. "There is so much that needs to change in this world, and so much we all can do. Changing the Conversation started as a series on mothers from different walks of life. My first shoot was with Amber, a mother who gave birth to a 13-pound baby and is left with what I call medals of honour on her body. When I encountered Catrin, a 96% burn survivor, I realized that there was a lot more for me to tell about changing the narrative than just through motherhood. I thought I would build awareness around scars, internal and external. Encourage conversations through photography not only around people's visible scars but also around invisible scars people carry within, dealing with depression and mental health issues. From Catrin onwards, the direction of this project completely changed for me."
Attaching a mission to her work isn't new for Sujata, who first picked up a camera not out of developing a hobby or a career but to get herself through post-partum depression. When asked precisely which conversations she wants to change, Sujata says for her, "it has now boiled down to moving out of the borders or prisons of binaries. I want my photos to show that nothing is either this or that; that the world isn't just good or bad, pretty or ugly, man or woman. There are a lot of in-betweens within those definitions, and that's what I want to shine a light on. Expanding our view on humanity and extending the definition of normal is what I want to do."
Sujata's editing style, which has won her numerous awards, "enhances, romanticizes and exaggerates the beauty of what I see through my lens." Setia has changed how she shoots and edits her work with the new series. "It's been a long journey for me. I was used to romanticizing childhood and, in a way, making images better than they were. Since I was a child, the concept of beauty and beautifying things was strongly embedded in me, so even when I approached photographing Amber, I wanted to glorify and beautify her battle scars. I edited the first set of pictures from this series as I had my others, but I realized I wasn't doing justice to them at all. On the one hand, I wanted to change the conversations around what is perceived as beautiful, and yet, I was editing these photos to make them better and was taking away the reality. I decided to keep these photos as real as possible because only then will my captures be true to their purpose and honest to the movement and the people in front of my lens."

Another important realization Sujata had during this process was that many of her subjects do not want to be tokens of inspiration or be put on a pedestal. Some have expressed that they don't want the world to assume that they stand for anything other than people who are just trying to live their lives. "I just feel people need to understand that we are no different from you and so we should be treated the same way as you. We just need extra support", says Shelby who educates about disabilities through humour and trends on Instagram and Tiktok. Ultimately they all would like for the series to accomplish inclusivity and better representation.
Sujata admits her work has taught her "huge lessons in life." She concludes our conversation with a wish said out loud, for the world to be "just a large landscape of normal people." "Sharing these visual stories through Changing the Conversation is a big step in redefining what normal means for most of us. My intent is to expand the word to include everyone regardless of what their life choices are or what they represent."

---
---
Share

Picture credit : Sujata Setia