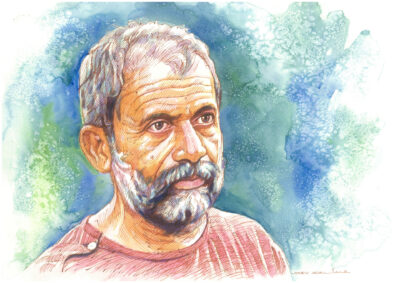 In 1983, the turning point in the 2019 Padma Shri recipient Dr Ravindra Kolhe's life came while reading David Werner's book, 'Where There is No Doctor'. The cover showed four people carrying a patient, with the caption 'Hospital 30 miles away'.
This ended the 23-year old's dilemma about "starting my journey to help those deprived of medical aid." His disappointed father, Mr Deorao Kolhe, realised Ravindra, after graduating from Government Medical College, Nagpur, had no intention of returning to Shegaon as the first doctor in the affluent Kolhe family.
Born in 1960, and inspired by Mahatma Gandhi and Vinoba Bhave, he reminisces about the advice Dr Jaju, his college professor, gave. "He counselled that before practising in remote places one should master three skills. First, delivering a baby without the facility of sonography or blood transfusion; secondly, diagnosing pneumonia without an X-ray machine, and thirdly, curing diarrhoea. I spent six months in Bombay learning these techniques."
In the mid 1980s he explored remote areas in Maharashtra and neighbouring states and 'found' Bairagarh in Melghat. The motorable road from Amravati ended at Harisal. From there Bairagarh was a 40 km walk.
"I started my practice in 1987 charging patients Rs. 2 for the first consultation and Re.1 for subsequent visits. On Day 13, I was confronted by my inadequacy. A man had lost his hand in a blast. Not being a surgeon, I didn't know how to treat him. So, I returned to Nagpur, did my MD in Social & Preventive Medicine before going back."
In 1989, deciding to get married, Ravindra searched for a like-minded life partner willing to face hardships like the 40 km trek from Harisal and agreeing to a Rs. 5 court marriage. His wife would have to run the house with Rs. 400 – his monthly earnings of one rupee for an estimated 400 patients. And also, not be ashamed to beg – not for herself – but for those who needed it more than them.
After being rejected by almost a hundred girls, he met his bride Dr Smita Manjare, 28, a well-established Homeopathy and Ayurvedic practitioner in Nagpur. She willingly married Dr Ravindra with all his constraints.

"Restarting my clinic in 1989, I had three patients on Day 1. Within 15 days this increased to 25, and since then, there's been no looking back. People started believing in medical science. Though some superstitious minds still take help of tantriks," he says.
Two years later, Smita, expecting their first child, came in as the 2nd doctor. During pregnancy complications arose and the baby was born with meningitis, pneumonia and septicaemia. Options were to take mother and child to the nearest hospital in Akola – or for Ravindra to continue treating them. Smita decided to stay. This gesture, of 'being one of them' instantly won her unconditional approval and respect from the villagers.
"The Infant Mortality Rate (IMR), an alarming 200:1000 infants in 1990, is reduced to 35:1000. The Integrated Child Development Services (ICDS) run by the state and funded by UNICEF largely benefits pregnant and lactating mothers and children. Earlier, fatalities in Melghat were due to malnutrition and illnesses related to underlying poverty which had slowed socio-economic development and reforms. This has since been gradually 'cured'. Health has improved manifold and electricity is presently supplied to about 95% of the community," expresses Dr Ravindra.
Hearing about the Kolhes' work, Mr Nitin Gadkari, then Minister of Public Works Department (PWD), visited Bairagarh. While impressed at Bairagarh's progress, the Minister was appalled to see how simply the Kolhes lived. He offered to build them a home. Instead, Dr Smita asked for roads and connectivity. The PWD has since provided all-season roads connecting over 90% villages while the remaining 10% are located in forested area.
Drs. Kolhe's successful record in improving human health, led the tribals to request them to treat their cattle and initiate improved farming. Dr Ravindra learnt animal health skills from a veterinarian friend and studied agriculture at the Dr Panjabrao Deshmukh Krishi Vidyapeeth, Akola.
Introducing soya plantation in Melghat was Dr Ravindra's concept. His elder son Rohit, 30, commenced farming earnestly in 2005.
"Initiating profit-oriented mixed farming for tribals, we graduated to forest conservation and helping farmers predict drought over a four-year cycle. We advised them about high yield seeds and contemporary agricultural practices for cash crops like turmeric, watermelon, melon, ginger, garlic and taro," says Rohit.
Younger son Ram, 24, upon completing MBBS from Government Medical College, Akola, works at Dharani Government Hospital and wants to follow in his parents footsteps. Educated in Bairagarh, he appeared for Class 12 in Dharani. While applying for admission to medical college, many prestigious, private institutions invited this son of the renowned and respected Dr Ravindra Kolhe – offers which he refused. He achieved admission on his own merit.
The Patriarch affirms, "I am blessed to have Smita, my sons Rohit and his family, and Ram accepting my lifestyle deprived of the luxuries of city life. Their support has brought me this far."
The Public Distribution System (PDS) introduced here, ensures adequate food supply and rations for all. Some villages still face difficulties due to their inaccessible locations and bad road connectivity during monsoons.
Over 34 years later, Dr Ravindra's one rupee charge for his patient remains unchanged. Recognition has come in the form of media coverage and awards, which he only accepts because these make his father proud.
"I have really done nothing extraordinary for Melghat residents. Just been trying to give them what they should have got from the state long, long back. Change is inevitable. Future plans include building awareness of the numerous welfare schemes, so they can access their rights. Along with this, education will be our prime focus. It's still a long journey towards making these people self-reliant," concludes the 61-year-old doctor-cum-farmer humbly, whose outreach has encompassed 200 of the 317 villages.
"Above all, Dr Ravindra Kolhe has transformed Melghat into a Farmers' Suicide-Free Zone," signs off Rohit proudly.

Contact:
Dr. Ravindra Kolhe: Tel: +91-9404105180
Email: [email protected]
Rohit Kolhe Tel: +91-9371717522
In conversation with Vaibhav Sonone, Dr Kolhe's Manasputra
---
Share