Educating the Visually Impaired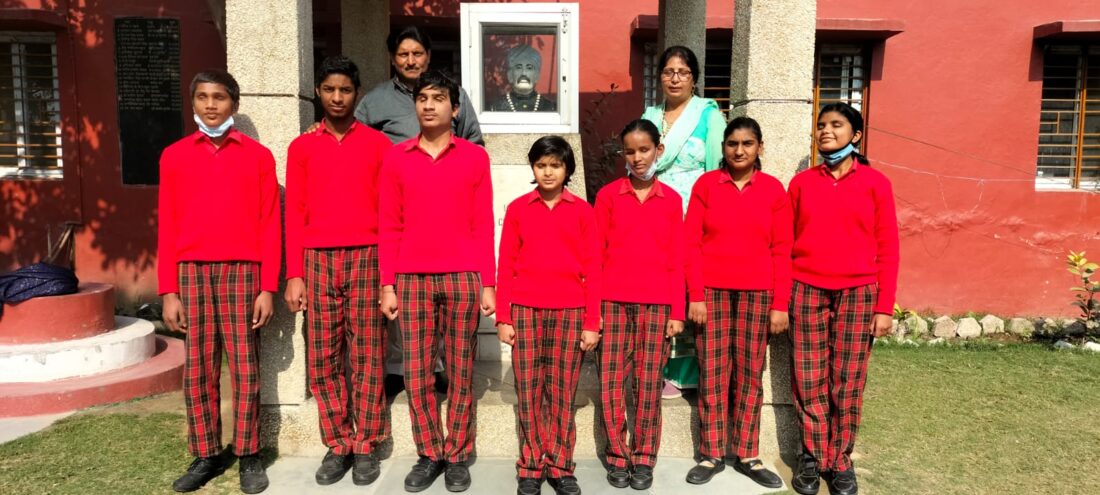 Two brick red buildings stand side-by-side, with a portrait statue of Captain Chandanlal on a column in front. The residential and educational premises of the Capt. Chandanlal Special School for the Blind (CCSSB) in Gurugram, is located on land donated by the family of the late Captain.
On a cold winter morning in late December 2021, along with three friends, Deepanjali Bhargava, Muskaan Rajwani and Rakhee Bajaj, we visited the school-cum-hostel. Our first-time there stretched to over two hours as we got absorbed in the gratifying experience of memorable interactions with the teachers and students.
In a middle-level class, using their Braille books, Desh Raj, 14, read an English story, followed by Nandini, 12, reading competently in Hindi. Next, a class of the little ones played music, which is one of the multifaceted activities taught.
Sanjeev Anand, 53, Administrator and Account Assistant, has been associated with the CCSSB since its inception in 1994. Earlier, from 1991 he was Project Officer at Golden Age Centre for Elderly Blind in Gurugram for three years.
He introduces, "the main mission of this free residential school is the rehabilitation of the students to make them self-reliant so they can stand without any hesitation in front of sighted students. Starting from pre-schooling for 5-6 years old, teaching continues here till Class 8. A range of extra-curricular activities such as music, dance, drama and yoga are also conducted."
The privately-owned school run by the All-India Confederation for the Blind (AICB) was established in August 1994 with a strength of 20 visually impaired students. Of the four founder members, Rao Chaturbhuj Singh (recipient of Haryana Gaurav Award), Dr. Amna Kumar and Dr. Inderjeet Singh Yadav are the three sons of Late Captain Chandanlal Bahadur who served in the British Army (1885-1969). Along with them is Padma Shri Mr. Jawahar Lal Kaul General Secretary AICB.
According to the Government of India's Ministry of Social Justice and Empowerment regulations, residential facilities for visually impaired students are permitted to start a special school for which the Ministry gives a grant of up to 90% against expenses of the facility.
Says Founder Mr. Kaul, "we received the first amount from the Ministry during the financial year 1995-96 and continued receiving Government grant up to 2019-20, though with considerable delay each year. I am disappointed and disillusioned by the lack of support especially at the time we needed the funds. We now depend on Corporate Social Responsibility (CSR) donations which is the backbone of financing our institution to some extent. These have come in from Mitsubishi Electronic Automotive India Pvt. Ltd., Amway India Enterprises, JTEKT India Ltd. among others. For vocational training, support is received from Wipro/CAF."

Principal Neena Rani Aneja, a double Masters holder in Arts and Education, spent two years teaching in regular schools, before following her calling. A short-term course in Braille and on handling visually impaired children added to her skill sets as she joined CCSSB in 1999 as an English teacher.
"In 2007 I took over as Principal, and since then have introduced newer, contemporary methods for overall development of our children. Among these were talking toys, yoga, meditation and regular outings. One of the best forms of entertainment is taking them to the movies. Besides the dialogues and songs, these films are specially adapted for the visually impaired with an audio description detailing the scenes. 'Sholay', 'Lage Raho Munna Bhai' and some others have been great favourites. Their excitement in the theatre is so wonderful to see. Every Saturday a 'bal sabha' is organised on the school premises which includes debates, storytelling, poetry recitation, quiz and riddles. More significantly, our children participate, with notable success, in co-curricular activities and competitions with students from regular schools," affirms the 52 years old educator.
In addition, the students are taken for picnics to places like 'Fun n Food village. Sports such as cricket and increased involvement in outdoor games is encouraged. Good weather prevailing, classes are held outdoors in the school park.
"The most critical lesson I have learnt from my experience here is that children don't need sympathy. Instead, they need guidance and motivation – and crave for our love – to build their self-confidence and excel in life. It is with pride that I see many of our students hold good positions in banking, railways, teaching and other jobs," she says with satisfaction.

As we leave the premises to cheerful goodbyes from the children, we four visitors exchange our thoughts.
Muskaan starts with, "This visit and the fact that the children are full of life, has been an eye-opener for me. They seemed to be least affected by their deprivation. Interacting with them I felt so humble! I feel fortunate to be blessed by my vision. I thank God for having given me a chance to do something for these Angels of God…"
Rakhee follows up with, "While we take our basic body functions like sight for granted, meeting these children was both an overwhelming and amazing experience. Seeing them learn various significant life skills from their genuinely dedicated teachers has helped them lead their life with dignity."
Deepanjali adds, "The children's spirit, resilience and determination that education was the sole means of their liberation was awe-inspiring. I came back from our visit humbled in the face of such fierce courage."
For me, it was the positive atmosphere created by an inspirational faculty comprising some visually impaired teachers. Their handling of these intelligent and eager-to-learn students is awesome. An interesting fact was that not a single child here is an orphan. They all come from caring homes.
While passing Capt. Chandanlal's statue again, one remembers his firm conviction in caring for the blind. In the past 27 years, CCSSB has changed the lives of over 325 young people. Of these, approximately 200 ex-students are working routinely in the public and private sectors. He would certainly be pleased with the outcome.
Read More
Padma Shri Jawahar Lal Kaul – India's Visually Impaired Pioneer
Baljeet Singh: The Sightless Trailblazer
Kamlesh: Overcoming Blindness with Positivity
---
Contact:
Administrator: Sanjeev Kumar Anand
Mobile: +91-9910839475
WhatsApp: +91-9315511669
Landline: +91-124-2215165
Email id [email protected]
Principal: Neena Rani Aneja
Mobile: +91-9213190590
Email: [email protected]
AICB Capt. Chandanlal Special School for the Blind
Sector 71, Village Behrampur,
Gurugram – 122101, Haryana.

---
---

Share

Image Credit :