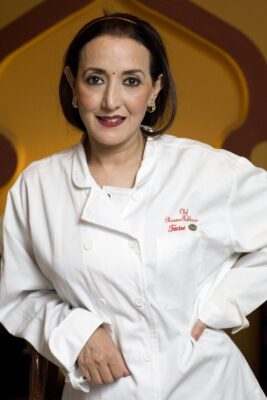 Among the Indian Entrepreneurial Diaspora is successful celebrity chef Reena Pushkarna in Israel.
Her numerous victories are inspirational to every Indian seeking a place in the sun.
Cooking with Chutzpah for Dignitaries
Israel based Indian chef Reena Pushkarna is no stranger to celebrities. Her first VIP guest at her Tel Aviv restaurant Tandoori in 1990 was Prime Minister Benjamin Netanyahu who brought Sara Ben-Artzi while courting her.
Move forward to October 2015. Indian President Shri Pranab Mukherjee visited Israel at the invitation of President Reuven Rivlin. Then in July 2017, Prime Minister Narendra Modi landed in Tel Aviv, becoming the first Indian Prime Minister to visit Israel.
A common link between the Indian Head of State and Prime Minister was their meals being catered by Reena Pushkarna who runs eight Indian restaurants and seven fast-food establishments in Jerusalem, Tel Aviv and Herzliya Pituach. Beyond this, she helms the catering for the accompanying Indian delegations and various interrelated receptions.
During the 2017 visit, PM Netanyahu and his wife Sara hosted a private dinner at their home for PM Modi. Reena recalls, "It was a warm meeting between both the Prime Ministers. Two intelligent, stable brains who, over the years have become great friends and see the future. To an extent, this brand of politics was happening over meals. Matter of honour and pride for me that I was in charge of their food."
Each dignitary's visit takes about a month of advanced preparation. This involves proposing menus, non-availability of certain spices in Israel, and under 'kashrut' (Jewish religious laws concerning the suitability of food) why certain vegetables are not prepared. Security procedures involve each ingredient being checked.
Reena's first state visit to India was in 2003 as a member of Prime Minister Ariel Sharon's business delegation. He introduced her as the Chef who had taught Israelis to appreciate Indian cuisine.
In 2014 Reena was invited to Prime Minister Narendra Modi's swearing-in ceremony. She assesses him as a man "who does not look at you from 'above', no matter who you are. He looks you in the eye when he speaks to you."
Her entrepreneurial priorities are clear! Yet, she has no airs about her iconic status in the gourmet world. "In our business, you have to leave your ego at home," is the restaurateur's maxim.

Imbibing Culinary Skills Enroute to Israel
Born in 1958 to a Sikh army officer father and Iraqi-Jewish mother, popularly known as the Curry Queen of Israel, Reena has a motivating tale to tell. "In 1975, as a 16-1/2-year-old teenage bride, I was married to 20-year-old Vinod Pushkarna, a sailor, whom I first met when I was 12. After his Marine Masters, Vinod became a Captain in 1977. During the nine years onboard, like all sailors' wives, I too was lonely. My interest in the kitchen became my 'Nine years of Cordon Bleu'. The chefs from different countries got me to learn their cuisines."
During an earlier stopover at Port Haifa, the couple decided on returning to Israel. In 1983, Reena and Vinod opened Ichakdana, cashing in on Raj Kapoor and Awara's popularity. Menu comprised chaat and vegetarian thali meals.
"Initially Ichakdana would be empty as little was known about India or its vegetarian cuisine. Our neighbouring mid-eastern restaurant would be full, and they would borrow our tables and chairs. Slowly, the Indian community started coming at night, playing old 'filmy' songs on their transistors. Soon we were borrowing our neighbour's tables and chairs," she recalls.
Simultaneously, Vinod went back to sea. "Upon his return to Israel, we packed our bags for India. I requested him for another chance to open a non-vegetarian restaurant for the grilled meats loving Israelis. Tandoori opened in November 1984. Initially, when friends visited, I made them sit by the window so that passers-by would see 'diners' in 'busy' Tandoori. My practice of serving complimentary chicken tikkas or Nargisi koftas to our customers then continues even today," Reena discloses some trade secrets.
PRESKO – A Family Corporate
In 2003, Reena and Vinod established PRESKO Food Industries. As premier manufacturers of kosher Indian ethnic food, PRESKO supplied meals to the Israeli army, Indian Peace Keeping Force at Golan Heights, El Al Airlines, Korean Air, Air India, Unilever – and globally.
The Pushkarnas' daughter Sarina arrived when Reena was 18, with son Kunal coming four years later. The mother informs, "Sarina, who is my best friend too, started working at our restaurants from the age of 14. Based in Singapore with her husband Raj Sundarason and three children, she is Associate Director, Global Media Communications, with Marina Bay Sands.
"Kunal 39, and father of two, spent seven years in Singapore and introduced Israeli cuisine through Pita Pan at Marina Bay Sands and the Venetian Macau. Now back in Israel, Kunal works with us in the Tandoori Chain and has launched his Tika Pika venture", says the proud mother of two and grandmother of five.

Additionally…
Unable to fulfil her dream of going to college, Reena believes life's ultimate experiences come from the University of Life. "In the late-90s, my close encounter was addressing 900 MBA students at America's Maryland and Georgetown Universities. I stood there proudly in my salwar-kameez, enhancing my Indian identity further."
Back home, Reena's Wednesday cookery shows have over 150 of her recipes online on Ynet. "I love acting and am constantly joking, laughing and dancing whilst cooking on TV. The child in me keeps me youthful – minus the facelifts and Botox – letting me grow old gracefully," she quips.
Reena quietly does her philanthropy working with trauma units. She is on boards of associations for the old and helps new Indian immigrants settle in Israel.
"Proud of my heritage, my motherland will always remain India. My fatherland is Israel. This is my story and my children have taken up where I will leave off."
Reena Pushkarna is an eternal optimist with a passion for life, and for people. Her eyes full of dreams turn them into reality – as her heart is in the right place.

Contact Reena:
Tel: 0508228843
Email: [email protected]
---
Share

Picture Credit :