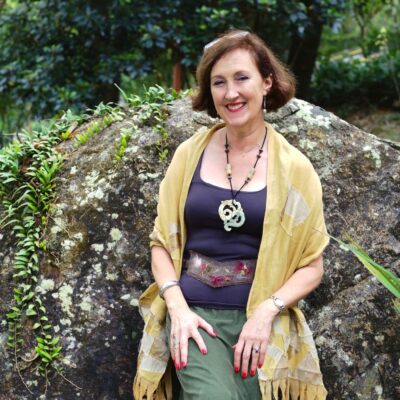 Sarah Brennan first started writing stories and poems when she was seven years old. The Tasmanian born author has come a long way since then, authoring over 12 books to date. Her collection of the Chinese Calendar Tales, children's books written in rhyme about the animals of the Chinese Zodiac, and illustrated by the iconic Hong Kong cartoonist Harry Harrison is now a collector's item. Her picture book Storm Whale, illustrated by award-winning artist Jane Tanner has been shortlisted for several literary awards in the UK and Australia. 
Having met Sarah, I can assure you that her books are engaging, funny, imaginative, and heart-warming because they reflect the author herself. Known for her animated and energetic storytelling, Sarah captures the imagination of readers on and off the page.

As Sarah describes her recently released pre-teen book, The Marvellous Adventures of Maggie and Methuselah: A Mystery in Hong Kong, is her "love story" for a city she lived in for 22 years and adores even now.
The story centres around a girl called Maggie, her best friend Edmond and her African Grey Parrot, Methuselah. The threesome depart on an adventure trying to solve a long-standing mystery of the famous Chater Paintings in Hong Kong, all the while creating complete havoc at the Governor's house, ruining official events, exploring dark caves and hiding in massive drums. The book not only takes you on a fun, humorous adventure through its characters but also gives the young readers a history lesson, educating and informing them about the World War II history of Hong Kong.
Currently planting a garden in her beautiful home in a little village in southwest France and enjoying the French countryside, Sarah may have left Asia's complex and diverse culture, but it continues to inspire her writing.
Sarah loves enticing the minds of young readers with intelligent humour where they can learn something alongside having fun. "Children are a precious resource, and we need to fill their brains with interesting material to feed their inquiring minds. Learning about history is important as so much history is being lost", says the author. "I knew the main character had to be a girl because I am a feminist. I want Maggie to be a role model for young girls with her feisty, adventurous nature", Sarah adds, "but I also wanted to draw the boys in because there is a huge shortage of good reading material for pre-teen boys. So far, the response has been good from boys who have really been drawn to the World War II history in the story, especially the secret tunnels around Hong Kong."
Sarah's books have always been complemented by illustrations that stimulate the reader's imagination and provide the reader with a visual shorthand. The unplanned meeting of Sarah and Charly Cheung (an award-winning illustrator) on a plane can only be described as perfect serendipity. Charly's illustrations have translated the overall essence of the book for the eyes. As I mentioned to Sarah, I loved the illustrations because they made the madness and the fun in her story come to life. The talented creative duo will be working together for what Sarah has described as Maggie, Edmond and Methuselah's adventurous travels around the globe. So far, the author has plans for stories based in the UK and Singapore but hopes the series grabs enough momentum so the threesome can uncover mysteries in other countries as well.
"We are what we read," says Sarah pensively towards the end of our conversation. "A young mind can only create treasure if we feed it treasure first. Adding the element of fun in the books they read is fundamental. Making them laugh opens their brains. Of course, not every book can or should be fun, but by and large, I think there is enough negativity out there in the world, and it's important to preserve their childhood with happiness and fun."
I, for one, can say for sure that Sarah's books, along with many other things, will surely make you smile, laugh and experience the fun of childhood whether you're a child or not.

---

Share

Picture Credit : Sarah Brennan