Bisibele Bhaath is a Karnataka special; a one pot meal cooked with rice, dal and veggies. In Kannada Bisi means hot, bele means dal (lentils) and bhaath is rice. It is the South Indian form of KHICHDI. However, I tweaked it a bit and instead of rice used Rolled Oats to increase the fibre content along with the veggies and dal.

The recipe requires the addition of the Bisibele powder (sort of Garam Masala) to the dal and the veggies.
Bisibele Powder:
Ingredients
Roasted Chana Dal (Bengal Gram) – 1/2 cup
Whole coriander seeds – 2-3 teaspoon
Dry Red chilli – 7-8 pieces
Cinnamon Stick – 2 pieces
Cloves – 4-5 pieces
Black Cardamom- 2-3 pieces
Saunf (Fennel Seeds) – 1/2 teaspoon
Dried Coconut (optional) – 1-2 teaspoon
Method : Dry roast these ingredients till fragrant and grind them to a fine powder. Store the powder in an air tight container and keep in the refrigerator.
Preparation for the Bhaath:
Ingredients
Cooked toor dal (pigeon pea) – 2 cup
Veggies (beans, carrot, peas) -2 cup can add more if you want to make it more fibre rich.
Rolled Oats- 1.5 cup
Asafetida- A pinch
Ghee – 2 tablespoon
Tamarind paste – 1-2 tablespoon
Roasted Peanuts – handful for tempering
Mustard Seeds- 2-3 teaspoon for tempering
A few Curry leaves
Bislibele powder- 2-3 tablespoon
Method: In a pressure cooker, add 1 tablespoon ghee. Once hot add a pinch of asafetida. Add the veggies and rolled oats and sauté for few minutes till oats turn slightly golden brown. Add the cooked dal along with salt and bisibele powder. Cook for few minutes and then add the tamarind paste and water depending upon the consistency you like. Pressure cook with 2 high flame whistles. Adjust the consistency using water as with oats the texture will be bit chewy and sticky. Garnish with ghee tempered curry leaves, mustard seeds and roasted peanuts. Serve with pappad (poppadum), raita of onion and tomato (yoghurt dip) and pickle!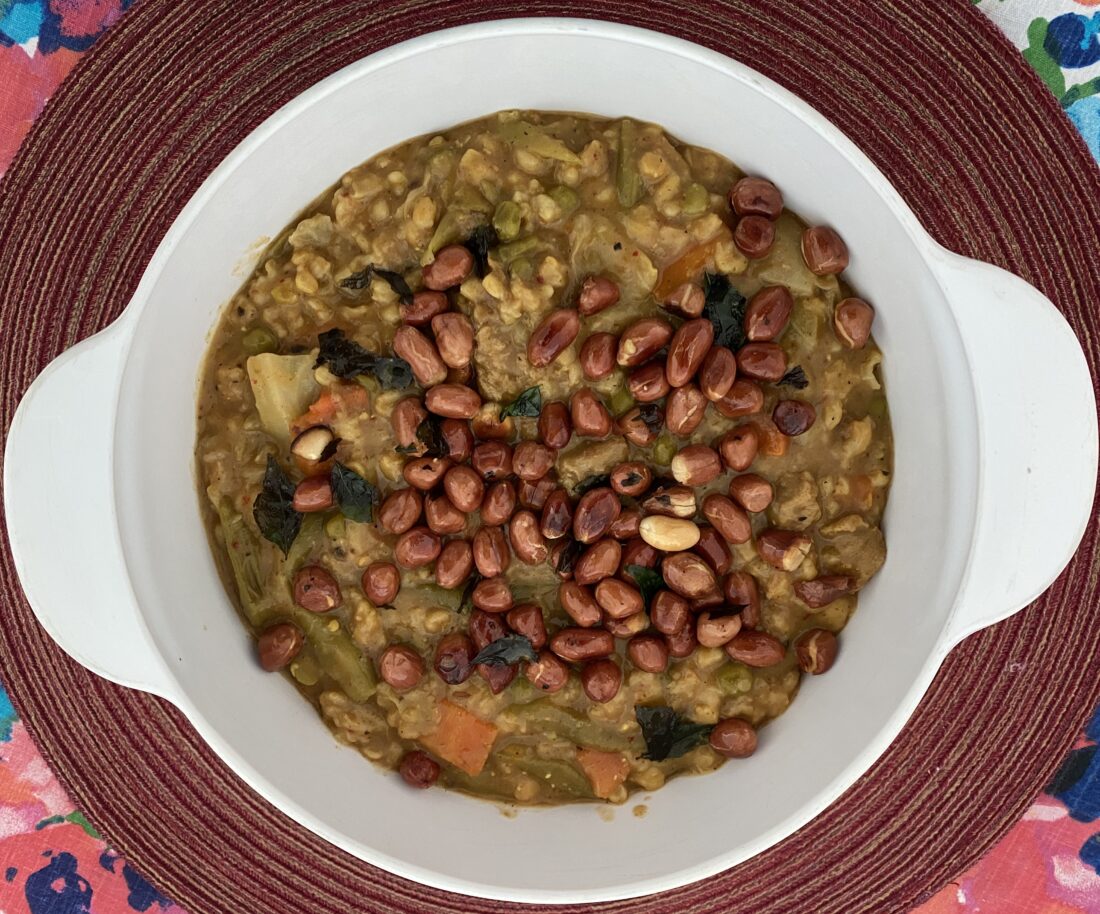 Read another article by Sonali Kaul
---
Share
Picture By : Sonali Kaul