"The best food is the bak kut teh (meat bone tea) and clay pot rice! Try!" Hugo's cheerful assuredness reminds me of my son when he's showing me a drawing he's proud of. I smile broadly in response before remembering that Hugo can't see my mouth for my mask. Raymond, a fellow cook, is seated next to the ebullient six-footer. Together, the duo man a stall in Dignity Kitchen ("DK"), a hawker food court in Mongkok, one of Hong Kong's most densely-populated areas.
DK is one of several initiatives run by Project Dignity, a Singaporean social enterprise founded in 2010 by spritely social entrepreneur and visionary, Koh Seng Choon. His mission: to return dignity to people with disabilities through vocation with passion. His four foundational ideas are straightforward but ambitious: (1) skill differently-abled individuals in food preparation, cooking and service support by focussing on their abilities; (2) provide gainful employment to these individuals, at DK or elsewhere; (3) innovate and create new ways for employees to integrate into their environment and to work at their jobs; and (4) promote the inclusion and acceptance of these employees by society.
"Getting the public to buy goods and services from differently-abled individuals is the most challenging," Seng Choon muses. The bustling weekend crowd at DK suggests otherwise. From its impressive size and scale, it seems to me that all four goals are being fully realised. "Their food is their own business," explains DK's general manageress, Ong Peh Ti, as we wander away from Hugo and Raymond's stall. "They manage it themselves. After a year or so at DK, they're now like tai see heng (big brothers). They now also help train new staff." Slightly-built and soft-spoken, Peh Ti came over from Singapore to help manage DK's operations in Hong Kong. She's in charge of R&D, training and cooking classes, a sort of jack-of- all-trades. She tilts her head in agreement when I use the more appropriate term in Cantonese, a yat keok tek (literally, a one-leg kick). Someone who can and does everything, from small, administrative tasks to big, important ones.
"We designed the stalls with no partitions between them," she continues. "This allows the staff to move around and work on a variety of tasks, to help their colleagues when it's needed." I marvel at the mouth-watering hawker food staples on offer: laksa (noodles in a coconut curry broth), char kuay teow (fried flat rice noodles with seafood, meat and vegetables), kaya (coconut jam) toast, and Nanyang kopi-o (black coffee), among others. I try to ignore my tummy rumblings as Peh Ti points out the innovative equipment created to help employees with their work. From the sophisticated, automated metal "clay pots" and one-touch noodle strainers to the simple yet ingenious use of mooncake moulds to measure out precise servings of rice, and the bent fork that allows Carol, who suffers from left hand spasticity, to slice vegetables. I remember seeing Carol featured in a video story for a local magazine, shopping at a wet market with her mother. "How's your mum?" I ask the cheerful young woman as she proudly shows off a bowl of shallot oil, made from scratch herself. "Mum is good, thank you!" Carol responds cheerfully. "Your real mum, not your Dignity Kitchen mum!" jokes Peh Ti as Carol blushes with pleasure.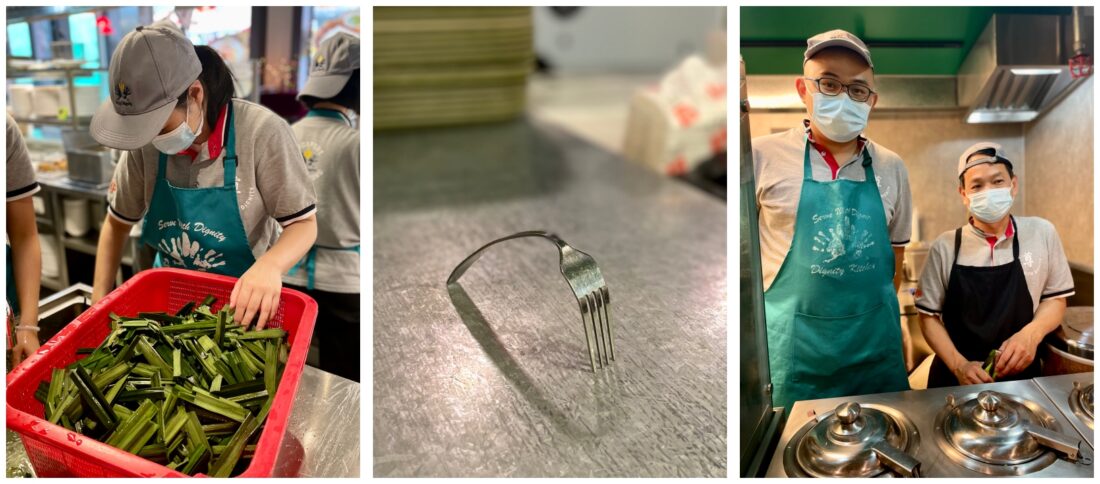 As we continue our tour, DK's administrative assistant, Ming, raises his face from his noodles to say hello. Despite being visually-impaired, Ming manages communications with other organizations and handles email as well as phone inquiries. "We work like a team," he declares passionately. "We don't just need help. We can help others as well." Ming is referring to how DK gives back to the local community through its various programmes. Pay It Forward is where patrons can opt to pay an extra HK$50 to buy a bento box, and once enough boxes have been purchased, DK makes and distributes them to the needy: street cleaners, low-income families, refugees. Another programme, Lunch Treat for the Elderly, brings seniors from nursing homes and elderly centres to DK to enjoy a free meal with staff and volunteers.
"We have to work hard to make money to support the operations," explains Peh Ti. "Rent, management fees, salaries, none of it is free. In addition to selling food, we hold corporate-sponsored events and organize bespoke cooking classes for individuals and groups." She squares her shoulders as we watch a young girl wash freshly cut pandan (screwpine) leaves. They will be mulched for their signature fragrant green essence.
I feel humbled, yet inspired, as I stand alone in front of the drinks stall. I sign "thank you" with my fingers as I take my iced kopi-o from the friendly but silent server. I carry it on a tray with a slice of pillowy-soft pandan cake and settle down at a table near Hugo and Raymond's stall, where I first began my visit this afternoon. Seng Choon's words ring in my ears as I savour my delicious treats. "Don't come here because you pity my employees. Come for the food. The amazing Singaporean hawker food."
As I ponder all the reasons to visit, pity is not one of them. The biggest draw might well be the engaging and warm personalities that make Dignity Kitchen the convivial and joyful place that it is. As I bid my new friends farewell, Hugo makes an enthusiastic announcement. "The other day, I ran the Standard Chartered marathon for one hour and 13 minutes! So I don't only make bak kut teh, I also run!" Thanks to Dignity Kitchen and Seng Choon's passion and vision, this remarkable young man is just discovering his potential. There is no other place I know where you leave with a full heart as well as a full stomach.

---
Dignity Kitchen, Shop 201/202, 618 Shanghai Street, Mongkok, Kowloon, Hong Kong. For further information on how you can visit or get involved, check out their website at https://www.projectdignity.hk.
---
---
Share

Picture Credit : Maureen Tai