Apple Jalebis are a fun twist on regular jalebis! Made with rings of sweet honeycrisp apples, they are fried until crisp, and soaked in a flavorsome saffron, cardamom and rosewater syrup. Try out this easy and delicious recipe for Diwali.
Ingredients
• 2 Apples
• Ghee or Oil , to deep fry
For Batter
• 1 cup Maida (Flour)
• 2 ½ tbsp Curds (slightly sour)
• Water (enough to make a thick batter)
For Dusting
• 1 tbsp Maida (Flour)
• 1½ tsp Cinnamon Powder
For Sugar Syrup
• 300 grams Sugar
• 1 cup Water
• 7 to 8 Saffron Strands
• ½ tsp Cardamom Powder
• 1 tsp Rose Water
For Garnishing
• Chopped Pistachios and Almonds
Method
1. In a mixing bowl, add maida, curds and water. Mix well to make a thick batter. Cover and keep in a warm place for fermenting for at least 5 to 6 hours.
2. For the the sugar syrup, add sugar, water, saffron, rose water and cardamom powder in a saucepan. The consistency should be a little thick, 2 string consistency. Make sure you skip skimming out the top to take out any impurities.
3. Take a plate and add the maida and cinnamon powder. Mix well.
4. Peel the skin of an apple, scoop out the seeds, and cut it into roundels. Coat the apple slices in the flour and cinnamon powder.
5. Next, dip the apple slices in the batter and coat them well.
6. Deep fry in the hot oil or ghee over a low to medium flame, flip them every 2 minutes till they are light golden.
7. Dip them in the warm sugar syrup. Soak for 2 to 3 minutes. Make sure you do not dip the fried apples in the sugar syrup for too long, otherwise it will turn soggy.
8. Take them out of the syrup and serve garnished with chopped pistachios and almonds.
BON APPETIT!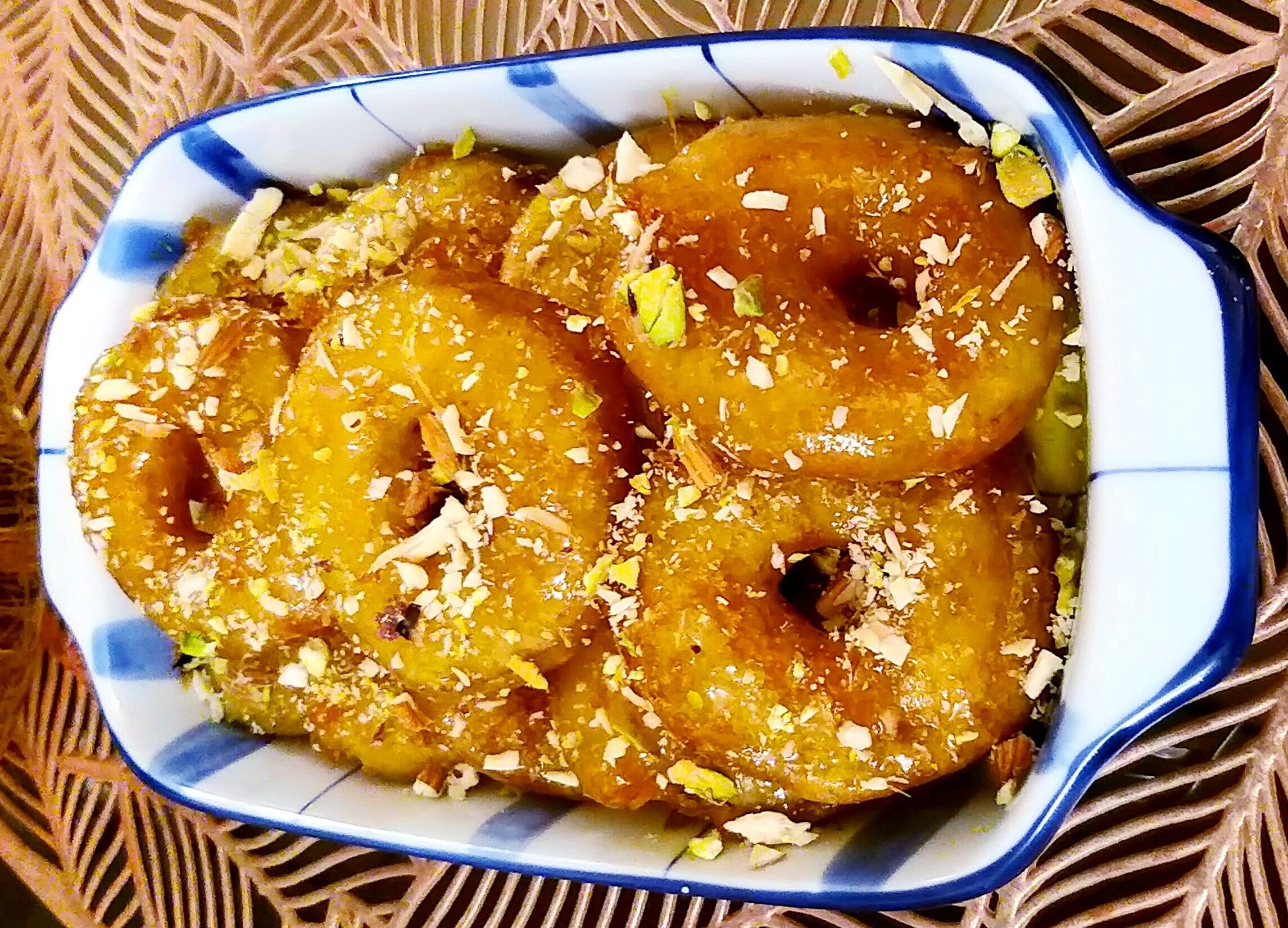 Read other recipe by Reshma Gore
---
Share
Picture Credit : Reshma Sahni