Your favourite Pav Bhaji in the Keto avatar – a must try recipe.
Keto Pav
Ingredients:
Dry:
150 g Almond Flour
30 g Coconut Flour
37 g Ground Psyllium Husk (Isabgol)
1/2 teaspoon Salt
2 teaspoon Baking Powder or 1 teaspoon Baking Soda
Wet:
2 teaspoon Vinegar
1 tablespoon Olive Oil or any Refined Oil
1 cup hot water – temperature like 40 C
Directions:
1. Preheat oven to 180C. Lay a baking tray with butter paper.
2. In a large bowl combine all the dry ingredients.
3. Add vinegar, olive oil, and stir in the hot water. Combine for a minute or two with a wooden spoon, the water will absorb gradually, drying out the mixture to create the bread dough (It should stay a bit soft and sticky but you should be able to form a ball with your hand).
4. Set aside 10 minutes to let the fiber absorb the liquid.
5. The dough should be soft and easy to divide into 6 small balls.
6. Roll each small ball between your hands and place them one by one on the baking tray.
7. With a brush, brush the top of each bread ball with a bit of water.
8. Bake 40-45 minutes at 180 C. (For best results, you can place the tray on the bottom rack of the oven for 30 minutes, then swap to the top level of the oven for 10-15 extra minutes).
9. Fully cool down on a cooling rack.
10. Cut in half and grill on a tawa with Amul butter.
Keto Bhaji
Ingredients:
500 grams Cauliflower
200 grams Tomatoes
150 grams Boiled Green Peas
100 grams Onions
150 grams Butter
10 grams Ginger Garlic Paste
2 teaspoon Pav Bhaji Masala
1 Tsp Kashmiri Red Chilli Powder
1 teaspoon Kasuri Methi
1 tablespoon Chopped Coriander leaves
Salt to taste
Lime wedge
Directions:
1. Cut the cauliflower into small pieces and add in a kadai along with a cup of water and cook for about 10 minutes till the cauliflower is tender.
2. Add the tomatoes, ginger-garlic paste, 1 tsp of the pav bhaji masala, salt to taste and 50 grams of the butter. Mix well and cook for another 5-10 minutes
3. Use a masher and cook till all the water dries out. Set aside.
4. Heat the remaining butter in the same pan along with the onions, coriander, kasuri methi, 1 tsp of the pav bhaji masala and cook till the onions turn light golden brown.
5. Then add in the cauliflower mixture and cook together for 5 minutes.
6. Finally, once it's ready, top it with a knob of butter, lime wedge, and fresh coriander.
7. Serve with Keto Pav.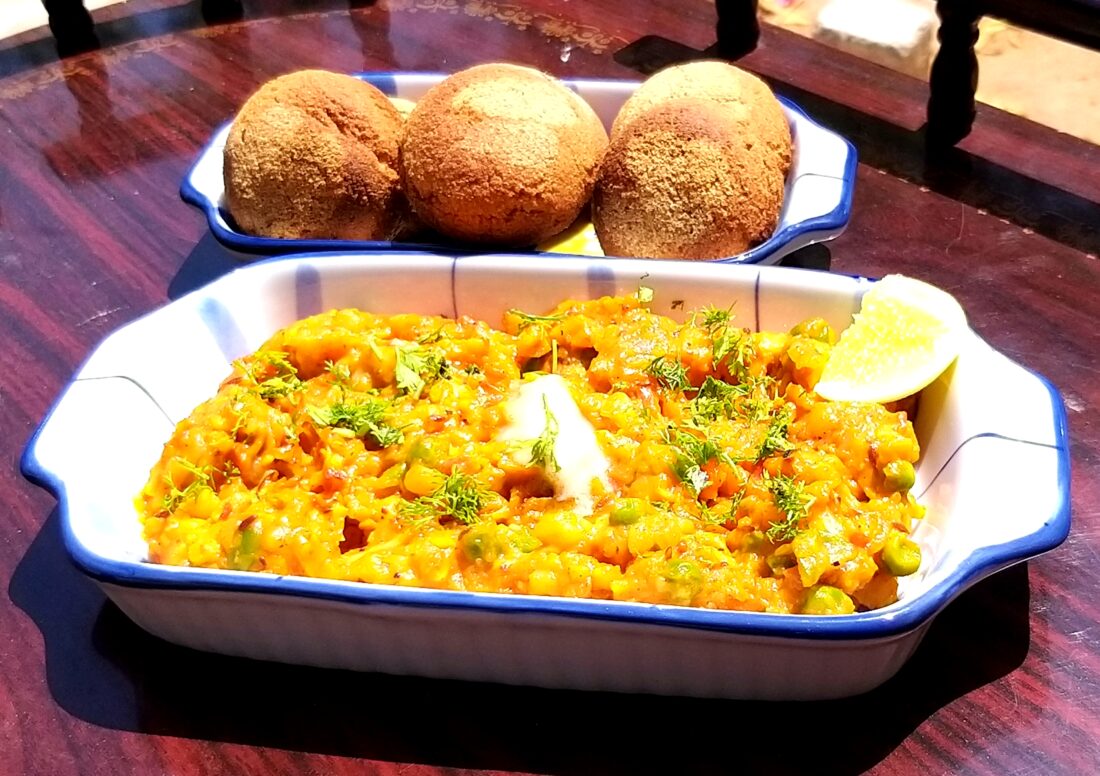 Read other recipe by Reshma Gore
---
Share
Picture By : Reshma Gore Sahni