This recipe is very close to my heart due to many reasons. Firstly, it's been passed down to me from my mother-in-law who procured it when my father-in-law was posted in Vishakhapatnam. Then the fact that it has South Indian flavours (I'm a huge fan of the cuisine) and I don't get to eat it frequently enough. There is also the fact that this was the first dish I learnt how to cook, and I have served it at many parties and people have always relished it. And the last but not the least, it used to be made at my in-laws' home every Sunday, and I'm sticking to the ritual. So, here's a very easy to cook, chicken biryani. Hope you enjoy it 🙂
Ingredients:

2 cups Rice, soaked for 15-20 mins in 4 cups of water
500 gm Chicken
3 big Onions, chopped
2 big Tomatoes, chopped
2 tbsp Black Mustard Seeds
5 stems of Curry Leaves
2 Green Chilies, chopped
Dry masala – 1 tbsp red chili powder, 2 tbsp turmeric, salt as per taste
Garam masala – 1 big cardamom, 3 small cardamoms, 2 tej patta, 1 small cinnamon stick, 5 cloves, 10-12 black peppercorns

Method :
In a cooker, heat oil. Add the mustard seeds and wait for them to splutter.
Add the onions and fry until golden brown.
Add curry leaves and stir for a second.
Add the chicken and fry for some time.
Add the Garam Masala and green chilies. Stir for 2-3 mins.
Add the Dry Masala and stir for 1-2 mins.
Add tomatoes and cook until it leaves oil.
Add rice and water. Cook for 2 whistles and 2 mins on the sim.
Accompaniments:
Serve with mustard seeds and curry leaves tempered raita.
Boiled eggs and fry them in oil.
Note: For regular North Indian style biryani, don't add rai and curry leaves. Add 2 potatoes (optional). Rest follow the same ingredients and steps.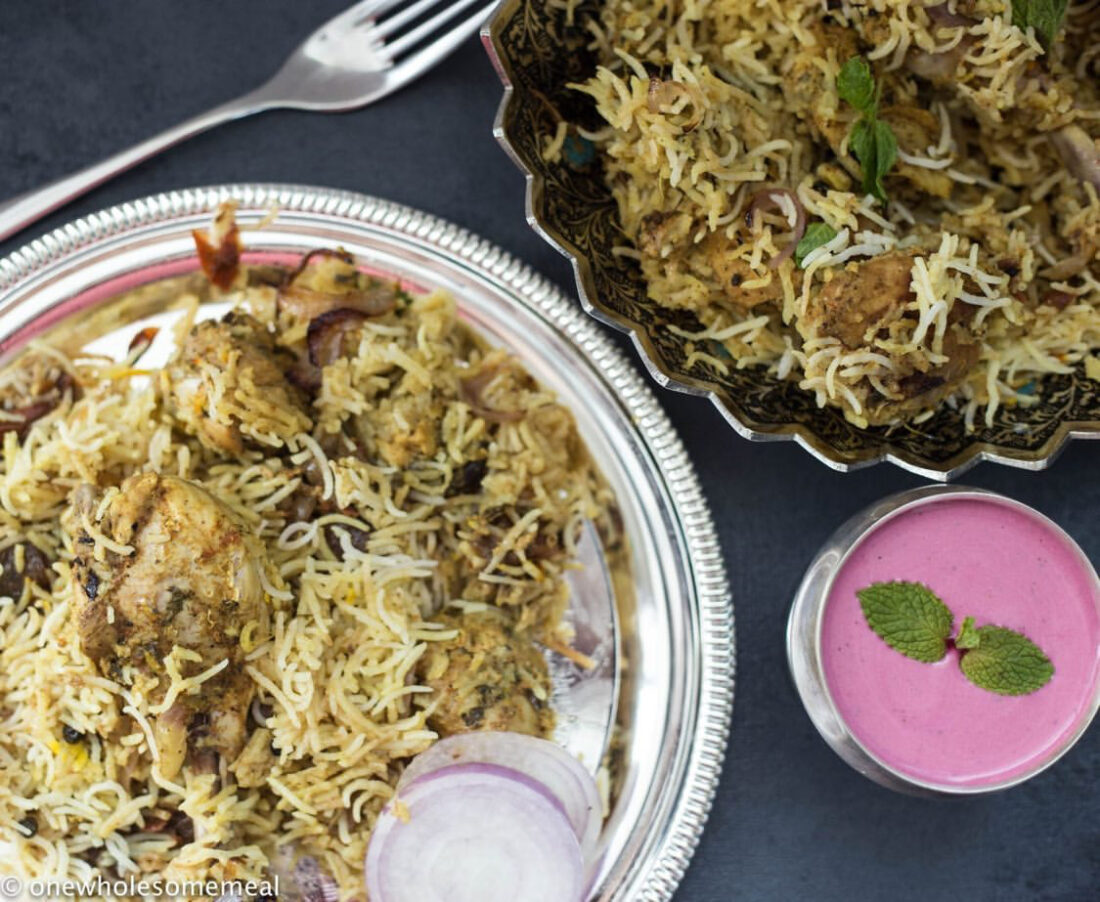 ---
Share
Picture Credit : Asmita Bharadwaj (Onewholesomemeal) www.onewholesomemeal.com