The incessant ringing of the doorbell woke up Rhea with a start. Out of habit, she jumped out of bed and rushed to the door. But this time, she stubbed her toe on the corner of their brand new king size bed, bought at the special Diwali discount. She uttered the choicest of curses, which she knew only the walls could hear, as her husband and daughter were still fast asleep, undisturbed by the doorbell. As she opened the door, she saw the watchman standing there, his wide grin displaying his paan stained teeth.
"Bhaiya, itni subah koi aise bell bajata hai kya?"(Brother, who rings the bell like this so early in the morning?) Rhea asked, her voice displaying her irritation at being woken up at 5 in the morning.
"Madam ji, kuch din mein Diwali hai. Thoda kuch baksheesh milta toh…"(Madam, Diwali is coming in a few days. If you could give some money…), his voice trailed off quietly, which was quite uncharacteristic of him.
In her quest to get back to sleep, Rhea quickly grabbed her wallet and pulled out a crisp 500 Rs note for him. His face lit up as he took the money, wished her a happy Diwali and ambled off.
Rhea walked up to her favourite couch in the living room and sank into it, hoping to catch a few more winks.
As she closed her eyes and the long list of pending chores began flashing through her mind, she realised that no sleep was going to be possible. So, she got up, tied her hair in a messy bun and marched towards the kitchen with a determined expression on her face. With Diwali just around the corner, Rhea really couldn't afford those extra winks. The next few days would go in preparing sweets and savouries for family and friends, and of course the elaborate cleaning of the entire house that was mandatory before Diwali.
Diwali had been one of her favourite festivals as a child. Sitting in the kitchen and tasting every sweet prepared painstakingly by her mom was among her most cherished memories. How each bite would melt in her mouth, the velvety texture of the laddoo punctuated by the crunchy piece of a broken nut. Was it an almond, cashew or pistachio, she had even made a game out of it!
Then there was the cleaning. All the curtains would be washed and the floors scrubbed so well that Rhea could literally see her reflection in them. The furniture would be moved aside so that even the hard to reach corners could be cleaned as Rhea would hold a chair for Ma as she balanced on her toes with all of her 5 feet 1 inch tall frame to clean the fans and clear the cobwebs.
It was all so much fun. The shopping that ensued, the new lehenga choli that would be bought for her. Rhea would always buy the one with the most vibrant hues on it. She remembered one particular year she had got one with all the colours of the rainbow on it like the 'VIBGYOR' as taught by Lily ma'm at school. Rhea would spend hours twirling in her new outfit in front of the mirror and dance to her favourite song. She remembered it so clearly, how when she would step out of her room, it was like the whole house had transformed in the two hours she had taken to get dressed.
The diyas with their flickering wicks would be lined throughout the expanse of their two floored bungalow. Rhea would then rush out of the door with her stash of crackers. As she and her older brother would light crackers, her father would join them. Her mother would make fleeting appearances in between, light a sparkler or a chakri and then rush back into the house. In the evening, after a sumptuous meal, everyone would sit in front of the television and as always Ma would be missing from the picture. She would be in the kitchen winding up for the day.
And now 20 years later, Rhea realized that her mom was never able to enjoy Diwali like she had during her growing years. Her entire day would go by, shuttling between the pooja room and kitchen, ensuring that all the traditions were being followed to the T and the family was well fed. While Ma never complained, in fact she often said that she enjoyed doing things for the family, Rhea realised that unconsciously even she was turning into Ma. That festivities had somehow become synonymous with her slogging in the kitchen all day long. The only difference was that she didn't enjoy it like Ma had.
While Rhea was all for keeping traditions alive, she too wanted to enjoy this special day just like her husband and daughter did. She wanted to binge on sweets that were not prepared by her, eat food cooked by someone else, and lounge in front of the television and see all the diwali special shows featured on the day. She decided she wasn't going to spend her time sweltering in the kitchen this Diwali. So, she called up the best sweet shop in town to order some of their finest sweets on offer. Next, she contacted a professional cleaning services and got the entire house cleaned, and even ordered some delicious dishes from her favourite restaurant.
Diwali that year turned out to be very special as their three faces gleamed in the orange light of the sparklers in their hands and Rhea felt the same joy searing through her that she had felt as a child.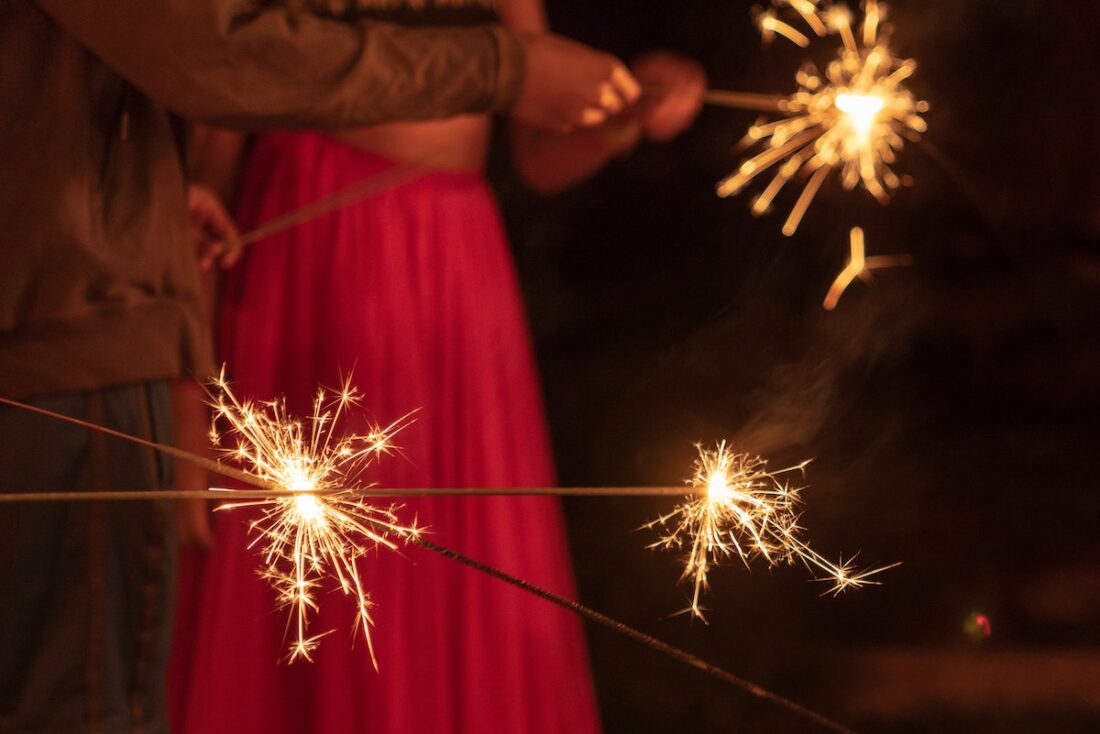 Read other article by Anjali Susan Paul
---
Share
Picture Credit : Photo by Madhukar Kumar on Unsplash