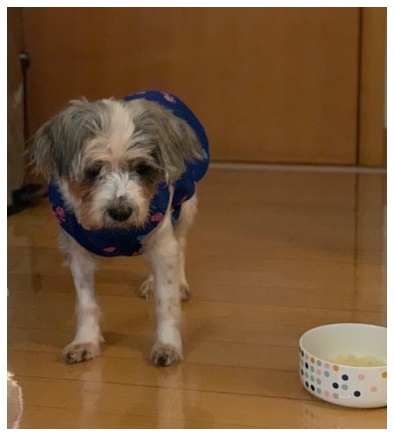 "Mama, can we have a dog? Please? Pleeeeeease?"
Finally, after enduring years of begging and pleading, and being fully aware of the potential challenges of adopting a rescue animal, I caved in. Not all the way through. I loved my children, but I also knew how flaky they could be. Their resolve – to faithfully attend to all of the canine's needs and wants for the rest of its living days, regardless of weather, school, or social calendar – was untested. So, I agreed we'd try out pet ownership before committing to be a forever home. After sending in our application to be a foster family, we sat back and waited for the dog of our dreams. Our perfect pet.
It took longer than anticipated, and with a few false starts. But that gave me time to cover the delicate, easily scratched wooden floors of our rental apartment with heavy-duty plastic wrap; make stain-proof covers for our sofa; and buy a stack of doggy pee-pads as a backup.
Finally, one chilly January afternoon, we welcomed our new charge into our accident-proofed home. A shadow of a dog, without a name or history. She'd been abandoned, dirty and severely malnourished, in a cardboard box outside the animal rescue. Molly, as she was christened, now stood in our living room, shell-shocked and trembling. Her wispy, sparse hair was lacklustre, her pitiful tail bent, and her desolate eyes clouded. A shrivelled husk of unknown provenance, she was guess-aged, nine years old at least. The terrible treatment Molly had endured at the hands of breeders (most likely) meant she needed a series of arduous, life-prolonging surgeries to remove multiple tumours from her mammary glands, skin tags from her eyelids, and rotted teeth from her mouth. But she met our key criteria: small, hypoallergenic, kid-friendly, low maintenance, and in need of love and affection. She wasn't, by any stretch of the imagination, the perfect pet. As a trial run, however, we decided that she'd do.
The days that followed were Molly Discovery Days. She had two modes of existence: asleep and awake (mostly asleep). She hardly left the confines of her comfortable dog bed. She had a small appetite for food and an even smaller need for water. She refused to evacuate on my plastic floor or on the pee pads and needed to be walked at least three times a day. She didn't bark. She rarely made eye contact. She didn't lick. She didn't snuggle. She didn't respond when we called her by her new name, or clicked our tongues, or slapped our thighs. She was (as my husband said) catatonic. She had the emotional range of a potato. Frisky, fun, playful: these were not words in her vocabulary. She didn't know how to be a dog.

But with patience, experimentation, and hard work, the mystery began to unravel. She didn't like rice, but loved raw chicken wings, so much so she'd take them into her bed to devour (yes, gross). She hated her prescribed eye drops but loved her walks, and despite her frail beginnings, kept up when we went on hour-long hikes. She'd wait expectantly when she was leashed, her bent tail swishing as her rheumy eyes fixed on to the front door. She disliked other dogs sniffing at her parts, but couldn't wait to sniff at theirs. She liked peeing over one particular drain cover at the nearby sitting-out area, and was fascinated by the fire hydrant outside the local bakery, which she could snuffle around for ages. She smelled much better after baths (which she wasn't a huge fan of, but tolerated), and turned two full revolutions before settling down for bedtime. She became brave enough to explore rooms other than just our living room and watched us as we ate dinner, guilting us into passing choice scraps to her from the table. Her coat became glossy as her body filled out and her eyes began to sparkle.
It was unfortunate that during this time, my worst suspicions were also confirmed. The mundane, yet necessary, daily chores of tending to Molly – feeding, watering, walking, cleaning, eye-drop-administering – were quickly relinquished in favour of sleep-ins, social media, homework, and soccer practice. Molly became my unintended third child, a hairy daughter who now curled up next to my chair as I sat writing at my desk, leapt up on my knees when I came home, and stayed patiently with me as I angled my iPhone for the perfect shot of some street scene. Even though my heart was big enough to admit Molly into it, my already jam-packed schedule was unyielding. I was buckling from the additional responsibility. After a month, we decided we weren't going to be a failed foster family after all, and so, one chilly February afternoon, Molly left us for her forever home.
I remember the day well. It was my husband's birthday. Molly was on her hot-pink leash, sniffing around the pillars by the side of the road. She looked at me, her eyes, as always, betraying no emotions. But I knew she was wondering why we weren't heading to her drain, to her fire hydrant, or to her patch of grass by the pier. If we didn't start our walk now, we'd miss the hissing, inhospitable shop cat at the Chinese medical hall and the hobbling, senior corgi whose name I always asked but promptly forgot. She didn't seem to notice that we had her large fluffy bed, her spotted dog bowls and her pretty sweaters with us as well, all packed up neatly in red, white, and blue striped bags.
A car drew up alongside the curb. The driver, Molly's new mother, emerged with eyes warm and smiling above her mask. She took the bags, and then she held out her arms to take Molly. Gently, I cupped Molly's face in my hands and touched my forehead against hers. "Be good" I whispered. "Be well." Her eyes were locked on mine as the car pulled away. I could hardly see for the tears. My son, my helper, and I were bawling.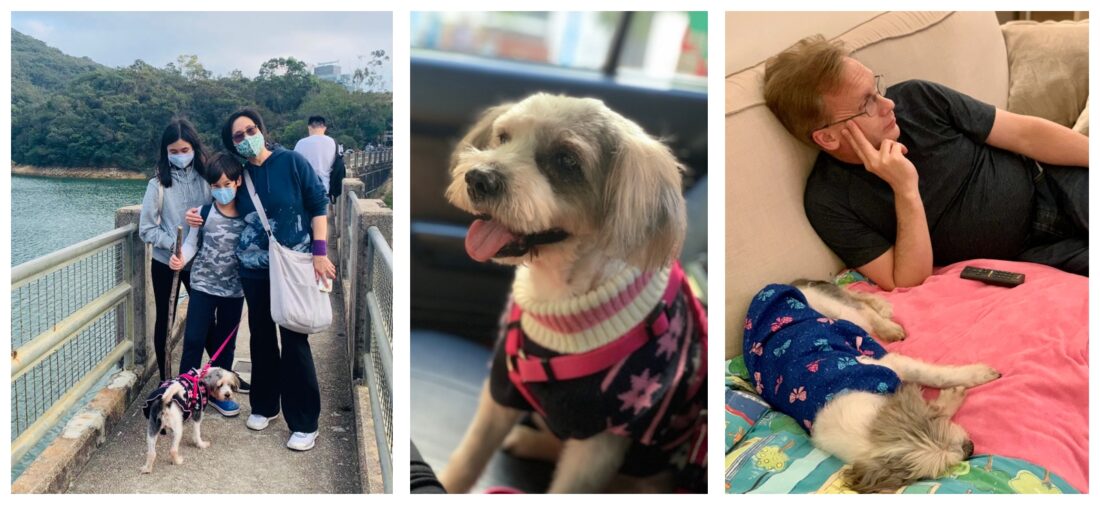 Our short month as Molly's foster family taught us to embrace all that was labelled – whether consciously or subconsciously – imperfect. We realised that there was much we could learn from and be changed by the broken and the not-so-perfect, only if we were willing to open our hearts and minds to the possibilities.
She wasn't the perfect pet, but she was our perfect Molly.
And yes, I still miss her. Every single day.

---
Share
Picture Credit : Maureen Tai