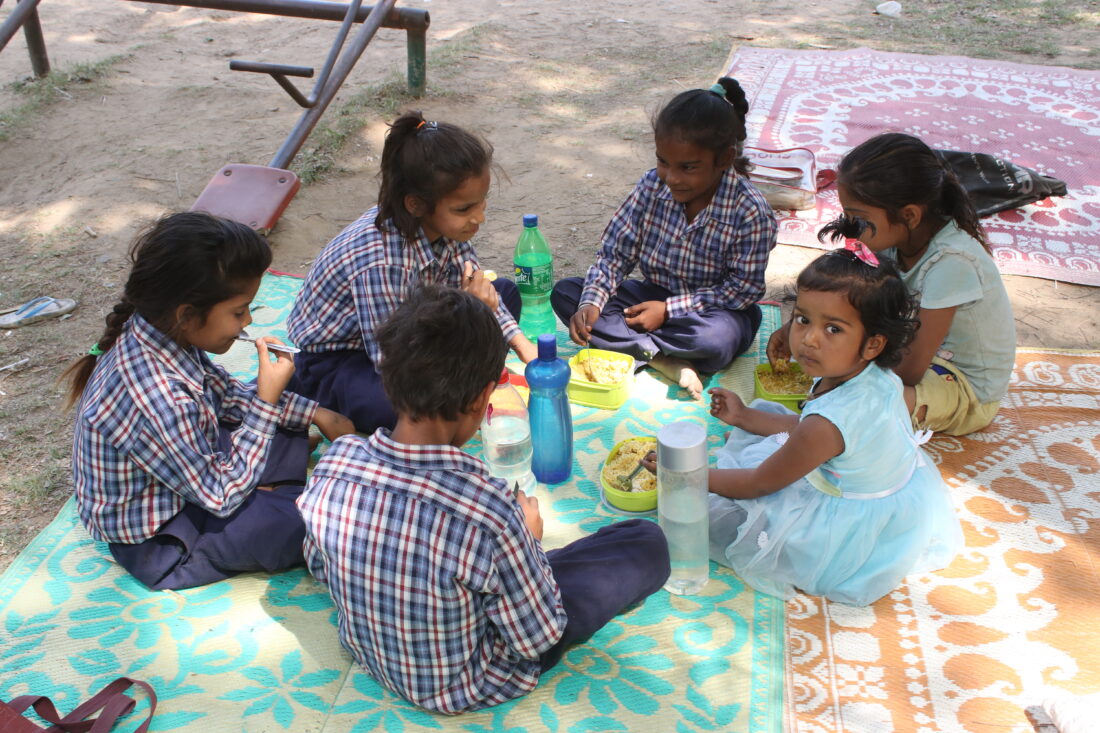 Ten Smiles Foundation the initiative of the NGO Khushi…Ek Ehsaas (KEE), marked its maiden milestone on 5th September 2022 when it served 10,0000/1 lac free meals to socially disadvantaged school children.
The Faridabad based NGO began it's journey on 5th February 2021 with its pilot model of serving 50 children through a third party food vendor. Soon the numbers grew, and Ten Smiles Foundation (TSF) was serving 750+ kids daily, except Sundays and Public Holidays. During COVID (Feb 2021 to Sept 2022), 4000+ meals were served.
Aware of the lacuna and growth potential in this field, KEE's long-time member, Gaurev Aggarwal, Managing Director, Avon Containers Pvt. Ltd., in a discussion with the TSF team, conceptualised and set up a community kitchen. Inaugurated on 12th Oct 2021, it serves nutritious and hygienic meals to children.
Volunteering to support the scheme, while awaiting college admission, are Lipika Chugh, Yuvraj Lunial and Abhigyan Khatri. Long, snaking queues of school children, clutching lunch boxes, wait eagerly to get their food – and then it's a picnic!
At the helm of the Ten Smiles Foundation (TSF), and its parent body, Khushi…Ek Ehsaas, is 44-year-old Ajay Chawla. How did TSF begin? Ajay relates, "While attending a Career Counselling Program in Patiala in August 2017 for standard 9 and 10 girls, I noticed Preeti, (age 14) crying. Upon asking, she said she hadn't eaten since morning and would need to go home and cook food for her family first. To my question, "Don't you get a midday meal?" She responded that she was no longer eligible as the program was only up to 8th standard, and she was in the 9th. The fact that so many students were getting deprived of the midday meal because of this cut-off mark, made me resolve to change this."
Ajay soon formed a core group comprising five willing friends in Faridabad. The responsibilities are divided – Vijay Bhatia and Pankaj Bhatia are in charge of food preparation and systemic distribution. Saurabh Kukreja and Komal Parihar oversee logistics arrangements, while Nisha Ahuja coordinates MIS, Social Media and Corporate Communication.
"Initial funding was the prime challenge. We were fortunate to manage individual contributions initially for 50 children through volunteers. Next, ensuring the quality of food was critical as catering was being done by a third-party vendor. This is where our reputation, built through Khushi's involvement in uplifting 700+ children for almost eight years, got us willing beneficiaries. Their faith in our commitment was a great support," affirms Ajay.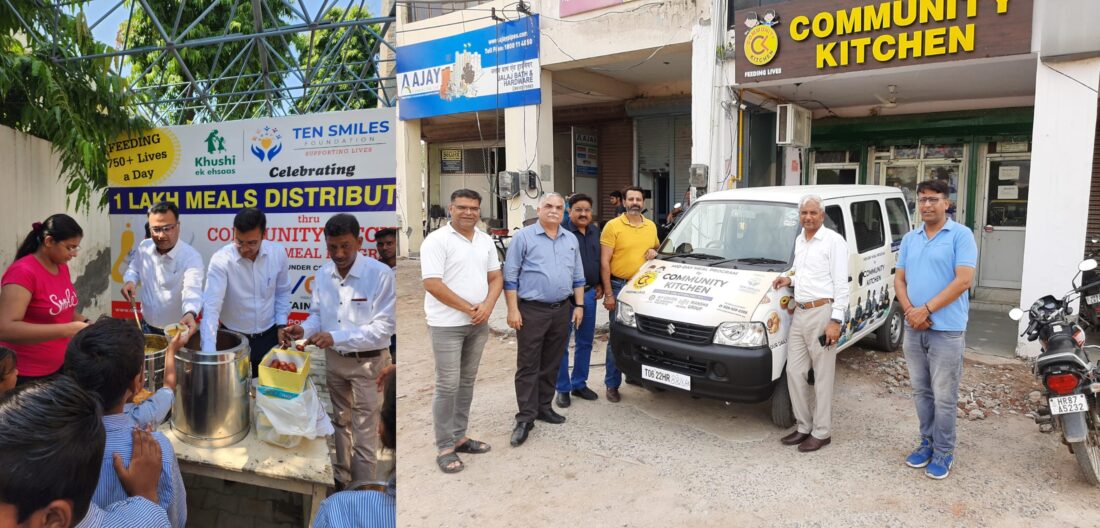 Manned by a staff of six, work in the kitchen starts at 7 am and winds down with cleaning by 3 pm. The rotating menu is a wholesome rice combo meal with either kadi, mixed dal, chole, rajma, veg pulao with curd, puri aloo, etc., on different days. Special dishes like paneer, dal makhani, mixed vegetable and mithai, are included on festivals and special occasions like birthdays, anniversaries, and even 'barsis' of donor's families," details Ajay.
Ten Smiles Foundation is exclusively registered for CSR Programs with paid professionals and volunteers who conduct regular projects. Sponsorships for meals have come in from TSF Mentor Dr. Navin Sood, Chairman, V G Group of Companies and corporates like Glen Kitchen Appliances, Avon Containers and numerous individual contributors.
TSF is standing where it is today based on its foundation in 2014. It was in 2016 when I first met this young man and his dedicated and proactive co-workers when we were volunteering at another NGO.
Ajay, Founder and Team Initiator of KEE, had then said, "All week long, we are over 200 regular professionals, business and corporate men and women and housewives and students – residing in Delhi, Faridabad, Noida and Gurgaon (NCR region). We dedicate our weekends and public holidays to spend our time and resources with those who need us. Seeing them smile and enjoying moments of happiness has since been our biggest reward."

For Ajay, it all began in 2008. "Having a rare O Negative group, I started donating blood with the thought that my family could need rare blood someday. My friend Gaurav Sachdeva and I together gave blood over a hundred times and connected 100+ donors of O Negative blood across India. In 2010, a close friend's daughter was diagnosed with thalassemia. Through family and friends, I raised Rs.1.25 lakhs towards her treatment.
"My confidence to help society's weaker section grew. Sharing my experiences through social media, known and unknown people with similar mindsets and interest, responded, wanting to work with me. This resulted in starting Khushi…Ek Ehsaas. We continue interacting via social media and meeting physically for projects", he informs.
KEE's extensive portfolio includes Blood Donation Camps, free Stationery distribution, distribution of uniforms and school bags, sponsoring school fee for single parent's children, meals at Old Age Homes and during COVID providing grocery kits, medicines and meals to 4000+ families. Another endearing commitment is Sparrow Protection Drive at the onset of summer where house nests are sold to be installed in balconies to provide shelter and water for the small birds.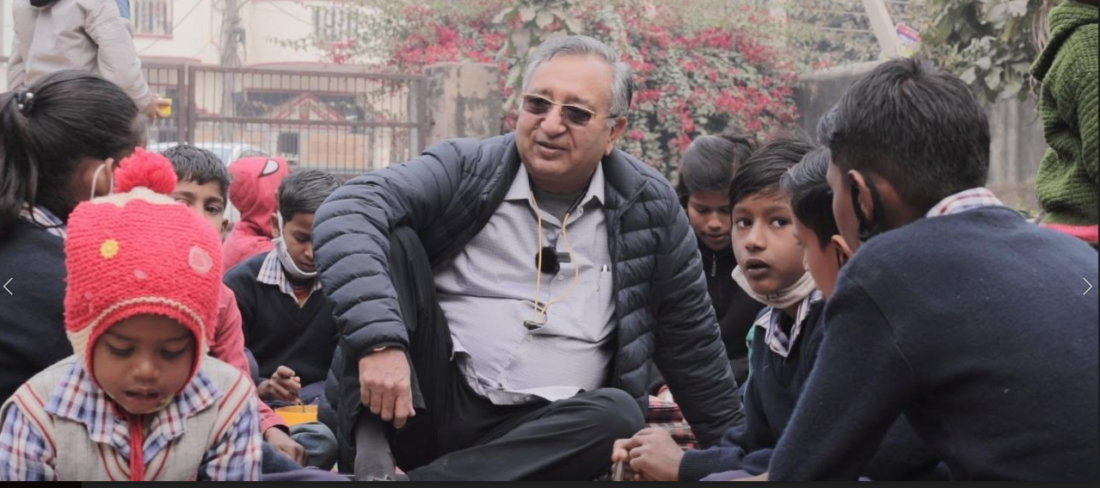 "Our most successful outings with KEE, were taking 450 kids to see 'Jungle Book', and 300 girls to see 'Dangal'. For most of them, the joy of this first-time experience was exhilarating – going to a movie hall with popcorn, sandwich and a drink! The elation and wonderment on their faces was the best gift for our team," Ajay remembers.
KEE and TSF continue their Act of Giving – which this squad, mostly in their 40s, is happy to see "filtering deeper into our next generations. Often our children's birthdays are celebrated with meals for our beneficiaries. Our children serve and interact with them – rather than enjoy a personal party with their friends," Ajay states.
"Future? I see myself moving further away from my corporate job, and zoning towards my vision of serving communities' underprivileged. The Almighty permitting, may the recipients of Ten Smiles Foundation's meals grow in leaps and bounds to numerous lacs more….," concludes the societal changemaker.
To donate meals to Ten Smiles Foundation, contact:
Ajay Chawla
Tel: +91-928-928-2288
Email: [email protected]
Address: DS 66, Ground Floor, Huda Market, Sector 21B, Faridabad, 121001
---
---