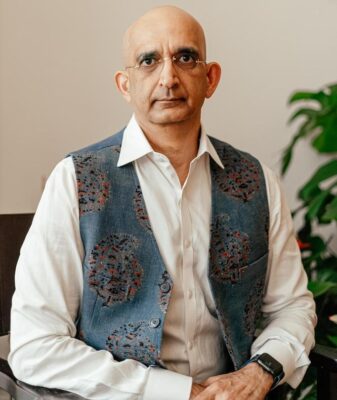 Sacred geometry influences Nayanmitra Kisnadwala's art, which is governed by the concepts of symbolism from the scriptures, colour therapy and numerology. At the other end of the spectrum are his detailed floral creations inspired by nature, and abstract works guided by his imagination.
Starting at the age of 54, the late bloomer's brush with brush and paint took place when he wandered into an art store in Soho, London in 2014. With a beginner's zealous enthusiasm, he completed 108 Meditation Mantra canvases within the first two years, exhibiting them in London, New York and Mumbai.
"I don't preplan my art. Each canvas is my introspection. The inspiration comes from the universal energy through the images stored in my subconscious mind. While painting I usually chant the Hanuman Chalisa or listen to Pandit Jasraj's or Pandit Rattan Mohan Sharma's classical vocal renditions," says Nayanmitra Kisnadwala, an MBA from New York's Stern School of Business.
In 2015 a shift came as the artist "always wanted to convert some of my paintings into wearable art. Starting with seasonal high-quality silk, linen and cotton scarves for men and women, I intend moving on to the elegant sari. My muse is my wife Sonal, a professional social worker, who is a collector of the most exquisite and unique saris from India. Our daughter Karnika has just launched Kaanjj.com which will exclusively carry my scarves."

Currently, Nayanmitra is testing limited edition prints, and eventually intends to do single edition hand-painted wearable art for collectors.
This London-based artist's spiritual journey began in 1986 when he met and became a disciple of Her Holiness Gurumaa Jyotisanand Saraswati, Founder-President of the Vedic Heritage's Sri Hanuman Temple in New York.
Nayanmitra, who grew up in Mumbai dabbling in art and numbers, zoned towards numerals and went on to become a key driver for a career in finance in international banking. Presently, CEO of JBR Capital, a financial services company in the UK, he sits on the Board of Seven Capital and is an advisor to DaytoDayHealth.
The likeness of Nayanmitra's earlier works to SH Raza and Biren De is discernable. Having spent half a day with Raza in his Paris studio in mid-2006, an instant respect for him as his artist-Guru awakened. "Holding my hand he took me around his studio, explaining each of his works with a Vedic Mantra. There was an instantaneous mental, emotional and spiritual connection. Here was a person of Islamic origins, married to a Catholic and had complete command over our Vedas!"
Talk of Covid can't be avoided. He says, "The lockdown phase has impacted me positively to focus deeper on self-introspection and draw closer to nature. Time to imbibe and indulge in art has been a big stress-buster for me."
Having held many exhibitions, 100% of the sales proceeds from his art go to beneficiaries at Gurumaa's Vedic Heritage Inc in NYC and Shishur Sevay, a child care institution in Kolkata.
Nayanmitra signs off with, "My fundamental philosophy is that my art should generate positive vibrations wherever they go."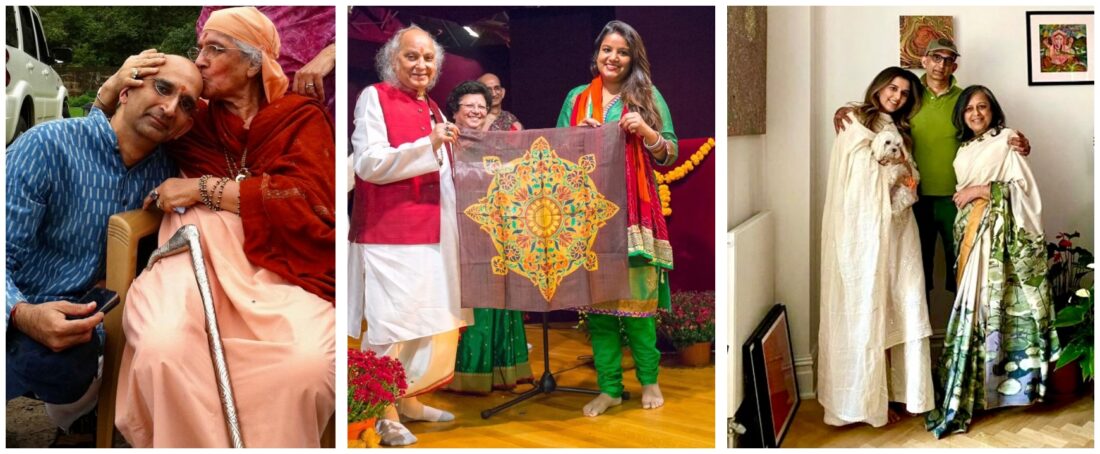 Contact:
Mobile: +44 7920 066657
Instagram Profile: NayanmitraArt
Websites: Nayanmitra.com and Kaanjj.com
---
---
Share

Picture Credit : Nayan Mitra