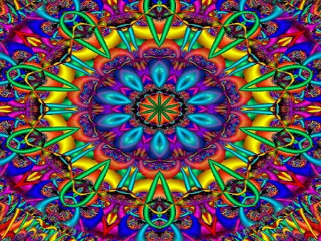 The Odyssey of a Kaleidoscope
After 30 years of her having gone, they were finally set free,
As I hesitatingly pulled the drawer, they thankfully smiled at me.
Some translucent, some opaque, some so pale,
Some fluorescent, some damaged, some so frail.
The beautiful glass bangles that had adorned my mother's wrists,
Symphonically synchronising with her graceful turns and twists.
As I collected the myriad broken pieces to throw away,
A sigh escaped my lips and tears got in the way.
Lazily twirling between my fingers, this long cylindrical toy,
Watching the broken bangles choreograph themselves was such joy!
Yes, it was a kaleidoscope, you guessed it right!
Each crushed particle finding a new identity and might.
Undeterred and unyielding, transforming itself with delight.
We are all different Kaleidoscopes, aren't we?
We all have mangled fragments inside us, don't we?
A bruised heart, a shattered dream,
An aching loss, a suppressed scream.
And yet all these ruptured bits make us who we are
Constellations form with membership of every star.
Each wobbly, brittle part of you is not to be an agonising scar
But a reminder of the courageous journey you traversed so far.
So, shake away the dust, the dullness, the pain,
Each storm you weathered shall not go in vain.
You are an inspiration to many, an uplifting harbinger of hope.
You are not one broken piece but the whole glittering Kaleidoscope.
Sonia Mehta is a leadership coach and facilitator. After serving clients globally for over 35 years, today she is her own brand.

---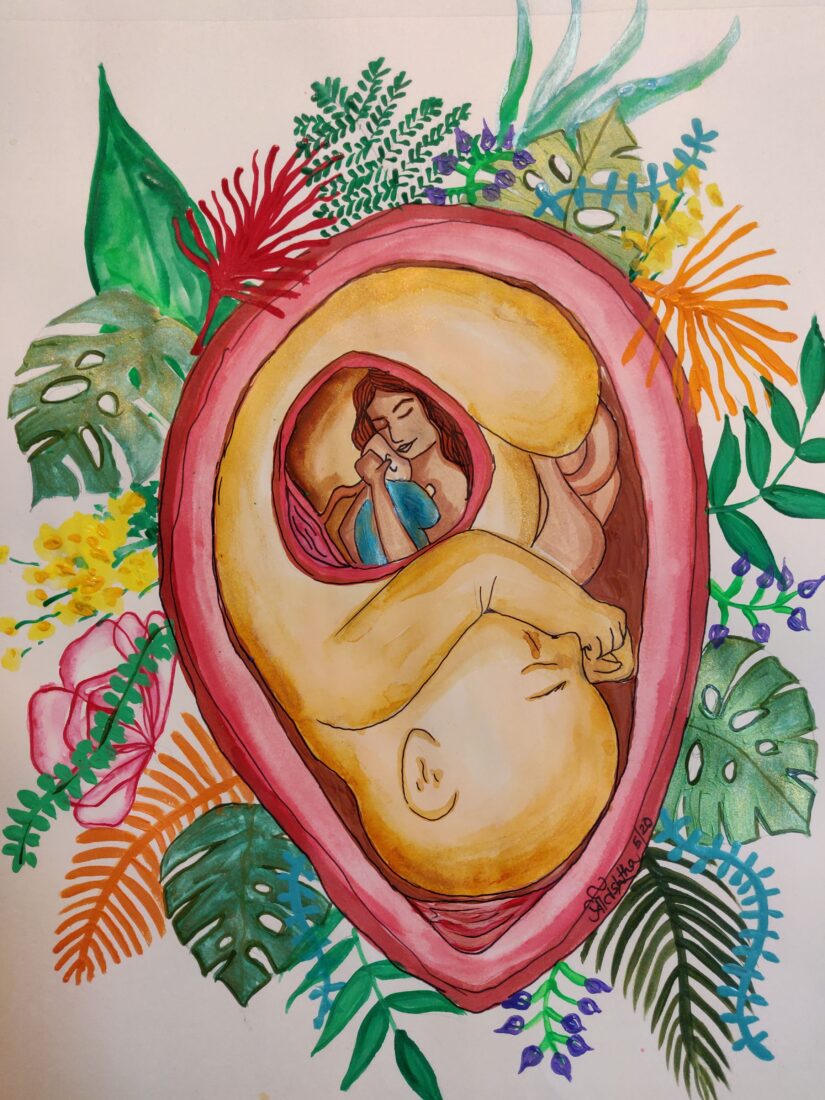 Unapologetically Yours
I ain't apologetic…
For realizing comfort in perfect imperfections,
For playing mischief with status quo
For the longing to touch as many lives in this lifetime
For a level of generosity that exhausts, empties and tires
I ain't apologetic…
For the bouquets of regrets, mistakes and struggles
Decorated in yesterday's flower vase
For embracing today as an empty canvas
To paint stories worth reading out to my grandchildren
I ain't apologetic…
For loving him or not is a call you take, not him
For being innocently dreamy-eyed as was decades ago
For refusing the templates guide me dominate me
For living truth, being kid-adult, being the best version possible
I ain't apologetic…
For unlearning the school-society -rules that strangle creativity
For smiling to heart's content, laughing over uncertainty
For disappointing the naysayers with unrealistic hope
For letting the heart win in the tug war against the mind
Poem and artwork by Dr Pratishtha Banga Chaudhari
Pratishtha is an artist by passion, a mother, a medical doctor by profession and works in a US biotech. She loves to explore multiple forms of artistic expression, poetry being one.

---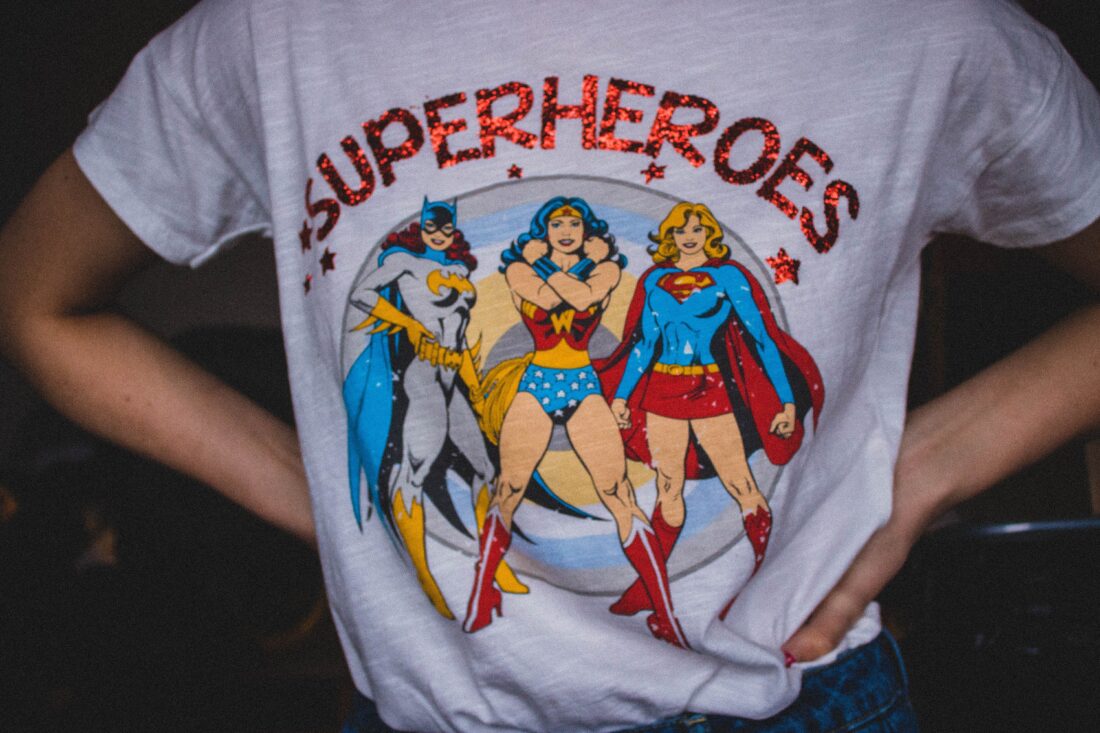 Sheroes
Hey little girl,  come walk with me.
Let me take you through the annals of history.
To meet strong women who were once little girls,
just like you, and your dear friends.

Meet Kalpana Chawla, who, with stars in her eyes
would look at the sky, dreaming of the day she would fly.
Eyes beaming, face shining with untiring efforts,
she conquered the galaxy and unravelled to the world, its mystery.
Kalpana Chawla is a Shero to me.

Have you heard of Nadia Comaneci?
The young gymnast scoring a perfect 10 when she was only fourteen!
I'm sure you know, it wasn't easy, through her dedication and
continuous efforts, with every drop of her blood,
sweat and tears, she made her dream a reality.
Nadia Comaneci is a Shero to me.

Indira, Sarojini, Kamala, Malala,
our sisters, mums, grandmums and aunties,
all the women that you see, they are the Sheroes around you and me.
Each one carving out their own destiny.
I hope you will dream big dreams, dear girl,
you have the power to make them a reality.

No sky is too high, no ocean too deep or scary.
Shine on, dear girl, build a beautiful world,
of your hopes and dreams. like those before you,
and all the ones yet to be.
The world out there is waiting to hear your story.
For you, dear one, are a Shero to me.
Poem by Dr Vinita Ashit Jain

---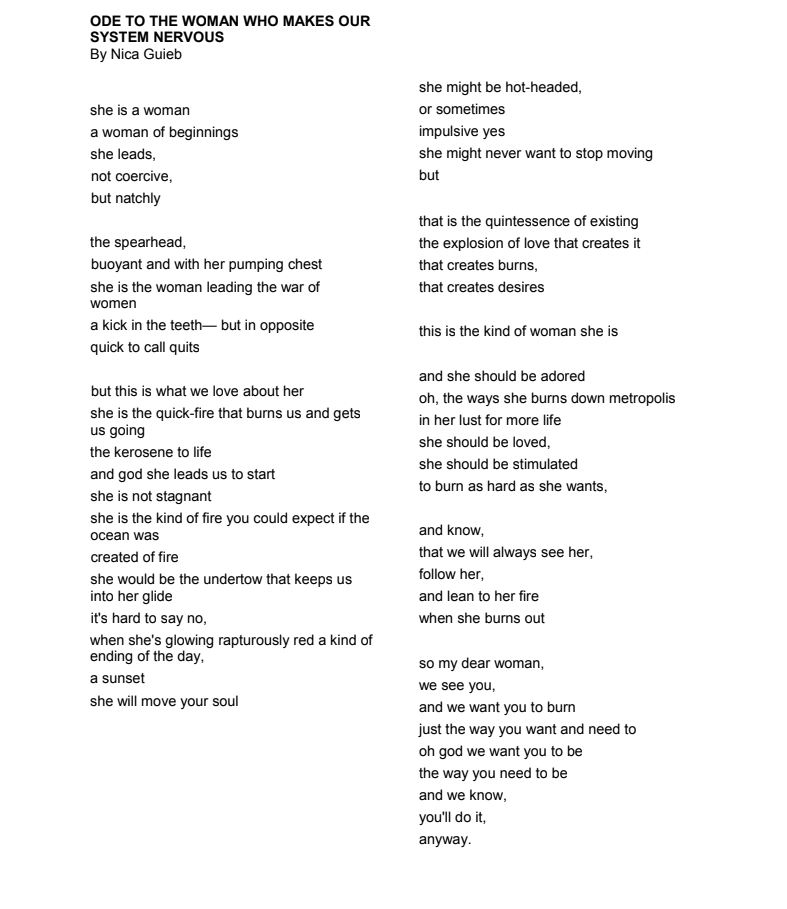 Nica Guieb is a current campus journalist and plays a central role in creative poetry. She is currently a Political Science student and also taking up her second side program in Washington, DC.
---