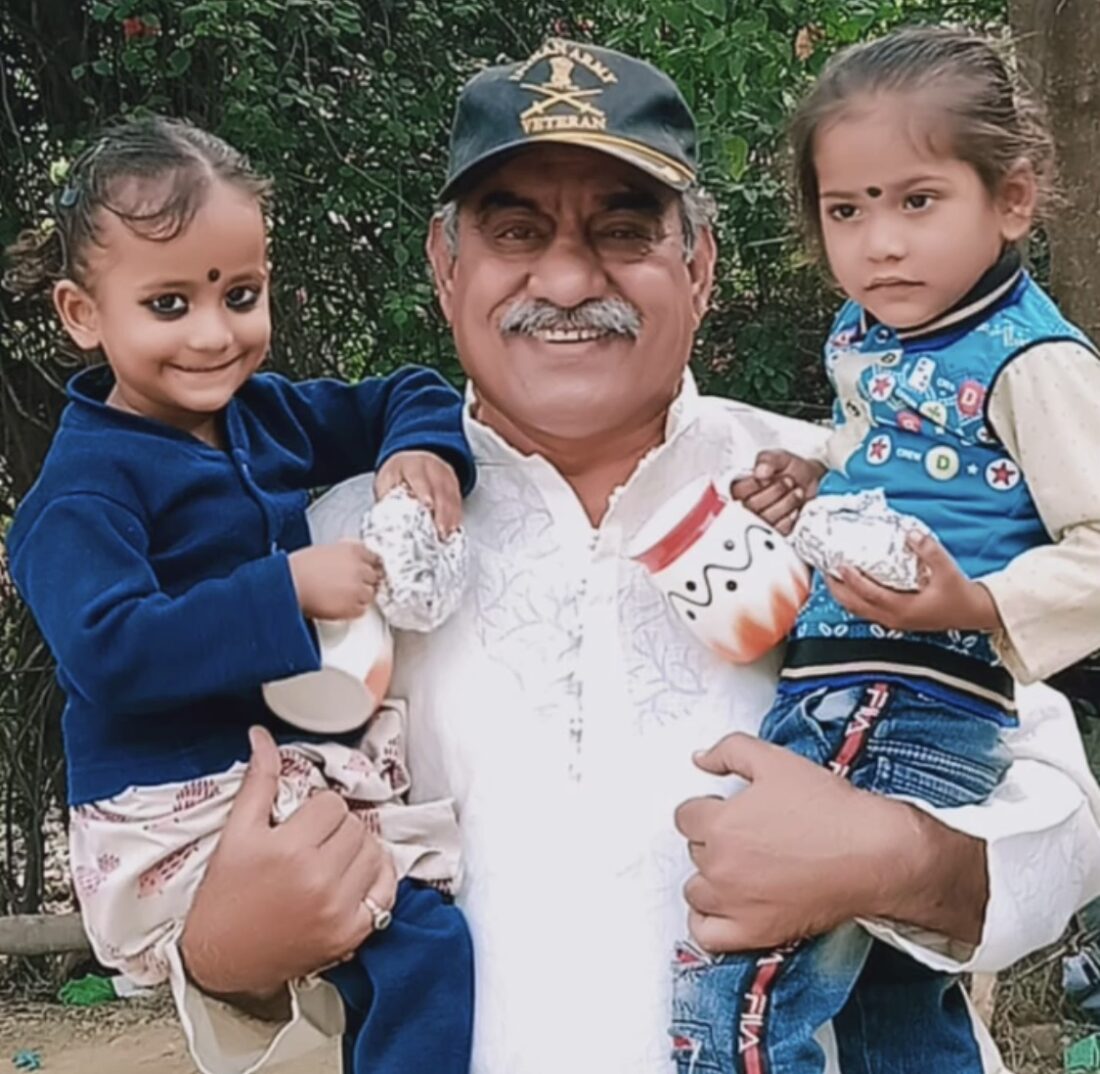 The Beginning of Spreading Smiles
On 4th March 2019, Gurugram residents woke up to news of a horrific fire in Nathupur Basti razing 80 'jhuggis'. The 1500+ residents are primarily migrants from West Bengal – the men work as garbage collectors-cum-segregators, rickshaw pullers and daily wagers, and the women as domestic maids.
Wanting to help the distressed people, the 'Sharing our Blessings' group, comprising residents of Central Park -1, contacted coordinator Dr SK Dhingra. He listed the urgent requirements and reached out to our condominium residents. A massive collection drive generated a week's supply for an average family of four and a friend donated 80 pressure cookers.
The 62-year Veterinarian and Founder Director of Spreading Smiles Charitable Trust (SSCT) recollects his first close encounter with Nathupur dwellers, "In February 2014, my domestic maid's 'jhuggi', and 62 others, were burnt down. Along with some volunteers, we set up relief camps for these victims. We continued assisting them and noted none of the 600+ children attended school. Instead, they loitered, gambled, smoked or were ragpickers."

Spreading Smiles through Education
Feeling the necessity to educate the younger generation and integrate them into society, Dr Dhingra, teacher Bharti Bhati and other volunteers went home to home convincing parents to send their children to school.
Bharti, 30, recalls, "We found and focused on numerous unattended children in homes where both parents worked. At times, we literally had to carry them to school, attend classes, and gave them free mid-day meals."
These dedicated efforts resulted in the single-roomed 'Spreading Smiles Gyan Kendra' (SSGK) opening on 16th February 2015 as a preparatory school for KG to Class 4 students. During these formative years, holistic education, uniforms and stationery is provided to first time learners. Also included are computer training, sports, music, dance, yoga, meditation and educational tours. Benefactors celebrate special occasions and festivals with SSGK children, which helps strengthen family values, and social and cultural barriers are replaced by progressive attitudes.
Starting with 30 students and one teacher sitting on durries on the floor, SSGK soon got desks and continued the strength increased to a full-capacity 150. There is a long waiting list, but lack of funds and space are the obstacles towards enhancing present premises and increasing student numbers.
Backed by 11 years' experience teaching socially disadvantaged children, Bharti, joined SSGK a month after its inception. "Language was a hurdle. The children spoke / understood Bengali. We were Hindi speakers. Starting with teaching basic Hindi, we moved to English. Among these first-time entrants were many talented and diligent students, and some rebellious and disinterested whom we worked harder with. Support and positive feedback of grateful parents seeing their wayward children transforming through education, has been our reward."
The Founder continues, "Next, children transfer to mainstream schools in Class 5, studying till Class 12 CBSE Board. Due to early years lost for late-comers to SSGK, the biggest task when entering reputed mainstream schools, is requesting teachers to put our meritorious students in higher, age-specific classes. Spreading Smiles pays these students' school fee, extra tutorial classes, stationery, mid-day meals and transportation. Presently 200 students are in this category. Our teachers are continuously updated on their progress."

Strategic Planning
"In retrospect, we have learnt that teaching children is the easier process in the entire cycle. Influencing the mind-set of their parents to value education has been difficult. The tangible impact is that national averages show 90% of SSGK students, (44% girls and 56% boys), attend classes against 37% attendees in other schools. During Covid, Android phones were provided to 50 students for online classes," reveals the doctor.
"SSGK's Three Pillars' approach, firstly, provides free education and meals while addressing social, economic and cultural barriers which encourage vulnerable children to attend school. Next, volunteers proactively sensitise the community influencers to ensure that dropouts and absentees are minimal. Combining value based formal education with life skills, builds children's confidence, leadership and interpersonal skills. Spiritual tools through meditation and yoga form a foundation of human values," details Dhingra.
Meritorious Students
Competent Kajal, daughter of a housemaid and garbage collector, initially studied at SSGK for three years. Family moved to West Bengal where she continued schooling. At 16, while in class 10 she was married off to a construction worker who opposed further studies. She divorced him, rejoined school, cleared her Boards excellently and shifted to Bangalore with her parents. She pursued diplomas in computers and accountancy simultaneously. Now working in a takeaway restaurant, earning Rs 16,000 per month, Kajal continues further studies. Spreading Smiles supported her financially throughout her studies till she started earning.
Garima Joshi, 12, despite being born with a cleft lip and palate and having undergone 10 corrective surgeries and procedures, is a brilliant topper. The Class 7 student at Vidya School, Gurugram, writes short stories, composes poetry, is a dancer and recipient of numerous awards and certificates. The only child of homemaker Kalpana and driver Vipin, Garima aspires to become a doctor.
Over the phone her chirpy voice recites Robert Frost's inspirational 'The Road Not Taken'
Two roads diverged in a wood.
And I took the one less traveled by,
And that has made all the difference.
Garima ends with sage advice: "Don't lose heart if you have problems. We have to fight to overcome them."

Improving Nathupur Facilities
Dhingra specifies, "For the 1500+ marginalised families, SSCT has installed and improved toilets, street lights, drainage system and metalled roads. Other facilities include 24×7 pure UV drinking water, setting up medical camps for free check-ups, health supplements, sanitary pads, Covid testing and vaccinations. Additionally, trees and vegetable planting drives and workshops on cleanliness, personal hygiene and health camps are conducted. During Covid dry rations, basic essentials and cooked meals were supplied for almost a year."
Dr Dhingra closes the interview with, "Given an opportunity, every child's inbuilt talent needs to be groomed adequately. I will make sure in my lifetime, no one leaves SSGK without receiving basic education. Sri Sri Ravi Shankar has rightly said 'Your actions have power. Uplift someone today. Change their World'."
Contact:
Dr SK Dhingra
Mobile: +91-9811611402
Address: S-34, DLF Phase 3, Nathupur, Gurugram, 122002, Haryana, India
Email: [email protected]
Website: https://www.youtube.com/watch?v=dVFsn1xRCYw&authuser=0
---
---
---