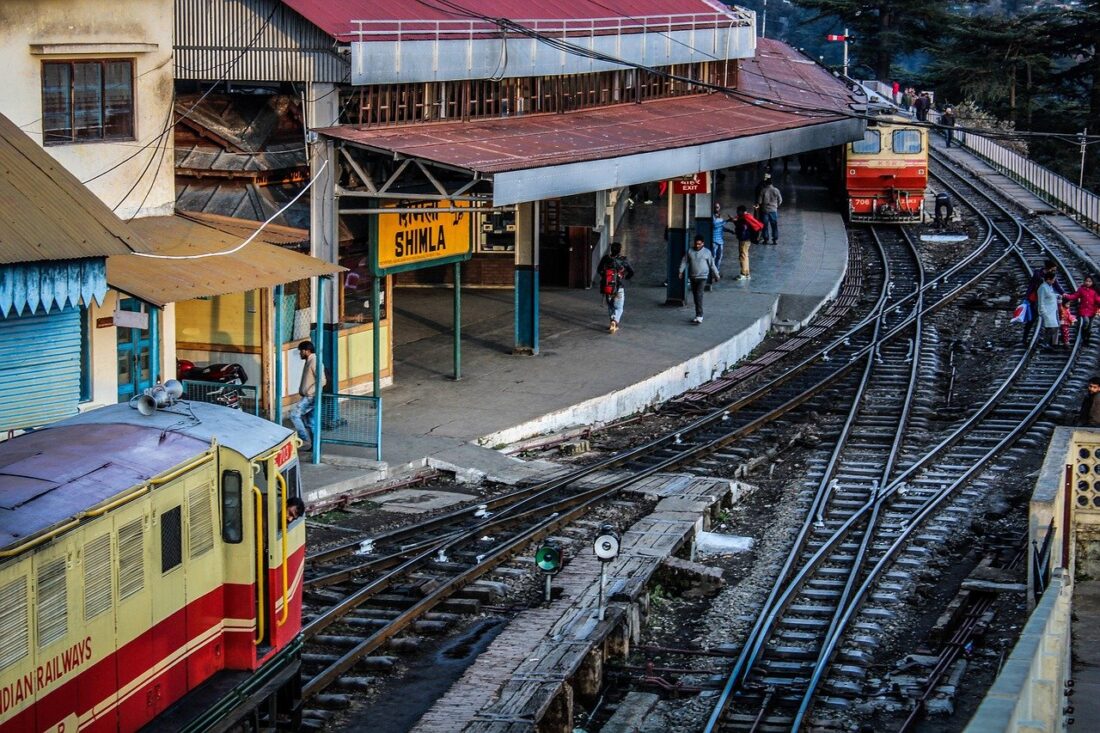 Sitting idly by the window I was determined to not let him out of my sight but, after a few seconds of being followed by my unrelenting gaze, bhaiya1 suddenly vanished behind the screen of a family of seven. Time ticked by, I craned my neck several times, desperately darted my eyes all around, even forced myself to not get distracted by the kachori-wala2 fishing out an aromatic fresh heap from scalding hot oil a few meters away, but I couldn't make out bhaiya's contours anywhere. In my focused pursuit, I didn't hear the trademark whistle nor did I notice the wave of the green flag. All I felt was a slight jerk and the abrupt realisation that the A.H. Wheeler bookshop was slowly gravitating to the left. And then … panic. Bhaiya has been left behind! Seconds later, as the train picked up pace to match my furiously flowing tears, my big brother miraculously appeared in our bay, grinning and holding the freshly-filled water camper. I breathed again. He had managed to board the train, after all.
If you were born before the 1990s, you likely know this story, that panic, and the unmatched thrill of train journeys. They belonged to an era that existed long before air dashes became the norm, paradoxically negating the modish phenomenon called 'slow travel'. You want to know slow travel? How about being seated untiringly at one spot for journeys that sometimes lasted 56 hours or more? How about waiting with a bursting bladder for interminable minutes before the wet and stinky WC fell vacant? How about being inordinately stranded in the boondocks and having to ration your food and water? How about being stifled by the heat since stationary trains usually meant fans wouldn't work? Don't for a moment get me wrong. Notwithstanding all the discomforts and constraints, slow travel — the kind I equate with erstwhile train journeys — has a veneer of romance, owing in parts to its unpredictability and sheer luminosity, but mostly bolstered by wispy childhood memories.
At every train station, perspiring people would queue up at the counters for platform- and train tickets as well as poochh-taachh (Enquiry). Some lesser-well-off passengers would be sleeping, a thin sheet enough to buffer them against the hard flooring. In the intense heat and humidity, everyone would seek a spot under the slowly-whirring overhead fans. Languor would overlap frenetic activity. There'd be a constant drone of chattering people and mobile vendors selling luggage chains, chintzy locks, plastic mats, paper soaps, cheap trinkets. Sounds of children wailing, roadside horns blaring and a hubbub synonymous with bustling Indian railway stations would envelope the air, pierced now and then with the rhythmic chhuk-chhuk of chugging trains and their whistles.
The corridors, bays and berths of Indian trains were a universe unto themselves, peopled by ad hoc characters. Carrying an aluminium kettle and kulhads3 or plastic cups, there'd be the fellow shouting out in archetypal railway-style 'chaaaiii … chaii garam … chaaaiii'4. Now and then, chaps holding bucketfuls of bottles of aerated beverages submerged in a sea of melting ice would come peculiarly intoning 'thanndaaa5 cold drink'. "Pehle dikhaiye kitna thanda hai (show me how cold your cold drink is)," I'd demand after a beseeching look to daddy had met the go-ahead, and, regardless of the bottle's temperature, would proceed to strip him of the load by one. Vendors selling combs and clips, wiry child acrobats with penciled-in moustaches, and eunuchs calling all manner of men "eh chikne6, tu toh Mithun/Dharmender/Jeetender dikhta hai re7" would snake through. Synchronising their entry were also beggars, singers and safai-walas8 who'd sweep the compartment clean of peanut shells, banana skins and paper-plates that the lordly train passengers considered their birthright to leave behind. Then there was the 'To Stop Train Pull Chain' lever that resembled a nunchaku. Hanging like a pendulum from the centre of a square niche, it begged to be pulled.
I remember the massive aluminium food carrier our family used to cart along on train journeys — together with hardy VIP suitcases initialed with my father's name — not only from memories of a distant past but also from sight. Our trusted companion from more than 40 years ago (that we half-jokingly dubbed 'The Trunk') still sits sturdy in my mother's store — somewhere between brass vats and steel canisters — unused but not abandoned. It has five deep trays in which ma would pack countless soft pooris and a couple of well-fried sabzis9 meant to remain unspoilt for a couple of days, at least. The Trunk also carried durable meethas10, some namkeens11, and definitely veggies like cucumber, tomato and nimbu12 which daddy — it was always he who took on the task — would chop into neat thin roundels to ready a fresh salad garnished with homemade chaat masala and salt carried in salvaged dibbis13 of medicine or cosmetic. As the train hissed, buckled, tooted and swayed, the little me would tuck into poori14 rolls, either trying to unravel the mystery of the zig-zagging tracks or looking out at the blurred whiz of a world that'd disappear all too quickly behind us.

Sadly that world did disappear, all too quickly if you ask me.
If travel is flight and pursuit in equal parts, like Paul Theroux had written in The Great Railway Bazaar, I know what I am pursuing. In place of the sophisticated call of 'Ladies & gentlemen, boys and girls, this is your captain speaking', I am pursuing that gruff voice exhorting 'yatri kripaya dhyaan dein15'. Instead of well turned-out stewards pushing tall carts laden with ready-to-eat food packets and jugs of water, I am pursuing the sweaty fellow selling unhygienic masala chana. Over a prettily-made-up hostess with contrived politeness asking 'Tea? Coffee?', I'm pursuing the jovial 'chaaaaiiii … chaai garam … chaaaaiiii' chap. Instead of a busy neighbour bent over his laptop with headphones precluding any possibility of a dialogue, I'm pursuing Mathurji on coach C6 Berth No 18 espousing ideas to change the state of the nation's polity. Always and forever, I'm pursuing some random auntyji's humble aloo-poori which she'd generously share with her fellow passengers — "aap bhi lijiye, bhaisahab/behenji/betaji (you too have some)" — instead of deriding a co-passenger on 19A who dares to eat ghar-ka-khana16 with her fingers. No, anyway you look at it, I'm pursuing the slow, long, journeys in invariably-late trains from my past. I'm pursuing the despair and panic of believing bhaiya has been left behind at some wretched station. How else would I know the joy of finding him again … the relief at breathing again?
Alas, my past has taken flight. Maybe I should've paid heed to that notice of 'To Stop Train Pull Chain'. That way, I could've held up the trains and prolonged the memorable rail journeys. And, who knows, perhaps my childhood too.

---
Bhaiya1: Older brother
Kachori2: Deep-fried Indian bread
Kulhad3: Terracotta cups
Chai garam4: Hot tea
Thanndaaa5: Cold
Eh chikne6: Hey, fresh-face!
Tu toh Mithun/Dharmender/Jeetender dikhta hai re7: You look like a hero
Safai-walas8: Cleaners
Sabzis9: Vegetables
Meethas10: Sweetmeats
Namkeens11: Tucks
Nimbu12: Lemon
Dibbis13: Small containers
Poori14: Fried Indian bread
Yatri kripaya dhyaan dein15: Passengers, may I have your attention please; an announcement typically made in Indian railway stations
Ghar-ka-khana16: Home-cooked food

---
---
Share

Picture Credit : antriksh kumar from Pixabay