Steely Determination and Stealer of A Billion Hearts
One of the most influential vocalists of South Asia, Asha Bhosle enters her ninth decade on September 8th. A look at her artistry and the trials and tribulations she went through in a long career, which was consubstantial with that of her sister, the legendary Lata Mangeshkar.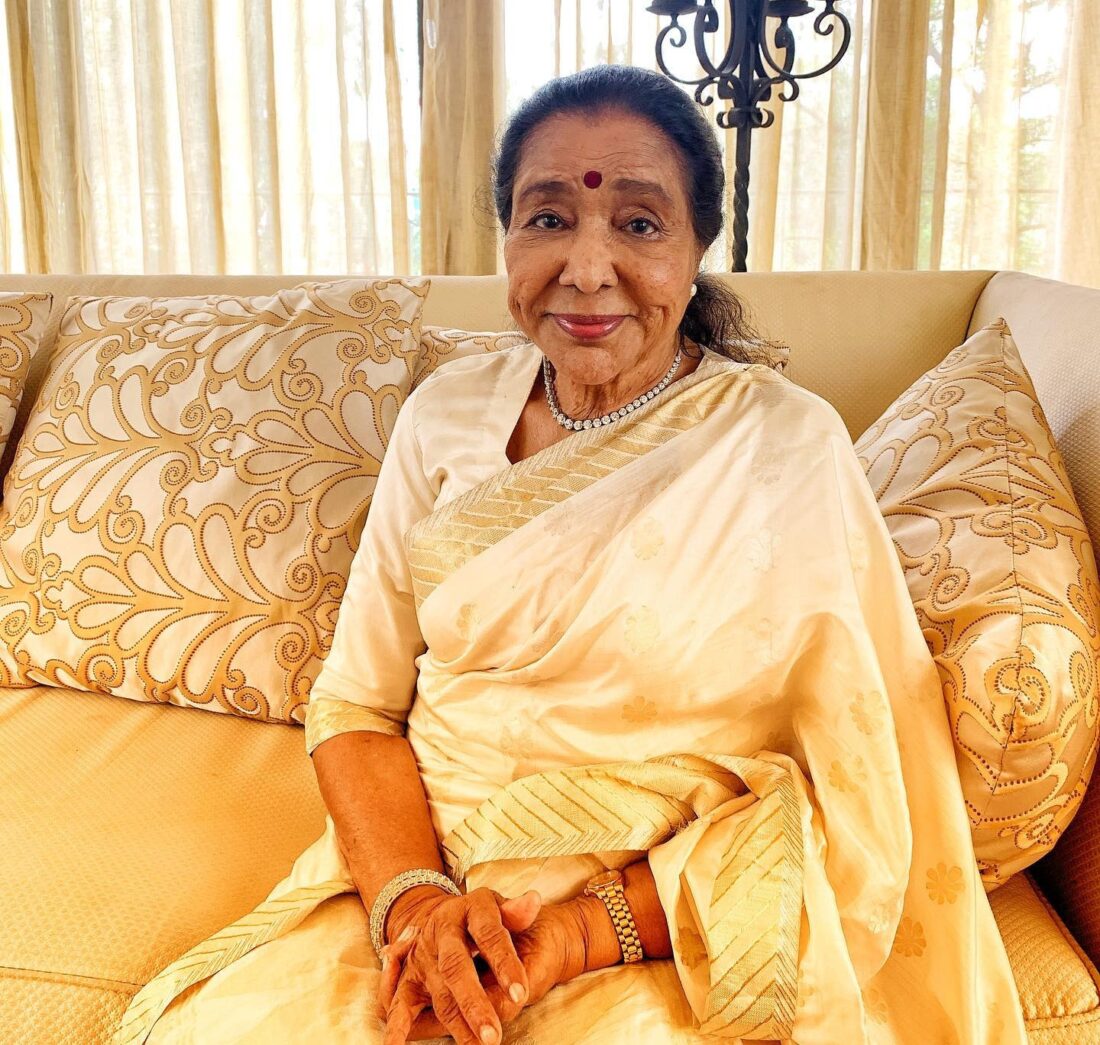 For singer Asha Bhosle, nee Mangeshkar, the return to her maternal home in 1959 was to prove pivotal in her illustrious career and personal life. She was still pregnant with her third child. A decade ago, she had married Ganpatrao Bhosle, a ration inspector, without her family's consent. The family did not take well to this rebellion, and for years she had no contact with them. Married life, though, brought with it a decade long tryst with misery and abuse, which could have broken a lesser person. Asha was made of sterner stuff, and this was the first of many thunderbolts that life threw her way. Her dream of being the consummate homemaker was shattered by a husband who demanded that she pursue singing as a profession. He pushed her to practice regularly, for which, ironically, she would thank him later in life as it made her a stickler for discipline. He forbade any contact with sister Lata Mangeshkar, although she was permitted visits by the other siblings and her mother. Life for Asha meant endless rounds of recording studios after she had seen her kids off to school in the morning, returning home in the late evening to cook and feed the family. The studio was a refuge of sorts, an oasis from the torment of a marriage gone horribly wrong. Coming back to the Mangeshkar home ended that period of trials and tribulations.
As the third child of Master Deenanath Mangeshkar, a renowned classical singer and Marathi musical theatre personality, Asha grew up with music, although she did not receive much formal training from her father. She was a tender eight when her father passed away, with eldest sister Lata carrying the burden of providing for the family. It was not until after Asha married Ganpatrao that she actually took to learning Hindustani classical music from Master Navrang. He pointed to singing for films as a more lucrative option to becoming a classical vocalist. Doffing her hat at her father's rich repertoire steeped in Hindustani Raag music, she recorded a series of singles in 1956-57 of his compositions, with her vocal abilities on full display.

By the mid-50s, Asha Bhosle already had a flourishing career as a "playback" singer in the fast-growing Hindi movie industry, where she lent her voice to lip-syncing actresses on screen, a profession that she had never really thought of pursuing initially. Sister Lata was the dominant force in the industry, which inevitably led to rumour-mongering and frantic media speculation about sibling rivalry and much worse. Truth be told, Lata and Asha each had distinct styles with few overlaps, despite almost identical training in Hindustani classical music. During the 50s, Lata's voice often adorned the leading ladies, while Asha's, with its distinctive sultry and sensuous quality, mostly went on vamps or supporting actresses. She would take any assignment that came her way and in doing so, developed a formidable reputation for versatility. In 1957, though, she had her first big break when she lent her voice to a leading lady in the movie Naya Daur, which was a runaway success, and Asha would never look back.
Asha's vocal prowess, coupled with a never-say-die attitude, often yielded melodies which would delight the classes and masses alike. Take, for instance, this Marathi song where an annoyed Radha protests her lover Krishna's seductive flute-playing, keeping her from returning home in the evening. Asha encapsulates the emotion to perfection, her voice scaling the peaks and valleys of the composition effortlessly. This vocal trapeze act, evidently not for the faint-hearted, was composed by her brother Hridaynath perhaps in a state of divine madness and delivered to perfection by Asha in 1960 when she was in the ninth month – almost ready to deliver her third child!
Her career graph, much like sister Lata's, was on a relentless upswing during the 60s, 70s and 80s. Composers O. P. Nayyar (who refused to have Lata sing his songs even though he admired her), Ravi Sharma, S. D. Burman and his son R. D. Burman (whom Asha married in 1980) contributed a major part to her oeuvre. She transformed those compositions into milestones with her fulsome, pitch-perfect and fluid vocals, which could traverse three octaves with great felicity.

No other vocalist on the sub-continent has forayed into as many diverse genres of music as Asha Bhosle – be it film music with its plethora of situational songs (from classical, to semi-classical, to devotional, to romantic, to seductive, to cabaret, to rock-and-roll, to disco and hip-hop) or music outside films (from Marathi stage music, to ghazals, to Rabindra sangeet, to Western pop). R. D. Burman, her musical soul-mate and husband, understood this quality in Asha to finesse her voice to any genre. He gave her some of her most vocally demanding work, including this track from a 1987 album that fuses Hindustani classical elements with jazz arrangements set to an unusually complex rhythm pattern.
Like sister Lata, Asha traded riffs with all the great male vocalists of that era, including the shy Mohammad Rafi, the eccentric Kishore Kumar and the gentlemanly Manna Dey, Mukesh and Talat Mahmood. However, her duets with Lata are manna for the ears, with the two siblings at times exchanging exquisite coloratura, and at times singing tandem lines in perfect synchrony. Asha once compared the experience of recording with Lata to a festive occasion, where there was eager anticipation of sweetmeats. All that it took to fire up Asha was a beatific smile from Lata in appreciation of a vocal flourish while they were singing on the mic. The Mangeshkar-esque pirouettes of notes are on full display in this ghazal composed by the highly sophisticated Madan Mohan.

At ease in many Indian languages, Asha also made her mark globally with singles and album releases in the UK and the USA – including collaborations with Stephen Luscombe, Boy George, The Kronos Quartet and a classical album with sarod maestro Ustad Ali Akbar Khan – earning her two Grammy nominations. Her international forays contrasted with Lata, who shied away from experimentation, preferring the familiar terrain of Indian cinema. Here is a duet she recorded with the boy band Code Red in the early 90s.
Life had its share of ups and some life-shattering downs as well for Asha. Next in line was the loss of her second husband R. D. Burman in 1994, which abruptly ended a musical collaboration that began in 1966. Her detractors didn't spare her even then, insinuating that she had usurped his properties; in fact, she cleared his debts and rescued his finances.
In 2012 her daughter Varsha – a talented singer and gifted journalist – was driven to suicide at her Bombay home while Asha was on a concert tour in Singapore. This shook Asha to the core and reverberated throughout the Mangeshkar household, which had never experienced such trauma nor the unfortunate publicity that it attracted. Asha couldn't muster the courage to resume singing after this loss, until brother Hridaynath placed a tanpura (a four-stringed drone instrument) in her hands a week after Varsha's death. He reminded her that as siblings steeped in music, they were considered incarnations of gandharvas (a class of celestial beings who excel in the performing arts), sent to earth with cursed lives which could only be redeemed through music. Asha started strumming the tanpura, gradually singing the Sa (the first note of the Hindustani scale), and within minutes, surrendered herself to her notes.
As if that was not hard enough, she lost her eldest son Hemant (who had a varied career as a commercial pilot and a composer for 15 Hindi films) to cancer in 2015. In circumstances that had eerie echoes of her daughter's demise, he was in Scotland and she was informed of his death after her concert in Singapore as she was flying back to Bombay to celebrate sister Lata's birthday. More recently, on February 6th, Asha was devastated at the loss of sister Lata, who succumbed to Covid. For her, as for the rest of the Mangeshkar siblings, Lata was the patriarch and matriarch all at once, in the absence of Mai and Master Deenanath. Lata's passing deprived them of a great protective and reassuring presence. "For you," Asha tearfully told an audience at a memorial function, "Lata Mangeshkar is no more. For us [the Mangeshkars] we have lost all we had. We have been orphaned yet again after our father left us."
Asha being the indefatigable Asha, she has never allowed any of her harrowing setbacks to hold her back. She keeps herself busy, recording occasionally and appearing frequently on music reality TV shows as a judge. Her culinary passions found expression in a chain of ten restaurants aptly named Asha's in cities such as Birmingham, Dubai and Kuwait. Her youngest son Anand manages her interests like a hawk, and cares for his mother like royalty. Dividing her time between her farmhouse outside Bombay and her homes within the metropolis and Dubai, she is enjoying the fruits of a career built through sheer determination, hard work and commitment to the highest artistic standards. On turning 75, she was asked by an interviewer what she made of the litany of tragedies that had befallen her. With a characteristic smile and a glint in her eye, she replied: "These are battle scars. The warrior who rides into the battlefield never rues the wounds that he receives from swords and spears. He wears them with pride!"
If art does indeed imitate life, then these lyrics by the celebrated poetess Amrita Pritam composed by sitar virtuoso Ustad Vilayat Khan and sung by Asha Bhosle – a veritable confluence of three of the subcontinent's superlative talents – sum up her life story aptly:
Ambar ki ek paak suraahi, baadal ka ek jaam uthaakar
Ghoont chaandni pee hai humne, baat kufr ki ki hai humne!
From the cup of a cloud, from the pristine goblet of the sky
I have drunk but a dram of moonlight; I have committed heresy!
---
---
---