Mukti's numerical track record is strikingly impressive. Within 35 years, the NGO has conducted over 400 local camps and held 11 international global workshops, to fit over 300,000 physically disabled beneficiaries with artificial limbs.
Introduces Meena Dadha, Founder, Mukti Foundation, "Each one of us has the right to dream, the right to equal opportunity. But sometimes life throws challenges at you, some more difficult to cope with than others. A singular accident or situation can change life completely. Injured minds and battered bodies come to Mukti every day. Mukti provides them the freedom to dream – and live freely – once again."
Since the pandemic, work at Mukti had slowed down and simultaneously the long list of physically challenged people coming to us, kept growing. For them it was a 'double lockdown'. This motivated Mukti to resume services with approval from Tamil Nadu Government's Health and Welfare Department while following the safety guidelines stipulated by WHO.

"During Covid, overwhelming support has come from Ford India Ltd, CKPL Steels and Jiv Daya Foundation, among others. Significantly, over three decades, limbs sponsorship has principally come from the Rotary Club, Lions Club, Jaycees and individual supporters," states Meena.
Presently, fabricating and fitting prosthesis and orthosis are done by taking adequate precautions such as staff wearing masks, gloves, and PPE kits, and regular sanitising of premises. Covid-19 fitness certificates are mandatory for patients prior to appointment, and one accompanying attendant permitted. Presently, only four limbs are fabricated daily, as against six to seven limbs during normal times. Donors interact with beneficiaries through telephone calls.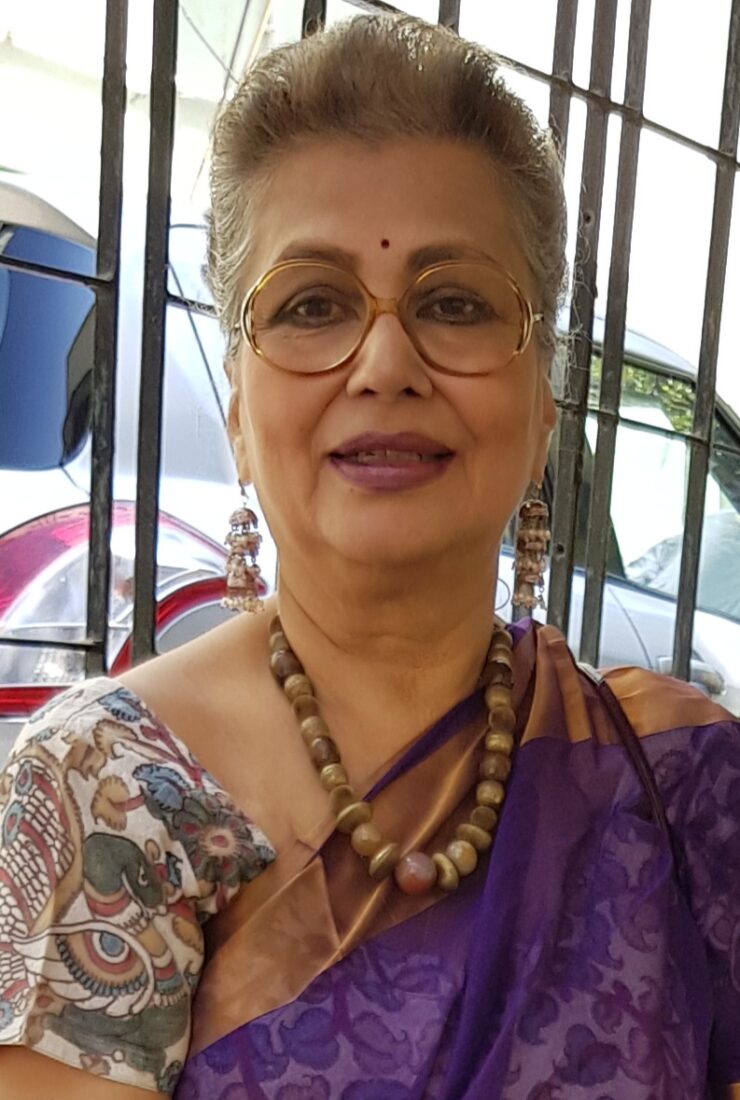 The beginning:
Meena was 18 years old when she married Mr. Mahendra Dadha belonging to a conservative Marwari family in Chennai. She soon decided she wanted to be more than just a homemaker and a caring mother to her daughter Shilpa and son Surendra.
"The opportunity came when my husband, Mahendra, and I were invited to an artificial limb camp. There were over 500 people waiting – but only a hundred of them were given prosthesis," recalls Meena.
This made Meena realise that there were a lacuna and an urgent need for artificial limbs. With support from Mahendra and the M.S. Dadha Foundation, Mukti was 'born' on 14 April 1986 in a garage in Chennai. Since then, there has been no looking back to the provision of free limbs to all ages of patients who come to Mukti.
Being new to what she was doing, Meena visited Bhagwan Mahaveer Viklang Sahayata Samiti (BMVSS) in Jaipur, which had gained much demand for similar work. "Thirty-three years ago, my first technician Tulsi, now retired, was trained by BMVSS. Mukti has since trained technicians for similar centers all across India and abroad," she says.
Meena vividly remembers her feelings when the first limb was fitted at Mukti. "Seeing the patient stand on both feet, and with our help take a few steps was the moment which made me feel the worth of living. Seeing tears roll down his cheeks, and of his family, the atmosphere was charged with emotion and I couldn't control my tears. I also realised that the honour of tears doesn't belong to women alone – it belongs to all humanity."

Mukti's workshop in Meenambakkam's constant inflow of patients daily is due to the word-of-mouth publicity as its main sustaining power. In addition, the media has supportively spread Mukti's message far and wide.
In India, Mukti has set up camps from Kashmir to Kanyakumari with the help of local sponsors. These serve people who can't reach Chennai. Lasting eight to 10 days each, about 80 to 100 patients are fitted with artificial limbs or calipers at each camp.
In 1994 Mukti started providing lightweight polypropylene and PVC calipers to polio victims. The first caliper camp was conducted at Gwalior in 1997 in association with MALT (Mukti Artificial Limb Trust U.K, England).
Limbs are now made based on the latest HDPE (high-density polyethylene) technology. The Mukti Foot is flexible and sturdy, unlike most traditional artificial feet being made.
"Since 2000, at the suggestion of Dr. Sarada Menon from the Schizophrenia Research Foundation (SCARF), Mukti started employing people with mental illnesses. This was a great step forward. Instead of having a bowl in their hands, they have now become bread earners for their families," informs Meena.
Mukti's in-house manufacturing of the core components for the fabrication of artificial limbs has two-fold benefits. Besides delivering superior quality artificial limbs, Mukti provides training to its team of physically and mentally challenged workforce who are now crafting the Mukti Foot.

Being evaluated abroad:
The International Society for Prosthetics and Orthotics (ISPO) based in Copenhagen, Denmark conducts performance tests on various components of artificial limbs and issues a performance certificate. Mukti contacted Dr. J. Steen Jensen, Honorary Treasurer of the Society, with a request to test and evaluate the Mukti Foot. Commendably, it was certified as matching International Quality Standard by ISPO Headquarters.
"We were the first artificial limb manufacturers in India to take this technology abroad. I am grateful to BMVSS for training our technicians and providing technical assistance that enabled them to go to numerous countries and fabricate limbs. Many were in under-developed countries needing low cost yet highly efficient technology. Apart from Mukti's own needs, the Mukti Foot is being supplied at subsidised rates to affiliates globally who, in turn, provide mobility aids free to patients," affirms Meena.

Requests for training and artificial limb camps have taken Mukti to Nepal, Venezuela, Brazil, Bolivia, Mexico, Moscow, Guatemala, West Indies, Malawi, Ghana and Nigeria.
Triumphs and achievements:
One of the very many success stories close to Meena's heart is that of Jagdish. "He came to us as a three-year-old with an amputated left leg. We fixed him with a limb and admitted him to Sishya School, Adyar, one of Chennai's premium institutions. Over the years, Jagdish continued visiting Mukti regularly for new limbs fitted to size. Jagdish has excelled in art, sports, and music. After studying engineering at St. Joseph College, Sholinganallur, he is doing his post-graduation at Indian Institute of Technology, Chennai."

Mukti rehabilitates the physically challenged by providing vocational guidance and training camps to become contributing members of society. Awareness programs such as safe traffic rules, art workshops, cultural programs, and sports are conducted for Mukti's beneficiaries who, equipped with their new limbs, work confidently towards normalcy.
Significantly, maximising normal schooling opportunities for physically challenged children is being done by integrating them into mainstream institutions. A plus point is the annual, four weeks' internship at Mukti by five-six students from the University of Strathclyde, Glasgow, UK.

Meena sums up, "They need our empathy, not our sympathy. I find many people with all abilities at times lack the special ability to embrace these people."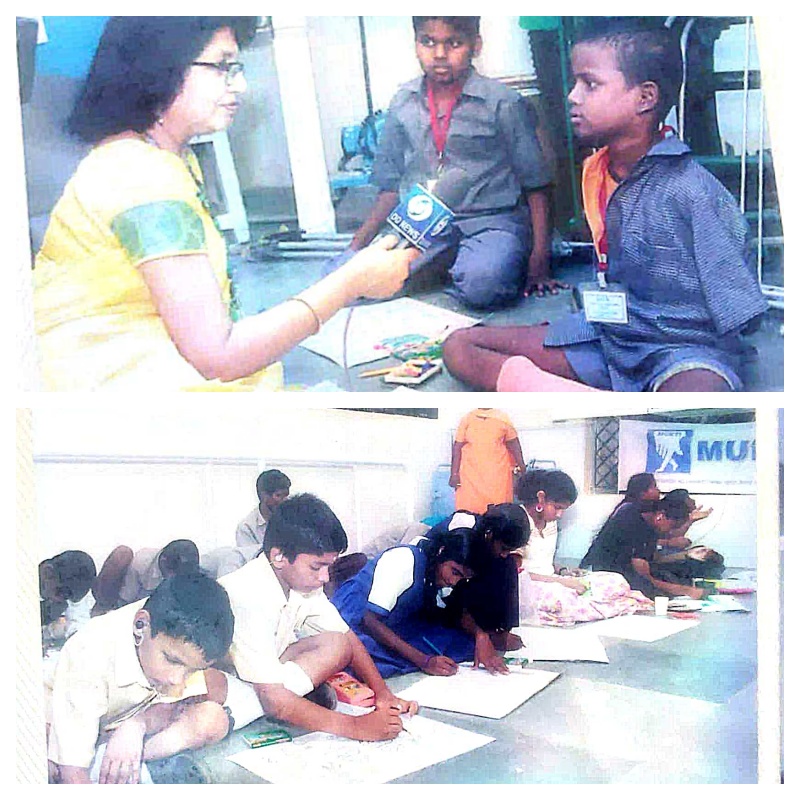 Art for Mukti
Prakrit Art Gallery in Chennai, founded in 2002 by Meena Dadha, was conceptualised not just as an outlet for Meena's love for art, but also as a platform for physically challenged artists, and to generate funding for Mukti.
Mukti organises regular week-long art workshops where leading Indian artists interact with talented physically challenged artists. Prakriti sells their creations on their behalf. The renowned artists' paintings created are gifted to Mukti to augment their financial resources.
Art collectors have the dual satisfaction of owning high caliber paintings, and simultaneously contributing towards Mukti and its artists.

Besides India, Prakrit has held successful overseas exhibitions in London, New York, the Caribbean, Hong Kong, Singapore, and Nepal.
Top Pic : Differently-abled children attend the Prakrit Art Gallery workshop.
Bottom Pic: Meena Dadha speaking to one of the boys at the Prakrit Art Gallery workshop
---
Contact for Mukti:
Tel: +91-44-22346973
Email: [email protected]
Website: www.muktiindia.org
Address: No.1 Station Road, Meenambakkam, Chennai – 600027 India
Sponsorship cost of limbs:
Artificial leg with foot: Rs. 5000/— Artificial ankle and foot: Rs. 650/— Artificial arm including hand: Rs. 15,000/— Caliper: Rs. 3,500/-

Donation to Mukti is exempted from Income Tax u/s 80G of the I.T Act 1961. Exemption No: DTT(E) No: 2039(152)/97/98
The contribution for sponsorship does not cover the total cost of the artificial limb or caliper. The M.S Dadha Foundation will provide the balance.

MUKTI will send Donor an acknowledgement and also forward a receipt in due course. Kindly note that donations for charitable organisations as well as remittance formalities may be subject to taxation and other laws as prevailing in the country of residence of the donor. Donors are requested to inquire and conform to the local regulations as required.
---
---
Share

Picture Credit : Mukti – MS Dadha Foundation, Chennai