Book: Off The Beaten Track by Saeeda Bano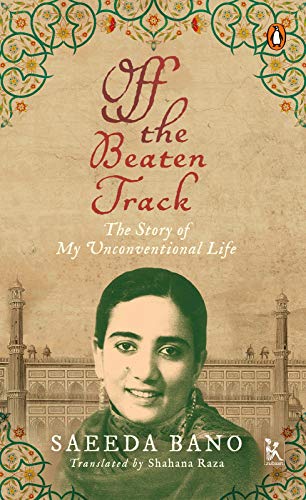 The book, as the name suggests, is a memoir. It is about the life of a woman, the doyenne of Urdu Broadcasting in India. Originally written in Urdu by the protagonist, Saeeda Bano, this is a translation of the original text by her granddaughter, Shahana Raza.

A must-read for every woman, the book inspires you to be bold, self-reliant, confident, and clear about what you want. The struggles and the challenges which Saeeda faces are all very real and relatable even though she lived in different times. The story shows that times may change, people may change, but women have to always struggle for their rights.

Though focusing on Saeeda's struggles, the book has a positive feel to it. It isn't a sob story but a story of courage and resilience. Her life was 'Off the Beaten Track'. She learned how to drive a car, became the first woman Urdu broadcaster of the country, walked out of a difficult marriage, and fell in love with a married man, everything unheard of in those days.

The book focuses on how the upbringing of a child, especially of a girl child, can shape her personality. Saeeda's parents raised her to be independent, bold and caring, and that's what she became. She could look life in the eye and deal with it.
It's a book that makes you feel proud of being a woman.
---
---
Share

Picture Credit : Google