Thinking of starting an online business in India? Want to know how to make money online in India? Wondering which type of online business should you venture in?
You have come to the right place to have all your queries and concerns addressed as we will provide you with a wide variety of options to choose from in the huge and lucrative scope of e-commerce. With numerous online business opportunities available, we will help you to make a choice that is best suited to your business requirements and find the perfect online business ideas in India. But first, let's have a look at the future of e-commerce in India and get a better understanding of the online business ideas that are available.
Future of E-Commerce in India: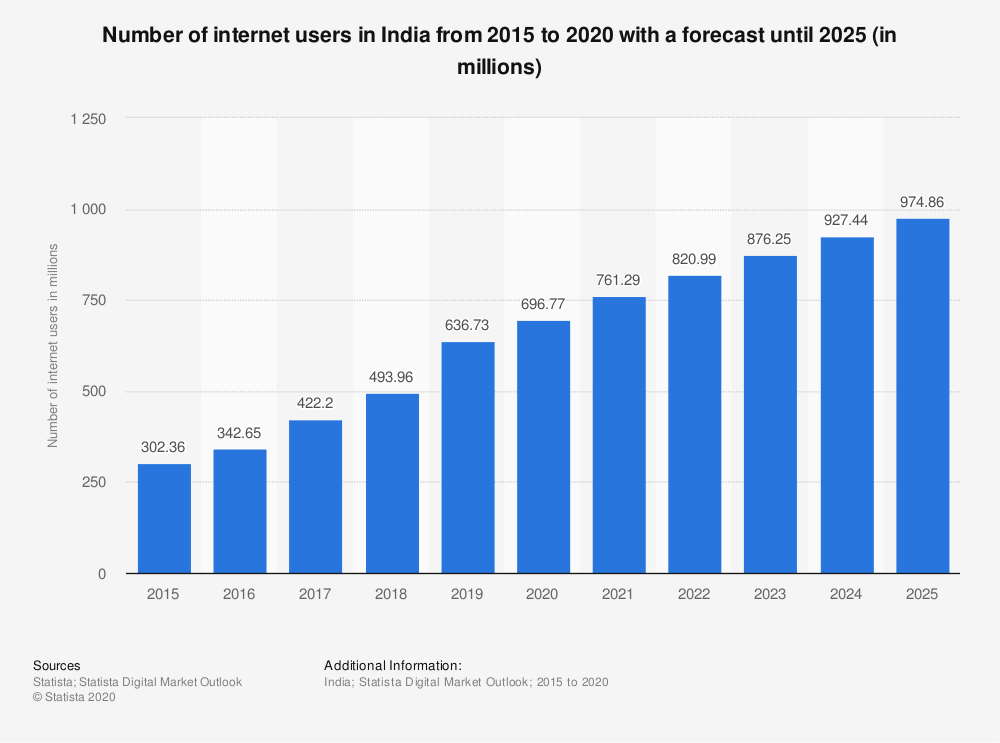 With increasing smartphones and internet penetration, the e-commerce industry is witnessing tremendous growth. 'Growing at 19%, Indian e-commerce market hits $33 bn: Economic Survey 2018', is a good indicator that the future of e-commerce in India looks really bright and promising.
Advantages of setting up e-commerce business in India:
Benefits of Doing Business Online:
a) Growing demand
b) Increasing investment
c) Attractive opportunities
To sustain the stiff competition in the industry, online e-commerce business startups must take a sneak peek into the do's and don't of Digital Marketing for e-commerce. The understanding of market and consumers is a must to make a mark in the industry.
Don'ts of Digital Marketing for E-commerce:
Do not set up your e-commerce business to sell a hoard of products out there in the market.
Do not build a website without a strong Digital Marketing plan.
Make sure you do not spam your customers with multiple pop-ups.
Don't decide your e-commerce marketing strategy based on assumptions.
Do's of Digital Marketing for E-commerce:
Speed up your online e-commerce website.
Always use quality product images.
Build a handy email list.
Showcase precise product information: features, price, etc.
Have more human-oriented offers instead of competition-oriented offers.
Listed below are the basic steps involved in the process of, 'How to Start an Online Business in India':
Step 1: Design an E-Commerce Business Model
Planning and designing an e-commerce business model is the starting point of setting up an online business. The business model should be drafted such that the details pertaining to the business concept, market research, marketing plan, operations plan and financial planning are all taken care of adequately.
Step 2: Choose Product/Service to Sell Online
Making a choice of the product/service you wish to sell is one of the crucial moves. The next important step is to identify the platform for selling the product/service. Either sell on your website or sell on marketplaces. Interestingly, opting for the latter paves an easy way to start an e-commerce business as the sellers can join multiple marketplaces to sell their products.
Some of the popular marketplaces are Flipkart, Amazon, Snapdeal, PayTM, Shopclues, etc. If you want to sustain the competition in the online business industry, you must know how to sell on Flipkart, Amazon India, PayTM and Snapdeal. Above all, you must ensure that you choose the products that are most in demand.
Step 3: Do Market Research
Wondering how to do Market Research? Here is the quick checklist:
Decide upon the product/service you plan to offer
Study the demand of that product/service
Identify the possible number of competitors
Conduct customer surveys either via phone or personal visits, as is feasible
Find out if there is a market need that has not been met
Formal marketing research simply makes this familiar process more orderly and provides a framework to organize market information for the best selling products online.
Step 4: Understand Dynamics of Online Business Model
The next important step is to list the capital to be invested besides other costs involved in setting-up the e-commerce business. The cost varies on the basis of the type of service being offered. However, some of the cost involved is incurred generally:
Market research cost
Web-hosting charges
Email Marketing Services
Website designing cost
Human resources
Cost of manufacturing product(s) offered
Warehousing expenses
Logistics charges
Traditional Marketing cost
Business taxes
Accountant and financial institution fees
Rent and utilities
So, make adequate provision of funds to ensure a smooth workflow.
Step 5: Establish Your E-commerce Business Legally
a) Decide upon the legal structure of your online business:
Legal formalities must be duly fulfilled before you start running your e-commerce business. For this, decide upon the structure of the business entity you wish to run: sole proprietorship, partnership structure, Limited Liability Partnership (LLP), or a Company format.
b) Enquire if you need to get a tax identification number for your business:
Once you've finalized the business structure, the next important thing is to inquire about tax return details. If you've opted for a corporation or a partnership-based structure, then you must file tax returns and have a tax ID number.
c) Get the necessary licenses and permits to run your online business:
Furthermore, it is equally important to obtain the necessary licenses and permits to run your online business, which may vary depending upon the city requirement. For instance, if you are offering to account for financial services, you will need a license in most states.
Step 6: Set-up your E-commerce Website
a) Decide whether to do Self-hosting of the website or outsource:
Self-hosting a website is beneficial for the simpler form of e-commerce businesses in India like content writing, parenting tips, motivational thoughts, etc. If your e-commerce business is exclusively online, you must consider hiring a professional or outsource the website hosting task to get a polished website. The latter being a little more costly than the former option, accordingly define your budget.
b) Upload the product and services details:
Once the website hosting is complete, jump onto publishing the relevant content:
Details of fast selling products in India – pictures, and descriptions in detail
Company objective (to differentiate you from your competitor)
E-commerce business history and personal bio
Blog or any other additional content you plan to add
An engaging shopping cart and details defined on the payment gateway
c) Work upon the SEO of your online business website:
Trading in e-commerce business in India will be incomplete without defining the SEO plan. Both on-page SEO and off-page SEO activities carry importance.
Add relevant keywords that prospects must be searching for. You can do this by accessing tools like Google Keyword Planner, SEMrush, etc.
Have both internal as well as external links on the website. The external links must be to authoritative websites, such as Wikipedia, or other relevant websites based on the type of your online business.
Step 7: Draft Marketing Strategy
Everything sorted, said and in place, it is now time to take actual action! And that is to spread the word about your newly launched e-commerce business. Elements of a successful online business strategy are:
Eye-catching design
Advertising techniques
Email marketing activities
Website monetization
Analytics and online traffic analysis
Online PR
Search Engine Optimization – on the page and off page
Social Media Marketing
Amongst the aforesaid, we'll highlight 2 important activities:
a) Identify free sources – Social Media:
After the website, it is the social profiles of a business that customers check out, so cash upon the free sources to make a mark on your prospective customers.
Create a Facebook Page.
Have an active Pinterest account (especially if dealing with fashion, travel, food-based business).
YouTube is another effective platform that generates interest via audio-visual interaction.
Most of all, being active on social channels is what matters the most instead of merely having a presence. So, understand the fact that it is important to keep your followers updated with the new product launches, sale or any other important business information that they must know.
b) Make money from AdSense:
Another assured way to start making money from your online business in India is to start running ads on the website. The following steps will help you start making money from AdSense:
Join an affiliate network (Commission Junction, ShareASale ClickBank and so forth).
Apply for different affiliate member programs in a speciality (e.g. Payday Loans, or Web Hosting and so on).
Promote the affiliate program that offers most extreme payout and with a decent reputation.
Sign-up for Google AdWords (utilize free coupons).
Start your promotion campaigns by making advertisements and correct keywords (use long tail keywords).
Your advertisement(s) will show up on real Pay Per Click web search engines like Google, Yahoo, Bing, etc.
Potential clients will click on your advertisement and finish a deal.
You will make money online in India from Google AdWords, as you will earn the commission by means of an affiliate network that ensures a lot of best-selling products online in India.
Step 8: Test and Launch
Well, now it's time to do the test run of your website and check for any loopholes. Once sorted, you know how to make money online in India and are ready to launch your online business. Do not miss out on any step to ensure the smooth set-up of your online business. While setting up an online business, do not forget about the dropshipping business model that acts as an extension to your online business model.
Good luck!
---
Share

Picture Credits: slideshare.net, brandsvietnam.com, bluefountainmedia.com