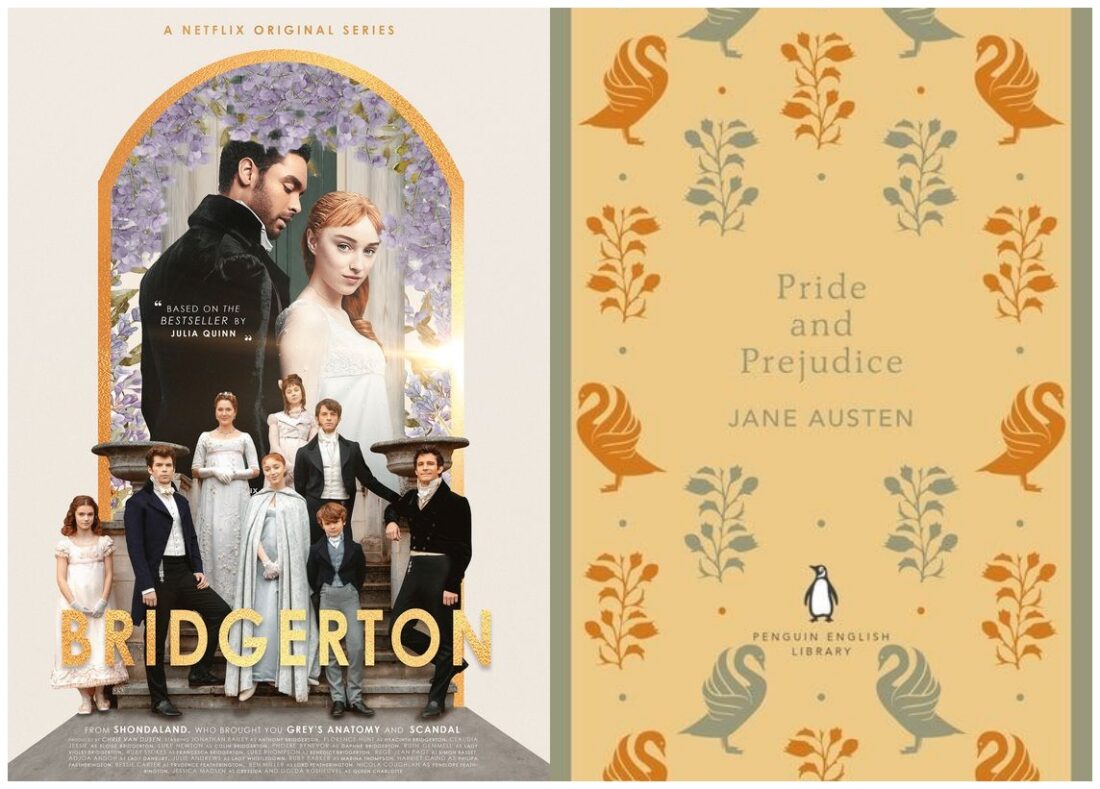 The success of Bridgerton proves one thing for certain that we all desire a bit of Jane Austen in our lives, but with a healthy dollop of sex. As the current No.1 watched show on Netflix with over 82 million viewers worldwide, this period drama has broken many records surpassing even the Queen's Gambit and is sure to inspire a plethora of write-ups. As a huge Jane Austen fan, I must add my two cents.
I currently own 10 editions of Pride and Prejudice, one of Jane Austen's most popular novels, and by far my favourite, and for many reasons. I had the opportunity to study it during my one-year stint at Miranda House College (Delhi University). It made me see my romantic illusions about life through Elizabeth and Darcy-coloured glasses. Austen is famous for her balance of virtues and vices between the male and female characters. The timeless question of who the proud one was and who the prejudiced is one of my favourite things about the novel. Either you put both protagonists on pedestals or deny both the pleasure of being better than the other.
Similarly to Darcy and Elizabeth's characters who originated from a much-loved book, Daphne and Simon are the masterminds of author Julia Quinn. The highly successful series of books already has a dedicated fan following (Outlander anyone?), so the show needed to portray the captivating love story in all its authenticity to be a success. Mysterious and broken, innocent and wise, both the protagonists in the first season of Bridgerton are perfect candidates for an intense and passionate love affair. And, who doesn't want to see that?
For those of you who are getting a bit lost with my Darcy and Elizabeth references, I must urge you to stop reading immediately and go watch the 2005 movie version of Pride and Prejudice starring Keira Knightley and Mathew Macfadyen. Yes, I realize I should be asking you to pick up the book instead, but it is the age of instant gratification isn't it! The movie a big hit then, and still watched by 'ardent' fans 15 years later expresses the famous love story beautifully. The chemistry between the actors, the stunning landscapes of the English countryside, the encompassing arrogance of Darcy and the alluring defiance of Elizabeth all served with Austen's brilliant profusion of dialogues does not disappoint. Before I am crucified for not including the 1995 BBC hit series with Colin Firth and Jennifer Ehle, I love it equally and own it as well.
Back to Bridgerton and its popularity, some have argued that it is borderline soft-pornography despite its dazzling portrayal of the English high society life with beautiful costumes, elaborate sets and of course the famous English countryside. I would beg to differ here. Despite its captivating sex scenes the show far exceeds and satisfies more than soft-porn (for the sake of my parents I will, of course, mention that I know the difference even though I have minimal experience with the latter). So, what is it about the show then?
Here are my two cents (maybe nine):
The charm of romance from the time of corsets and frills will always be appealing.
The classic boy meets girl, boy likes/dislikes girl, girl likes/dislikes boy, boy hides his feelings, girl hides her feelings, secretive glances, subtle touches, suppressed emotions with a mix of the Queen's English will always get our hearts thumping.
Good chemistry on-screen never fails.
Good chemistry with good looking people on-screen never fails.
A solid storyline, with equally interesting supporting actors, quirky dialogue delivery only adds to it all.
Sex sells, but good sex, romantic and passionate sex, sex that is equally appealing to both men and women…it sells.
The classic feel-good factor of love stories with their sprinkling of troubles and adversities and happy endings will always do well with audiences.
A period drama that is not all 'white' and mirrors our interracial society is refreshing to see.
It's Shonda Rhimes! Did you really have any doubts?
As the world now awaits the second season, I hope we can see more shows that balance love, representation, sex and storytelling this well. The success of Outlander, Virgin river, Cable Girls (Spanish), Velvet (Spanish), The Marvellous Mrs Maisel, Gentleman Jack (BBC) and Dickinson (Apple T.V.) if anything has proved that the genre of romance and drama will forever have a dedicated audience. Trailing on Gentleman Jack and Dickinson, I also hope to see period dramas extend to boy meets boy and girl meets girl. People have long awaited for a more inclusive version of the classic 'period drama'. If Jane Austen were alive today, I dare say she might agree.

---
Share

Picture Credit : Google