When I started to write about the 7 Things About Ultra Running, I went back into the history of the sport itself. Commonly known is that a marathon that goes beyond a distance of 26.2 miles is called an ultra marathon. While the origins of the marathon go back to 490 BCE when the Greek soldier Phidippides ran for 42.195 km from the battlefield of Marathon to Athens to convey the news of a Greek victory over the Persian army – he is said to have dropped dead right after that – the sport of ultra running as we know it today, with support teams and checkpoints, goes back to the 'Bunion Derby.' The 3455 miles footrace from coast to coast across America in 1928 was won by Andy Payne in a little over 573 hours and made him a national celebrity.
The ultra being the 'new kid on the block' so to speak, is certainly not an easy one to run, but the lure of pushing boundaries and testing one's limits is drawing more and more runners with every passing year.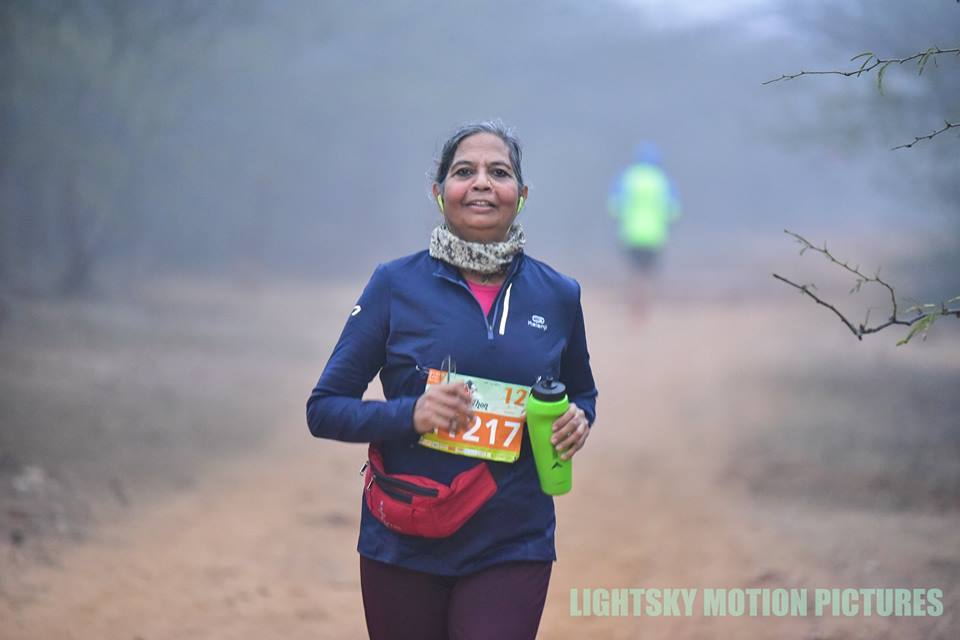 In India, the Bhatti Lakes Ultra is the first 100 miles race and the first trail that made its debut in 2009. With a spectacular race location set against the backdrop of five lakes formed around abandoned mines in the Aravali forest, it is in the vicinity of the historic Tughlaqabad fort. The ever-changing forested terrain comes with sand patches, thorns, and gorges (and jackals, peacocks, and camels!) to challenge the runners through three days of 8 ultra categories and 3 x trail categories. Its 100 km, 160 km, and 220 km category events offer valuable qualification points for the prestigious Ultra-Trail du Mont-Blanc (UTMB) held in Chamnoix, France.
To deconstruct the makings of an 'ultra', I asked ultra runners Praveen, Kavitha, Sandhya, and Vijay 7 Things About Ultra Running to understand the 'what, when, why, who, where, and how' of ultra running. Praveen Sharma has the Bhatti Ultra, Khardungla Challenge, Run the Rann, Ultra Beast, and La ultra events under his belt and has been invited for the 2022 Badwater Marathon in the US; Kavitha Kanaparthi, an ultra runner and founder of Globeracers organises ultra-marathons across India; Sandhya Rao, a water resource professional and relative newbie is happily addicted to the sport; and Vijay Yargal, an endurance runner has major national ultras like Bangalore, Malnad, Run the Rann, Uttarkashi, Ultra Beast, Mt Fuji and others to his credit.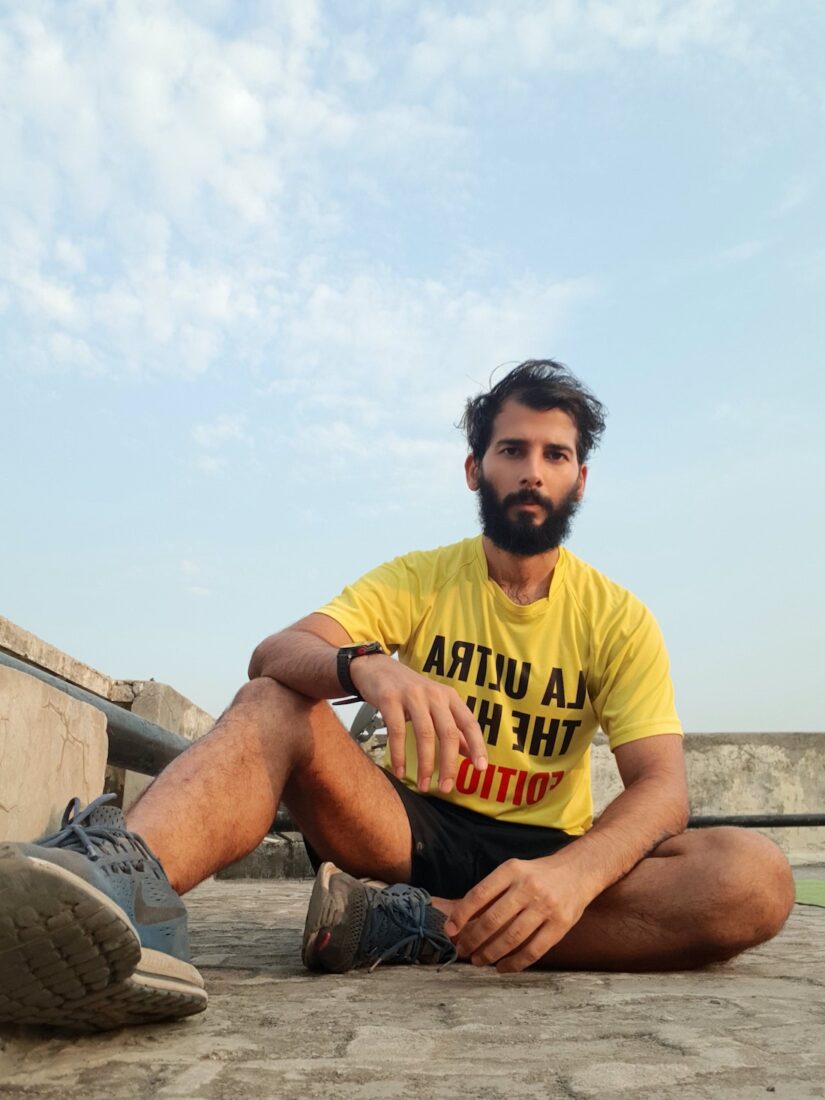 #1. What made you start running?
Praveen Sharma – I got inspired by cricket friends who used to run long distances and took to running in 2014, and ran my first half marathon CRPF in Delhi.
Kavitha Kanaparthi – I remember competing in a cross-country race when I was 9 years old. It was a 1500-meter inter-district race and I was the youngest of the lot. I ran easily breezing through the laps and dropping senior runners on my way up to the first spot, and not breaking a sweat. I loved the way it felt to run free and enjoy it. I remember that day very clearly as it has laid the foundation for my love of running. It also happens to be the day my younger sister, all of 3 years, completed the entire 1500 meters, chasing her two older sisters around the track. What more do I ever need for inspiration, right?
Sandhya Rao – It all started with Manasa's (daughter) insistence to take up running way back in 2011. I gave it a try and got hooked. Thereafter it was/is my persistence to kill the monotony of routine and add to a more unconventional life.
Vijay Yargal – I love the freedom of just getting away from things with a pair of shoes and busting it out. I love the physicality and grittiness of it – a kind of confrontation of my will, pushing past my perceived limitations and persevering. My long-distance running is built on the visual spectacle of Arun Bhardwaj sir's passion and belief of running 236 km in 36 hrs in AHM 2015. That was the "Aha" moment and I started running more than 100 km in the next month itself.
#2. How do you stay motivated when you don't want to run?
Praveen Sharma – My upcoming running goals and running group keeps me motivated. Also, recalling my previous failures ignites me to work even harder.
Kavitha Kanaparthi – I run to stay motivated. So motivation is my motivation. On days I don't absolutely feel like running, I speed walk. I can speed walk up to speeds of 7kms/hr. I remind myself that I love to move and why I run.
Sandhya Rao – My mantra is to incentivise the mind to let internal desire overtake physical resistance.
Vijay Yargal – I approach running and life much like a Stoic – focussing on what's in my control, not reacting to positive or negative experiences, and learning from success and failures. I find joy and accomplishment in the process of running, it's all about inner happiness. Everyday motivation is to run until the pain disappears and the inner happiness appears.
#3. What are the top 3 things that you do to prevent injury?
Praveen Sharma – After a break, start gradually with the distances and weekly mileage, and do proper warm-ups and cool-downs pre and post-run. Focus on strength training. Maintain healthy eating habits and lifestyle.
Kavitha Kanaparthi – Yoga, strength training, and consulting with a physiotherapist from time to time when I feel I am starting to feel a niggle anywhere in my body. Strength training is a must for an active person.
Sandhya Rao – Regular walk/run; being mindful of surroundings; not getting carried away; and good sleep.
Vijay Yargal – Apart from eating a simple and healthy diet, the one thing I promote to keep injury-free is to switch to different sports so that the same set of muscles and joints do not get stressed.
#4. What was your most challenging run?
Praveen Sharma – The 555 km La Ultra that I attempted in 2019 Aug at Ladakh and stopped at 290 km, crossing in hailstorm and blizzard for continuous two days.
Kavitha Kanaparthi – The recee run in the Himalayas for the Himalayan Crossing race. I was just coming off of an injury at that time and training had suffered. Inclines were not an issue but the downhill was. Those 210 km felt like twice as much. Only the beauty of those mountains kept me going. At the end of it all, we were caught in the floods and devastation caused by the cloudburst in Uttarakhand and were airlifted after a week. Running in remote regions comes with enough challenges.
Sandhya Rao – Physically challenging was GR Ultra Beast Desert run 25K; Mentally challenging was GR Bhatti Lakes Ultra 50K; Physically and mentally challenging was Run the Rann, Dholavira (I didn't finish but cherish the experience forever).
Vijay Yargal – The Bhatti Lakes Ultra 135 miles race is the toughest of all and I have been trying to crack it since 2016. Like me, every year runners come to battle it out on the trail under the biting sun and the moonlit night, and many DNFs vowing to come back again.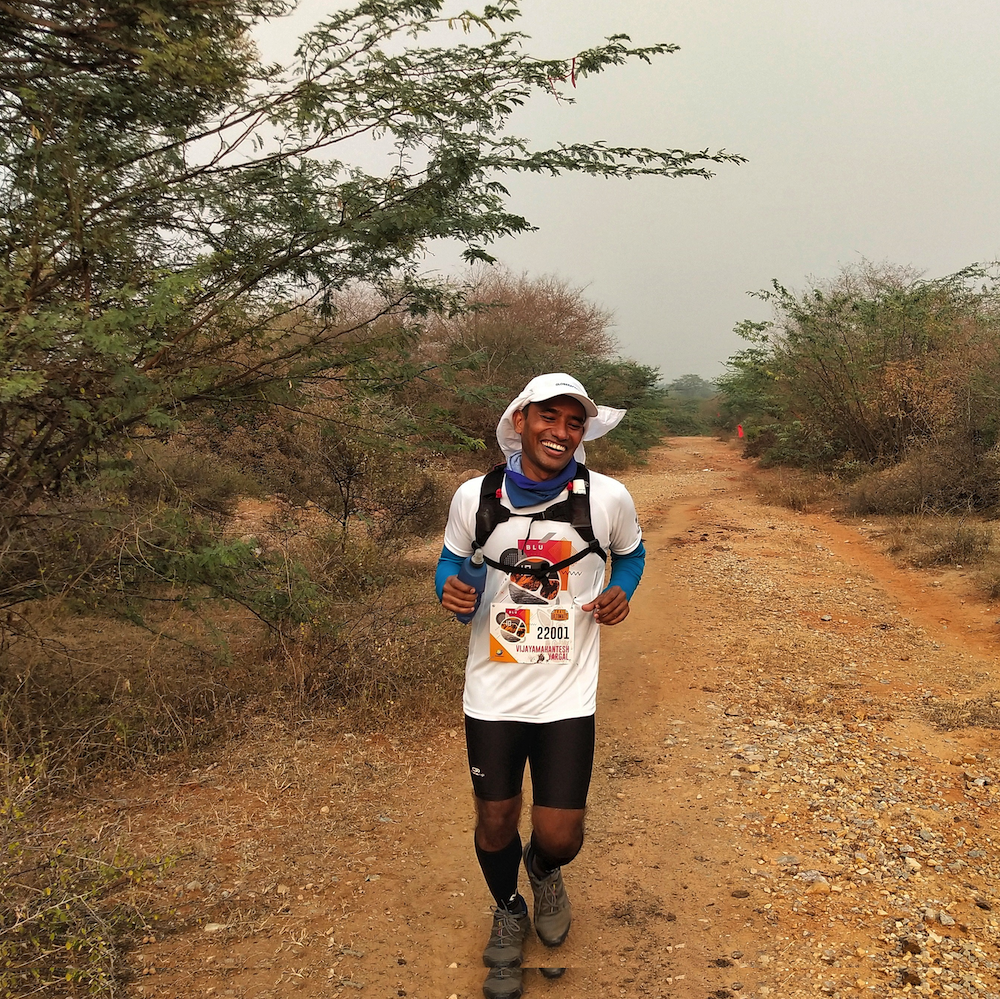 #5. Who is in your running support network?
Praveen Sharma – My group Ultra Running Souls (everyone's an established ultra runner) is my biggest support and a few other close people.
Kavitha Kanaparthi – I met some great people on trails and made that friendships for life. Whether it was on my recce runs, fun training runs or while organizing a race, these are friends I have come to rely on to stay inspired, to go on trail runs, and to organize.
Sandhya Rao – Self and all those who smile at me while I am running/walking.
Vijay Yargal – Home support, from the young to the old; Hyderabad Runners and its various groups across the city; Globeracers; our working TATA group and groups like GiveRED India who support running for a noble cause.
#6. Do you remember your first pair of running shoes?
Praveen Sharma – Yes, Kalenji from Decathlon 🙂 for the Khardungla challenge event.
Kavitha Kanaparthi – Bata running shoes! The most versatile running shoes of those times and I still recommend them to runners transitioning to bare-feet running. I currently use Salomons for the past 10 years.
Sandhya Rao – Yes, Reebok white and pink.
Vijay Yargal – When I was in the 5th Grade, I remember preparing for the Dasara Athletics Meet 400 m wearing the Army brown coloured canvas shoes bought by my mother in exchange for wheat and jowar. They were my first running shoes and it was real and surreal – then, now, and forever!
#7. What makes running in the Bhatti lakes trail addictive?
Praveen Sharma – I love being on trails. It is challenging but irresistible to run inside the forest. I frequently do my training runs on the same trails in the Aravallis, so it is like my home ground 🙂
Kavitha Kanaparthi – The trail seems different on every loop with changing terrain every few hundred meters, the effect of the jungle calms the mind at night while running alone with jackals, peacocks, and camels for company. Or it could be the challenge of watching seasoned runners call it quits even when the finish line seems so near and the spirit of trail runners coming back to the race year after year and never getting bored by it.
Sandhya Rao – BLU is a Runners high. The joy of reliving my first ever trail run in Bhatti year after year, is like a homecoming with its changing landscape and the camaraderie of the runners and RD (someone with a hard shell but a soft heart!)
Vijay Yargal – The Bhatti Lakes trail is the distance from the heart to nature. It is the reason that I have found a place in running in India and around the world. The course has changed over the years but continues to remain a beautiful part of nature. While running on the trail, I always keep a lookout for the race volunteers in gratitude for their tremendous spirit and support.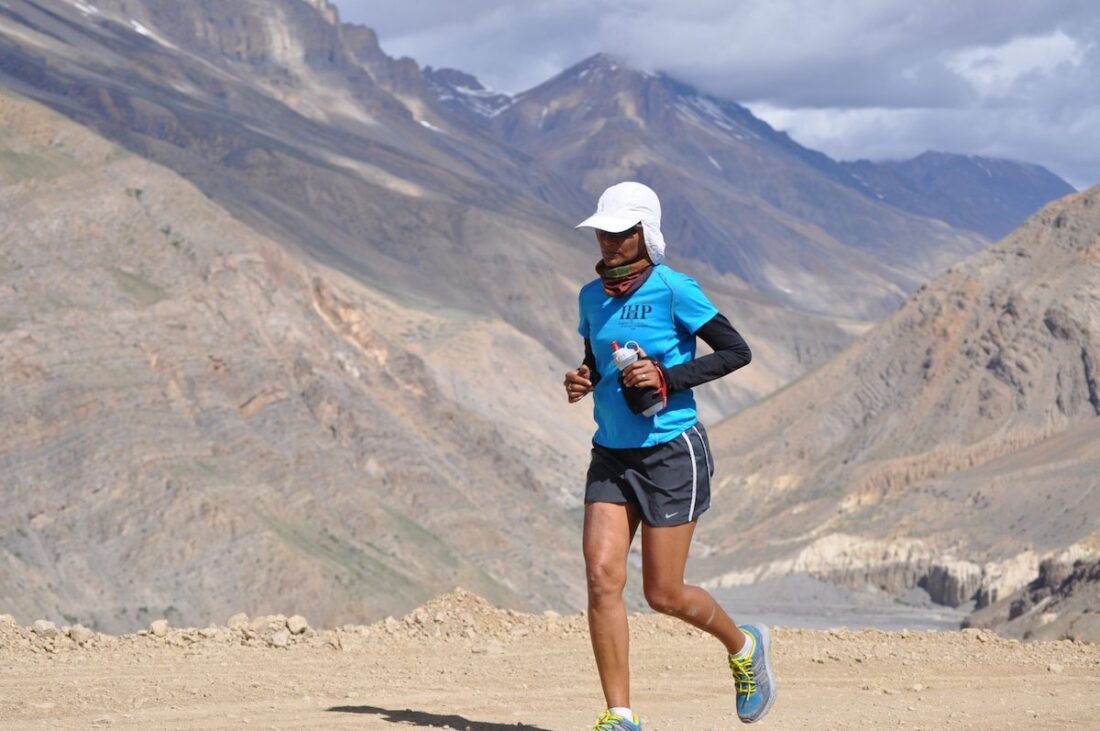 Ultra running is more than just running, it's often called a life experience. More about endurance than speed, there is nothing that comes close to the challenge and the sense of achievement that comes from running an ultra. In Michael D'Aulerio's words, "When you run your first marathon, more things seem possible. When you run your first ultramarathon, everything seems possible." The feeling of running on trails that take you through forests, salt plains, deserts and mountains is very different from pounding the tarmac along with hundreds, even thousands, of others through concrete city jungles.
I hope this insight into the world of ultra running from those who 'live, breathe, sleep, repeat' running will intrigue some of you and motivate you to maybe even try a 50 km for starters. To further encourage you, candc magazine is giving away three 10% discount coupons on the race fees of the Bhatti Lakes Ultra, 2021. All you have to do is write to us at [email protected] and tell us why you love running. Good luck and happy running!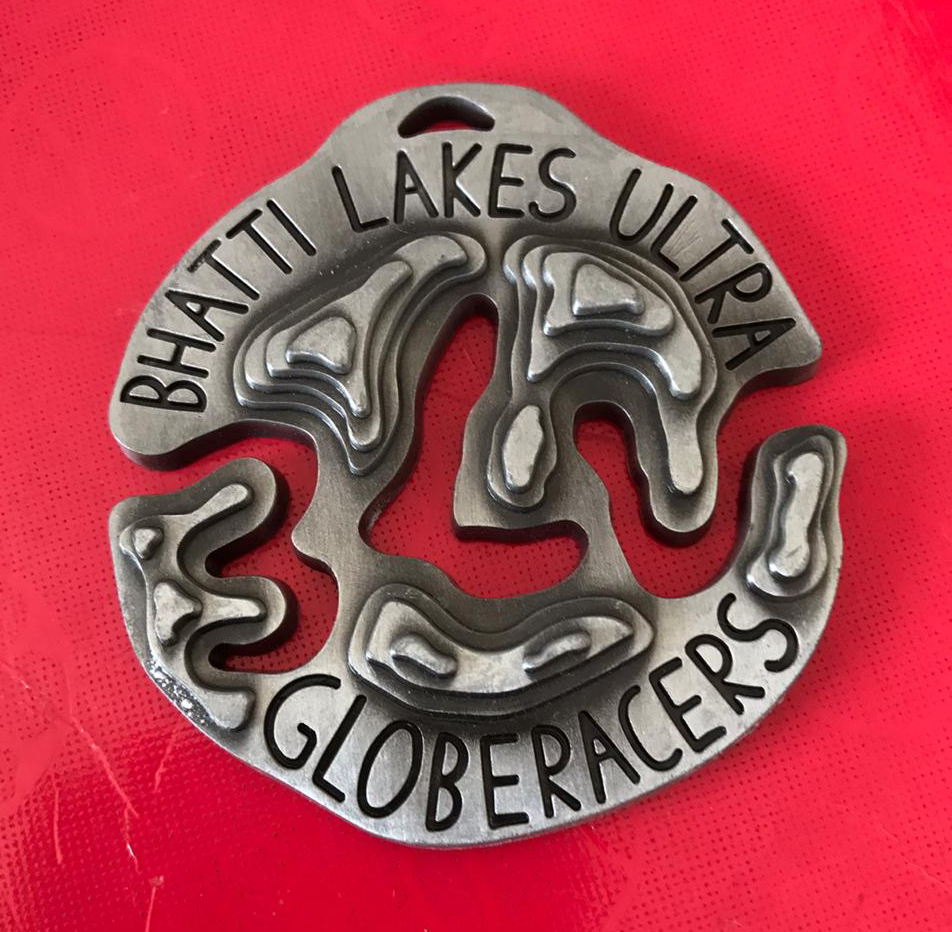 ---
Share