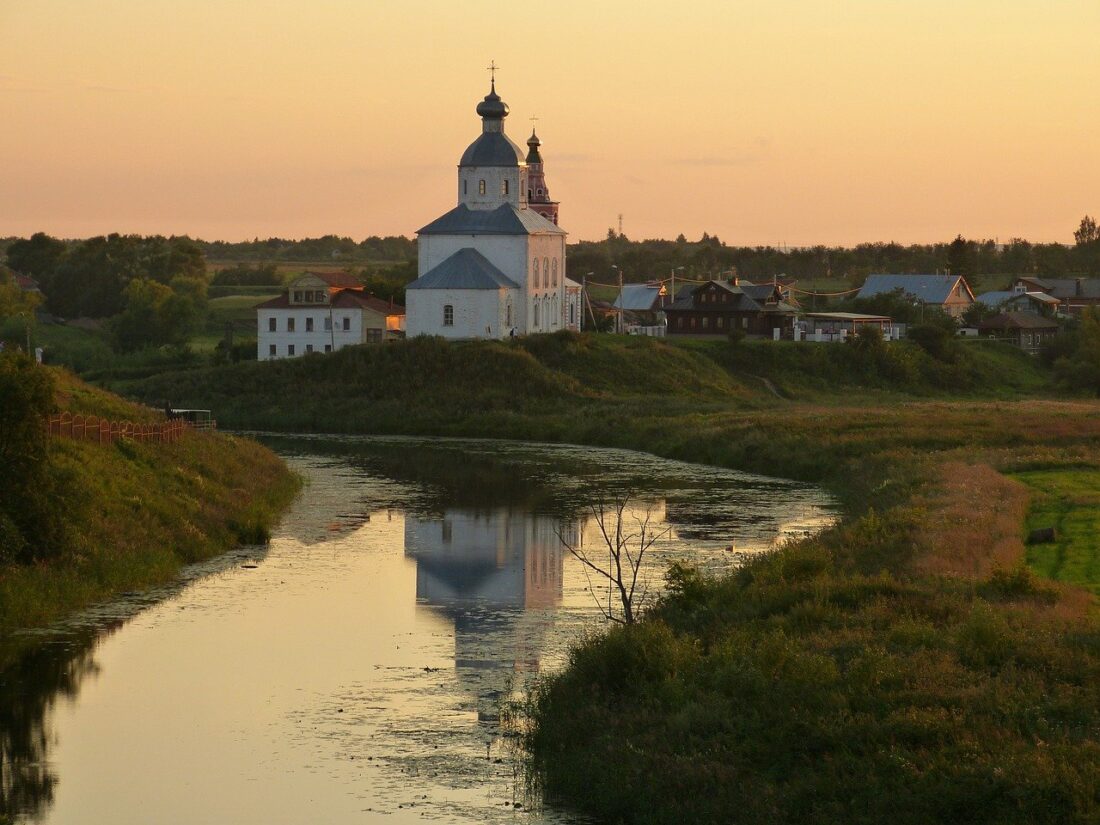 On our visit to the largest country in the world (well, by size), we spent 3 days in the fairy-talesque town of Suzdal. A popular weekend destination for Muscovites, this little town has stunning countryside views, quaint onion-domed churches, and a majestic Kremlin! For the husband, the little girl (who was then 4), and I – this was an exciting side trip from our Moscow sojourn.
The 'Sapsan' experience
To get to Suzdal, we took the 'Sapsan' – a high-speed train from Moscow to Vladimir (the station closest to Suzdal, roughly 200 km from Moscow). It was our first experience of a high-speed train so we were as excited as the 4-year-old! In 2 comfortable hours, we were at Vladimir station and a 30 min taxi ride later, we were in Suzdal. It was almost sundown when we got there and the town looked straight out of a fairy tale with colourful countryside houses, silhouette of quaint churches, and the Kamenka river flowing through. The weather was chilly though, and the Russian summer in May was still way too cold for me (a Mumbai girl).
7 Unforgettable Memories of Suzdal
There is something about Suzdal that makes it unforgettable. The whole town is like an open-air museum as there are very few modern structures and by law, buildings cannot be more than 2 stories high (except cathedrals).
Here are some of our memorable experiences in the beautiful town:
The Majestic Kremlin
Until we visited Russia, Kremlin meant the one at the Red Square in Moscow. But we realised there are historic Kremlins in other towns like Suzdal, Kazan, and Novogorod too. Dating back to the 10th century, the Suzdal Kremlin was the administrative and religious centre of the town, standing majestically on the banks of Kamenka river. We took a guided tour in English (there are very few English speaking guides, but the ones that are there – are very knowledgeable and passionate about the subject).
Stunning Onion-domed Churches
Beautiful onion domed churches that are characteristic of Russia (and other countries in the region), form a stunning part of the Suzdal landscape. Most churches in Suzdal are in pairs. And as our guide told us – one is a 'winter-type' church that's open in – yes, winters – and the other is a 'summer type' church that opens during the warmer months. There is a distinct architectural difference in both.


Our Homestay in Suzdal
This was one of the highlights of our trip – a countryside home, where our host was an elderly, loving Russian lady. She spoke no English and we spoke only a few basic phrases of Russian, but her hospitality didn't need a language! She made us piping hot Blini (pancakes/crepes) every morning for breakfast, and hearty dinners in her cozy kitchen. She pampered our little girl like a grandmother – so much that our little girl didn't want to leave the homestay!


The Medovuha
This honey-based wine is a delightful experience. Made of honey and yeast but with variants like herbs, spices, hops and berries – originally this drink used to be consumed by the nobles in Russia. There are places where you can sample the variants like a Medovuha tasting experience. I could never pronounce Medovuha correctly though – the 'h' with a hint of 'kh'.
Food in Suzdal
There weren't too many fancy dining places and certainly no western chains in Suzdal (which worked just fine for us). The Russian cuisine in town was deliciously comforting and though Suzdal is small, there was enough variety to last us for 3 days. Russia's signature 'Borscht' soup kept us warm in the chilly town while the Herbed Fish and meat served with rice were delectable. Our favourite food though was still the Blini cooked by our home-stay host.
Museum of Wooden Architecture and Peasant Life
Despite the not-so-interesting name, this is an exciting open-air museum that our little girl loved (including its location which a short walk across the Kamenka river). It depicted a traditional Russian village possibly from the 18th century, with wooden churches, windmills, a barn, and log houses that gave an insight into how peasants lived back then.
Fairy Tale Carriage Rides
This one was a big hit with the little ones (and some young adults as well, that we saw). Waiting outside the Kremlin and churches, these rides for tourists are right out of a Brothers Grimm story and our little girl did a Cinderella pretend play minus the oppressive step-mother in that carriage ride across Suzdal!
Suzdal, still remains such a memorable part of our Russian holiday. Apart from the Kremlin, the churches, and museums, it was just lovely to walk around the quiet town. We would end our evenings (the sun sets at 11 pm), sitting on the grass in the meadows by the Kamenka river or walking across parks – a beautiful way to slow down and soak in Russia.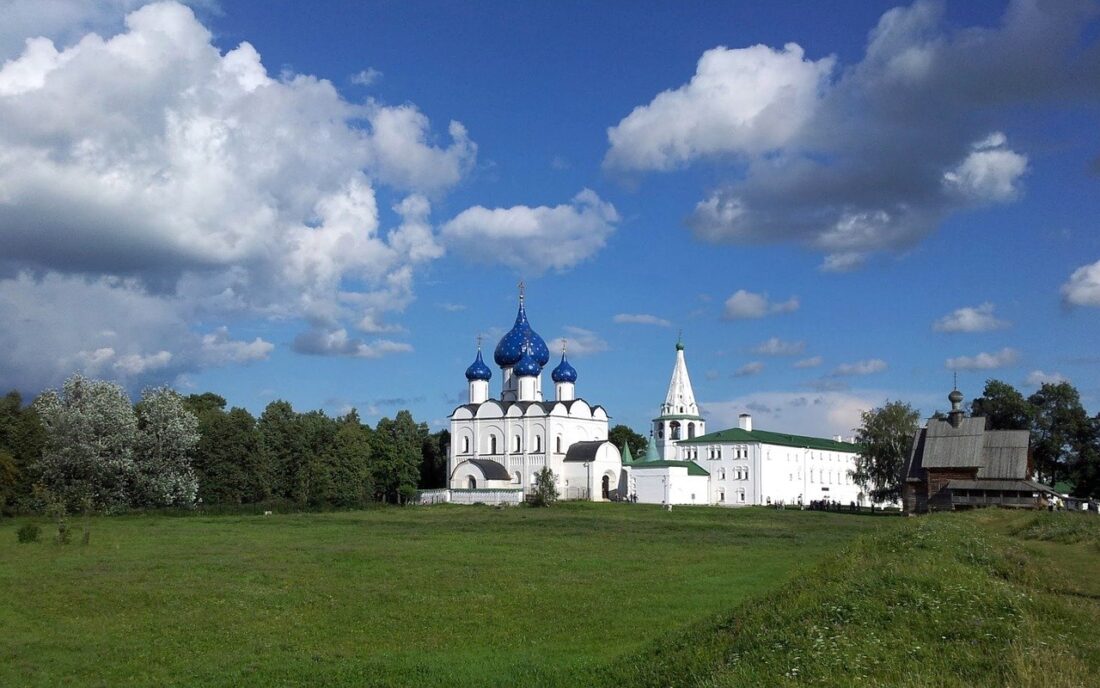 ---
Share

Picture Credit : Deepti Gadekar
falco from Pixabay
Kirill Lyadvinsky from Pixabay