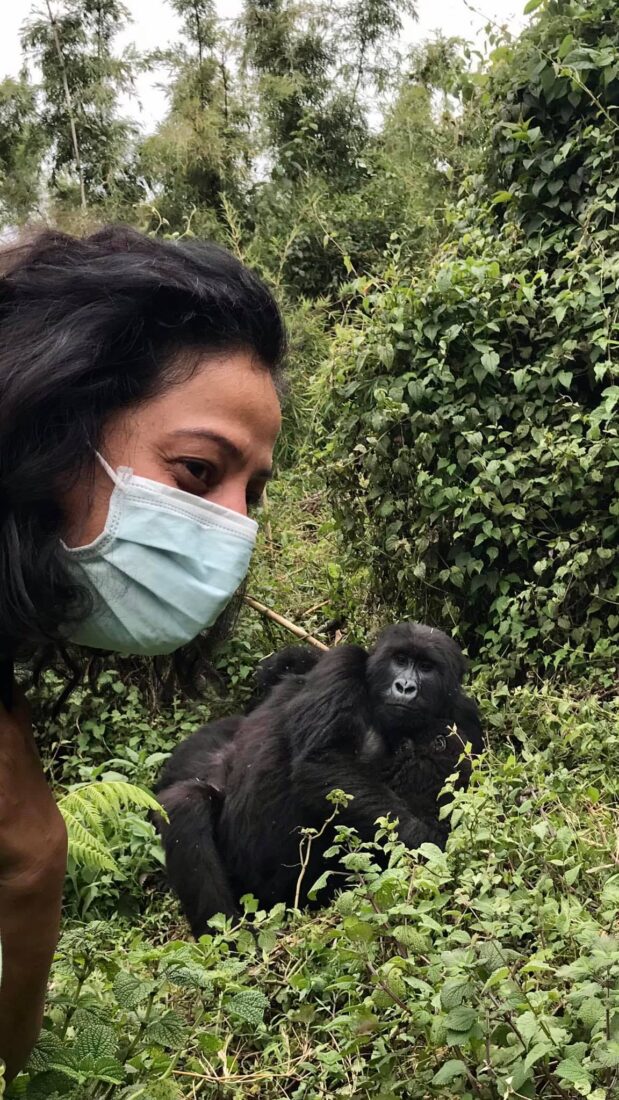 Gorilla Trek
The anticipation of travel, my first post the pandemic, builds up as I get on the flight to see and tell the Gorilla Stories of Rwanda. As we drive up to the starting point of our gorilla trek in Volcanoes National Park in Rwanda, I can barely contain the excitement over the long and unpredictable trek that lies ahead.
The trek starts with a march across the potato plantations and eucalyptus forests before arriving at the Park gates. Suddenly, we find ourselves in deep forest. There is a gentle rain shower and the track turns muddy and slippery. The forest is alive with the sounds of insects and birds, but I am eager for another kind of sound.
In the first hour of trudging uphill, nothing promising reaches our ears. We are told that we can smell them before we can see them.
Patrick, the tracker and guide, hacks away branches and bushes to make way for my little group panting our way uphill. Explaining gorilla behaviour and habitat, he assures us, "You will soon meet the Muhoza family," Eyes peeled for tell-tale gorilla tracks, he looks for broken bamboo branches and poop as a sign of Muhoza's movement. It appears that the family is constantly on the move.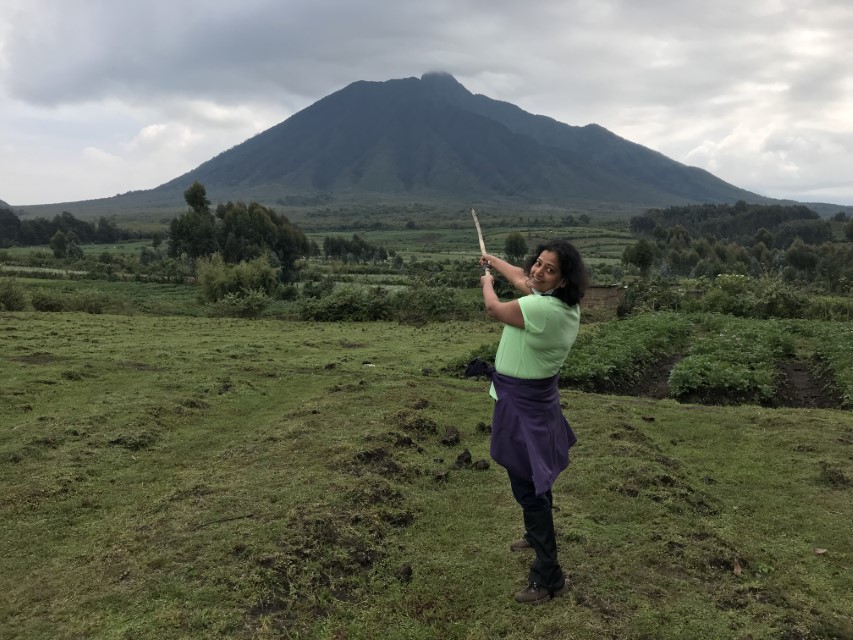 The Virunga Massif of which the Volcanoes National Park forms a part, is spread across three countries – Rwanda, Uganda and the Democratic Republic of the Congo. It consists of several volcanic chains and has been the home of mountain gorillas for long. Today, the number of gorillas living in this area are over a thousand, but three decades ago, there were less than three hundred gorillas in the wild. The combined efforts of American primatologist Dian Fossey and the Government of Rwanda has helped prevent the poaching of these magnificent apes and their conservation efforts have paid off. Rwanda alone supports a third of the world's total gorilla population.
We crawl through the mysterious intimacy of the forest while Patrick maintains his guide talk. "These primates live in big groups," he tells us. "Each group comprises 12-20 members. They remain in their preferred locations and normally don't cross territorial boundaries. The gorillas are herbivorous, surviving mostly on bamboo barks, shoots, stems and leaves." He nips the tip of a tender bamboo shoot and passes it around. "The gorillas eat 15 percent of their weight in food every day, their water intake coming from the food they eat and very rarely do they "drink" water." Funny, I think, because while we share 98 percent of our DNA with the big apes, we clearly drink water differently!
Meeting the Ancestors
Suddenly, we hear what we have been waiting for. "They are only 50 meters away," says Patrick, the tracker and guide sniffing the air in excitement. A surge of adrenaline rushes through me. Three years ago, I felt a similar rush when tracking the big ape in DR Congo, and now in Rwanda, I feel the same. After all, I am about to set my eyes on the world's most endangered species in their natural habitat. Excitedly, I follow the others through the thickly forested volcanic slopes, ignoring the rain soaking through my flimsy jacket, silently thanking Dian Fossey for her conservation efforts which makes it possible for me to look for gorillas. We plod on. Finally, we are going to meet the Muhoza family.
The air is getting thinner. We are at an altitude of over 2,500m. It is getting colder. The last leg of the hike is physically demanding but the anticipation takes away the fatigue. I reach for my drinking water when Patrick suddenly announces, "Here they are!" A hush descends. Masks in place, we peer through the bushes and see our family.
There, in front of us, in a partially open space, is a beautiful gorilla family. lead by a silverback who is currently being groomed by a female and gazes at us uninterestedly. The young ones are playing hide-and-seek, a pregnant female watches the infants weaving in and out of bamboo thickets, rolling around happily. No one is particularly interested in the human group.
It is the young ones that hold my attention. I watch while the rest of the group go crazy with their cameras. My thoughts race to my little nephews and nieces as I watch the young ones. There is so much similarity in their playfulness. Unmindful of the watchers, they somersault, snarl, fight, tug, cuddle and pull all at the same time. A little fellow even thumps his hairy little chest in glee. Patrick points to one little fellow and tells me that he is soon going to get a name. I refrain from asking him. But more on that later.
From time to time, Patrick reminds us to maintain a safe distance from the gorilla family, warning us of their unpredictable behaviour. The silverback continues to ignore us.
I spend an hour in the company of these gentle and mysterious animals, watching them cruising through their daily routine, happy with their family. An hour later, we take our last best shot with the gorillas with Patrick urging us to "take the best ever memory" with us. That is why I feel doubly fortunate that I could do this for the second time.
Mountain gorillas exist in extremely remote locations which means visiting them isn't easy or cheap but like most wildlife encounters in Africa, the experience is completely worth it. I have yet to hear anyone say otherwise. This trek, however, is my run up to Kwita Izina, an important cultural event in Rwanda that involves the naming of baby gorillas. In a few hours I would know the name of the youngest member of the Muhoza family in the event to be held virtually (covid protocol) in the Kigali Convention Centre.
Kwita Izina
September 24th is celebrated as World Gorilla Day to mark the day Dian Fossey established the Karisoke Research Center in 1967. It is on this day that the Kwita Izina ceremony "to give a name" takes place. It is amazing how the entire country unites for this event. Marked by traditional music, dancing and performances from local students and artists, it is usually held at the Park headquarters in Kinigi and attended by international celebrities including football players, conservationists, models and the President himself. Drawing thousands of visitors from around the world, 328 baby gorillas have been named since the inception of this event in 2005. Earlier, the name of the infants was left to the rangers and researchers who worked with them as part of monitoring each gorilla in their family and habitat.
Kwita Izina helps to create awareness about gorilla conservation worldwide and raise funds for the protection and expansion of their habitat. Trekking through the jungle to see them is a major revenue earner for the Rwandan Government. It costs $1,500 per person for the permit. Part of the earnings is spent on community welfare and conservation initiatives. Though a little expensive, every dollar spent is worth it. I can vouch for this once-in-a-lifetime experience after seeing the Muhoza baby gorilla being named Kundumurimo, meaning devoted, at his Kwita Izina.

Trek Details
There are 12 gorilla families living in the Volcanoes National Park that can be visited.
Each trekking group consists of not more than 8 people and time allowed to be with the gorillas is one hour after finding them.
It is essential to keep your mask on during the gorilla interaction to prevent transmitting human infections.
The trek can vary from at least one to 4 hours (or more) depending on the group's location within the sanctuary.
Permit costs 1500 USD (presently 500 USD, thanks to COVID)
Trek Essentials
Boots: Invest in a good pair. No sneakers please!
Gloves: Prevents your hands from being scratched.
ight rain jacket: there is always a chance of rain here.
Energy snacks: For those short breaks to restore your energy.
Drinking water
Long pants and shirts: Prevents cuts, scratches and being bitten by fire ants.
---
---
Share

Picture Credit : Anjaly Thomas