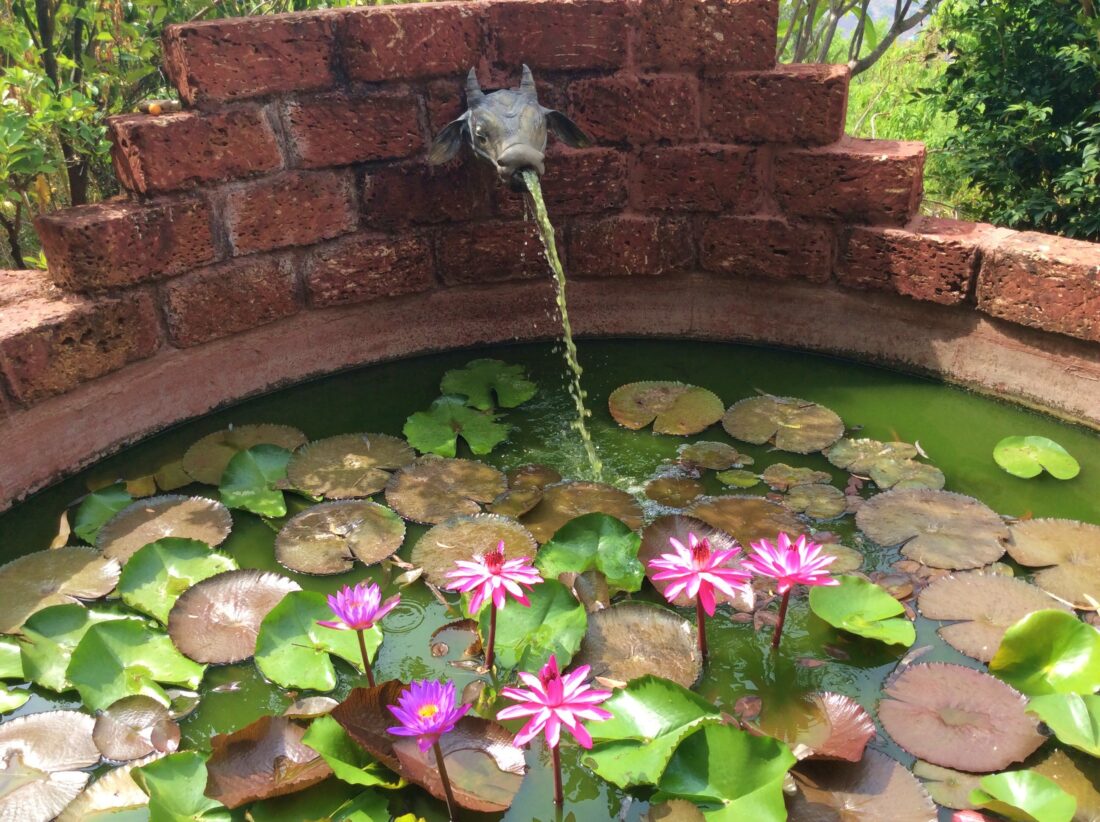 Devrai Art Village works with Adivasi craftsmen from Naxalite-affected regions and creates a safe haven at Panchgani where they together produce exceptional and innovative art pieces, Indian in spirit but universal in appeal. Here modern design and creative exploration join hands with tradition.

Kudos for setting up Devrai Art Village (DAV) in 2008 goes to Mandakini Mathur, Chairperson Founder, and her husband Atul Mathur Vice-chairman who spearhead this cause with Co-founder and Secretary Suresh Pungati, a master craftsman from Gadchiroli.
"When I think of the beginning, one inspiration for DAV was the old Ficus Glomerata (Umbar) tree that stands in the middle of our land. Its spreading branches almost touching the ground create a natural cave of green dappled light. This magical space was an invitation to sit under the tree – and soon a platform was created," reminisces Mandakini.
Somesh Madhavi from Gadchiroli in Maharashtra and Santosh Nag from Chattisgarh, seated under the shade of the Umbar tree are busy with their tools, creating works of art – often a blend of traditional skill with modern design sensibilities.
Suresh Pungati, a much-decorated Adivasi artist from the Madia tribe, was the winner of the Best Craftsman award at the International Fair in Edinburgh in 2002. He was selected to represent Indian tribal craft in an expo in Milan. Suresh has a passion for enabling his community to progress and received 'The Adivasi Sevak Puruskar' for his commitment, by the state government.
Mandakini, who moved to Panchgani in 1997, did her M. Phil in Cinema Studies from the Sorbonne, Paris. She makes documentary and feature films on themes around Indian culture, spirituality and nature, and uses filmmaking as a means of creative expression and exploration with school children.
Atul who had spent over two decades with top corporate houses in India, and helmed a leading company, now divides his time between DAV and a leadership training & coaching company he runs.
Says Vinay Vachami, "Coming here in 2009 has given me a second lease of life. I am a first-generation artist in my family and am so happy to be able to be here and be recognised and respected for my work." Mandakini shares an anecdote when she had found Vinay making a startlingly real rock Dhokra pistol as a birthday gift for Suresh Sir. "The irony is that had he not come to DAV, he may well have been recruited by the Naxalites and be using a real gun!"

Adds his colleague Santosh Nag from Chhatisgarh, "My greatest satisfaction is living here so safely with my family. Now we are teaching the craft to the younger generation."
DAV is growing like a large family. Many artisans are here with their spouses (who work as well) and their children. The children go to local schools. Mandakini herself has worked extensively to create English teaching resource material for the Adivasi children. She believes that although learning the English language is necessary, this should not be at the cost of forgetting their own stories and the values embedded in them. Her short films, accompanied by a book containing stories rooted in their culture can be used online as well as in a physical classroom. DAV has also created a physical space dedicated to storytelling and other creative activities in order to serve the needs of an art integrated learning approach.
The 'platform' started in 2008 when three craftsmen belonging to Suresh Pungati's village in Gadchiroli came to Panchgani and started working under the Ficus tree. Soon others joined in and DAV was registered as a not-for-profit organisation. Now they are a community of over 50 artisans, men and women, from Gadchiroli and Chattisgarh who live and work in Panchgani. Of the 51 craft persons, 25% are women. In 2019, a branch of DAV was set up in Gadchiroli to train the local youth there in metal and bamboo craft. Trained master craftsmen from Panchgani were sent back there as trainers. As an outreach programme in Gadchiroli, extensive bamboo plantation was also undertaken with help from locals and from the Forest Department.

The non-profit DAV's core group of artisans is taught to craft unique and distinctive styles collectively ideated by Mandakini, the highly skilled craftsmen, and even with inputs from regular customers. The contemporary product range comprises combinations of varied mediums such as iron, brass, stone, wood, bamboo and fabric.
"Connecting with Nature has been a learning experience. We have been creating a botanical series inspired by our surrounding flora and fauna," says Mandakini who had schooled at Scindia Kanya Vidyalaya, Gwalior.
DAV's USP is reviving the Dhokra craft of lost wax metal casting. This traces its origin to the Mohenjodaro Dancing Girl around 2500 BC. Largely prevalent in Chattisgarh, West Bengal and Orissa as tribal art, it is admired for its primaeval simplicity and folk designs.
"Each artefact of DAV is born out of a cross-pollination of ideas – between the old and the new, urban and the rural, truly Indian in spirit but universal in appeal. The creation of Devrai Rock Dhokra (patent pending) is the latest feather in our cap, for although Dhokra is an ancient art form, its fusion with stone has never been tried before. This marriage of two mediums – metal and stone – has brought a new aesthetic dimension to this traditional art form that had its beginning in the Indus Valley Civilisation, dating back to 3000 B.C, perhaps earlier. Devrai Rock Dhokra sculptures could definitely find a coveted place in home décor, be it in the interiors or even in gardens. Another unique feature of DAV is that we can custom make products to the specific designs and needs of our clients," explains Mandakini.
And continues, "The Rock Dhokra process first creates the shape of the end product in beeswax around an appropriately chosen rock. The rock is fused with molten brass in a high-temperature kiln. This combination of the traditional Dhokra art with stone is a breakthrough that has never before been achieved. It will not be an exaggeration to say that this technique has added a completely new aesthetic dimension to the art of metal casting."
The aim is to sustain a rich but dying tradition and simultaneously empower Adivasi craft persons. DAV understands the interdependence between the two and offers a safe sanctuary to practice and evolve their craft in a stimulating environment.

Other factors DAV works towards is facilitating interaction with other design schools and resource persons to enable a cross-pollination of ideas, and move towards providing insights into the marketing and sale process between crafts persons and customers. They also conduct and customise workshops for individuals as well as groups keen on learning the art of Rock Dhokra, Jewellery Making and 'Molten Metal Murals'.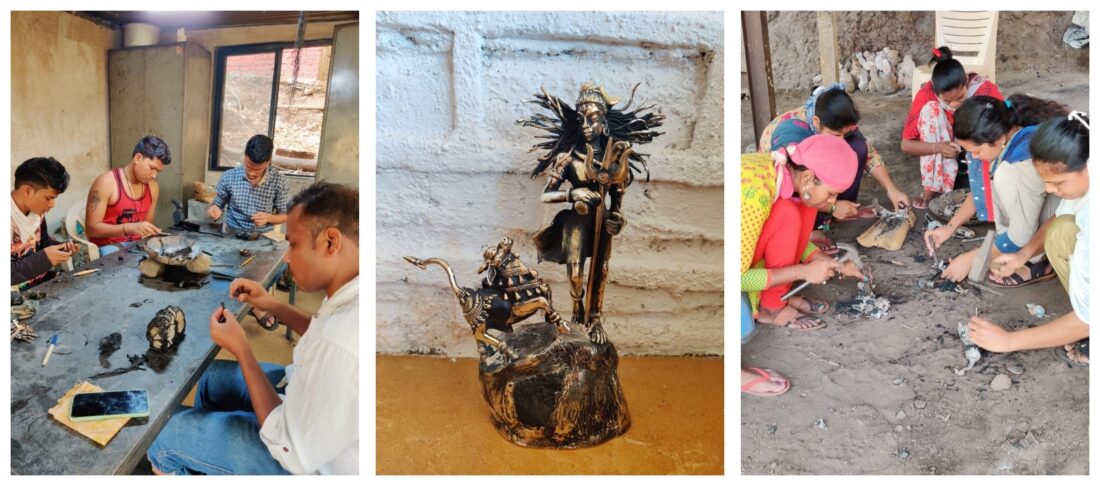 On creating records, Mandakini is working towards documenting Adivasi culture, crafts and work processes to spread awareness and for use as teaching aids. Simultaneously an environment is being created that offers opportunities to explore the linkages between indigenous art and nature.
"DAV strives to empower the craftsmen by giving them new design ideas and marketing possibilities. More than that we seek to nurture a way of living where Nature is not looked upon as a mere resource, but where plants, animals and humans are seen as interdependent and where art can reflect the sacredness of Nature! What we generally see of tribal culture is that which can be exhibited or sold. DAV is also striving to document and explore using the film medium, the tribal way of living, their beliefs and culture, and their relationship with Nature which is fast changing.
"Today's idea of 'development' has broken the link which connects us to the whole. In modern times Nature is commodified and relationships have turned into transactions. DAV continues to mend this broken link and make the process of creation a joyous experience," sums up Mandakini.
---
---
---
---
Share

Text by Amita Sarwal
Photographs courtesy Devrai Art Village, Panchgani