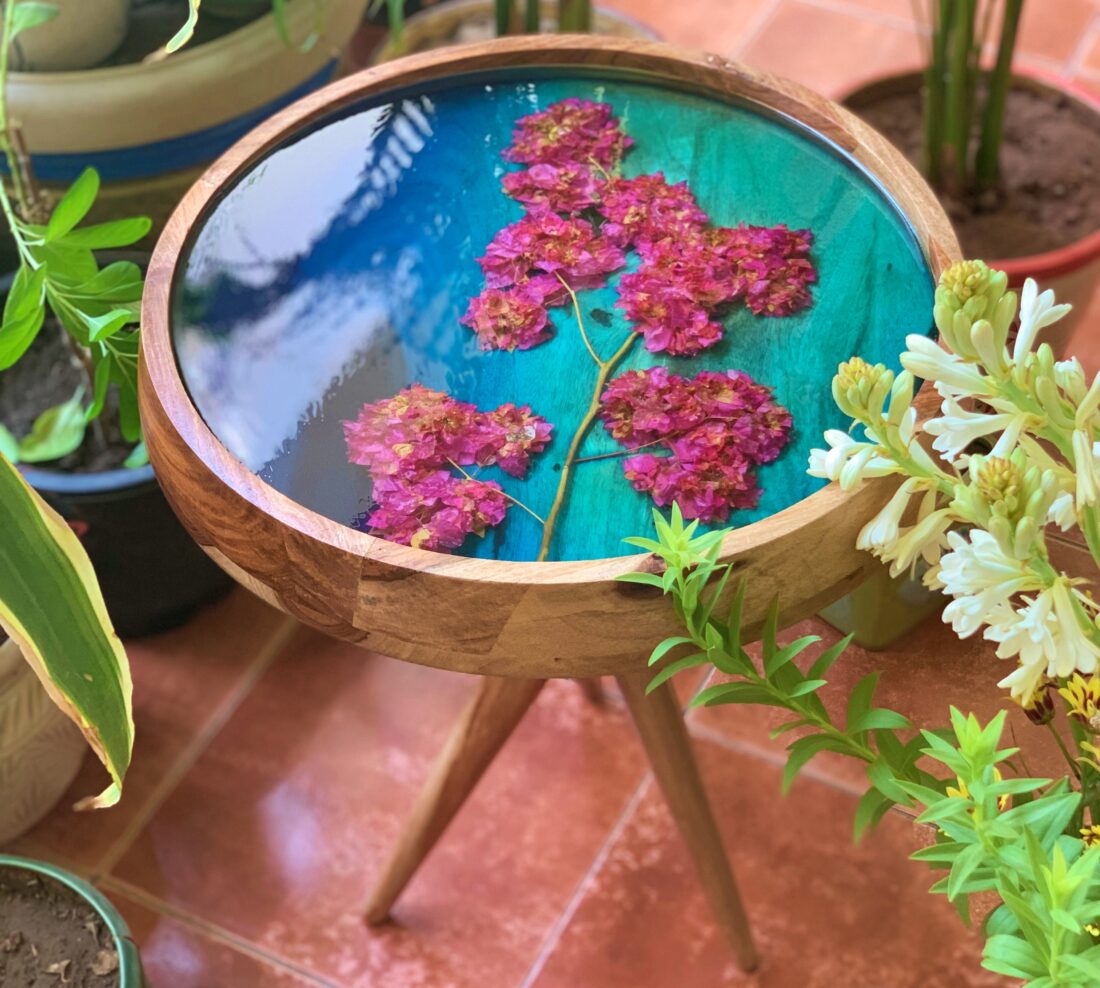 "Why does art belong only on a canvas?" questioned architect-turned-artist Rakhi Jha, who always wanted her milieu "to be a setting for blooming flowers in vibrant hues and spectacular compositions as found in nature. Bringing them indoors is my passion."

With this as her focus, Rakhi set about learning and imbibing the skill of preserving flowers and capturing the life-like forms on furniture and utilitarian items used daily.
"I'm an architect – but at heart, I've always been an artist. Having doodled informally during my growing years, architecture seemed the ideal profession. It allowed my creativity to flow through style and design, for I could not imagine life without a form of art," justifies the 50-year-old about her professional shift.
Fast forward 25 years over many fulfilling projects implemented in New York and in India with renowned architectural firms, Rakhi decided to explore her artistic side further to see where it led her to. "Being zealous about abstract art, bold colours, accent furniture and interior decor, I decided to marry all of them together. This led to my creating my first accent table. Simultaneously, my art brand Mohanima, was established. This is also a marriage of two names Mohan (my dad) + Nima (my mom), both of whom I had lost in the last few years," she says.
For Rakhi, art has always been therapeutic. The planning, designing and visualisation being as satisfying as the ultimate executing and creation of 'Functional, Fluid Art'. Here she uses the medium of preserved flowers and epoxy resin, and at times, acrylic paints.

What makes this Gurugram-based artist's work distinctive is that she is able to preserve and capture memories of occasion-specific floral bouquets into keepsakes. This could range from a birthday or bridal bouquet to a traditional wedding 'jaimala' to decorative flowers from a wedding. Or, just a single, long-stemmed Valentine's Day red rose.
The concept has appealed to numerous clients and pieces have been crafted to individual specifications. Sometimes these are purely decorative – or functional items for the home or even giveaways. Her favourite still continues to be side or occasional tables fashioned with the client's special floral arrangements.
The procedure involved "designing the table and getting it made by a local artisan with locally available indigenous wood. In the meantime, I go through the meticulous but fulfilling process of preserving the flowers to remove all the moisture from it, yet retaining the colour and form as close to the actual. If the arrangement comprises one species of flowers like the 'desi gulab' or hydrangeas, then it is easier as the drying time is the same. A bouquet of varied flowers becomes more challenging as each flower has a different drying time. These are separated and silica gel is used to preserve them. This assures the flowers retain their true three-dimensional form and colour."
Once dry, Rakhi samples with various floral arrangements on the tabletop. This she says is when she is at her creative best. There are challenges. These include "always keeping in mind that the depth of the flowers which requires being submerged in epoxy resin to give it a 'flower submerged in water' effect, means designing the table rim to an appropriate height. The biggest challenge is that when epoxy resin cures and solidifies, it generates heat which could potentially 'cook' the flowers even if they are dried and preserved. This entails pouring the resin in several layers. Recently I have started using a special type of resin which cures very slowly, hence producing less heat."
The durable resin finish is heat resistant to a good degree, allowing a hot cup of coffee to be directly put on the tabletop without damaging it.
"On demand, my portfolio now encompasses wood charcuterie boards and platters, resin coasters, boxes, wall art and my preferred accent tables. Preserving people's floral memories for posterity still makes my heart go flip flop," Rakhi signs off.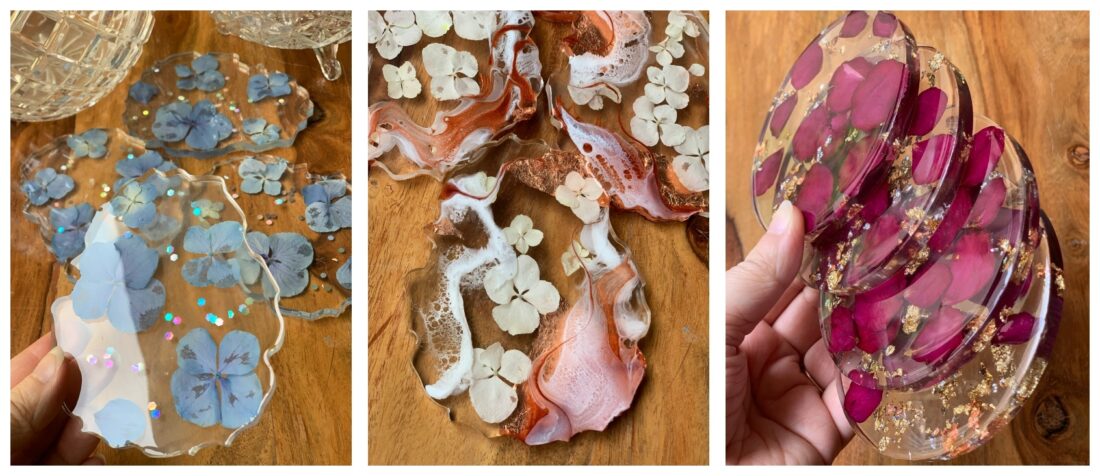 ---
Contact us
Mohanima
Phone: +919910726231
Visit the Website
Follow them on Instagram
---
Share

Text by Amita Sarwal
Photographs courtesy Mohanima