What is Trash Workout? It is India's first eco-fitness workout that not only improves physical, mental, and emotional well-being – but also disputes the societal misconception that litter on the road is not our responsibility.

From starting alone in 2017, Ripu Daman Bevli has almost a crore of the country's populace participating in his Litter Free India movement. The members' profile ranges from 4 years to over 80 years. From the Honourable Prime Minister to professionals, corporate employees, municipal workers, students – basically, every section of society has joined in the movement. A success story in itself!
An engineer and entrepreneur, and an amateur marathoner and avid traveller, Ripu is now helming the swiftly successful Ploggers of India.

"I started India's first run and clean up movement when I was 28. While jogging and training early mornings, the trash and litter all around bothered me. Initially the movement was 'My City My Responsibility'. This was before the term Plogging was conceived. The non-profit organisation then became the trendier, Ploggers of India. We still don't have the funds to invest in an office space. Nor do we intend to invest anytime in the near future. All the funds generated are being spent on growing the movement (mostly bootstrapped)," introduces Ripu.
"My high moment was when my nieces and nephews sent me pictures of their General Knowledge books which had my name as the 'Plogging Ambassador of India'. They felt so proud of their Chachu! From being an avid quizzer to becoming a GK fact was an amazing sensation. It brought an awareness and a sense of responsibility," exclaims the 33-year-old.
Ripu's motivation came from, "the Swachh Bharat movement of the Prime Minister, plus the words of our Father of the Nation – 'Everyone needs to be their own scavenger'. More significantly, it was the in-your-face garbage dumps on roadsides, littered parks, mountains, and beaches – and a major void in the cleanup of household waste – that perturbed me. This led to awareness and plogging drives within localities, communities, and educational institutions. The cleaning-up process proved inspirational for everyone involved."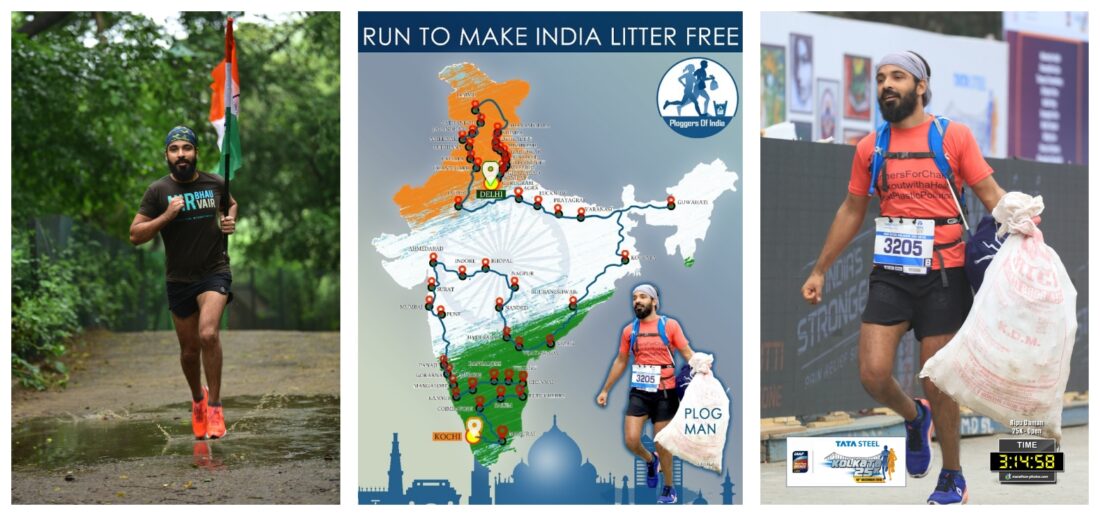 This Plogger Ambassador of India is a 'doer'. "I can only lead by action. Initially, it didn't bother me that people did not join me. In fact, it made me think why a community would be critical and reluctant about making crusades like these a success. I realized, foremost, there was a collective stigma around picking up litter. To change their thinking, my first message to everyone was: 'Who calls ragpickers 'Kachrewalas'? We are the real 'Kachrewalas' because we litter and trash.' That introduction got people thinking!"

Next, dealing with what Ripu calls "an age-old societal mindset, I was questioned by my family and friends. I responded by continuing to work – making 'picking up litter the coolest thing to do in India'! And had fun in the bargain being chased by dogs and monkeys when I was on their terrain, the garbage dumps! Honestly, I always wished more people were doing this clean-up with me! Primarily, getting them to join was a major challenge," he concedes.
When asked about some statistics, Ripu responds, "Initially we did not keep a track of the collections because work on the ground is far more important than updating numbers on social media. In 2019, we ran the 'RElan Run to Make India Litter Free' campaign, which involved running and cleaning up in 50 cities in 50 days, an unprecedented crusade in the world. Since then, the Litter Free India movement has had over 500 cleanups in 100+ cities and picked up over 150 tons of litter countrywide. City and regional communities that want to join the movement have cropped up everywhere," he reveals.
Rewards have come along for Ripu's nationwide work. He was bestowed the title of FIT India Ambassador in 2019. As the official Plogging Ambassador of India appointed by the Government of India, Ripu has the mandate to take his eco-fitness movement to all 718 districts across the country. The Plogman also holds the world record for the longest plogging run of 50 km in nine hours and 15 minutes at Kota, Rajasthan in January 2020.
"Life came full circle for me upon being invited by the GOI to flag off the FIT India Plogging run on Gandhiji's 150th Jayanti on 2nd Oct 2019. Along with the Sports Minister, Mr. Kiren Rijiju, I flagged off the run from the ramparts of the Indira Gandhi Stadium, Delhi, where close to 40 lakh people participated across 62,000 locations pan-India," he informs.
The year 2020 hit the world hard due to the Covid pandemic. "Our movement was no different, as most of our activities were at ground level till then. We had built up a great momentum with the Litter Free India movement. Before the lockdown, we had a limited social media presence. But we embraced those difficult times to take our mission forward," stresses Ripu.
During this difficult period, the core team of the Ploggers of India put up online petitions against the use of single-use surgical masks and gloves, organised a virtual series called Trash Talk from April 2020 to September 2020 where known personalities globally joined in to raise awareness on environmental issues. Guests included actors like Dipannita Sharma, Nisha Rawal, US-based doctors like Dr. Sonia Batra, Host of the Emmy Winning TV Show 'Doctors', Activists from USA, UK, Australia and India like Rouble Nagi known for her innovations in art, and Dru Moorhouse, Chief at Buzzfeed News.
Simultaneously, Ripu created the Trash Workout at Home. Conducted online via Zoom and live on social media, during the sessions, kids were trained to do household chores like mopping and brooming while working out. This gave them an opportunity to share the responsibility with their parents. Close to 10,000 children and students participated in these workshops across the country.
Early-2021, a new campaign was launched, Ride for Change, aimed at building a cycling culture across the country, and thereby promoting zero emission, zero waste. In collaboration with the Swachh Bharat Missions and FIT India, the Ride for Change intends to create a massive socio-environmental impact towards the continuing battle to make India Litter Free.
To sum up Ripu adds a personal tribute. "My mother is my inspiration. I always say, whatever good is there in me is because of her. True to her name, Ranbir Kaur, has fought every battle in her life with honesty and perseverance and has never given up. As a single parent from the start, my younger sister Jasmine Kaur and I have been blessed to have found a Father and a Mother in one person. And that is why I decided to add my mother's family name to my name – Bevli. It feels complete now – Ripu Daman Bevli."
"Meanwhile, my message to our 130 crore Indians is – we will never be able to clean up by only cleaning up. We have to STOP littering! Each of us must take the pledge to not litter. That will be our contribution to our country, and to Mother Earth," Ripu Daman Bevli signs off.
Contact:
Ploggers of India
Email: [email protected]
Follow Ploggers of India on Facebook | Instagram | Twitter

---
Share

Picture & Video courtesy Ploggers of India