"I have gifted children the option to come out from the 'black room' and remove the 'handcuffs' of child marriages. For this we are in the World Records of India and have been awarded the titles of 'Fastest Legally Annulled Child Marriages' and 'First Ever Child Marriage Annulment' in India," says Kriti Bharti, Founder and Managing Trustee of Saarthi Trust.

Kriti Bharti is a Rehabilitation Psychologist and Social Activist. For the past seven years, she has been busy rescuing young and adolescent brides and grooms, many from brutal circumstances. She has annulled more than 40 child marriages and stopped over 1300 unions involving minor boys and girls. The highest occurrences of child marriage continue to be from Rajasthan, Bihar, and Jharkhand.
"The Child Marriage Restraint Act, 1929, passed in the Imperial Legislative Council of India, fixed the age of marriage for girls at 14 and boys at 18, which was later amended to 18 and 21 respectively. Still, 91 years later this practice is continuing. My work also involves receiving threats to my life when I rescue child brides. The parents and their families who want these marriages, threaten to rape me, break my limbs, or harm my family," she says.
Kriti Bharti annulled the first child marriage of India in 2012. The first-ever Child Marriage Annulment in India was that of Lakshmi Sargara who got married when she was one year old. "In 2011 upon seeing my interview on TV, Lakshmi's brother approached me for help to stop her 'gauna' (ritual of sending the girl to her in-laws' house forever). Lakshmi, 17, did not want to go to her in-laws. At that moment I thought if I stopped the 'gauna' this time, her in-laws would come back again for her after some months. So, I wanted a permanent solution for this," she reveals.
"Lakshmi became my first case of Child Marriage Annulment (CMA). While trying to get her out of this marriage, I discovered the Annulment in the Prohibition of Child Marriage Act 2006. It had never been implemented. Nobody, including magistrates and consultants, were aware of how to take it further. At that moment I did what a person does to light up a black room. I too started switching on many 'lights'. And, it all began when I annulled the first child marriage of India," she adds satisfactorily.

Two years later Lakshmi got married again to a man closer her age, and someone of her liking.
Perhaps, what has made Kriti tough are the circumstances of her traumatic childhood. "I gave up my father's surname, Chopra, and adopted 'Bharti', indicating I am a daughter of Bharat /India. This was because my father abandoned my pregnant mother – and me before my birth. My relatives wanted my mother to abort me as I was a girl. But God wanted me to take birth on this earth. As a child, I constantly faced verbal and physical abuse from my mother's family. Some words I recall were – 'dirty blood' and abuses related to my father. My mother worked, so I was deprived of her constant protection, but she never opposed her family as we were dependent upon them. It made me an introvert. At 10, when I was in 4th standard I became sick. I am sure I was slowly being poisoned. I was in acute pain and soon became completely bed-ridden. My mother took me to many hospitals and tried every line of treatment to no avail. In 1998 I met my Gurudev, Shri Brahmanand Paramhans in Bhilwara. He cured me by Reiki. People can't remember their first crawl or first walk. But I remember learning to crawl, sit, and walk again when I was 12 years old. It took another two and a half years for me to gain my health again."
"After a lifetime of abuse and exploitation, I took 'sanyas' and went with my Gurudev. My relatives taunted my mother, and she brought me back. I started studying again at 14-1/2 years, taking a jump from the 4th standard, which I had left because of my illness, to 10th standard because of my age. With the knowledge of a 4th standard student, I studied diligently and passed my Boards. The same year I competed in the district level English debate and stood first! Next, I graduated in psychology and am now pursuing my Ph.D. in Psychology. Additionally, I have completed Diploma courses in Counseling and Rehabilitation," informs Kriti.
"While studying psychology and counseling child brides, I felt connected with their pain as I had experienced a distressing childhood. Child marriage is not being dealt with strongly by the government. And NGOs are not working operationally to stop these as it involves physical risks for the volunteers. Challenges continue as even the literate support child marriages today," she regrets.
According to Kriti, "The Government of India is not focused on the curative approach of CMA. Their budget is fixed for the prevention approach. While prevention is important, the curative approach is also important to wipe out any issue completely. When we approach government projects even for the preventive approach, we find the politicians become the barriers when I fight for justice for any girl."
"I don't consider my work as a 'sacrifice' because I am not showering mercy on my children. I work 18 hours a day with no break because I have to do two positive things each day. First, as they call me Didi, it's my responsibility as a sister to protect them from further abuse and exploitation. Secondly, I have to earn enough to rehabilitate them. In a month perhaps there are four-five days when I get a chance to have two meals. Rest of the time my hectic schedule only permits a single meal a day. But surety of threats is there – instead of breakfast, lunch or dinner. My life is like that…." she declares.
Finances are tight as Saarthi provides many rescued children shelter, education and rehabilitation, and helps them join the workforce and become independent and self-sufficient. The Trust also pays for legal proceedings of annulment. Kriti's approach to corporates, organizations, and individuals has generated limited financial assistance. But unfortunately, support from within Rajasthan is negligible, as many people are still in favour of this age-old ritual of child marriage.
"Despite having received recognition and awards for my work from numerous important people and institutions, I am often told by so-called benefactors that they would pay for me to run orphanages and educational institutions – but they avoid answering when I ask for financial support for eradicating child marriages. Most of my revenue comes through my earnings as a motivational speaker and the psychology sessions I hold. While word about my work is spreading far and wide day-by-day, my concerns for the future of our mission remain," expresses the multi-award winner.
Kriti's stressbuster is her love for dance. "I am a born dancer. Dance is not just an inherent skill, as along with the music it has provided healing from my emotional and physical pain during my dark days since childhood. It also provides a vision to see life beyond negativity. Whenever I get too stressed and feel burnt out, dance and music wipe out everything undesirable, and strengthens me to fight against abuse and exploitation," the activist reveals.
Finally, what about marriage for herself? "At present, I don't think it's the correct time to marry. I have to cross some more milestones before that. I will marry at the perfect time with the perfect person," assures the lady, smilingly.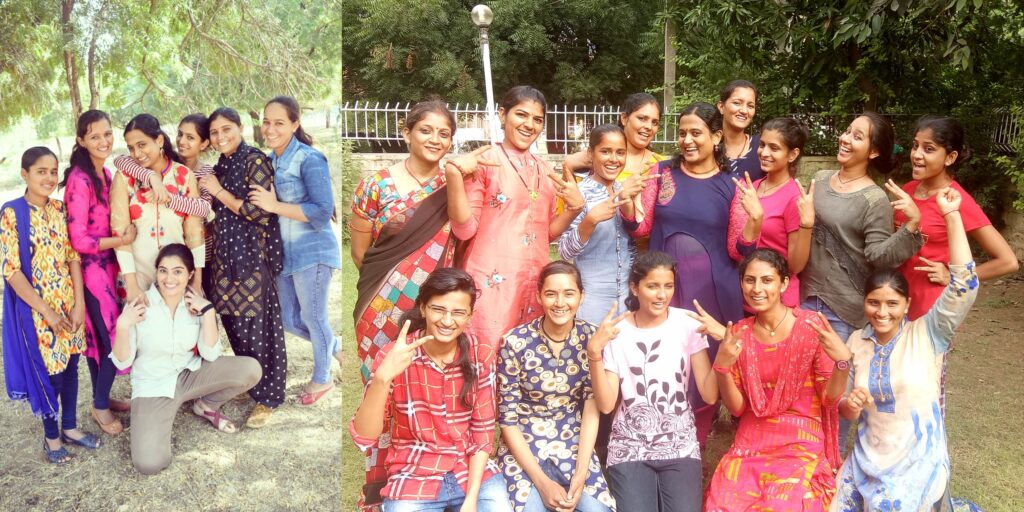 ---
Share

Photo credit: Saathi Trust, Jodhpur