WITH Computer Shiksha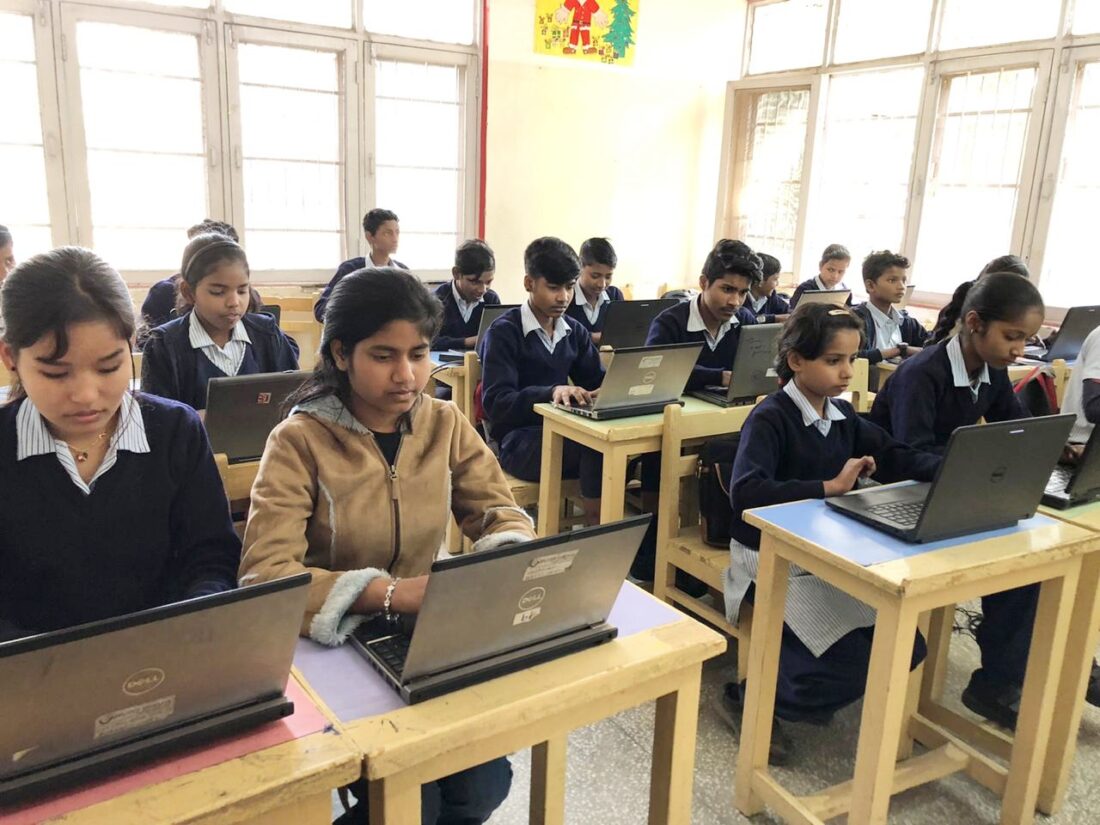 On 5th May 2012, a free computer literacy program for the underprivileged school children by Gurugram-based Computer Shiksha (CS) entered India's Delhi-NCR region. As anticipated, CS went through its initial teething problems. Two years later, the Founding Members felt it was time for introspection.
"Two years later, having experienced teaching a sizable 1200 students, we got total clarity about what did or didn't work. Working on refining the then-existing Model I, involved thinking out of the box. The first step was to tackle the lack of trained teachers, which meant getting back to the root of the problem," recalls Founder & President Dr Rakesh Suri.
Trailblazers
Sumit Malhotra, Patron, whose initiative was the creation of course videos, reveals, "after much brainstorming, trials and tribulations, and determined perseverance, CS took a massive leap forward when in 2016 we introduced the world's first Computer Literacy Course Video at a developmental cost of Rs. 1.3 crores. Significantly, these were designed to obviate the need of a human teacher."
Founder & Secretary Swapnalekha Basak continues, "part of our operational cost goes towards training our existing school teachers to eight days of an intensive in-house program. These are in batches of 25 to 45, some being Class 12 graduates with or without computer knowledge. Basically, they become World Class Trainers upon adeptly screening videos – which are the actual computer literacy teaching tools."
Proving to be a turning point in CS's journey, the progress graph rapidly scaled upwards after the introduction of the Video course. There has been no looking back for the Computer Shiksha Team, comprising Founders Rakesh and Swapnalekha, and two like-minded entrants Manmohan Thandi and Arjun Verma who joined as Patrons in 2013 and subsequently became Trustees.

Current Digital Footprints
Upon celebrating its 10th Anniversary, Computer Shiksha substantiates its success through impressive statistics. The CS Family comprises 120749 students presently undergoing the three-year Computer Literacy course. These are conducted through CS-enabled computer labs in 667 low budget schools educating the financially disadvantaged communities across 16 Indian states. Additionally, 34016 students, upon completion of their course, are Certificate recipients. Currently, CS has equipped schools with 8000+ computers guaranteed with free lifetime maintenance and topped by a free replacement upon requirement. To implement this program, 1470+ trained teachers teach students using CS' model and also undertake the first level of repairs themselves, with the balance via CS' Helpline.
A Decade Ago
Going back in time Rakesh recollects, "upon entering, our target audience was the five to 16-year-old students studying in lower resource schools. Along with Swapnalekha, we had Prof. Madhu Behl involved in designing the computer literacy course, but due to medical reasons, she discontinued."
Both Founders, with IT and management backgrounds and conversant with computer education, were confident from Day One that "we had selected a challenge not easy for many organisations to take on. Ours would be a N2N (B2B) model, rather than starting our own school. Along with providing hardware, CS' literacy course was developed after evaluating similar computer courses being offered globally. This benchmark has since guided us in upgrading our programs as we go along," clarifies Swapanlekha.
At the onset, the initial survey of approximately 50 schools revealed that basic education in English, Hindi, Maths etc. was being offered. Computer literacy's lacuna was due to the absence of computers, lack of standard course material, and non-availability of trained computer teachers, among financial and other constraints.
"When CS entered the arena, we were already too late. The 2014 National Sample Survey Office (NSSO) figures showed that out of 334 million school-going children, approximately 290 million had no access to computers. The Government had no concerted plans to introduce computer literacy. This meant that a generation or more of students would be entering the workforce deprived of computer literacy," says Manmohan.
CS' first Model 1 program, now discontinued, involved teachers carrying their own computers daily to the schools' computer labs. This initial stage was dependent upon the number of personnel available and the computers CS could put together.
The highly successful 2016 launched Model 2 program comprised the provision of video-based courseware and trained school facilitators. The inflow of donated computers for CS has continued increasing significantly.
"The 55 weeks Model 2 program is divided into six-to-12 weeks modules. Each student must attend a minimum of two classes of almost an hour per week, translating to a total of 12 to 24 hours. The variation stems from a varied pace of learning amongst students and also the number of revision classes attended. The entire program totals 110 hours. The above is a theoretical construct of what could happen if the world was perfect! On the ground, it has been observed that a school takes between one to two years to complete each module due to various factors at play," smiles Rakesh.
"Our focus is not on making these students only job-ready, but to ensure they imbibe the essential skills of computer usage to prepare themselves for any job they take up. CS' outreach and network has spread to under-served schools in small towns and village levels, including locations beyond motorable roads requiring 'last mile' trekking to the final destination," Arjun had stated recently.
"The impact of computer literacy on school-goers is obvious from a simple statement made by a Grade 2 girl to her mother: 'Today, I learnt all about computers and made an apple!' This is the essential core of what CS aims to do. The Computer Shiksha team – and our supporters feel a great sense of fulfilment. With a target of 290 million children to teach, we are constantly searching for new scalable models – and are dependent upon well-wishers, individuals and corporates to donate end-of-life computers and funds. This will enable us to continue Bridging the Digital Divide unceasingly," signs off the Founder & President.

Contact:
Computer Shiksha
Email: [email protected]
Website: www.computershiksha.org
*To sponsor Computer Shiksha via Donations or Tie-ups to start CS Model of computer literacy in schools in your chosen area, please email us.
---
---