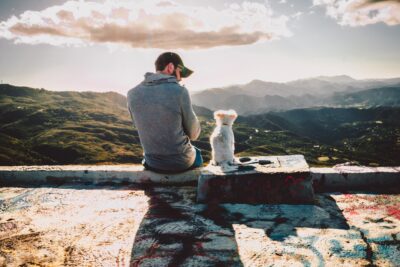 It was one of those typical early Autumn mornings at my Homestay in the hills. The blue skies and dappled sunlight on the last day of a long weekend gave no hint of the heroes without capes I was going to bump into later that day.
In fact, with a houseful of guests through the week, all I was hoping for at that point, was a little time to run my errands. So, when the guests decided to do a touristy day around Kasauli town with a list of all the 'things to do, what to shop, and where to eat', it was my chance to get my to-do list sorted as well.
I left soon after the guests and had barely driven a couple of miles when it happened. My phone rang, and a voice at the other end said, "Hi, Ma'am. I'm Jeet. Please, can you help me? I'm standing near your house with my little dog."
That got my attention as he continued, "I came to the Resort nearby with my family and friends, but they didn't allow my dog in even though I pleaded with them to let me sit outside with her. So, I came back to the parking area, but it's too hot inside the car for her and there's just no place to sit outside."
There was a slight pause before he added, "The thing is, I'm not feeling too well, but I don't want to tell my folks as they haven't eaten lunch as yet. Please would you let us sit in your garden or anywhere outside for just a little while until my folks finish lunch? I promise, we will be no trouble at all."
I hesitated to be honest as this was an unusual request. As a rule, only confirmed guests come inside the Homestay, but there was something in his voice that couldn't be ignored and I heard myself say, "Ok, stay where you are. Give me 15-20 minutes and I'll be there." And with that, I turned the car around and drove back.
About 20 minutes later, I pulled into the parking area and spotted my caretaker standing next to a gorgeous Shih Tzu cradled in the arms of a young man somewhere in his 20s. Jeet looked visibly relieved to see me, and as I got out of the car, he began to explain his predicament. It was at that point, I noticed the multiple strips of bandages on his arm and asked him to follow me to the house.
Once at home, I led them to the deck area where the chairs had been pulled out and water was being served. I saw Jeet pulling out a little bowl from his backpack to pour some water for Maya. Next, came a small Tupperware, which held a boiled egg.
He asked if it was ok to give Maya her lunch before starting to peel the egg. Then he proceeded to very deliberately break tiny bits of the boiled egg, balance it on his fingertips, and let Maya sniff before nibbling them up without dropping a single crumb.
It was fascinating to see the complete attention and focus with which the entire exercise was conducted. In some ways, it reminded me of those Japanese tea ceremonies that are the ultimate lesson in mindfulness.
I asked Jeet if he had eaten anything. His reply "I don't want to bother you Ma'am but if it's not a problem, Maggie would be great," had me grinning. "Pahadon wali Maggie is never a problem," I said and asked the kitchen to make some.
A little later, when the bowl of steaming hot noodles arrived, he asked me the time. Then he did some calculation before taking the bandages off his arm and settling down to eat.
"This is my cheat meal", he said with a smile. "I have to be careful about my fluid intake and watch what I eat as I need to get three Dialysis a week done. Both my kidneys have failed. I'm on the waitlist for a transplant, but there's no knowing when that will happen. I'm young, and that's in my favour. And I have Maya – she's my therapist and the reason I get through it all since she came into my life a year and half ago."
He spoke in such a matter of fact manner that for a moment, I wasn't sure I'd heard him right. Then we got talking, and over the next hour the conversation led to his love for flying drones, the early years spent at a boarding school in the mountains, his college life followed by his work in the U.S. Until the day it all changed and on the doctor's advice he returned to India for treatment. That was nearly two years ago. Now he lives with his parents and helps out in his father's business.
"This is the longest I've stayed with my parents since I left for boarding school at the age of 8. It's quite interesting for all of us to get to know each other better", he said, laughingly. "In between the days there's no dialysis, I head out for a few hours with Maya and carry along my drone."
I was on my second cup of coffee when his folks called to ask if he was ready to head back. So, he woke up his snoozing therapist, gathered his backpack, and thanking me profusely, left.
This happened a month ago, and I can't remember the last time a conversation inspired me so much. To say that I was struck by Jeet's 's extraordinary degree of forbearance and courage would be an understatement. With all that's going on in his life, it is incredible, the clarity he has that he will not let his life be about the illness.
Meeting Jeet reiterated a long held belief that not all heroes wear capes. In the words of one who did both, Christopher Reeve, "A hero is an ordinary individual who finds the strength to persevere and endure in spite of overwhelming  obstacles."
So, these wishes are for you Jeet, here's wishing you calm seas and fair winds. May the force be with you. And Maya, you make the cape look good, girl.