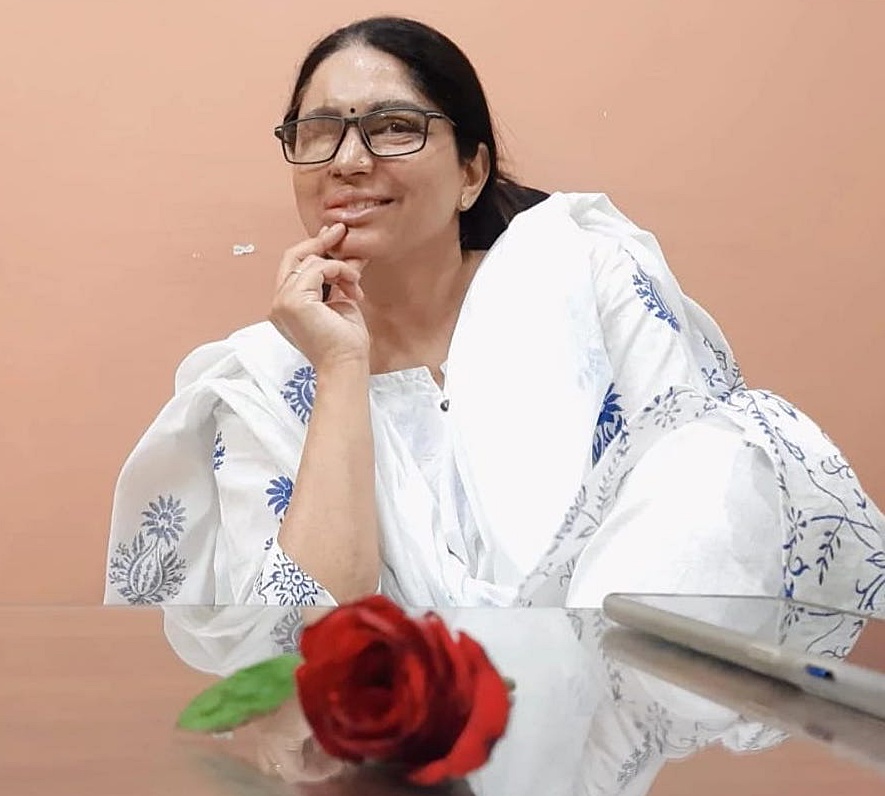 The Brave Soul
"People just have to accept me the way I am" is the maxim of life for Shaheen Malik acid attack survivor. The 39-year-old Founder of New Delhi-based Brave Souls Foundation (BSF) teaches this line to those who have been victims of acid attack like her.
Shaheen aspired to join the Indian Administrative Service (IAS) upon completing her Bachelors in Arts. She met with strong opposition from her conservative parents and two brothers who wanted her to get married. But, she had "a 'junoon' (passion) to work. "That's why between my family and me, there was a constant 'fight' of differing ideas and thoughts. Most of the girls in my colony were getting married, and my parents wanted me to follow suit, so I rebelled."
So, at 23, Shaheen left home for a job in Panipat as a counsellor to students of Punjab Technical University Learning Centre. "I think I was an achiever and did my job quite competently, but noticed some of the office guys didn't like me, and I ignored them – perhaps as I was successful at my job – and had come from a big city, Delhi. Not wanting to sound vain, may I add I was pretty too. Life continued smoothly for me for almost three years," she recalls.
The Nightmare Begins
"On 19 Nov 2009, as usual, I left for home around 6 pm. Outside, I saw one of the boys from my office standing with a handkerchief tied around his face. I thought he had masked himself against pollution as our office was on the busy GT Karnal Road, which I, too, waited to cross. Suddenly, I felt some liquid on my face. Thinking it was water, I looked up and then saw him splash some more from a bottle. Instantly my face and eyes started burning. Screaming in pain, I ran back to the office, realising it was acid. My colleagues and others gathered around me, wanting to take me to the hospital, but no one thought of throwing water over my burning face and body. Perhaps, they didn't know what to do. All I can remember is crying and screaming, perhaps hysterically by then – but more from fear of what had happened than the intense pain I felt. My right eyelids were stuck together, and my left eye was burning. Today I have partial vision only in my left eye when wearing cylindrical lenses.
"An hour later, I was admitted to a hospital in Rohtak, diagnosed with 3rd degree, 90 per cent burns on my face and eyes and deep burns over different parts of my body. More torture followed as they gently cut off and stripped my clothes and even the light jewellery I was wearing. Then they made me stand under a shower, the water drops searing my skin," she describes.
In between, Shaheen recalls giving her parent's phone number to someone. He called and spoke to her older brother. The family responded and came to Rohtak to transfer her to Apollo Hospital in New Delhi. While her family continued helping her financially and took her back to their home, there was no emotional support.
Admitted to the Surgical ICU unit for 1-1/2 months, the grafting for Shaheen's skin started. "The seemingly endless period of trauma and pain was a nightmare. In the past 13 years, I have had 25 reconstructive surgeries, spending about five days in the hospital for each surgery. According to Section 357C of the Criminal Procedure Code, all private and government hospitals are obligated to provide free and immediate treatment to acid attack victims. While government hospitals do provide and ensure the same, the survivors receive the best care mostly in private hospitals. Despite the law, private hospitals charge their regular fee. We received funding for the treatment and surgeries through crowdfunding sources," she reveals.
"In India, it is still common for people to blame the girl, the victim. Society feels her behaviour brought this calamity upon herself. These acid attacks don't happen among the upper class – it's mainly the middle and lower class who are victimised."
Healing Phase
"During my recovery period at my parent's home, I went into deep depression, closing myself indoors. While they looked after me, it was obvious I was a financial burden on them, as I sensed no love for me. Perhaps they felt I had shamed them, as acid attacks are considered a stigma in our community. They still feel I am responsible and my lifestyle – living and working independently – brought it upon me. I would question myself – what is my identity? It had been snatched away from me. I wanted my own face again. Looking in the mirror, all I saw was an extremely disfigured, unknown face. I learnt that skin disfiguration gets worse after the initial three months of grafting. Another physical suffering I have accepted," she utters.

Moving Forward
The turn around happened in 2013 – Shaheen Malik acid attack survivor walked with her face fully revealed. She joined Stop Acid Attack as Centre Manager Coordination for one year. Then joined Delhi Commission for Women and on to Human Rights Law Network for two years. During this time, she also helped other acid attack survivors get free medical treatment and continued to fight for acid ban. She interacted with lawyers and social activists for justice, such as no acquittal.
"Still, many of the attackers, including mine, are sadly out on bail. Over the years, I've worked with over 300 survivors, getting them financial compensation and fighting for fast track to get the criminals convicted," she says ruefully.
Time for Apna Ghar
"While very busy, I kept feeling that something was missing. In 2021 I set up the Brave Souls Foundation, which has the residential Apna Ghar, where 10-12 girls stay at a time while undergoing treatment and fighting their cases.
The four pillars of BSF are: Determination – aiming to give these girls their rights; Courage – through independent training; Compassion – awareness, acceptance and empathy by a largely insensitive society; and Honesty – in criminal justice, the need for sincere lawyers and unbiased treatment. Having built credibility and trust, BSF gets donations and crowdfunding, though still not adequate.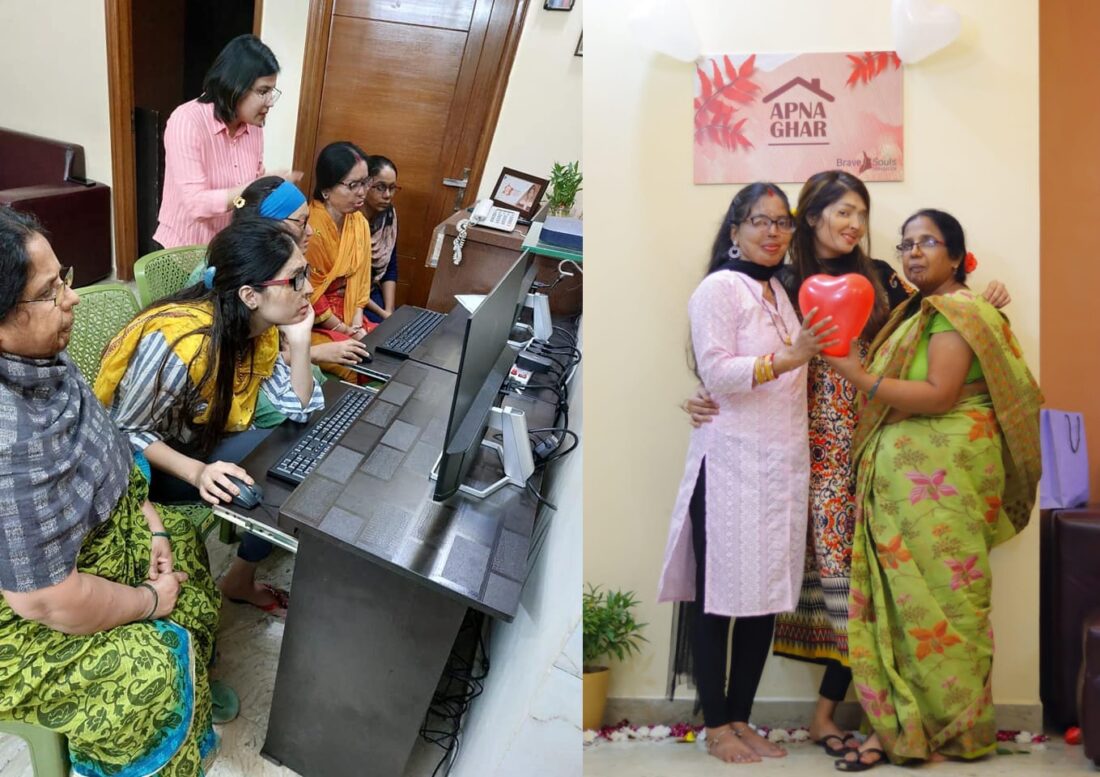 Looking into the Crystal Globe
There was a time when Shaheen Malik acid attack survivor could see no future for herself through her one sightless eye and the other with partial vision. But guided by her heart and head, she forged forward. She wants people "to give us back our dignified lives and a chance to prove ourselves without a gender bias. And more critically, just accept us the way we are," she concludes.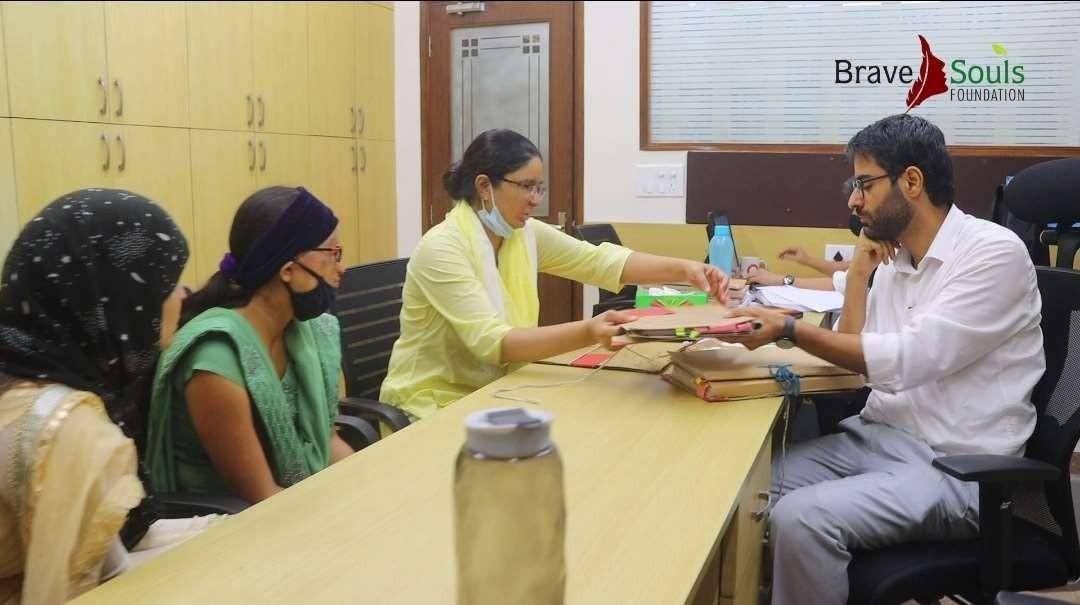 Contact:
Brave Souls Foundation
69, 1st Floor, Masjid Road,
Jangpura, Bhogal,
New Delhi – 110014
+91 9810811333, +91 9654240057
Account for Donations:
Brave Souls Foundation
Account number: 50200060589746
IFSC Code: HDFC0000248
HDFC Bank