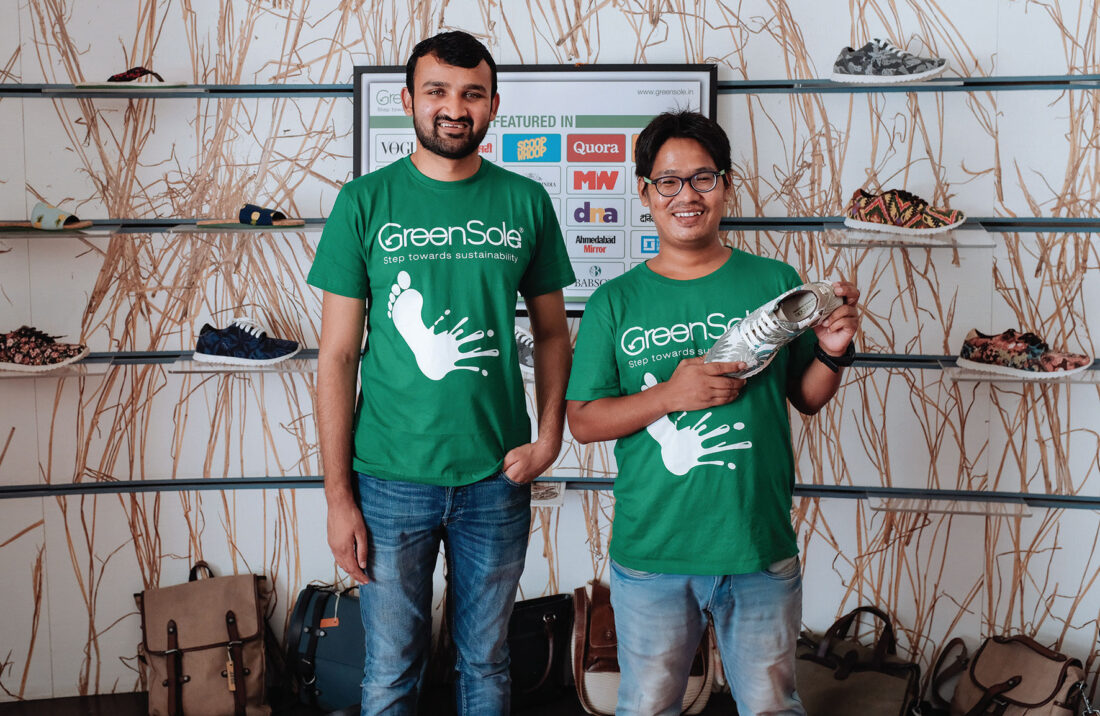 Soul to Sole introduces two dynamic young entrepreneurs, who pioneered GreenSole, the eco-friendly enterprise that recycles old shoes to provide footwear for the unshod in India. The duo, though from completely diverse backgrounds, trace their common link to 2012 when they were joggers at Mumbai's Priyadarshini Park along Peddar Road.
Meet Shriyans Bhandari, 29, CEO GreenSole, Mumbai & Director Heritage Girls School (HGS), Udaipur. An alumni of Mayo College, Ajmer, he graduated from Babson's College in Wellesley, Massachusetts, with a Management of Entrepreneurial Leadership program. Shriyans is also the author of 'Birds of Aravalli' and has spoken at the Wharton World Economic Forum, Mumbai 2016, MIT and Harvard Kennedy School, to name a few.
The Co-founder Ramesh Dhami, now 30, ran away from home in Uttarakhand when he was just eight years old. He survived in Mumbai, aided by the Sathi Foundation. Though aspiring to be an actor, Ramesh became a fitness coach and a national-level marathoner.
Ramesh recollects how the idea 'sprouted', "I couldn't throw away my old running shoes. They were too expensive. Instead, I modified them into slippers."
"We found an estimated 20 billion pairs of shoes are produced globally each year, and nearly 350 million pairs are discarded annually in the USA alone. Yet, according to World Bank statistics, there are over 1.5 billion people worldwide without footwear who are infected by diseases," details Shriyans.
Cut to the present, a decade later GreenSole has "donated 580,000 pairs of footwear till date in 18 states pan-India. Our beneficiaries are primarily India's rural school children. A great positive for GreenSole will be when we touch the 10 lakhs footwear mark by next year, which would have saved roughly 50 lacs CO2 Emissions (lbs) (calculated using software GaBi 2.0). GreenSole has also ventured into sustainable materials made from waste like EVA, rubber, foam, coffee and much more, fitting in with the life cycle of many footwear and apparel products," Shriyans affirms.
"We were too young when we started GreenSole in December 2013. I was 19, and Ramesh was 20. Not having any prior knowledge of footwear manufacturing or designing, it was not easy to run a factory or negotiate deals, especially in this labour-intensive sector," Shriyans continues.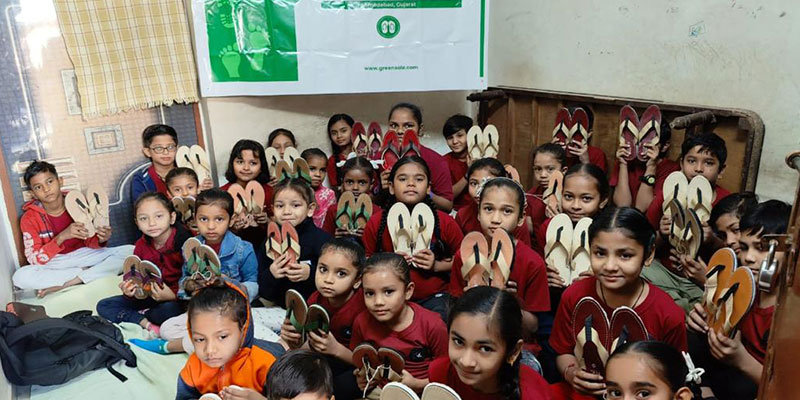 The company's graph started looking upwards after 2014 when Shriyans participated in a competition at the Entrepreneurship Development Institute of India (EDII), Ahmedabad. "They asked us to write about our target market, potential customers, and the impact we could make. We were selected among the top 30 innovators in India. That is when we realised there was a commercial potential that could be turned into a business venture."
Shriyans initially pumped in Rs.1.5 lakhs of his family money, and simultaneously he and Ramesh won the business competition at Jai Hind College. This was followed by the Technology and Sustainability Award at Eureka, Asia's largest B-plan competition at IIT-Bombay; and the second position at Ridea National B-plan. These victories have since been GreenSole's main funders. GreenSole has also received two industrial design patents (D262161 and D262162).
The head office and flagship Mahape factory in Navi Mumbai is in partnership with Ram Fashion Exports. The small team behind this success story comprises Shriyans at the helm and Ramesh overseeing field research and distribution. Others involved in the venture are Rishi Bhasin, overseeing design and manufacturing, which ensure minimum carbon footprint. Rishi has worked on GreenSole's R&D and standardised its manufacturing process. Nitesh Bhasin of Ram Fashion Exports helps in policy-making and looks after the retail segment of GreenSole. Marketing is Karan Bhasin's domain, while finance is under Kunal Kapadia.
Further, thanks to Ratan Tata's interest in GreenSole – after he responded to Shriyans' letter (2015) and email on separate occasions – in 2018, Tata Steel sponsored the facilities and machinery in their Noamundi, Jharkhand plant. Six people are employed and are upcycling about 1500 units every month and creating jobs for the tribal community. Along with that, more than 100 people are being skilled in footwear manufacturing every year, with the potential to get jobs in other footwear companies. Two more skill centres in Maharashtra near Mumbai and in Rajasthan, Eklingi and Udaipur, are doing similar work.

GreenSole's publicity is mainly via media coverage in numerous newspapers and magazines, participation in talk shows including TEDx Youth WASO, talks at MIT, Harvard Kennedy and various environmental forums. In the pipeline are plans to get celebrities to donate their shoes, which will then be refurbished and auctioned online.
"GreenSole shoes and slippers are available to individual buyers online from our website. We were exploring export opportunities to retail our brands in the USA and Europe, as well as co-branding with established companies for our upcycled footwear range. But COVID has put a halt on this for now," rues Shriyans.
"For donating GreenSole shoes to support those still unshod, we are updating our online channels and websites so users can buy shoes as well. GreenSole also invites established shoe brands for tie-ups in order to put to good use the 0.5% (7.5 million) shoe wastage, which is primarily due to defects," says the CEO.
Looking back, he admits, "Life hasn't been all smooth. We have overcome hurdles – including convincing family, friends, college authorities and other backers of our serious intent!"
A novel platform which garnered media attention was GreenSole's participation in both Lakme Fashion Week Summer and Winter 2019, in partnership with Tilla and A&T, respectively.

In 2023 GreenSole won the Dun & Bradstreet Top 50 Trailblazing Startups of India Award – adding another feather to their cap.
When asked about the complexities and big challenges that they face, Shriyans answered, "There are a lot of established footwear brands in the market. Thus, we need to take small, careful steps to become mainstream with lesser resources – but critically, in lesser time. We are using these brands as platforms by co-branding and entering multiple stores. Looking at multi-retail outlets instead of our own stores, which is presently not feasible. We also have to work towards creating something unique constantly and educating the customer to prefer our footwear to a brand not supporting social or environmental good. Currently, all brands have started moving towards sustainability, and thus the availability of sustainable materials is also increasing. We are working on new technology which would make use of 15 per cent waste leftover after upcycling. This will be reused as footwear soles, floor mats and other varied products."  
"GreenSole has evolved and bounced back stronger post-Covid. We are now into sustainable materials and solutions for footwear and apparel. We are into vegan fashion retail, which means mainly choosing alternatives which are good for the environment, such as PET bottle mesh, wood cork, and plant-based materials in lieu of leather and synthetic. We are noticing more people shifting to vegan products and lifestyle not only in Western countries but in India as well," he says.
Looking ahead, after GreenSole, what next? Shriyans promptly replies, "GreenSole is forever, as the planet will need more recyclers, more sustainable materials and solutions. We are constantly upgrading our recycling reach from footwear to apparel, tyres and even flex – and making our own sustainable material."
Another commendable mention is that GreenSole has become a replicable model and an inspiration to many other youngsters. There have been startups of Greensole for glasses, denim and other fashion items. Shriyans is happy that they are propagating social and environmental changes through their ventures.
The duo's appeal to readers of Coffee & Conversations, "Next time you – or your friends and family – are discarding your shoes, do think of donating them to someone who could use them instead. Or send them to GreenSole – a project very close to our hearts."
GreenSole continues to move forward, hitting a lot of targets through a single concept – sustainable recycling.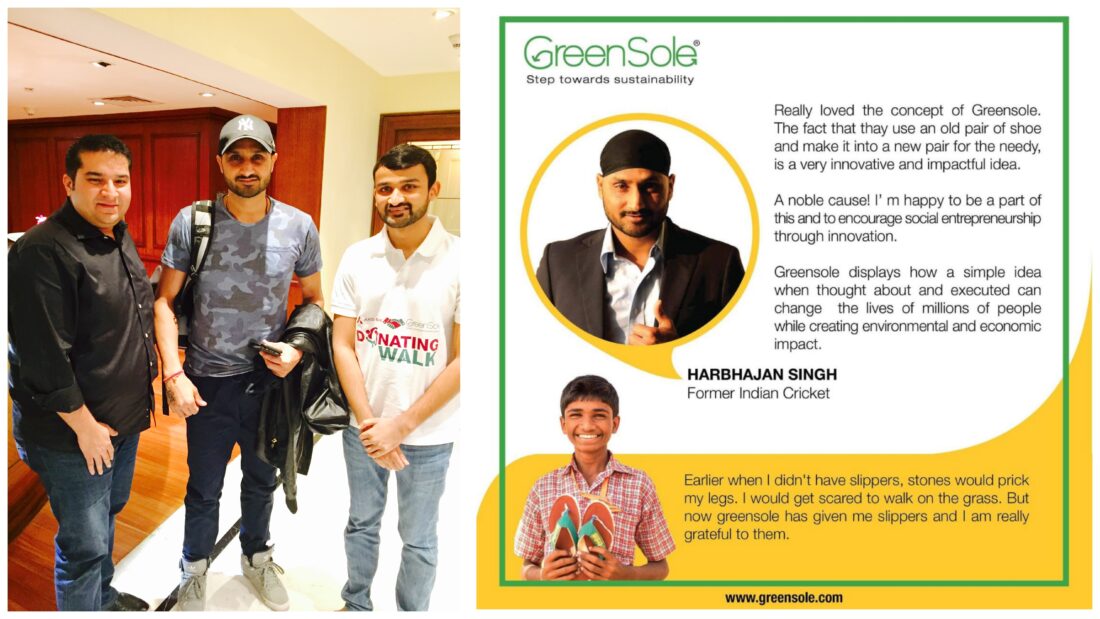 GreenSole manufacturing: Done at the factory in Mahape, Navi Mumbai, the manual process involves removing the soles and shoe uppers (reused for patching torn shoes). The lower part is washed and cleaned with chemicals to make it pesticide-free and environment-friendly. It is then die-cut to standard sizes. The upper portion is made separately using parts of shoe uppers and materials sourced from manufacturers.
The two are joined together. The straps are made from recycled trekking ropes. Result? Bright-coloured smart footwear from a once worthless sports shoe!
Funding: To become a self-sustaining social enterprise, venture capitalists have shown interest in funding GreenSole, Shriyans is keen to raise money from the traditional route — business competitions. A crowdfunding campaign via Indiegogo reaches out to the community. Additionally, they also have a retail range made of used soles repurchased by GreenSole to self-sustain and grow the venture.
Collection Boxes: Discarded shoes and all kinds of apparel, including denim, sports and even formal wear, can be donated. About 10,000 pieces per month are collected from educational institutions such as Heritage Girls School, Udaipur, Jai Hind College, Mumbai and Mayo College, Ajmer. Local sports clubs pitch in, and also from public parks like Priyadarshini Park, Mumbai, and corporations such as AXIS Bank, India Bulls, JLL, Just Dial, Mastek, Goqii, Rolls-Royce, the Tata Group; the Siliguri Army Camp and EICASA Institute in West Bengal and NGOs.
Prime supporter Axis Bank, through its Project Udaan 2.0, sponsored 10,000 footwear through GreenSole to children in Lucknow district, Uttar Pradesh. Soon, a GreenSole App will allow one to search for the nearest green collection box near one's vicinity.
Contact:
Mobile: +91-8879982045
Email: [email protected]
www.greensole.com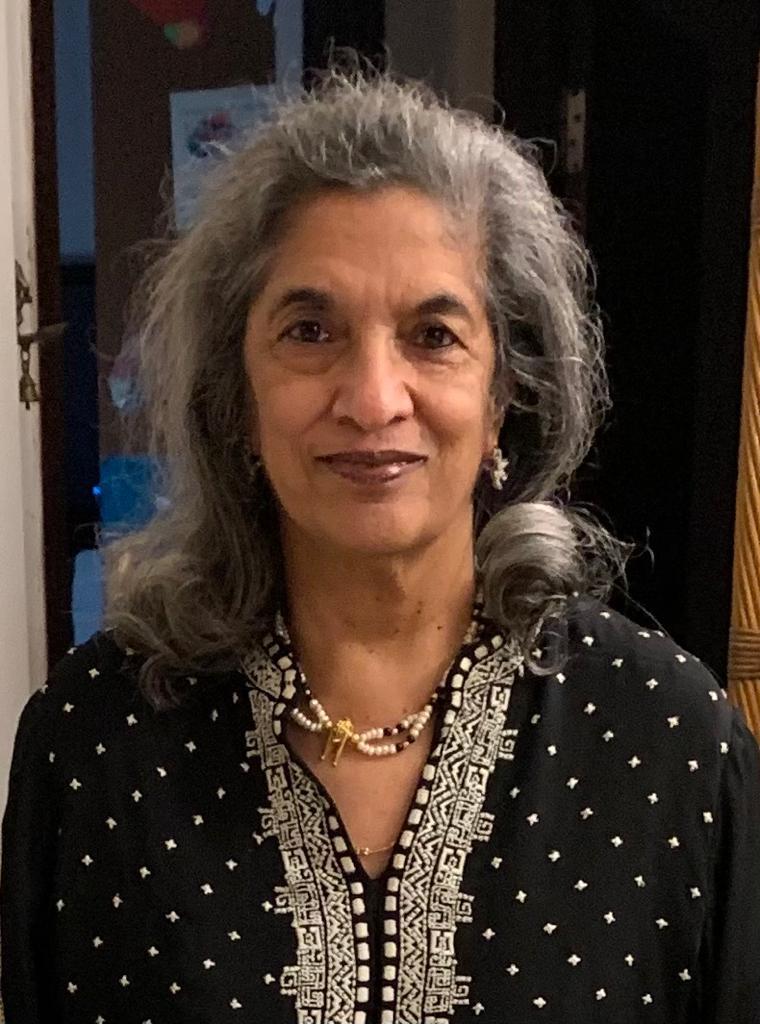 Amita Sarwal
After studying and practising homoeopathy for ten years, Amita Sarwal changed her career path. Since 1973 she has been writing about lifestyle, personalities, architecture, interiors, and travel. While in Singapore, with Editions Dilier Millet, she was Editor for pictorial encyclopedias, books, and magazines. Her personal milestone continues to be The Spirit of SKV – Chronicle of a Girls' School, written to mark the golden Jubilee (2006) of her alma mater, Scindia Kanya Vidyalaya, Gwalior. To showcase the exemplary work being done by Changemakers/Unsung Heros, Amita now focuses on writing about how they are elevating the lives of the underprivileged.