It was the final stretch of the 100 miler route through the Thar Desert in temperatures ranging from 16 to 46 degrees. As part of the team of the Thar Ultra Beast, as it's aptly called, I was documenting the race while doubling up as backup and support. The lone runner on the burning tarmac was in my line of sight as we slowly drove up to her in the support vehicle.
It was Aparna. The fatigue was evident in the slight, yet determined frame as she kept up the punishing pace to finish what she had started 26 hours ago. I called out to her loudly, cheering her on, trying to infuse my voice with as much adrenaline as I could to get through to her exhaustion. She smiled slightly and asked how far the finishing point was. Under 10 km, I told her, relieved as much for her as for myself that the arduous race was nearing completion.
The morning before at the break of dawn, the runners had lined up for the mandatory medical check-up before the start of the race, the Thar ultra marathon. A final run-through of the checklist saw shoelaces being double tied, hydration bag levels reconfirmed, GPS configurations calibrated, bandannas and sunglasses adjusted, as the bibs were fastened and the route map was folded away safely. In a way, they reminded me of a band of soldiers preparing for combat, donned in desert gear and dark glasses with backpacks stocked with energy bars and hydration packs, the SPF streaking their faces.
Watching them through my lens, I was gripped by a feeling of Déjà Vous' as flashes of salt plains and lost lakes from the ultra marathons I had documented before came to mind. However, this one was going to be different, my gut told me. The certainty came from having spent the previous day with the team in marking the race route in the blistering desert temperatures.
The unending sea of sand had stretched before us, dotted sparsely with straggly shrubs that did more to break the monotony than provide respite from the merciless sun. The temperature had read 46 degrees with noon still an hour away, a clear indication of what was in store for the runners. Running in these weather conditions made it crucial for the aid station volunteers, medical team, and the race team patrolling the route to be prepared for every possible emergency.
An ultra-marathon in the desert with distances of 50 km going up to 161 km (the 100 miler) requires as much physical training as it does mental toughness. In addition are the admirable levels of motivation that go into the makings of such gruelling races. It's quite understandable then, to harbour a belief that these runners must surely possess some kind of superpowers. After all, regular people wouldn't be participating voluntarily in such insanity, right?
Well, not quite, as I would discover upon meeting this fraternity of businessmen, bankers, college students, software engineers, et all. Their average age ranging from 20 to 50, with a few even older, the superpower they had in common, and in abundance, was the passion to test their limits.
I remember when I met the lone woman 100-mile runner at the Rann of Kutch ultra marathon for the first time in 2014. A software engineer, Aparna Choudhry had started out wanting to be a hockey player when she was at boarding school. Running came to her while in college, at Jaipur, and there's been no stopping her since. She eats, sleeps, and breathes running.
When I asked what makes her run ultras, she replied, "I do it for the feeling that comes the day after the race is over. The sense of achievement that comes from stretching one's limits and finishing well is incomparable. It gives you the self-belief that will get you through pretty much anything in life. On long distances, I try to think of funny things, but that lasts an hour. Initially, I want to maintain a pace, but after 20 hours I just want to crawl! It's better not to think about running when you are running," she had said, laughing.
As she ran the last stretch to the Pokhran Fort, her mind took over from her body, for running is as much about mental strength as it is about the physical. For Aparna, "When the body hits its lowest point and sends me a signal that it can't go on – the mind takes over and tells me that I have come this far, I can't give up. And that lesson stays with you for life."
At the finish point, we were all there to cheer her in and celebrate the completion of the race. "There are a few things we do in life. which might not be mind-blowing or record- breaking, but they make us so proud of ourselves," Aparna believes. And I get that.
Somebody once asked me what makes me cover these ultra marathon races where I'm on the move (though not running) for anything between 36 to 48 hours. With barely any sleep or time to eat, my camera equipment is slung on my shoulder as I scramble up sand dunes and watch towers to make my way onto salt plains and hill sides, all the while keeping a look out for the runners. As my eyes scan the horizon for lone village wells for water poured out of earthen pitchers, I know the village women will smile at a strange looking me, and ask me what I'm doing there – a question that I've asked myself.
I realise my reasons are not unlike that of Aparna's – I want to see how I fare when I'm out of my comfort zone and my limits are being stretched. The satisfaction that comes from completing what I started out to do, is incomparable. It is what I feed off when I go about living my every day humdrum life.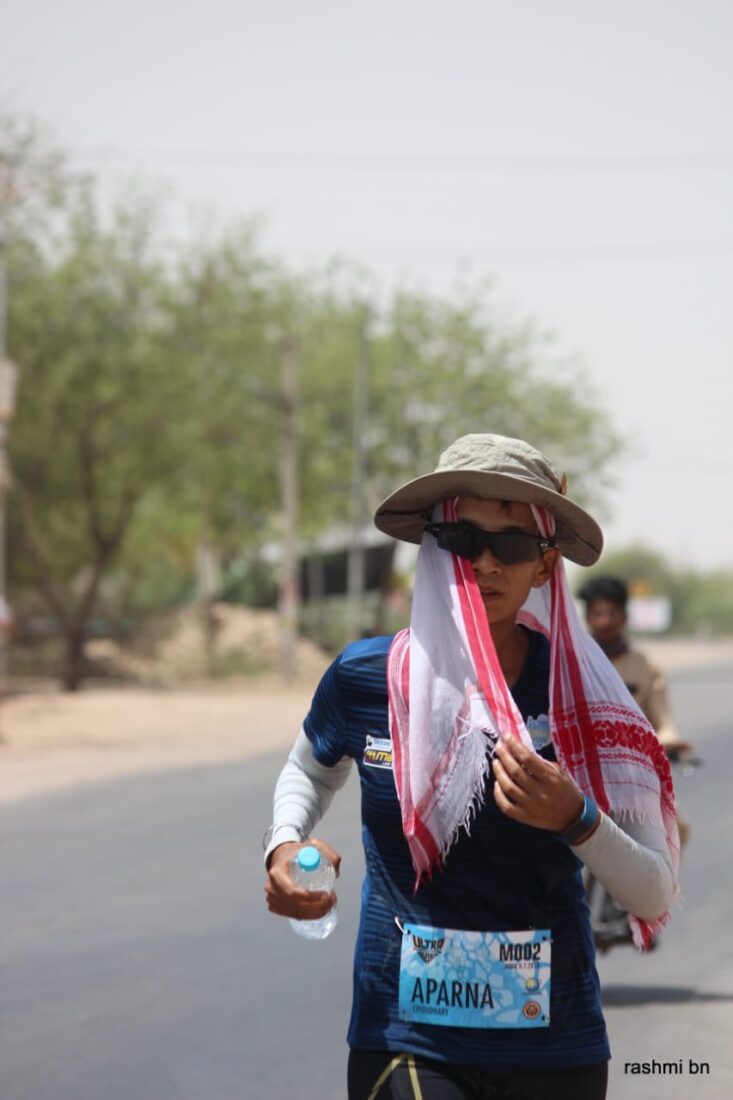 ---
Share
Picture Credit : Rashmi B. Nayar
Featured Image Credit : Kavitha Kanaparthi for Globeracers