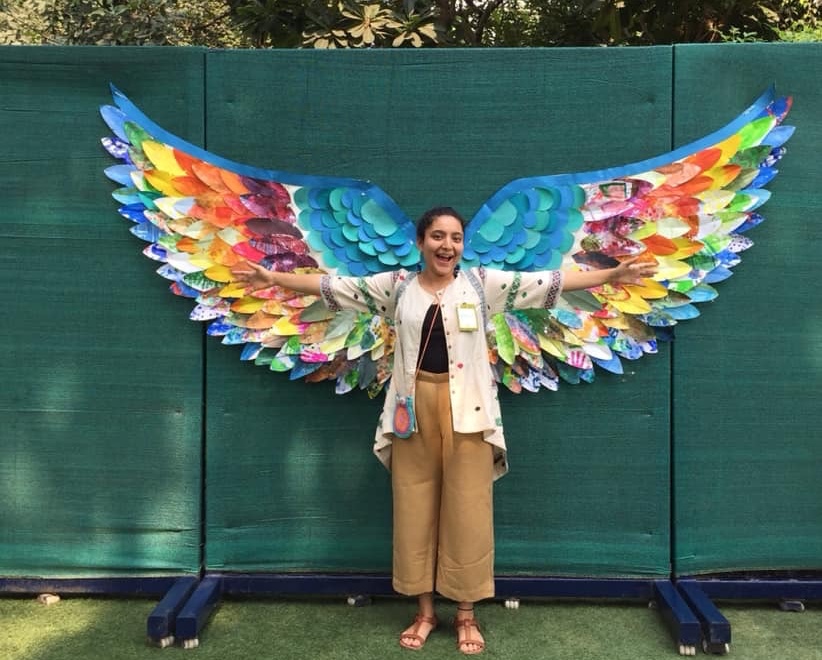 "We picked up the name, Use Me Works literally from the dustbin. Since we were working with waste, we decided to use something that every bin says, but no one listens to. And being catchy and unique, it attracted interest," says Meenakshi Sharma, the founder of the fabric upcycling venture operating since 2011.
"Ever since my childhood, the environment was a concern. My family taught me how to utilise resources better. In college, I ventured into projects, including visiting fashion industry on-site factories, which generated tons of fabric waste. It made me decide on my future career – a continuation of my project – to upcycle fabric waste into utilitarian, eco-friendly alternatives like packaging, decorations and functional items."
The Use Me Works (UMW) workforce initially comprised women from financially marginalised homes with literally no work experience and limited exposure outside their environment. Within a few months of building trust with their conservative family members, we got some of them to come and work at the premises. It was within 100 m from their homes and was run by a woman. At present, being a part of UMW allows 25-30 women from Andheria Mor village in Chattarpur, New Delhi, to work and earn through upcycling." 
The training program at Use Me Works gives each staff member enhanced skill sets that are reflected in the quality of the products being manufactured.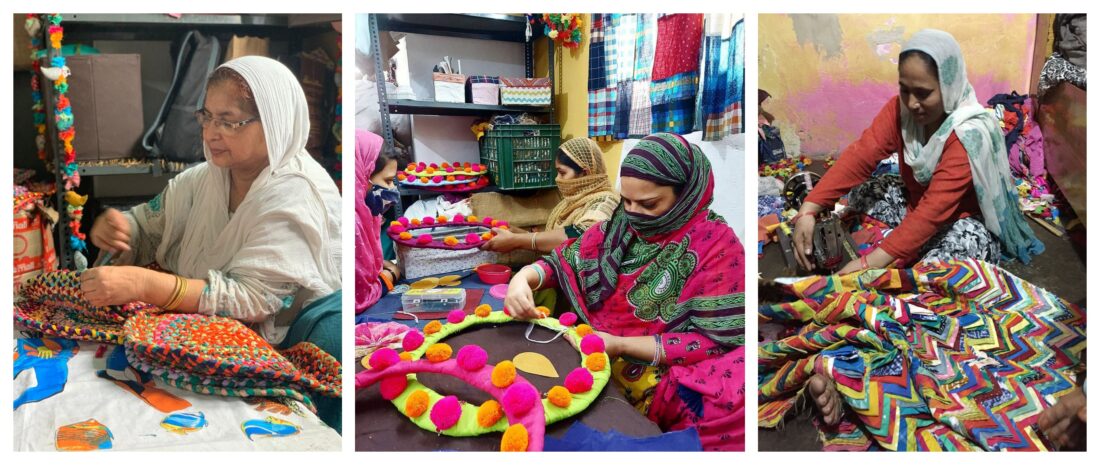 Step-by-step procedure
Sourcing waste is simple. The scraps are collected from homes, factories, export houses, and dumping grounds in North Delhi where old clothes and post-production scrap are left. Now, having built a reputation, some people courier clothes directly to the studio. Among the fabric scraps collected are old garments, curtains, bedspreads, and other items. Some of these are good as new, while others have small defects that make them unusable in their current form.
The first step, as soon as the fabric is sourced, is to put it through a series of thorough cleaning and sanitising procedures. Next, the UMW team identifies which end-use products the material will be most appropriate for. Then starts the conversion process. What once was 'old and discarded' is now converted into rugs, bags, quilts, decorative items and many more utilitarian objects. Each month about 200 kgs. of fabric scrap is upcycled.
"Once cleaned, the raw material is sorted, and the upcycling process begins. Herein the women stitch, sew and embellish it with wooden beads, pom-poms and strings (made out of waste fabric scraps) for festive and party decor, dreamcatchers, toran, bags etc., through their handwork. During the fabric upcycling process, we first produce samples. These are sent to current and potential customers.  The feedback from consumers helps us decide on our product line before embarking on large-scale production. UMW's bestsellers are eco-friendly, reusable cloth decorations, which are a great alternative to plastic ones."
One of the earliest members of the UMW staff was Phuppi, who joined in 2017 and retired in 2021. During her term of work, the two integral things she taught everyone were, "first, the importance of being independent, and secondly, being happy with your work". Phuppi, now in her late 60s, spent her time working diligently and with utmost sincerity and commitment, thus setting an example for everyone. She was always willing to teach newcomers her skill sets and helped many improve their craft. She continues to visit and stays in touch.
UMW makes…
"UMW's portfolio of functional products range from small accessories like wallets, handbags, laptop sleeves, organisers, clutches and hair accessories to home décor cushions, rugs, curtains, buntings, strings, and pieces that can also replace plastic goods. The intent is to help create a behavioural change. Towards reducing its carbon footprint, UMW is also aggressively creating crafts that are washable and reusable. An example of these is waste fabric packaging bags in lieu of plastic bags.
"Word-of-mouth publicity from satisfied customers has led to tremendous growth. Our brand transparency and commitment to quality has helped us come a long way. Being a small team, our marketing over the years has been done voluntarily by my husband, Akhil Saxena, who is into digital marketing. That has helped us to understand the market, the requirement and social media platforms much better," explains Meenakshi.

Spreading our message
"Since 2018, UMW has been conducting workshops/seminars for corporates, schools and the general public to raise awareness and educate them about waste management. Having reached over 7,000 people, the popularity of the NGO's 'informative and engaging workshops' has helped to change the approach of everyone they have encountered. The foremost goal has always been to build a community of people who are mindful and can live burden free on the planet. Right now, we are 200 families who have stayed connected and practice a sustainable lifestyle. Our next milestone is 500 families. These people already think differently with regard to waste and make conscious choices, including learning to upcycle their own waste. The DIY workshops are fun and interactive. Their intention is to sensitise participants towards waste materials, its usage as well as its disposal and overall impact on the environment," sums up Meenakshi.
The Founder's forthcoming plans involve "expanding our business by having multi-channel partners for sales in both the domestic and international markets. That will automatically increase our workforce. Also in the pipeline is UMW opening its own physical store in the near future."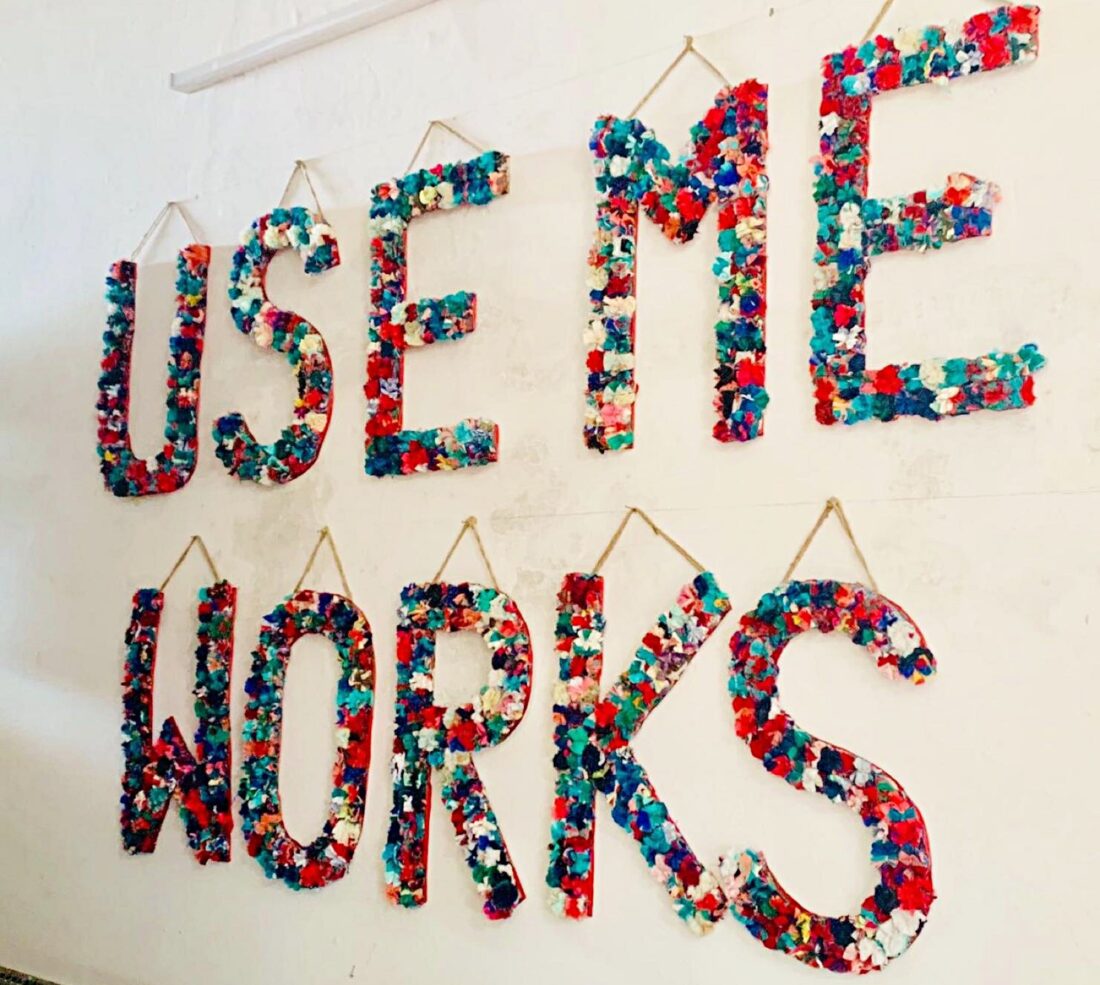 Contact
Phone: +91 98996 80669
Email: [email protected] & [email protected]
Website: www.usemeworks.com
For donations
Bank Account No.
USE ME WORKS
State Bank of India
A/c No: 33192264470
IFSC: SBIN0011357
BRANCH: ROHINI SEC-3/7
TYPE: Current