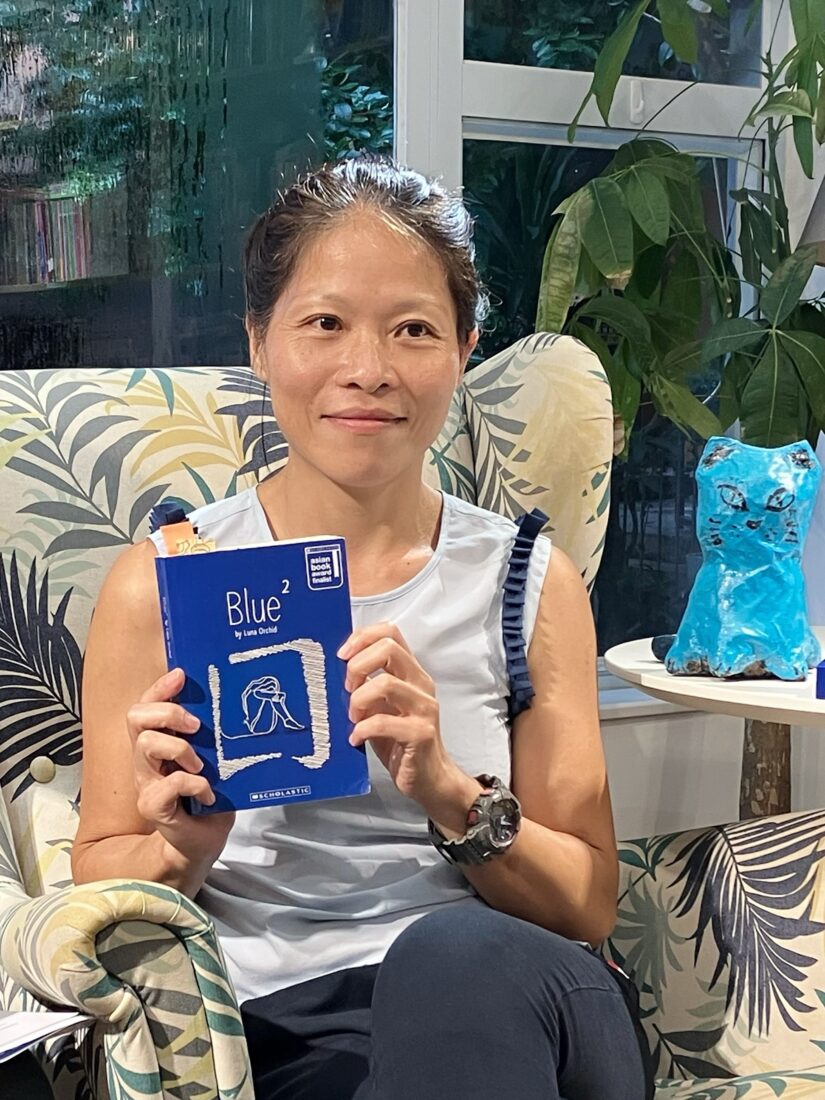 It isn't easy to find traditionally published, authentic, memorable stories set in Asia, about Asian children and young adults, and written by Asian – not Asian diaspora – writers. Blue ² (Blue Squared) (ages 13+) by Hong Kong artist and author Luna Orchid (pen name), is one such gem. This verse novel for upper middle graders/young adults is an honest, oft-times gut-wrenching yet compelling depiction of a teenage girl's coming-of-age in working class Hong Kong.

Set in Hong Kong in the late 1980's/early 1990's, we meet the narrator as an 11-year-old, at the cusp of puberty. She goes to a Catholic girls school and lives with her working class parents and three siblings, together but separate, crammed into two small public housing flats. Steeped in Chinese superstition and typical of Chinese families of that generation, the family hardly speaks to one another. As the narrator obsesses over the girth of her thighs and begins to develop unhealthy eating habits, she is unable to share her despair with anyone else, even within her own private journal. In the wake of an unimaginable family tragedy, the already floundering teenager is further propelled into a vortex of guilt and remorse. Over a period of several years, she continues to be mute – although not without an uncommon and wry sense of humour – seemingly defenceless against the changes, both intentional and unintentional, to her body, her family and friends, and her home country. Ultimately, an unlikely friendship brings redemption and freedom to the 17 year-old girl, who, by the end, has healed enough to be able to extend a compassionate hand to someone else in need.
Malaysian writer Maureen Tai recently met with author Luna Orchid to talk about her debut novel.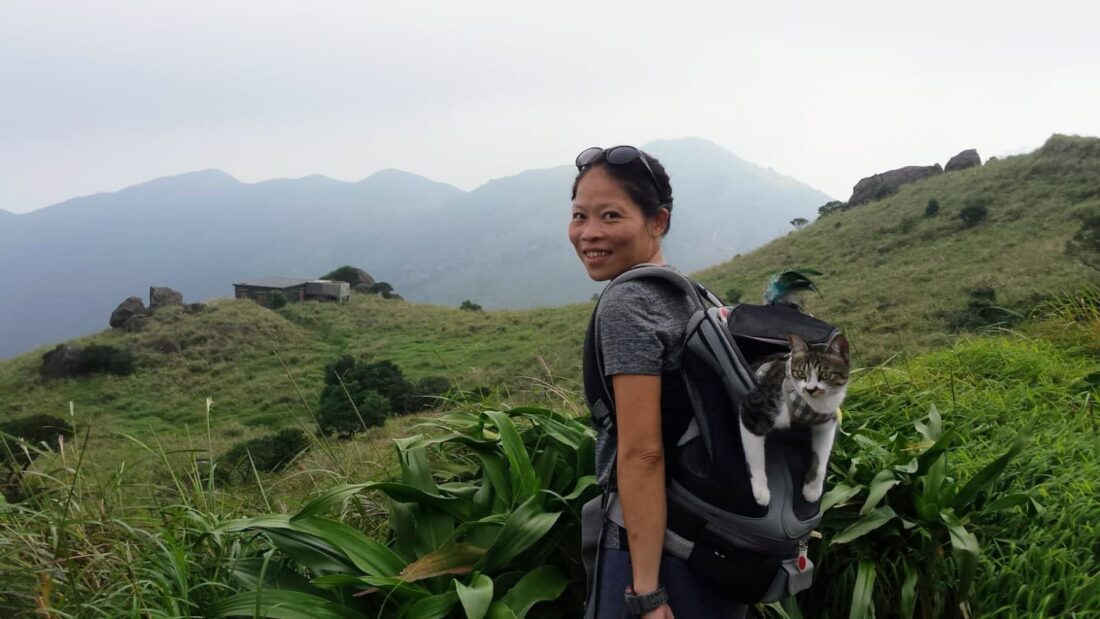 Luna, tell us a little about Blue ² and what inspired you to write it.
Blue ², written in a string of verses, is interwoven with the inner struggles of a teenage girl who suffers from bulimia and the external upheavals of a colonial city in transition. It shows how the girl moves beyond the grief and gravity of life towards forgiveness and hope. The story is inspired by some of my personal experiences.
The teenage protagonist in your novel faces some extremely challenging situations, including a sibling's suicide, dysfunctional family relationships and an eating disorder. Did you find it difficult to write about such topics, and if so, how did you overcome these obstacles?
During the writing process, I didn't find it too difficult as I dived into the story setting and the character completely. It was like telling a story in a trance. The difficulties came in the rewriting as I had to read and reread, and read and rewrite. By then, I had a bit more distance from the story and the heaviness and struggles became more apparent. I had to constantly gauge and balance the difficult subject matters with more symbols and images, more spacious verses, and occasionally a twisted sense of humour, hoping to lighten up the story a bit.
You are a native Hong Konger, yet you chose to write your novel in English rather than your native Cantonese. YA novels, written in verse, are also relatively rare. What influenced these choices?
One major theme of the story, the cause of the teenage girl's struggle, is her inability to voice out. There are too many taboos in her family and society – things that are not meant to say, to express, and to reveal. My choice of writing it in English is perhaps a subconscious attempt to break through the limitations I feel with my mother tongue. I don't think I could have written this story in Chinese as I show a lot of self-restraint when writing in Chinese, whereas when I write in English – a foreign tongue – I feel less weighed down with the cultural baggage.
Can you share the journey of your novel from genesis to publication and what you've learned from the process, in particular any tips for budding authors?
The novel was first written 12 years ago and in prose. I had to switch it to verse to find the right narrating voice. After I finished my first draft, I shared my manuscript with some fellow writers and they gave me good feedback and helpful critiques. I went through a number of rewrites until I was happy with the manuscript. I brought the manuscript to different writing conferences to pitch it to potential editors or publishers, but the story didn't get any interest. I was disheartened and so I put the story aside for about 8 years, working on other projects instead. Despite the original setbacks, I submitted the story to the Scholastic Asian Book Award (SABA). To my absolute delight, Blue ² was named a finalist! After a few years of delay due to the pandemic, Scholastic Asia published my book in 2022. The novel has come a long way. For budding authors, I'd like to say: write the very story that you want to write, believe in it no matter what, and trust that there is a time and a place for it to be published.
What is your greatest wish for your book, and what do you hope your readers will take away from your story?
My greatest wish is that if some teenagers are struggling deeply and feeling utterly alone, they may find a rapport with the narrator in the story, and perhaps even hope to move beyond their struggles and rise above them. My deepest hope is that if even one reader is moved by my book, then I will have achieved my goal as a writer.
Do you have any new and exciting writing projects on the horizon? How can interested readers keep up with your news?
In 2018, I made an 1800-km walk from the north of France to Rome. Long distance solitary walk offers a chance to reflect upon life like nothing else. The whole pilgrimage has been transformed into detailed sketches and short verses, becoming a lyrical and inspirational art book written in both English and Chinese entitled The End of Path is Where the Journey Begins. This book is written for art and poetry lovers of all ages, and for anyone who loves to read something different! It's scheduled to be published at the end of this year by Mount Zero Books, a fantastic independent bookshop in HK, which also publishes diverse books written by local authors. I'll be posting news and updates of my activities on my website: www.lunaorchid.wordpress.com.
Final question. Cat person or dog person? And why?
Cat person. Cat person. Cat person. I have a 3-legged cat called Lilou Marie-Françoise Marguerite Dubois. And she's the reason.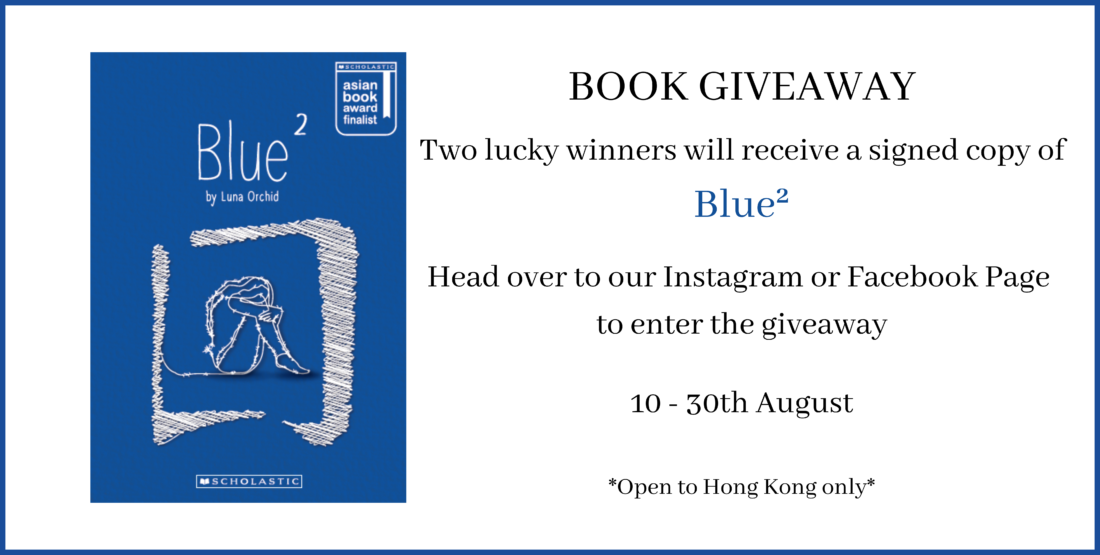 ---
---