The flight landed at Siem Reap International Airport on a November morning, which is a good time to visit Cambodia as it's not rainy or humid or hot. The 30-minute cab ride (cost $20) took us to Onederz Hostel located in the heart of Angkor City. Post a hearty breakfast of fruits, fresh juice, eggs and bread (cost $2.5) at the hostel café, we signed up for the Tonle Sap Lake tour and the Angkor Wat Sunrise tour. We checked into the air-conditioned dorm (2 pm is the usual check-in time for most hostels in this region) and at 2.30 pm boarded the traveler bus for the Tonle Sap tour (cost $18 per person). Carrying beer, snacks, portable speakers, swimming trunks and towels, we reached the ferry point where a waiting double-decker boat took us to our first stop – a Siem Reap floating village where the houses, shops and all its structures are on raised bamboo platforms. Sailing onward, we entered the open expanse of one of the largest freshwater lakes in Asia, Tonle Sap, and plunged into its waters from the upper deck. We swam around till it was time to view the spectacular sunset against the canvas of the magnificent lake, which this tour is perfectly timed for.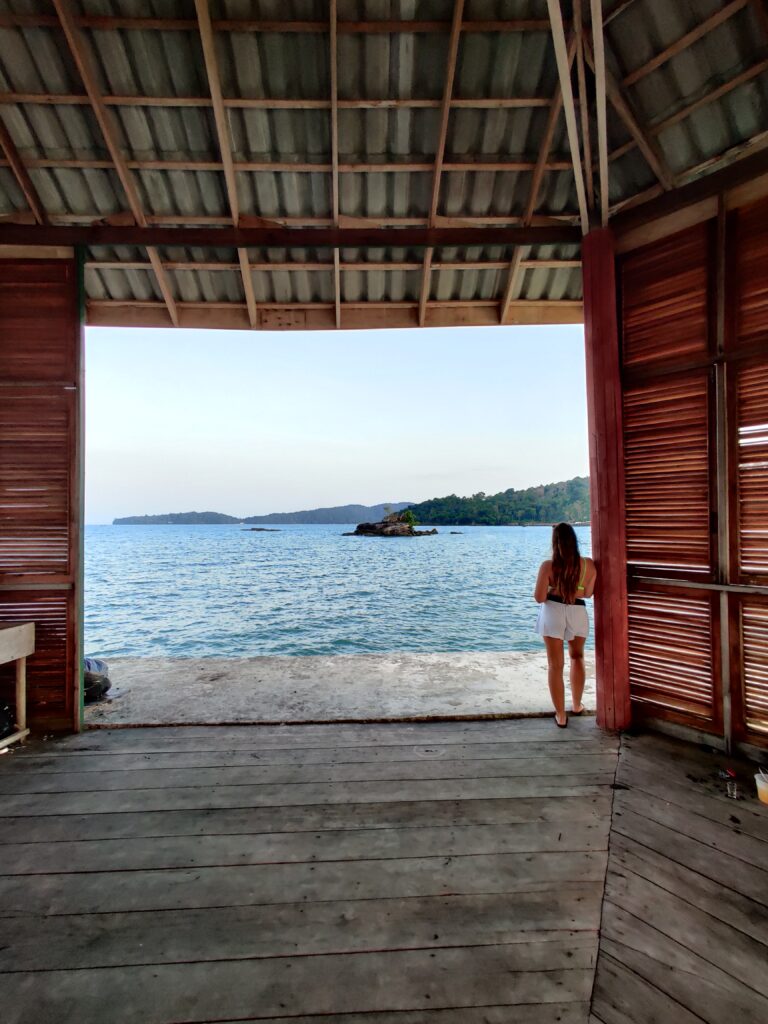 Back in our hostel, we decided to turn in early for the 4 am sunrise tour. We needn't have worried as all the excitement and hype of Angkor Wat had us up in an instant the next morning. After a quick breakfast at the hostel (yes, they have fruits, juice and boiled eggs laid out at 4 am), we boarded our traveler (cost $12 per person) for the circuit covering four temples – Angkor Wat, Bayon temple, Ta Prohm and Banteay Srei, accompanied by an English speaking guide. Our first stop was at the tourist ticket center for the temple ticket (cost $37 per day per person), which interestingly comes with your photo printed on it and makes for a great souvenir. There is also the option of a three days pass (cost $62) and a week-long pass ($72). It might sound exorbitant, but after exploring the fascinating monuments, every dollar will seem worth it.
It was still dark when we arrived at the Angkor Wat premises. Built by Suryavarman II, the 12th-century temple is the largest religious monument in the world. An architectural marvel, its importance can be derived from the fact that it is the symbol on the Cambodian flag. At the main temple, as the swarm of tourists waited for the sun's rays to light up the 900 years old Hindu temple dedicated to Lord Vishnu., we marvelled at the grand scale and exquisite detail that make Angkor Wat a truly awe-inspiring and unforgettable sight.
Travel tip The temple complex is spread across 5.5 km and it is recommended that you wear comfy shoes to walk around.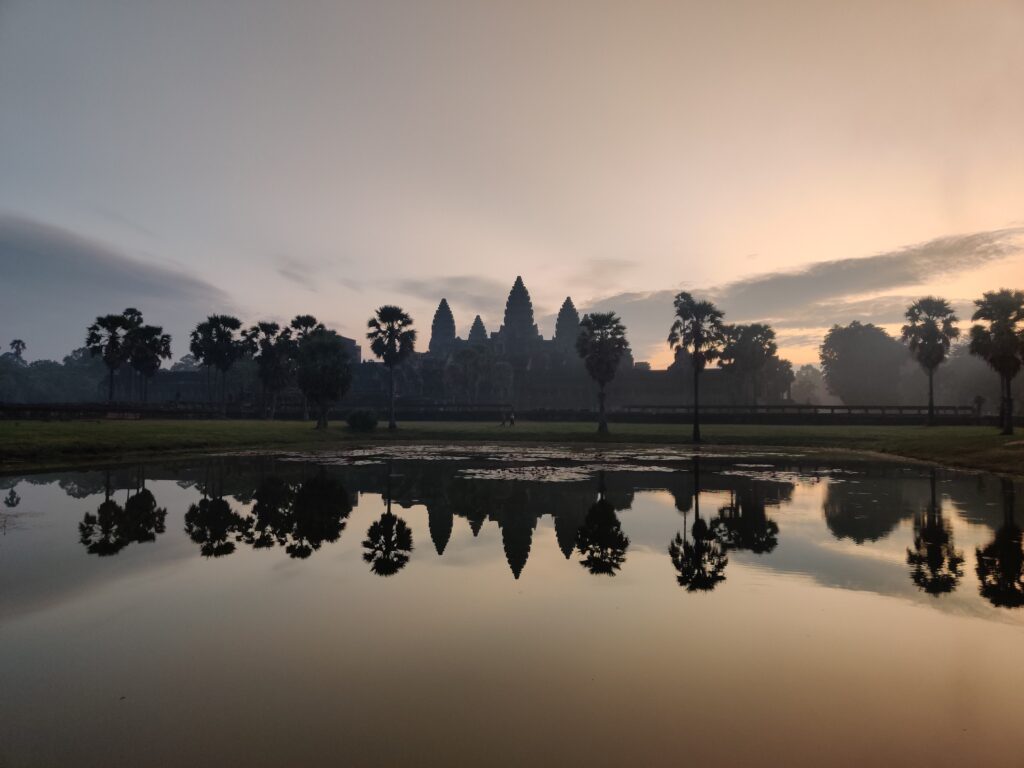 Next, we went to the Bayon temple, a Buddhist temple built in the late 12th century, which has a unique feature of 216 colossal serene and smiling faces etched on its tombs. Post a quick breakfast break and fresh coconut water, we headed to the rooted ruins of the Ta-Prohm temple. Originally called "Rajavihara" (meaning royal monastery), it rose to fame as the location of the final scene of the film 'Tomb Raider'. The tour culminated with the exquisitely carved red sandstone temple of Banteay Srei dedicated to Lord Shiva.
Back in the hostel by lunch, and post a good siesta, we were up for the all-night pub-hopping that was lined up. The evening started at the rooftop pool in the hostel, after which we headed to the famous Pub Street 1.
Travel tip If you are looking for a group to party with, look for hostels like Mad Monkey where backpackers from all over get together, drink till 10 – 11 pm and then go pub hopping.
The pub streets in cities like Siem Reap and Phnom Penh attract the party-loving tourist with attractions, such as MMA and midget fight-club parlours; live ice-cream counters; traditional handicraft shops; cafes and restaurants serving delicacies from all over the world. The vibrant lights and party music blaring into the streets makes the passers-by dance to its groove while pub hopping and bringing in the dawn.
The next day, we were off to the white sand islands of Koh Rong, which are further divided into Koh Rong and Koh Rong Samleom islands. We took the internal flight from Siem Reap to Sihanoukville to avoid the road journey that takes 10 to 12 hours. The taxi from the airport to Sihanoukville port (cost $15), and the onward boat ride to Koh Rong Islands (cost $25 per person) took an hour. From Koh Rong Samloem, the Mad Monkey ferry boat took us to the hostel, our home for the next two nights.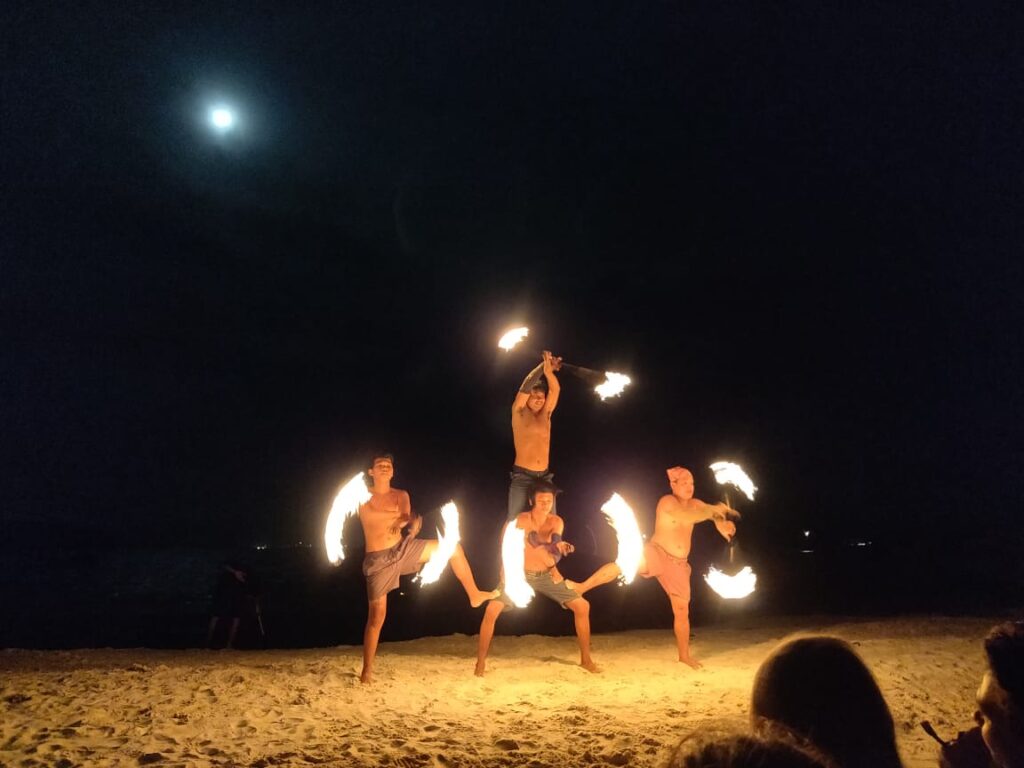 Travel tip Mad Monkey is a famous chain of hostels found in many South Asian countries. So, if backpacking is your thing, check out the Hostel World website/app for bookings as it covers each hostel in every city in great detail.
The Mad Monkey property at Koh Rong Samleom has a huge area and includes a walking bridge leading to its Pier Bar in the middle of beautiful aqua blue water. Special events are held every day and draw people from all over the globe, making it a must for any backpacker. The two days spent there will always rank among the happiest in my life.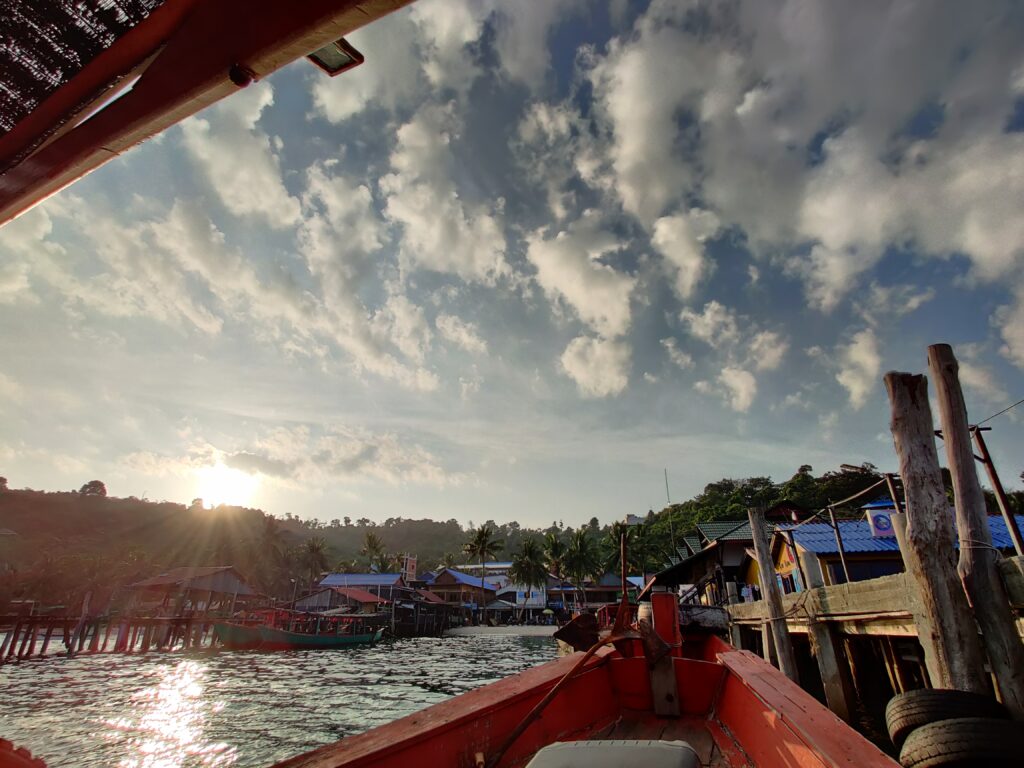 A ferry boat took us to Koh Rong Island, famous for swimming with shining planktons at night. It's a shade busier and more uptown vis-à-vis Koh Rong Samleom. The Nest Beach Club recommended by fellow backpackers turned out to be a great option. Barely a 20-minute walk from the jetty, it's secluded from the hustle-bustle and has its own private beach. We checked into the dorm, chugged our welcome beer and headed to the hostel pub, where we got to know about the Police Beach party. Active on most weekends and full/half-moon nights, the Police Beach party (cost $10) is a must-do on every party lover's list. It starts at midnight and carries on till 8 in the morning with a great beach-side DJ setup playing the latest party music until the beautiful night sky turns into a glorious morning.
The final leg of our trip was to the capital city. We took the ferry to Sihanoukville and boarded a sharing bus to Phnom Penh, which turned out to be a bad decision as we were on the road for almost 9 hours in a stuffed tempo traveler.
Travel tip Take a flight or in the worst-case scenario, a private cab to save time.
With its skyscrapers and fancy showrooms, Phnom Penh was a complete change of landscape as we checked into the Mad Monkey hostel and slept off, exhausted after the long day. In the morning, our first stop was at the Tuol Sleng Genocide Museum, also known as S-21 (Security Prison 21), once the largest detention and torture center of the country. There are black and white photographs of people being tortured and instruments of torture exhibited in the museum, which are a grim testimony to the crimes of the Khmer dynasty. The tales of horror continue in the Killing Fields of Choeung Ek where more than 20,000 men, women, and children were transported from S-21 for extermination. Seeing the 50 communal graves; fragments of human bones and clothes of prisoners; and 8000 human skulls arranged according to age and gender in glass cabinets, was disturbing as I had expected, but essential as it serves as an important lesson into the excesses human beings commit on their fellow beings in the name belief and affiliation.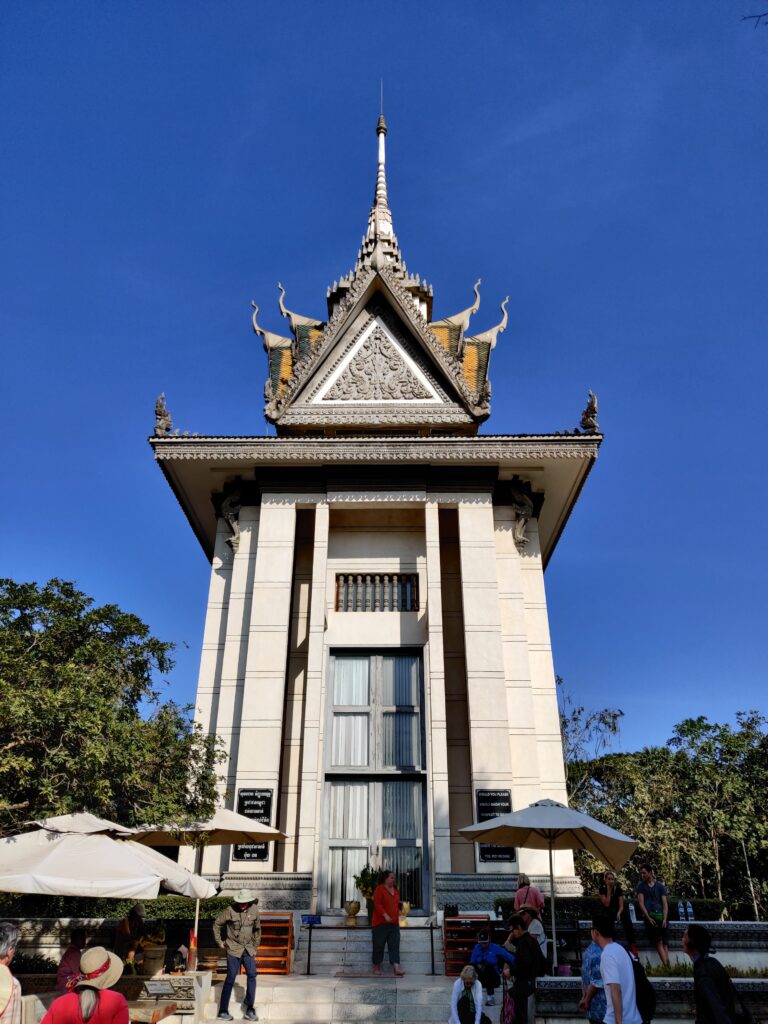 Later, we went around to the Royal Palace and Silver Pagoda, the former residences of the king, and stopped to spend some time at Sisowath Quay's interesting cafes and local shops. Tired from walking all day, we returned to the hostel to dive right into the pool to cool off and sip on cocktails. Since it was the last night of our holiday, we decided to celebrate the great time we had in Cambodia by pub-hopping before catching our flight back home the next morning.
So, if someone were to ask me, why Cambodia? Well, because it offers a blend of rich history and culture with a slice of white sand islands and a portion of cities that never sleep. It is an off-beat tourist destination, which is affordable and can be explored in a week.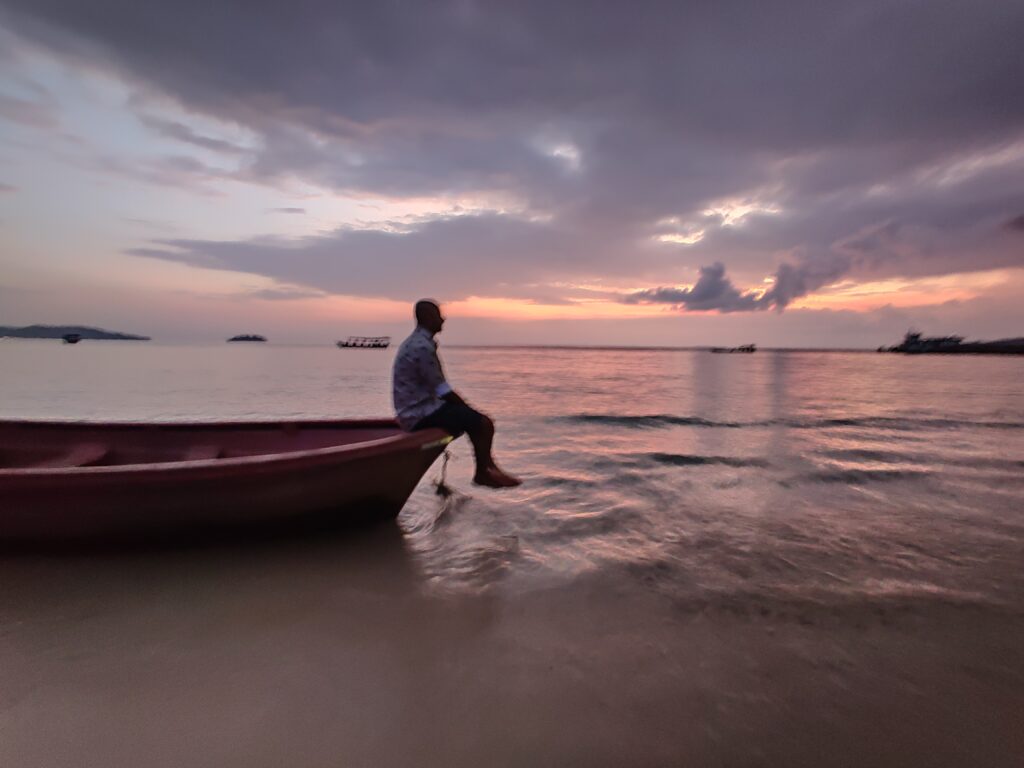 Approx. cost breakdown (per person): Food – $5 per meal – $5 x 3 x 7 = $105
Accommodation – $15 per night – $15 x 7 = $105
Drinks – You won't spend more than $150 a week
Local commute – (incl private taxi, tuk-tuk, ferry) – $150
Misc. (including $37 Angkor Wat ticket) – $150
Return airfare (if booked a month or two in advance) – $300
Grand Total – $960 = Rounded off to $1000 = Rs. 71,000/- for a week.
Recommended itinerary:
Siem Reap – 2 nights
Koh Rong Samloem – 2 nights
Koh Rong – 1 night
Phnom Penh – 1-2 nights
Note: If you are not much of a party animal, you can look at any of the following places and replace the islands completely:
Kep – Rabbit Island; Pepper fields; Crab Market; Kep Beach.
Banlung – Boeng Yeak Lom Volcanic Crater Lake; Virachey National Park treks; Waterfalls: Ka Tieng, Ka Chang, and Cha Ong.
Battambang – Wat Banan temple; Bamboo train ride; Architectural walking tours; Killing Caves of Phnom Sampeu.
Kampot – Crab Shuttle between Kampot and Kep; Salt fields; Pepper plantations; Kampot Riverfront; Bokor National Park; Phnom Chhngok Cave temple.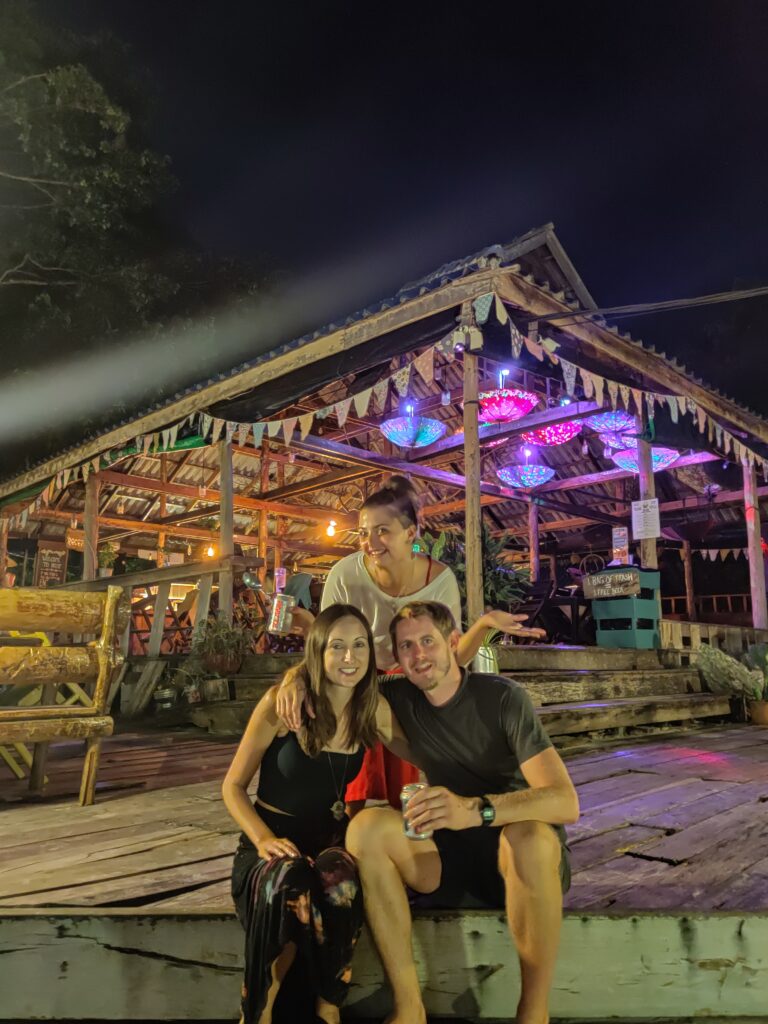 ---
Share
---
Picture credit :