Exploring New Reaches of Bhil Art
By: Rhea Khanna
Deeply rooted in the fertile soil of India's national heritage is the rich tradition of folk art. Travelling down generations, parent-to-child, the seeds of indigenous culture, ancestral creative energy, and community values are sown, watered, and harvested for a new set of caretakers with each generation. Among these vibrant and varied art forms is Bhil art – a form of tribal painting native to India's second-largest tribal community, the Bhils, and one that is slowly but steadily gaining contemporary and international recognition.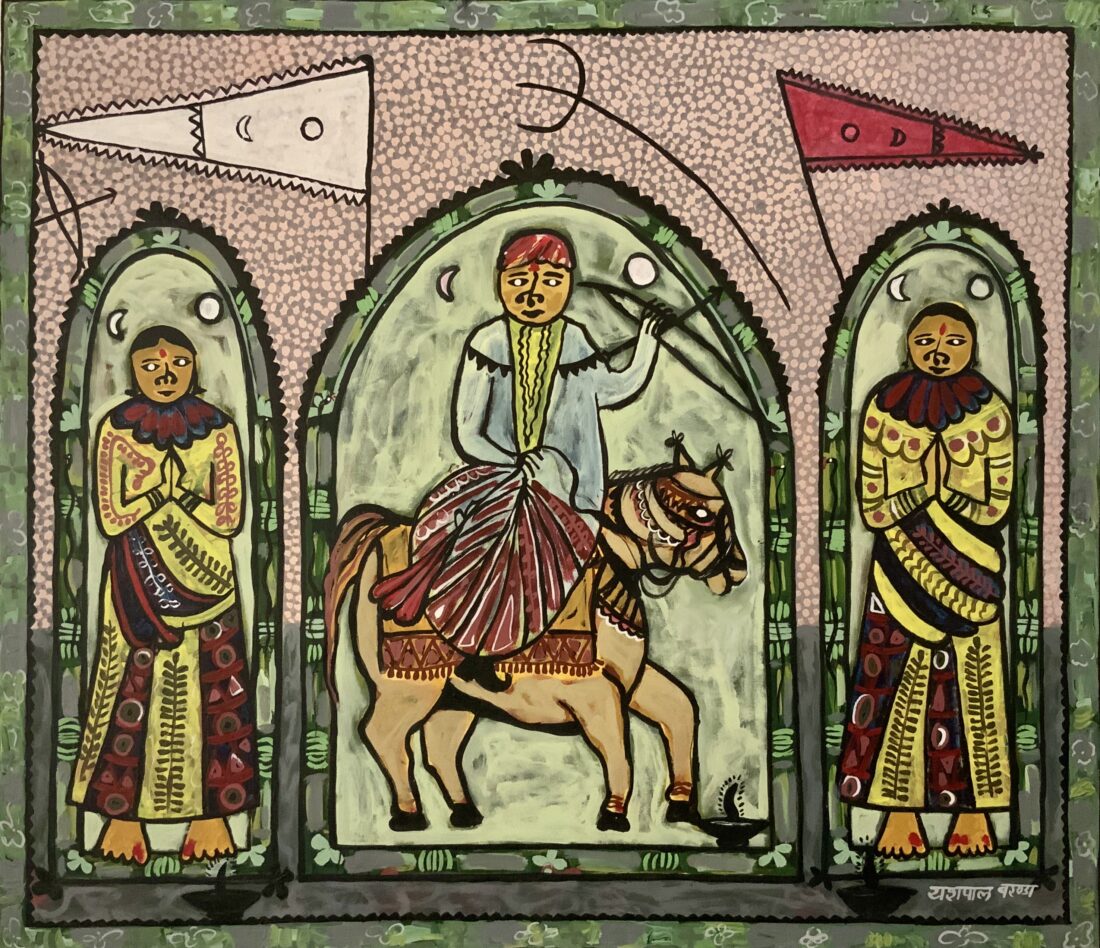 Based in western and central India, primarily in Madhya Pradesh, Gujarat, Rajasthan, and Maharashtra, the Bhils are a predominantly agricultural community with strong ties to their lands and the natural environment around them. In fact, this spiritual sensitivity to their surroundings is the centrepiece of every area of their cultural and philosophical endeavours, including songs, rituals, dances, tattoos, myths, and art.
Traditionally coming to life as frescoes painted with natural dyes on the walls of village homes, Bhil art has historically conveyed the ideals, experiences, and stories of the community. Painting instinctively, the artists use familiar motifs of suns, moons, animals, trees, and mythological figures to portray legends, celebrate religious occasions, and even record births and deaths. Transcending the status of aesthetics, the Bhil paintings evolve into a treasure trove of history and identity, continually undergoing a sort of artistic revolution to rightfully reflect each moment of life. A progression that accounts for the modern sensibilities of today—artists make use of acrylic paints, canvases and even engage with contemporary themes such as transport in the context of their daily lives.
One such artist is the magnanimously enterprising Yashpal Baranda, a practising Bhil artist from Udaipur, Rajasthan, currently completing his residency with the Craft and Community Development Foundation (CCDF). As a part of their Gondwana Art Project, the CCDF has focused much of its efforts on uplifting the tribal art community through residencies and mentorships that introduce artisans to new design concepts, colour palettes, and contemporary methods of working.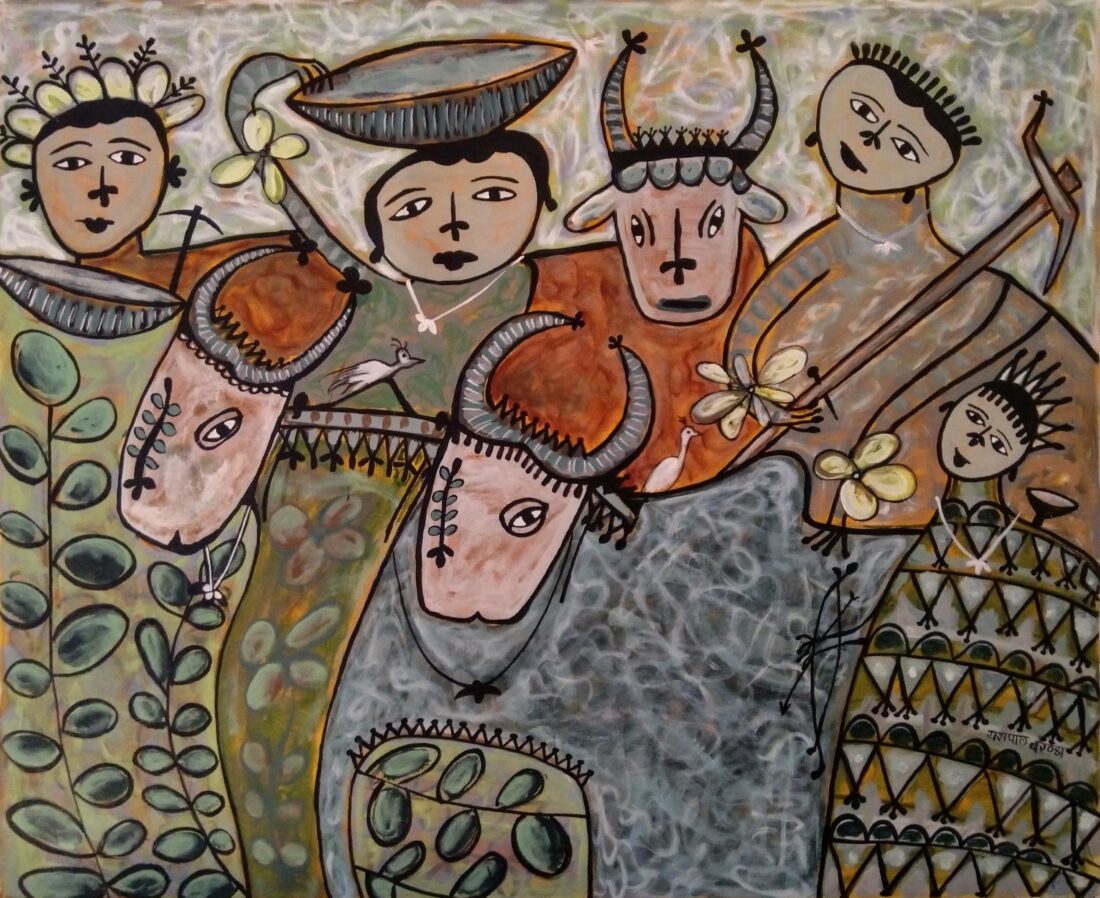 As one of CCDF's resident artisans, Baranda has expanded his visual language by blending the conventions of Bhil art with elements of modern expressionism and abstraction. Through bold compositions marked with an experimental interplay of contrasting colours, thick lines, and loose brushwork, he pushes the boundaries of tradition while maintaining the authenticity of southern Rajasthani roots.
From a young age, Baranda was exposed to Bhil art in various local settings, including weddings, festivals, and the clay walls of village homes. Not only did he bear witness to the diverse yet fundamental role art plays in Bhil community life, but he developed a deep desire to create the very art that defined his childhood. In 2011, he received his master's degree from Mohanlal Sukhadia University in Udaipur, where he developed his practice of colour experimentation and eventually began painting on canvas.
As it came to be Baranda's turn to inherit and nurture this seed of tradition, he stretched the limits and bounds of exploration fueled by his own curiosity. He imbued Bhil art with a powerful breath of invention and drive as he eventually completed his Ph.D. and earned a spot at CCDF's residency. Through the Gondwana Art Project, Baranda has far expanded his ability to investigate new methods of creation through which he further enriches the stories of his native southern Rajasthan.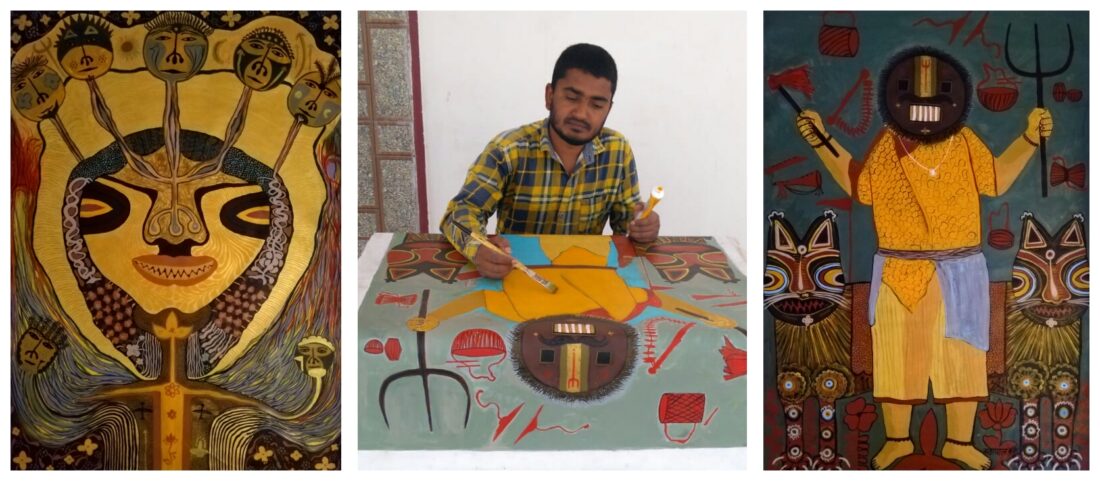 One such story is that of the Bhil tribe's strong faith in the presence of divinity in nature and their long-standing worship of Mother Earth – the title of his artwork. Evoking feelings of gratitude and conviction in the protective forces of the environment, Baranda depicts Mother Earth as an important deity while further personifying the vital elements that give form to all life, such as air, water, and fire. Baranda's tendencies toward expressionism are most strikingly seen in this work as he brings the community's deep emotional ties and sense of filial piety to life. Submerging a symbolic network of finely threaded patterns into the warm glow of these beloved figures, he captures the Bhil tribe's belief of the underlying, all-encompassing energy that surrounds and nurtures us.
Often narrating such episodes of traditional rituals and festivals, Baranda keenly integrates pastoral and contemporary forms of depiction. His mastery over the very nature of paint to create light, shadows, and moments of translucency, add a new depth to the tales he grew up with. This can be seen in his work titled 'Muhurat,' where he delicately captures the joy and spiritual energy present amidst auspicious celebrations, purely through the metaphor of painting.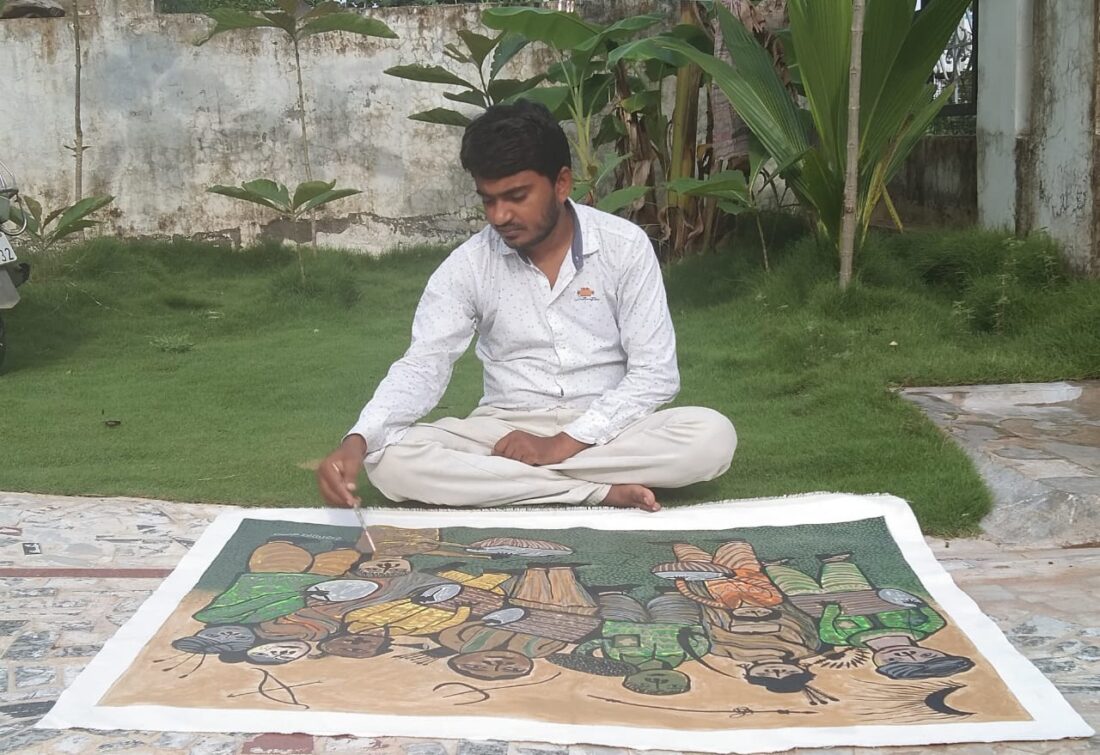 In 'Holi Festivities,' Baranda depicts the rituals of the Bhil tribe during the festival of Holi. As he depicts the events of worship and celebratory folk dance, Baranda merges the use of dots distinct to Bhil art, with his own modern inclination toward bold strokes and colour blocks. While the pattern of dots in each Bhil artwork is traditionally likened to the artist's signature (as they control how and what their patterns symbolize), Baranda pushes this idea even further by creating a unique and meticulously blended artistic identity.
Crafting an empathetic dialogue between the past and present, Baranda opens a wide path of innovation and inspiration for the generations that come after him while offering his audience a new lens to engage with indigenous and contemporary heritage. A marker of the future and an honoree of the past.

Crafts and Community Development Foundation (CCDF) is a registered not-for-profit entity set up with the aim to support and fund projects that enhance livelihood for communities focussed on the arts and crafts sector. The Foundation takes up projects for up-skilling artisans by introducing new concepts and design, keeping intact the authenticity of their art and helping the artisans by mentoring them to create art and craft for the global audience, connecting them to new markets and opportunities.
Website : www.ccdfindia.org
Follow us on Instagram
---
Share

Picture Credit : Rhea Khanna