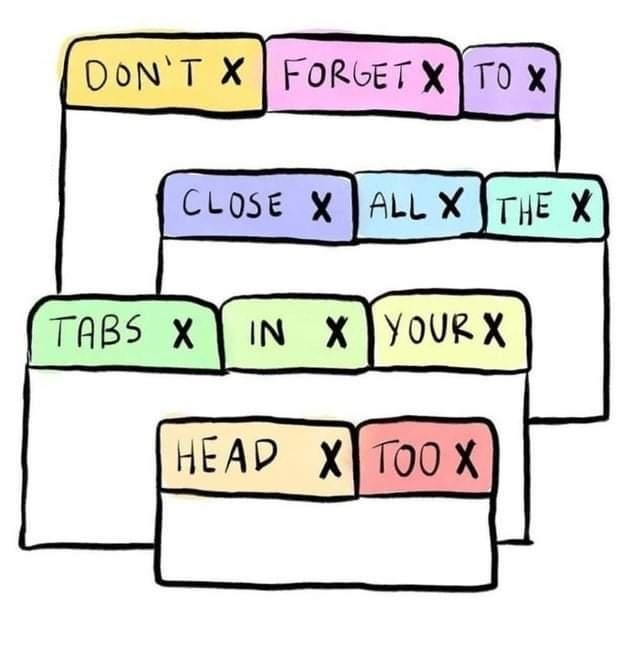 I am one of those people who has multiple tabs open, not only on my computer but also in my mind. So, when I saw Neha Sonney's (Spiritual Trainer, Coach and a Self-Love expert) Facebook post about 'Closing Tabs', I just had to rope her in for a much-needed conversation, more for myself than others, I will have to admit.

I have chosen to have multiple 'jobs'. Though one is more of a passion project, it carries the same level of responsibility as my' earning job'. Being a mother of two, like most mothers, my brain is constantly absorbed in multiple worst-case scenarios of "what if's" to "this hasn't been done". To add to that are the household responsibilities – "Has the hamster been fed?", "Have I ordered the groceries?" and the ever-popular "what to cook today"…the list is endless. I have taken it further by choosing to make time every day for activities and hobbies I love. So, on any given day, my trusty Mac has at least 8-10 tabs open, and my brain…well, I've stopped counting. 
Recently, when I called Neha to apologise for not getting back to her about something I had to, she literally laughed and asked me to "close the damn tabs"! Being a mother to a teenage son, running her coaching business, and currently writing her first book, if there is anything our Self- Love expert knows well, it is 'busyness'. Her theory on 'tabs' is, in today's day and age, an essential one for people who thrive on keeping busy at the risk of burnout.
According to Neha, keeping multiple tabs open in our brains means pretending to do the impossible, i.e. Multitasking.
"While you very well know that your mind can only focus on ONE thing at a given time, somehow, you've bought into the idea of multitasking. Answering the phone while driving the car or changing your baby's diaper, running out the door while putting shoes on so that you save time, etc. This holds true especially for women who pride themselves on being multitaskers, and as much as that is an accomplishment, it can and does lead to a full burn out at some point."

"You will also notice that people put "multitasking skills" as an added skill on most resumes. While to some extent, this ability might prove useful in some circumstances, for many, it leads to inadequate performance in most of the work they do." As Neha describes it, it is the "21st-century industrialisation of you".
There are many reasons why people keep so many 'tabs' open or basically keep themselves extra busy.
"A lot of that stems from an inability to just 'be'." Statements like, 'If you're not doing anything, then what are you doing with your life?' 'Never waste a minute', 'Time is short and precious.' are just some of the things we have all grown up hearing. "This is our training. There has never been any formal training on simply 'being'. The emphasis has always been on the 'doing', Neha adds
You might be thinking that there is a lot to handle daily, and for most, there is no choice but to keep multiple tabs open and multitask. While you can't shut down your brain completely, you can slow it down. "Prioritising what needs to get done is very important. Having an impossibly long 'to-do list' creates stress, anxiety and health problems.
It's essential to get organised and delegate if possible. Prioritise and simplify your life", she adds. Go the old-fashioned way and make a timetable for yourself if you have to.
This habit of constantly doing something or having to prove something stems from "feeling unworthy".
According to Neha, keeping extra busy is a way to satisfy the part of yourself that is referred to as the 'Ego'. It is the unconscious part of your mind that is conditioned into habitual ways of thinking and behaviour that seeks external validation. So while we scramble to accomplish multiple things in our lives for the sake of the 'Ego', it (the Ego), is getting the importance it seeks, while distracting you from your authentic self. That is not to suggest that you don't work or pursue a career and your hobbies. "You should recognise which tabs you are keeping open and what you are prioritising. Do your priorities work towards your well-being, or are you looking for external validation?"
The most important tab
If all your tabs are about what needs to be done, including your job, home, family, etc., you are ignoring the most important tab of all – the one for yourself. This is the tab that expresses our 'true authentic selves. For many people this doesn't make the 'to-do' list. Ironically, this tab doesn't really require you to do much if you don't want to and is about 'being' and nourishing your true self. For some, this can simply be taking a nap or going for a leisurely walk. Neha highly recommends meditation. "For every tab open, ask yourself: Is this activity filling my cup or filling a void in my life? If it's filling a void, then you are most likely not addressing something important that is causing you to feel unsatisfied in the first place.
While keeping oneself occupied with worthwhile things, be it a job or hobbies, is a good thing, having too many tabs open can be detrimental to one's physical and mental health.
"Keeping busy" has become somewhat of a status symbol. After all, what could be wrong with "busy"? "Busy means you're doing something worthwhile and substantial with your life…or so we think. "You will have a lot of tabs open if you thrive in 'busyness', and while that may satisfy your Ego, it is also keeping you away from your true authentic self."
"Stop wearing busyness as a badge of honour", says Neha, "your Ego has its place, but it's not more important than your health. It's not more important than your close relationships or your true purpose in life."
And that, my friends, is as true as it gets. So do your work, enjoy your hobbies, indulge in activities that bring you happiness, but don't forget one simple life hack – you can't do all of it, all the time.

---

Share

Picture Credit : Neha Sonney