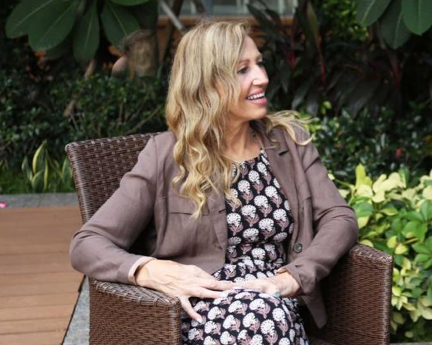 Take a plunge, and sail away into the adventurous seas with Nita McFee, the fabulous, outrageous brainchild of author Suzanne Andrews. You are guaranteed laughs, sighs, and a whole lot of crazy fun, fun.
New Zealand native Suzanne Andrews, despite her rocky and tragic childhood, has created a fictional world filled with humour and courage. The author's sole purpose in creating a red-headed, adventurous, wacky woman is to empower other women! Nita's world currently comprises two book series: Nita's Adventures with three books, 'Queen of the Pawpaws', 'The Popsneech' and 'Muscletoe'; and the second series, Nita's Eureka Pick-Me-Ups! The latter are tiny books with twenty quotes, action pages, and resources for all kinds of situations women may find themselves in. There's also a range of greeting cards and pretty paper gift bags with her Pinky logo.
Orphaned at age twelve after her mother was killed in a domestic violence incident, Suzanne found herself living with multiple families over the years. Married at 20 and a mother to three by the time she was 25 years old, Suzanne never gave up on her dreams to travel and see the world. Working various jobs in multiple fields, she eventually settled in Hong Kong after her 21-year-old marriage ended.
Andrews developed Nita's World in 2020. Named after her late mother, Nita, the protagonist materialized once Andrews found the perfect illustrator in Dotti Colvin, who brought the character and the stories to life.
Nita's World has to be experienced. The books are filled with motivation, encouragement, and advice and are a resource for women looking to discover their strengths and build their self-confidence. Through Nita's many wacky adventures, women will learn about the power of persistence and courage and maybe learn to find friends in the most unlikely places. A reviewer said it best when she wrote that Suzanne "knows how to transform tragedy into triumph."
We sat with Suzanne to talk about Nita's World and her role as a 'life counsellor' through her 'Dear Nita Blog'.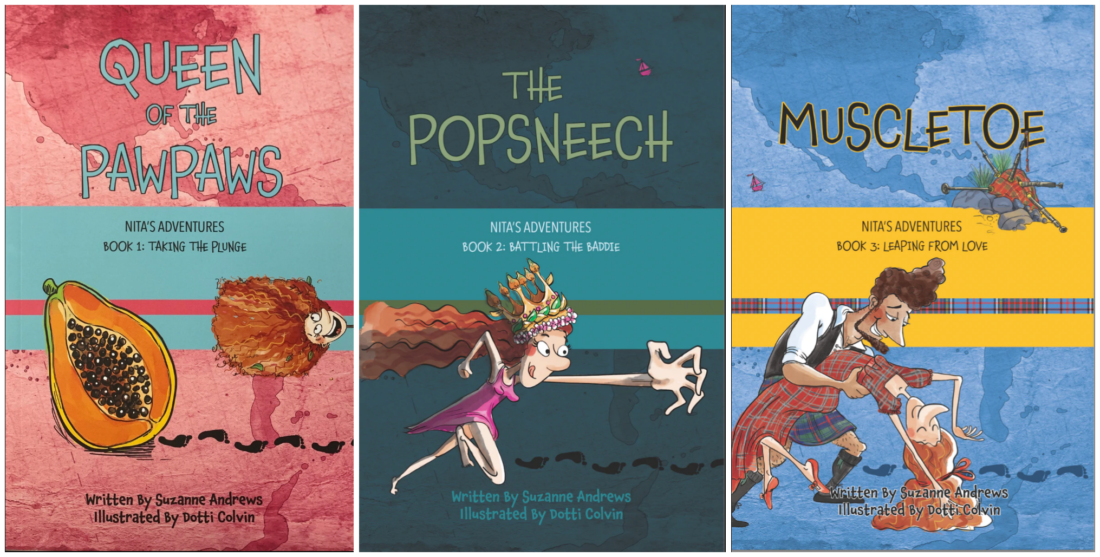 What would you say if you had to describe Nita (the character) to your readers?
How would you like your readers to relate to her?
Nita's brave. She takes the plunge, in spite of fear, and pursues her dreams. Nita decides to leave city life and try new things. She's also a blast to hang out with! Infectiously charming and an antioxidant for life's woes. Nita's sweet, savvy and sassy. Being with Nita energises you and helps you chill and chuckle. She's the kind of woman you trust with your secrets and call for a coffee!
Women of all ages relate to her because she's doing what women find hard: she's leaving comfort for change and following her internal compass – the whisper that repeatedly says 'MOVE THOSE BUTT-CHEEKS!'
Nita's World encourages exploration. Was that theme inspired by your own life?
Absolutely. Orphaned at age twelve, I knew I must work hard to create my own security. I had lived with four different families and attended three different High Schools in two different cities by the age of seventeen-. I was determined to create a fulfilling life, one enriched with learning and giving. I wanted to be a teacher or lawyer. It was my duty to live the best life I could for mum and me. It was also my duty to help young women and older women to make good life choices.

Perhaps my exploration is born from a need to fill up my life with creative projects which give me a sense of security and contentment. I'm always working on a new project. I love creating new things and bringing people together. Maybe it's also because I felt alone a lot of the time from a young age and grew very independent. I had to navigate my life through much uncertainty, like Nita McPhee.

And I do like fun and laughter, dance and dreams, I'm a born romantic. I love spontaneity. I left teaching for seven years, and when in New Zealand, managed Kiwi Can (values education), created my own events, helped with a magazine start-up, and did off-shore recruitment, sales and even fitness instruction! Then, of course my love of travel has always been my go-to. Like Nita, there's this yearning for adventure!
What is the Dear Nita's Blog about?
This is just in its infancy, but once I leave teaching this year, I shall focus more on Nita as 'Agony Aunt on a Pinky'. The Pinky is the Nita's World logo. It's a pink boat which symbolises courage and perseverance. Nita replies to letters from women of any age on her Pinky at sea! She helps them with their woes, anything that's bugging or upsetting them.

As a mother, a grandmother (Nanny Zan), a life skills programme manager, a teacher of my own confident communication courses, a High School teacher and events director ( including singles events where I've matched couples), I draw upon much life experience to advise others as best I know how. I've survived quite a number of major life storms, so I come equipped with enough insight and wisdom to offer guidance and giggles to assist where I can. Life is managed, never cured.
Women of any age can write to me at [email protected]
I'm so excited to be doing this! I feel it is my duty to help young women and older women to make good life choices. I wish to empower women of all ages to push through doubt and to claim that dream! I want them to feel understood and supported. Above all, I wish to help them to be more discerning.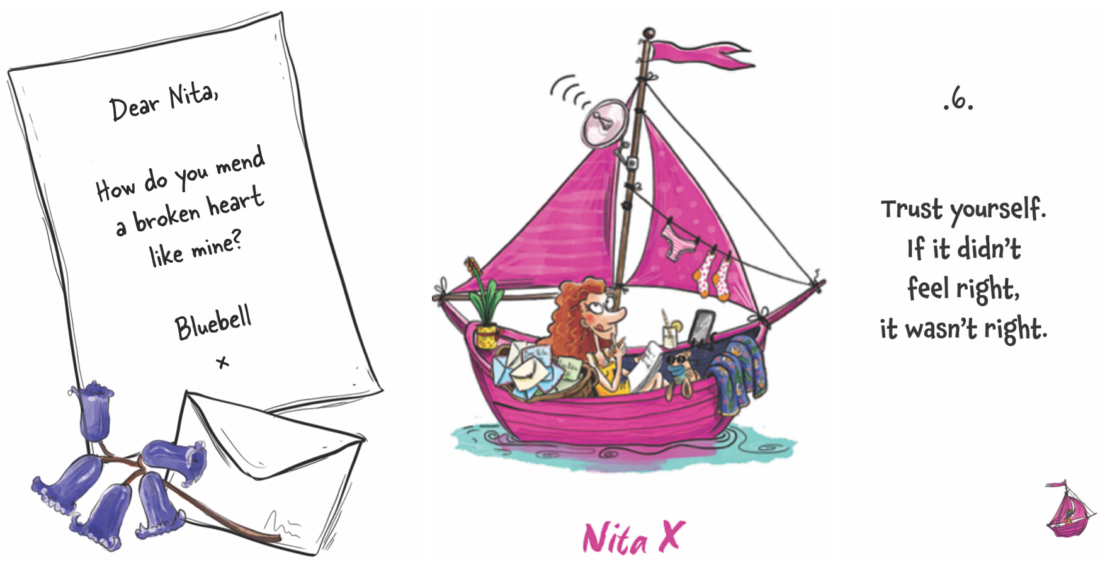 In your experience as a teacher, what would you say are some of the more significant challenges girls and young women face today?
The first is comparison. These days there are even more images and lifestyles to compare yourself to, given social media has transformed the planet and how we see ourselves. Some women feel this need to present themselves to the world perfectly. Perfection is soul-destroying, in my opinion. We will never live up to unrealistic, self-imposed expectations as long as we view other shapes and sizes, incomes and lifestyles as better than our own. Comparison is destructive, whilst having good role models in your life is empowering.
The second significant challenge for girls and young women is to understand their role as women in a world which is often more virtual than real. In a world vastly different to how it was for their parents who didn't have mobile phones or social media. In a world where their identity is reliant on perception. I feel deeply saddened by mobile phone addiction. I wish we could all ditch our phones for good old-fashioned chats around the table, in the park and on the MTR. I wish small communities and families were valued more. This obsession and the need to constantly be sharing yourself with the world makes me nervous for young women in particular.
I could go on forever with this, but I won't! One other challenge is for women of any age to value themselves highly. With so many dating apps and options for men, women can be perceived as disposable commodities. Women must not allow men to treat them like this. I'm not saying all males are like this, but there is no denying the fact that in 2022, relationships between men and women, women and women, are affected by this notion that one can swipe left or right for anyone, at any time.
Did your years as a fitness trainer give you an insight into the subject of women struggling with self-worth related to their bodies? Are these some of the subjects you tackle through Nita's World?
My classes mainly comprised of women aged 30-60 with a healthy self-image and who were all shapes and sizes, which I just loved. In fact, my approach as a fitness coach has always been slow and steady wins the race, your own race. It's simple: just form a good habit or some new habits over time. As Oprah Winfrey says, 'Your life isn't about a big break. It's about taking one significant life-transforming step at a time.'

In Sweaty Netty, one of the Nita's Eureka Pick-Me-Ups, I deliberately asked my artist, Dotti Colvin, to draw a woman who was not slim, who struggled to get into exercise routines. My quotes focus on forming a new habit; my Action Pages on exercising for thirty minutes just three times a week, doing what floats your boat, until you get to the three-week mark. Sweaty Netty is for women who find it hard to exercise. I recommend Christine Carter's one-minute workout on Youtube for this very reason. I know from my own experience that one small habit introduced into your life can have such a positive effect.
The focus should never be on the perfect body, just the body that you makes you feel like somebody! And that small change by way of a new habit can be such a wonderful feeling and stimulus. I just feel that the release of endorphins is life-changing. I love to exercise as it relieves stress and helps me maintain a shape I'm comfortable with. I will definitely explore body image in my future books since it's a very sensitive topic which needs addressing in a loving, nurturing way.
Humour, is it a coping mechanism or a sign of courage?
It's the most underrated medicine for the soul I know of. I recall working for the Yellow Pages in New Zealand many years ago, and my colleague made me laugh so hard every day that work was joyous. I wish I could laugh like that every day of my life. Men are good at joking around, and they help many of us women to chill!
I don't think humour is a conscious sign of courage, it's our genetic make-up, our happy ancestor genes rockin' on!
I find humour in many things, but I'm not sure exactly how, I just do. It's likely my Scottish genes, my Jewish genes, and my own stylish jeans ( okay, not so funny joke)… I love the fact we're all so beautifully unique. When I think upon this more I do think that humour can be both a coping mechanism and an act of courage when someone's trying to bully you or put you down. I've had women attempt to tease me my entire life, starting with High School. I've always laughed it off and fired back with humour. So yes, it is a useful skill, but not easily learned.
What are your future plans for Nita's World?
My dream is to have Nita's World on a rotating stand, in bookshops around the world. I've designed a prototype stand made from cardboard. As with my cards and books, I'm avoiding plastic like the plague! Nita's World is inspiration and humour, and I want women to learn from my success or failure! I have a slogan for Nita's World, which is TRUST, TRY, FAIL, FLY. State the intention and let it go. Start with a start! But start somewhere. As Oprah Winfrey says, 'Fail up' if necessary.
I also plan to speak in girls' High Schools in New Zealand and Hong Kong to inspire these young women to follow through on the whisper, which pushes them to do what they dream of and be discerning with their life choices, and trust themselves. Apart from promoting my books, my motive is to give my time to helping them believe in their self-worth. I feel I'm a good enough role model after having turned tragedy into triumph. I've made mistakes, and I've learned from my mistakes. I'm still vulnerable, sensitive and unsure about some things, but I'm brave enough to try and do better. That's the message I wish to share. Dare I also say I want to do a TEDx talk? Yes, I do.
Finally, how do you take your coffee?
Mostly I grab a hot Americano, but if I'm in the mood for a macchiato, there's no holding back!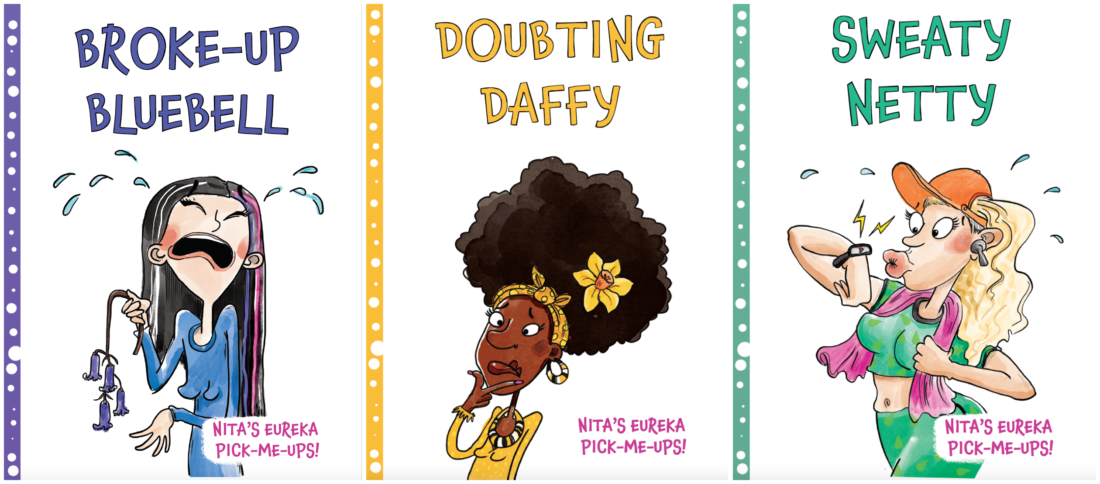 ---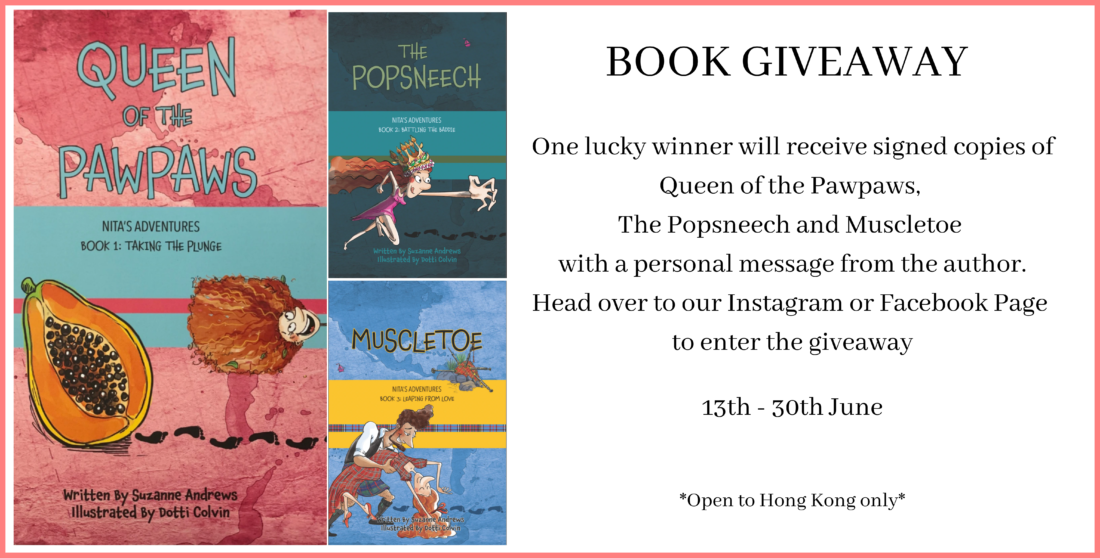 ---
---