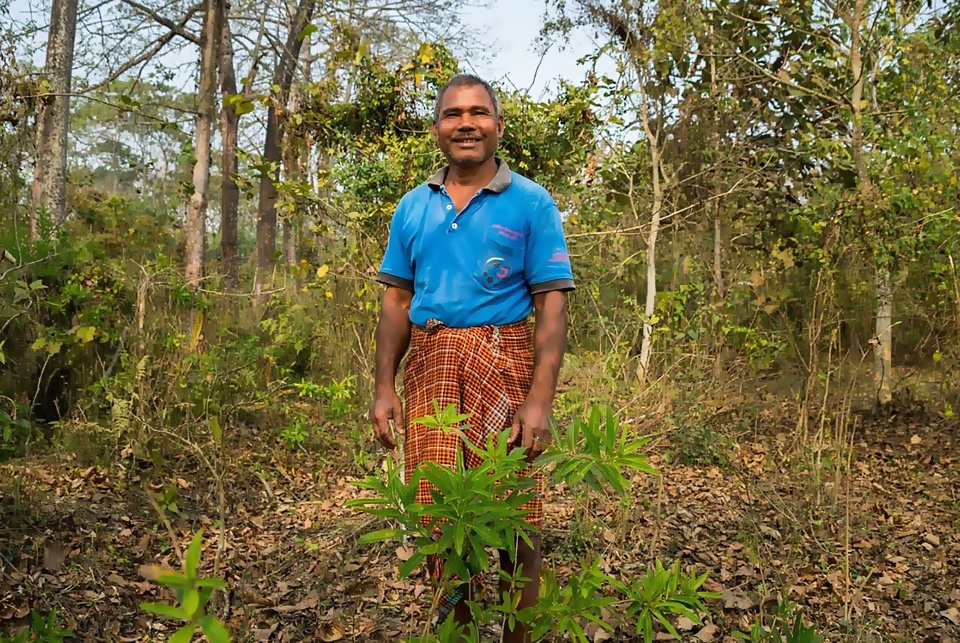 The 'Molai' Forest Man
Almost every morning, dressed in a handmade Mising gamcha (towel-cum-loin cloth) and a baniyan (vest), barefooted, carrying his simple meal, a bag of seeds and saplings and some tools, Jorhat-based Padma Shri Jadav 'Molai' Payeng, who speaks Assamese and Mising dialect, and a smattering of Hindi, sits in a boat to cross the Brahmaputra River. His destination is the once barren island in Majuli District, the largest river island in the world, which he has turned into a 550 hectares (over 1300 acres) lush green forest. Locally, the forested island is called 'Molai' after him.
The 1963-born environmental activist and self-taught forestry expert turns back the clock to over four decades ago when he was 16 years old. On a scorching summer day in 1979, he ventured into the extensive barren sandbars forming an island along the Brahmaputra.

"I sighted numerous snakes washed ashore by floodwaters, writhing and dying under the hot sun. There was not a single tree on the sandbars to provide shade. Weeping over these lifeless snakes I started to think, what made these snakes die? Realising it was the lack of tree cover and extreme heat, I decided to grow trees there. Initially, I failed by planting saplings which didn't survive. Then I visited the nearby Deori village and asked the community how to grow trees on this barren island. They suggested, and gave me 50 seeds and 25 bamboo saplings to start with," recalls Jadav who belongs to the indigenous Mising tribe, in Assam, India.
Following their advice, the bamboo plantation survived. Later, in the shadow of the bamboo grove, Jadav started planting saplings. The process involved 'stabbing' the dry earth with a stick to make deep holes to sustain the seedlings and delicate young saplings. Building a bamboo platform over each sapling, he placed earthen pots with tiny holes in them. The water continued to gradually drip on the plants below and sustained them for almost a week until the waterpots emptied and were refilled. It took him a long, slow five years to cover the first kilometer with dense green vegetation dominated by trees.


Growing up:
Born in Kokilamukh, one of 13 siblings, Jadav's parents earned their livelihood by owning cattle and selling milk. When he was five years old his parents had to relocate due to the 1960s-floods ravaging their home, and left Jadav with Anil Borthakur, a court-master at the District Judge Court in Jorhat. Jadav was educated at the local Baligaon Jagannath Baruah Arya Vidyalaya. Upon completing Class 10 he gave up school to look after his deceased parents' cattle.
Back to living in his place of birth, Jadav and his wife Binita have three children, daughter Munmoni, 24, has graduated, two sons, Sanjeev, 21, is a herdsman, while Sanjay, 18, is a class 11 student. The Payengs continue to care for their cattle.
The 'Molai' Forest
Today, the lush green forest encompassing about 1360 acres/550 hectares has an impressive range of trees, flora and even vegetables. The greenery, obviously attracted fauna. Elephants, deer, hyenas, tigers, rhinoceros and other animals have been sighted, as well as several varieties of birds. Some are known to come from Arunachal and Assam's famed Kaziranga National Park.

A request by Jadav a few years ago to the Ministry of Agriculture to start a coconut industry in Majuli, has not made any headway, yet Jadav's proposal has been filed. For the man who knows the land so well, he reasons if coconut trees are densely planted, within five years it would save the ground from further erosion as coconut trees stand very tall and straight. Despite the no-interest from the authority, Jadav continues toiling regardless.
Gaining Fame
Credit for the initial spread of Jadav Payeng's fame goes to Jorhat-based nature photo-journalist and author Jitu Kalita. He wrote the first article ever about Jadav published on 25 January 2010 in the widely circulated Assamese language daily The Dainik Janambhumi. Following this media exposure, the island forest started receiving footfalls, subsequently leading to massive worldwide media coverage, several awards and invitations to global seminars on the environment.
Numerous documentaries have been made, and even a book authored by Jitu Kalita on the 'Forest Man of India'. This title was given to him by Vice-Chancellor Sudhir Kumar Sopory of Jawahar Lal Nehru University, New Delhi on Earth Day, 22 April 2012.

The same year, Jadav had the honour of meeting the Late President APJ Abdul Kalam and receiving the Diamond Jubilee Award at the Sri Shanmukhananda Arts & Cultural Sangeeta Sabha, Mumbai.

"The biggest threat was from men. They would have destroyed the forest for economic gain and the animals would be vulnerable again," Jadav once said in a documentary about his forest.

Going ahead Jadav wants his mission of tree plantation to become "a part of our education system to make each child plant two trees – once when the child takes admission to the school and the second sapling being planted when the student is in the 6th class and each child should be given the responsibility to take care of it."

The Covid period has been a blessing of sorts for Jadav. He finds the 'No travel-No Visitor' ban gives him a lot more time to tend to his forest without having to travel or meet people.

So self-sufficient is the forest, that Jadav only needs to buy kerosene to light the lamps at home and get salt and rice from the market. The rest of his supplies come from the vegetables and fruit he has sown. There are papayas, jackfruit, potatoes and a variety of roots – and ingredients to prepare 'rice beer'.
Javed still uses his over hundred cows and buffaloes for selling milk. But he is no longer an ordinary cattle owner. "I never thought that my small initiative would make such a difference one day. The forest is my home now. The recognition and awards that I have received are my wealth and make me the happiest man in the world. I aim to fill up the entire region with greenery till my last breath", he says.
The Forest Man of India then signs off with his message to all. "People appreciate me for my efforts, they invite me to different places to address gatherings. They come from many countries to see me in my island forest. However, once the event is completed, after taking selfies with me, liking my story and sharing it on social media platforms, they forget the commitment to plant a tree and keep it alive! This is disheartening."


Nature photo-journalist and author JITU KALITA – THE MAN WHO DISCOVERED JADAV PAYENG
---
Share

Text by Amita Sarwal
Photographs courtesy Jitu Kalita, Jorhat