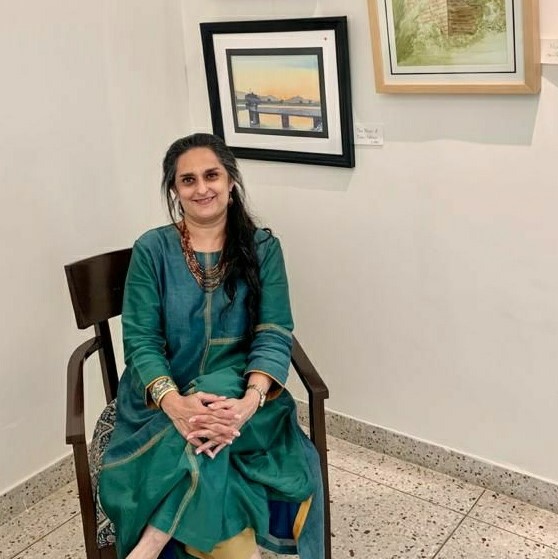 How does an Architect discover what nourishes her soul? Sometimes, it's simply by accidentally finding a drawer full of leftover watercolor paints, half filled sketchbooks and a few paint brushes. Art Finds Architect Bandna Singh, is exactly that kind of story.
Picking up a paintbrush after almost forty years, Bandna Singh, Founding Partner of Positive Axis, an architectural firm of nearly three decades, says Art has been a godsend that's pulled her through the pandemic. She believes, "Art therapy is hugely underrated. It is real. It works. I've seen it in the four years I've been working with orphan kids. It gives them a direction and a sense of purpose. And I understand it better now that I've been living it since the lockdown."
The importance of the role Art plays in life has been reinforced by her work with the NGO, The Colouring Box, which conducts Art Therapy workshops at four orphanages in Chandigarh. Bandna cites the example of Snehalaya, where she's witnessed a positive change in boys in the age group of 6 to 12 yrs, and quotes George E. Miller, "Creating artwork allows your mind to be in a safe place while it contemplates the tougher issues you are dealing with. One can use the tools of brush, paint, pastels, crayons, etc. to expose and even for a short time color those issues in a different light."

Hugely inspired by her Dad who was an Engineer, she grew up seeing plans of his works and knew she wanted to be an architect by the age of 14. Often accompanying him to the remote places his work with the Border Roads Organisation took him, Bandna was especially drawn to Ladakh and it went on to hold a special significance in her life. The landscape, its stark expanses, the warmth of its people and the colours they adorned called to her, and it was only natural that when the time came, she chose Ladakh for her architectural thesis. 
Bandna's fascination with Ladakh continues to this day and finds a place in her Art. As does her love for flowers, evident in her exquisitely painted botanical paintings. Drawing upon her memory to make paintings of her childhood homes, she uses images to paint the places she wishes to see someday. And though naturally inclined towards architectural sketches, it takes her much longer to make them because of the detailing it involves. With her rich and diverse palette, if the white Magnolias, pink Roses, Tulips and Hydrangeas call out to her, so do the dragonfly and turtle, and the glorious landscapes. There's even one of COVID painted in the form of a red woolly ball shaped flower.  
It was all of these and much more that went into making her Artist Portfolio. So, when she completed her 100th painting, her husband encouraged her to do an exhibition, convincing her that her work was good enough to be sellable. Motivated and a tad bit nervous, she held her first art exhibition, aptly named 'Born Again'. It received a great response and was a very soul satisfying experience for Bandna. "I thought only I liked my Art, so the feedback I got for my paintings felt really gratifying," she smiles.

It was time, we thought, to know the Artist Bandna Singh some more and sip on some great brew over an insightful conversation.
How did you start painting and what, according to you, is the most challenging part of the process?
The lockdown precipitated the painting revival – it was reborn after over forty years. For me, the challenging part is making human figures as I'm not good with them yet.


Is there a common thread that runs through your art and architecture? How does it all come together for you?
The disconnect is very important. Painting is my way of relaxing and meditation in a way. Architecture is my passion, but with having a practice, there comes a lot of responsibility/tension and deadlines. The common thread that runs through both is the preservation of our environment and love of flora and fauna.


Where would you like to live and what would your dream home look like?
I am grateful to be living in Chandigarh. The dream of living in the mountains remains a fantasy for now. One day, probably after retirement I would like to build an Earth sheltered house in Ladakh or Chandigarh.


What is your favourite creation, in art and architecture?
I don't have a favourite, every creation is like your child. Some challenges at work just give me more satisfaction. I have to admit though, I love designing schools. It's the same with Art, the ones that are more challenging give me more pleasure. I love happy and cheerful looking art works, not the dark surreal stuff.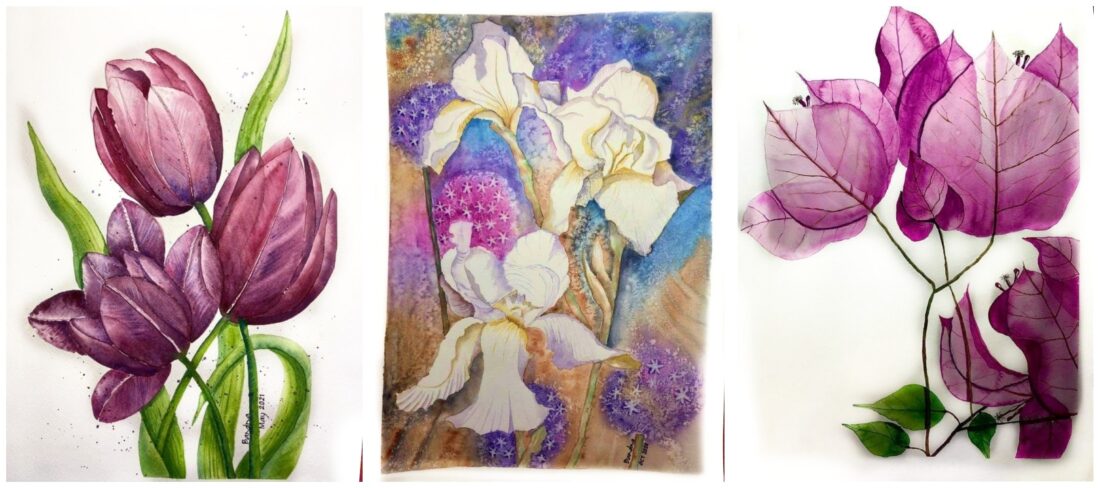 Who are the people who inspire you? What's the best piece of advice you've been given?
Inspiration comes from a lot of people – my father, first of all.
Architects – Frank Llyod Wright Malcolm Wells, Zaha Hadid. Artists – Freida Kalho, Kandinsky, Vincent Van Gogh, Gustaf Klimt.
The best advice I've got – Do what gives you pleasure and happiness. Don't sweat the small stuff.


If you could have a conversation with anyone in the world, who would it be?
Today, if you ask me – I'd have loved another conversation with my Dad. And one with my father-in-law who always encouraged me. There are others on my list, but they come second.


What inspires a painting? What is your most important artist tool?
An image, a scene, a flower, a dream destination…all inspire me. It's an impulsive decision, kind of spur of the moment.
The most important tool in any creative field: the mind.


How would you like to be remembered? And finally, how do you like your coffee?
In a single word – Happy! And I love my coffee strong, with some meaningful conversation.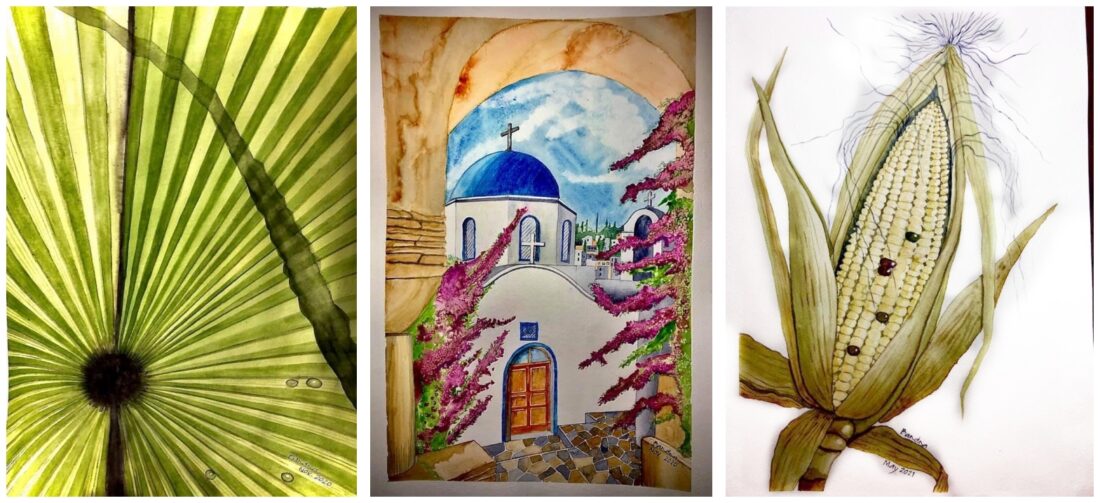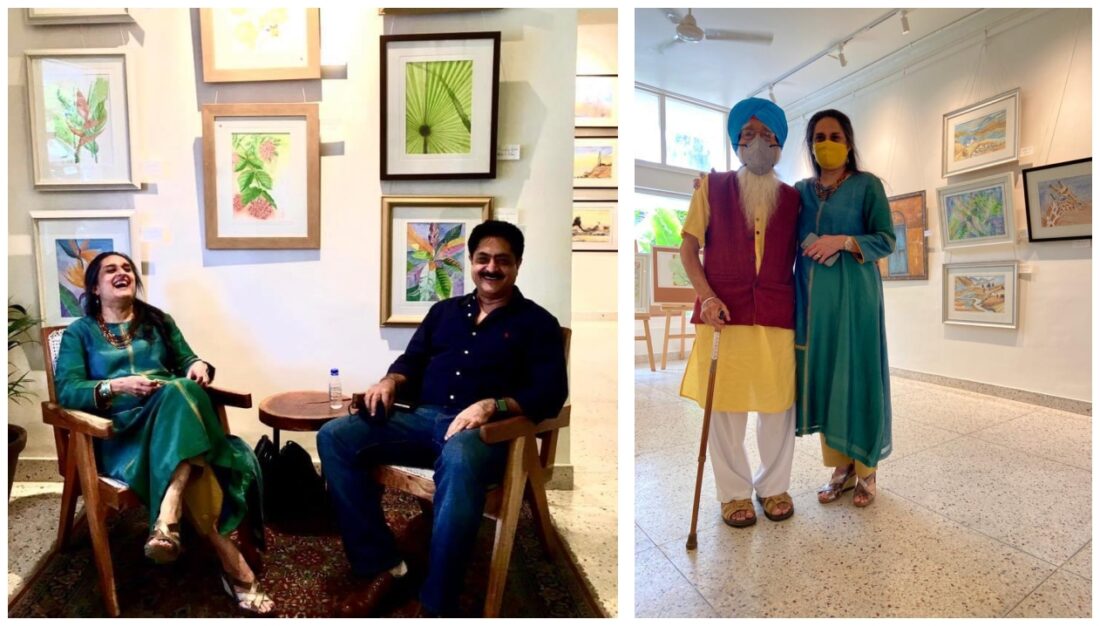 ---
Connect with Bandna Singh on Instagram
---
Share

Picture Credit : Bandna Singh