A simple and healthy Pumpkin soup recipe.
Ingredients:
● 2 tbsp olive oil or any oil 
● 1⁄2 tbsp cumin/fennel seeds 
● 1 onion sliced 
● 2 clove garlic, chopped fine 
● 500gm pumpkin, sliced 
● 2-3 medium-size carrot, sliced 
● salt as per taste 
● 1⁄2 tsp pepper, crushed 
● 2 cups of water 
● cashew cream/coconut milk 

For Garnishing:
Chopped coriander or basil leaves (dried basil will also do)
Any seeds like-pumpkin/sunflower/melon/sesame

Instructions:
● Heat the oil in a pressure cooker.
● Saute onion and garlic cloves.
● Add cumin/fennel seeds and roast till they are golden brown.
● Add salt and chopped vegetables in the pressure cooker.
● Add water and cook till 1-2 whistles.
● Take off heat. Using a stick blender, blend until smooth. (Mixer can also be used, just wait till the vegetables cool down).
● Add the cashew cream or coconut milk into the mixture and stir well (do not boil after adding cream).
● Add crushed pepper, coriander/basil leaves and seeds for garnishing and serve the Pumpkin soup hot.

Tip (Optional):
Add a little sugar/honey and squeeze half a lemon in the soup for a tangy flavour.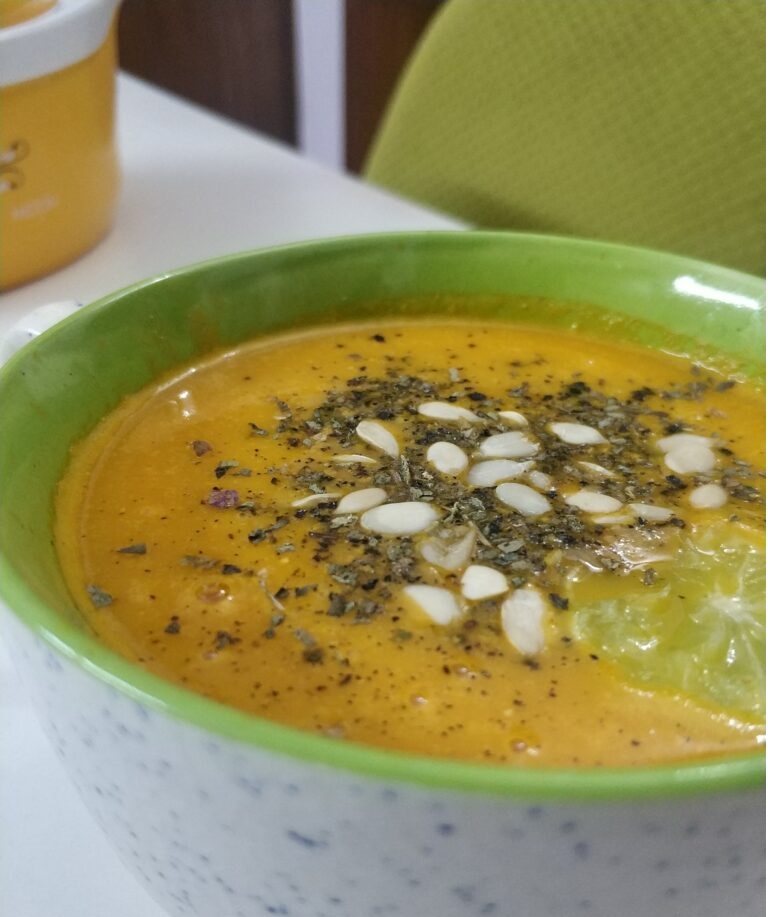 ---
Share
---
Picture credit : Chhavi Mittal
Image by RitaE from Pixabay