Unbelonging
I was first introduced to Gayatri Sethi at a zoom event she moderated with one of my favourite authors Nadia Hashimi and then debut author Saumya Dave. What stood out for me in this particular event was that it left me intrigued and wanting to know more about the moderator and not just the authors. Gayatri's questions were intelligent, well informed and insightful. Though her style was one of ease, it stood out, making her personality highly memorable.
Lovingly known as 'Desi Book Aunty', Gayatri Sethi is a book curator, educator, writer and now author of the compelling and powerful book "Unbelonging".
Written as part memoir, in prose and poetry, this non-fiction, at its core, is about dismantling misogyny, colonialism and anti-black racism. It is an invitation for exploration and understanding and an unapologetic expression of the author's individuality.
A Tanzanian born Punjabi, mother of bi-racial children and an American educator, Sethi draws from her own life experiences to carefully craft and introduce the concept of unbelonging. Divided into three sections: Desi-ish, African-ish, and American-ish, the book offers an intimate reflection of a multi-cultural, multidimensional life with a radical call to action for the reader.
We sit with Gayatri to talk about 'Unbelonging' and about her role in promoting and advocating for more Desi and Black literature.
Your book explores the themes of 'Identity', 'Belonging' and 'Unbelonging'. Was there a specific time in your life or particular experiences that led you to explore these terms in relation to yourself?
The experiences of unbelonging have been my karma since birth. If I am a walking, talking, breathing book, it is exactly what I named the book. It was only about five years ago that I decided to write about them, as you see in this book. This decision coincided with my need to leave academia and reinvent my teaching work in a new light.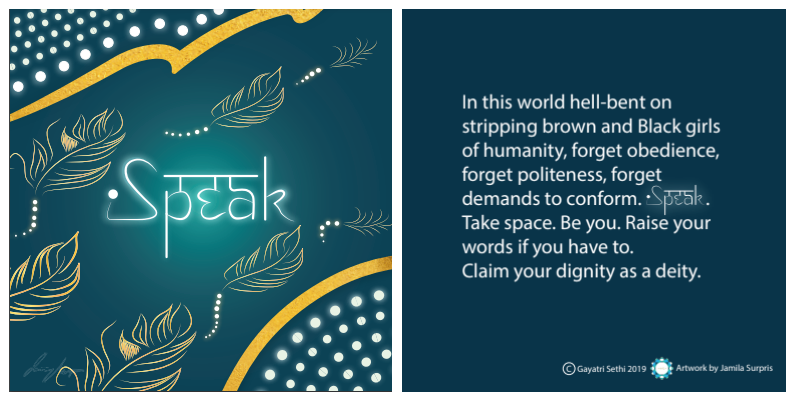 Would you describe your book as rebellious? A sort of defiance against cultural norms and against conventional writing formats as well?
Words matter. Some readers have called the book radical. Others say that it is unapologetic. Yet others are deeply discomforted by the truths and the style. Some critics say the book is challenging to decipher. Many of my stylistic choices were intentional. I am a lover of language, and throughout the book, I invite readers to think about words and names mattering. The word "rebellious" is not the same as radical or revolutionary. Each word holds different connotations. I can't speak for interpretations of my work, but I know that rebelliousness is a heavy label that often implies the requirement to conform. It also implies an element of randomness as we are being rebellious for its own sake. I have chosen in a strategic manner, not to conform to many writing conventions or expectations in form or content to this book. My aims were to disrupt, interrogate and invite new learning.
You write about many challenging and daunting experiences, such as living with disabled parents, being mistaken for a spy in Brussels and more. Does trauma recovery require breaking silence (for you and everyone else)?
Sometimes, we must heal deeply and pursue therapy to transmute those layers of trauma. I'm not sure that breaking silence is a requisite to such healing. I invite folks to consider whether the breaking of silence is rooted in healing or in enacting more trauma. Often, we add more harm to ourselves and others by speaking out. Other times, our silence is rooted in fear. This is when we might have work to do to heal enough that we speak or write bravely to heal. I have not fully figured this out, but in my case, the editing process for this book was where I took pains to ensure that I wasn't just bleeding trauma all over the pages. I wanted to be sure to offer affirmations, mantras and healing vibes too.
You also say, "Silence can be a radical love language, too." Talk to us a little about that, please?
As I show repeatedly in Unbelonging, power is language, and language is power. I learned from intersectional feminists like bell hooks (often quoted in my work) that "talking back" is a liberatory practice. Those of us who are on the margins or power structures might reclaim some of that power by speaking back to those oppressions. By contrast, very often, calls to speak up or speak out are rooted in shame or some other guilt-inducing beliefs. Especially on social media, the bleeding of outrage from our fingertips on these platforms gets confused with activists speaking out. Outrage is not activism. In my piece that names this, I invite folks to respond, not react. Reactivism is so common that pauses for silent reflection are often lacking. Throughout the book, I create these pauses with reflection prompts to honor the silences of not knowing, unlearning, or simply being loving enough to withhold judgment. In a world where we often speak over each other and react with outrage or even cancel each other, silence can be a potent love language. Learning discernment about when to speak out and when to withhold our words is part of the journey this book invites us to embark upon.
The book is intimate yet interactive and invites the reader to record and evaluate their own experiences. What was the reason behind including almost a journaling aspect to the book?
As a teacher, I rarely lectured. We learned interactively through reflections and conversations. I use reflection questions and free writing as instructive tools. I pulled many aspects of my teaching philosophy into the book to invite learners to create space to name their own understandings and experiences. The aim is to invite a kind of open-ended inquiry or even conversation rather than definitive truth. I hope the book will be generative so that readers are prompted to write, jot, draw or create about their own experiences too.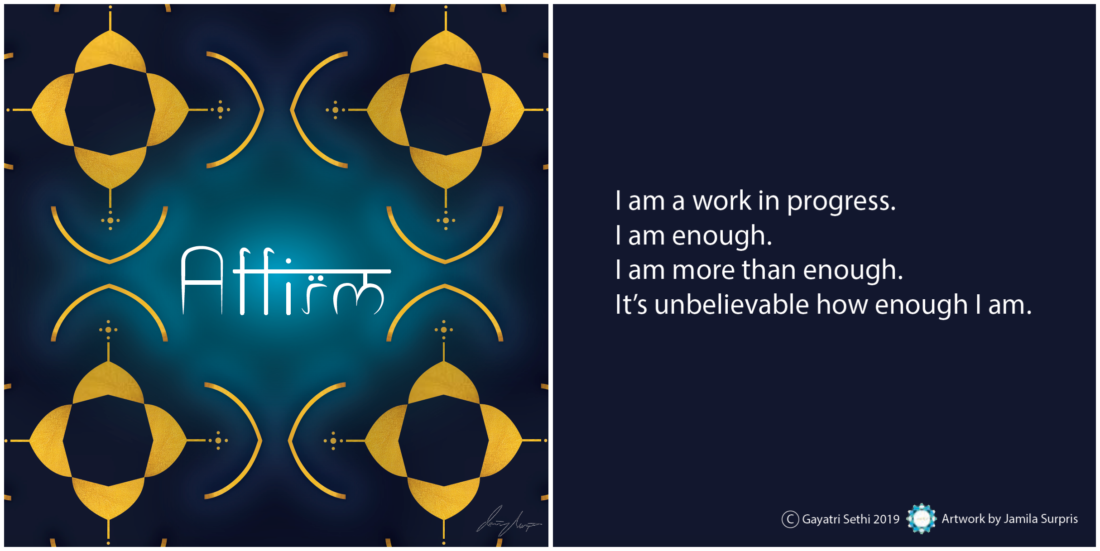 Talk to us a little about the Desi KidLit community.
Even before I had the gumption to publish my writing, I used to be a teacher educator who amplified the stories of marginalized writers for young people. This work opened doorways for me to befriend and connect with many aspiring south Asian creatives. I often heard them say that they wished for a writing community. I heard this refrain enough times to feel the urge to create such a space. We host events, workshops and summits in which south Asian diaspora creatives connect with each other in mutually supportive ways. As publishing woes are many, this community building is one way to brave the industry. Community can be liberating and we are braver in collectives, so that's what we are aiming to build.
Three authors past or present you would want to sit down with for a cup of coffee and why?
Since bell hooks passed away, I have wished often that I'd visited her to tell her how impactful her work has been on my being. A chance to see her would be a prayer answered. I'm also blessed to know many inspiring writers online. I cannot tell you how often I wish I could meet members of the desi kidlit community who have been incredibly generous to me as a debut writer. Although there are too many folks to name, meeting Jasmin Kaur, Adiba Jaigirdar, Rashmi Bismark and Anuradha Rajurkar in person for coffee, walks and honest heart-opening chats would be dreams manifested. Along with Anjali Enjeti, who I am hoping to visit again this spring, these are all incredibly talented desi diaspora writers who offered praise quotes included on the back cover of the book.
What's your favourite comfort food and favourite music to relax to?
Rajma chawal is potent, ancestral soul food. I often crave this combo when I am feeling in need of reassurance. Rainy day pakoras with chaa have inspired me to write about such comforting cultural practices. I tend to listen to Punjabi boliyaan style or bhangra music when my spirits need to be uplifted. I also cherish fusion instrumental music where South Asian descent folks innovate art in ways that defy western "classical" norms. I even create reels on Instagram, prompted by some of these phenomenal creatives. Some of the artists I adore listening to these days are Raaginder, Simiran Kaur Dhadli, and Jasmine Sandlas.
What do you wish for readers to take away most from your book, and what would you like your legacy to be?
I earnestly hope that readers are moved in some way to learn, unlearn and relearn what we are often taught. I wonder if folks will feel moved by the book to create their own art freely with courage. I earnestly hope for this.
Finally, how do you take your coffee?
I drink my coffee strong and unsweetened. Just like my truth. I wrote verses about drinking chai rarely. But, my coffee practice is sacred. These days, I add oat milk to my espresso and if I am moved, sprinkle chai masala to one of the three cups I permit myself to indulge in before 11 a.m. when I switch over to water or herbal tea.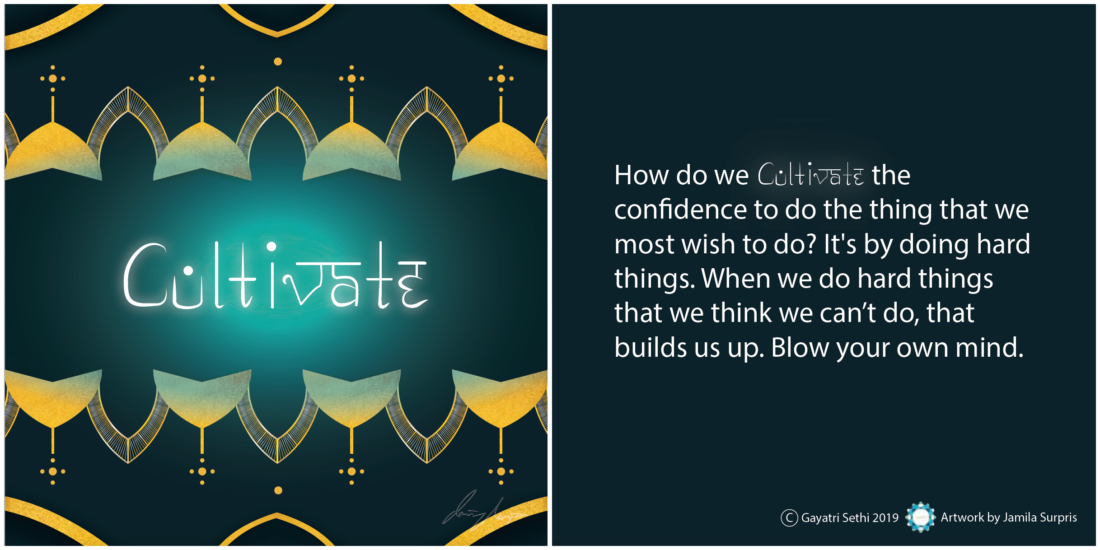 Cards designed by: Jamila Surpris
Jamila is a creative and a lover of learning. She gets her passion for graphic design through social justice activists who inspire her to have a creative problem-solving approach and see the world as a multifaceted experience.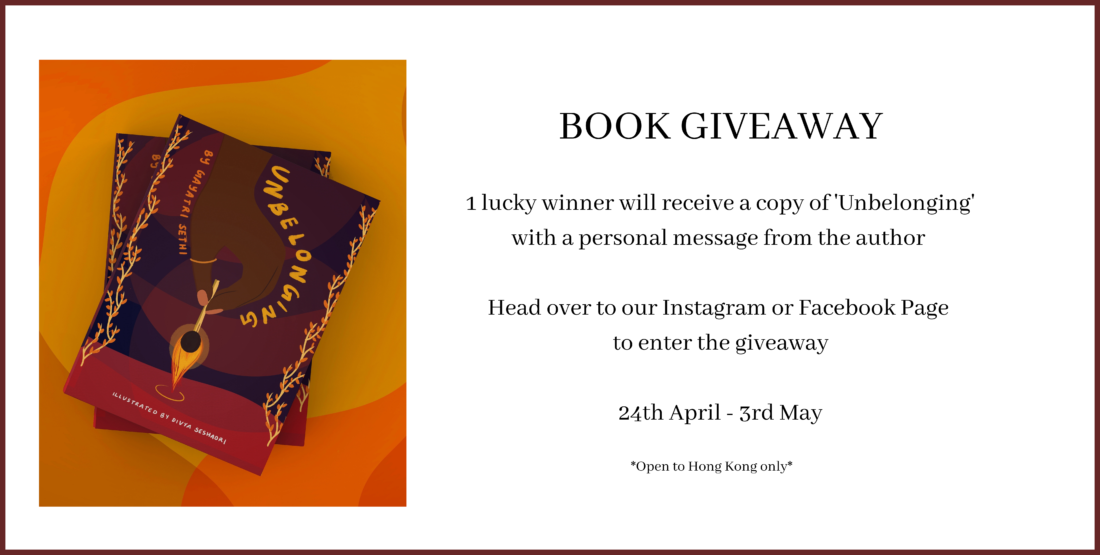 ---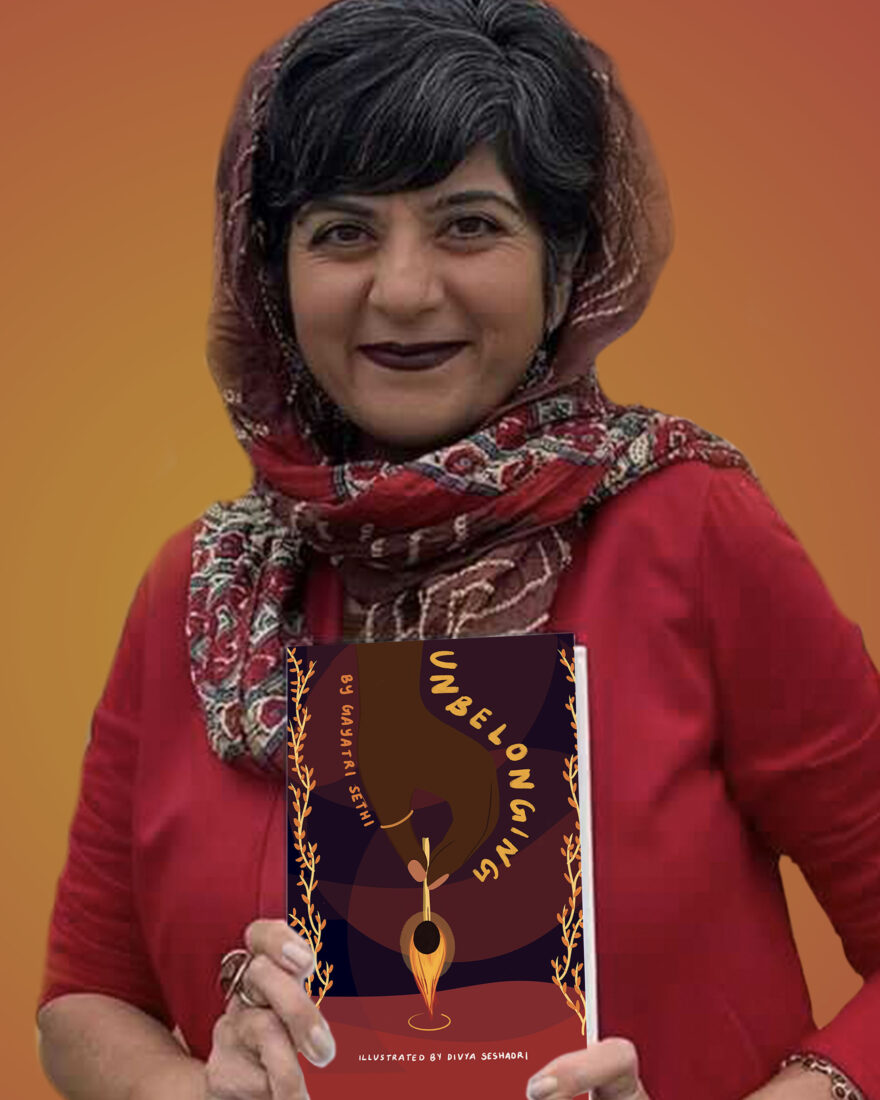 Gayatri Sethi
Gayatri Sethi (PhD) is an educator, writer, and independent consultant. She teaches and writes about Social Justice, Global Studies, and Comparative Education. Born in Tanzania and raised in Botswana, she is of Punjabi descent, multilingual, and polycultural. She reflects on these lifelong experiences of identity, immigration, and belonging in her debut non-fiction book titled Unbelonging. 
She is also the co-founder of the Desi KidLit community, an initiative to build solidarity among South Asian diaspora writers for young people. When she is not reading or recommending reads on Instagram as @desibookaunty, she is envisioning travelling and gathering in community safely again.
---
---