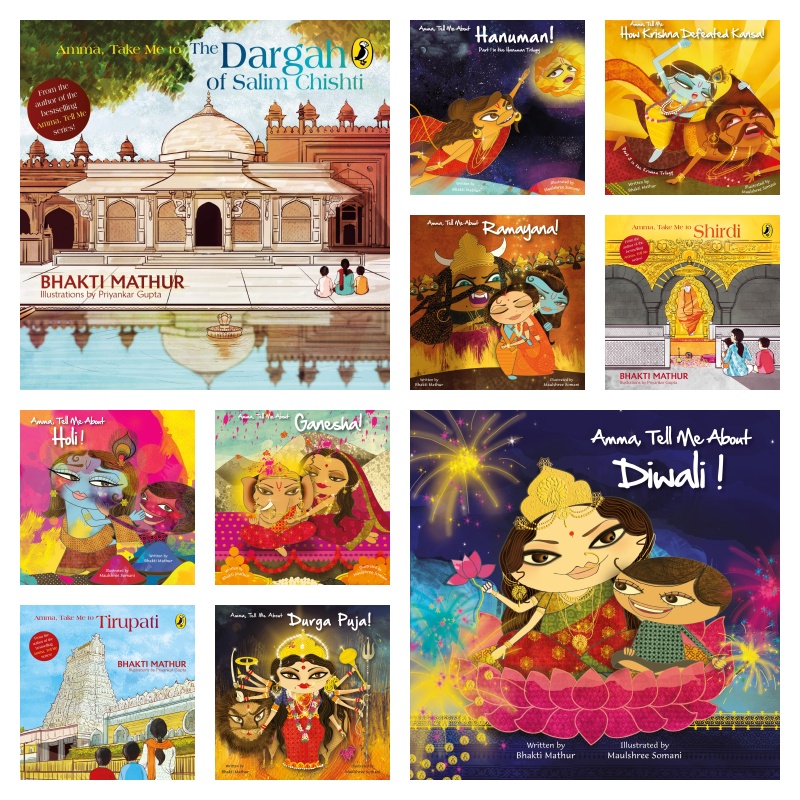 Author Bhakti Mathur's series of books titled "Amma Tell Me" has introduced Indian mythology and culture to a brand new generation of kids using colourful graphics and rhyme. Stories through poetry, history through graphic art, these books are an absolute delight to read. We sat with this best selling author of 16 books to learn a little about her, the stories she's written and the inspiration behind the series.

Q. When did you first come up with the idea of writing mythology books for kids? And what inspired you to write them?
I was born and raised in Delhi, India, in a middle-class family. My biggest childhood influences were my mother, grandmother, and nanny. My mother worked as a librarian and as a result, I landed up spending several hours in the library as a child. I suppose libraries are great and inexpensive babysitters! I remember spending the entire summer holidays in the library devouring books. I think that's where my love affair with books started.
My love for mythology was a gift from my grandmother and nanny. They both used to tell me stories from the two major Indian epics, the Ramayana and Mahabharata every day after I came back from school. Those stories took me to far-off places. I remember, how much I loved listening to the fascinating tales about myriad Hindu Gods, of great kings and heroes and their triumphs over the evilest of adversaries.
The motivation for the 'Amma Tell Me' Series was to tell my two children about the festivals I grew up celebrating and the stories I grew up hearing. The Indian festival of colours' Holi' was around the corner. I was looking for a good book to explain the festival to my older son, who was two years old then. I couldn't find anything that I liked and got an idea to write one myself! I decided to make it a series and called it 'Amma Tell Me'. I set up my own publishing company and called it 'Anjana Publishing' (Anjana being the mother of my favourite God, the monkey God Hanuman). The series has twelve books depicting Holi – the festival of colours; Diwali – the festival of lights; Hanuman the monkey god; and Ganesha the elephant god among others. The books are for children in the three to nine years age group.
Q. Any specific reason why you chose the medium of rhyme for many of these books?
One of my earliest memories is sitting in my mother's lap as she read books by Dr.Suess to me. I loved the rhyme, it was fascinating, the way the words rolled on your tongue. When I decided to write, I thought it would be a lot more fun for the kids to read in rhyme. Little did I know then, that I was making things difficult for myself – writing in rhyme is a lot harder – you have to get the meter and the rhythm right. I still struggle with it, after 12 books I would like to believe that I have gotten better at it.
Q. What values do you think our old mythological tales impart which are essential for children and adults, even today?
I think stories from mythology are a great parenting tool. As a mother of two hyperactive young boys, who otherwise cannot sit still for a minute, I know that the only way I am going to hold their attention at bedtime is with a good story. And stories from Indian mythology never fail me in this regard. How can they? Which modern tale can boast of characters of the stature of mythological ones – the gods incarnate, mighty kings, learned sages and fearsome demons? Or match the substance and the simple suspense of the plots as invariably a challenge, an obstacle or a difficult question is thrown at the protagonist, and we are caught up wondering what the resolution will be? I find them to be perfectly crafted stories. And come to think of it, they have to be, otherwise they could never have survived the ages, passed on from generation to generation for thousands of years.
But the bigger reason I find myself going back to Indian mythology is that the stories serve as a wonderful parenting tool to highlight the values that we all want our children to imbibe. These are the universal values of courage, determination, perseverance, generosity and morality, of right versus wrong. There is a big difference in showing someone the way and telling them the way, and these stories "show" the power of these values in a manner that is easily comprehensible and most of all, non-preachy.
Q. For your new series, you have chosen to write about places of worship. The books titled "Amma take me", teach children about religious places from different religions. From the Golden temple to Shirdi, Tirupati and the Dargah of Salim Chishti, these books explain the significance of the sites through conversations between a mother and her children. Do these places of worship hold a special place in your heart, and were the books inspired by your own travels?
We have travelled to all the places that I have written about. The writing process is threefold. I read and make notes on the place and the monument before we visit. Fortunately, there are several academic and scholarly books written on each of these monuments, so getting information is never a problem.
Next, we visit the place as a family, and I make notes on what my children are asking, what they want to know, and what fascinates them about the place.
The third and most challenging part is the writing process itself. How do you make the story engaging? How do you balance facts with fun? What stories should be told, what left out? Tirupati is special as it saw the faith of thousands of people who waited in line patiently to get a glimpse of their beloved Venkateshwara. The Dargah of Salim Chishti – I have been visiting the place since I was a little girl with my mother and grandmother and have tied countless threads making wishes and then gone back to untie them. The blessings of the Sufi Saint Salim Chisti are all-pervasive here.
Sai Baba of Shirdi is special because he really understood what religion means – kindness and love. And he showed it by never telling anyone all through his life – whether he was a Hindu or a Muslim – because it did not matter.
I am excited about working with Penguin on the 'Amma Take Me' Series. Penguin came up with the idea for the series. The books are designed and written for older children. They are therefore a natural evolution for me not only as a writer but also as a mother who has been dealing with questions about different religions and their places of worship, as they have become part of my children's school curriculum. In the same vein, I believe the series will be a natural evolution for my readers as well – the children and parents who have liked the "Amma Tell Me" series. These children are now older, they 'self-read', are more aware of religion and probably pester their parents with the same questions that I am pestered with!
Q. Switching from a banker to a full-time writer is a bold move. Apart from writing, did anything else push you towards making this big move?
I wanted to spend more time with my children, and I wasn't getting enough time to write. Both these things combined pushed me in the direction of leaving banking. Also, I had worked as a banker for 22 years. I had a full career and was very satisfied with it. There were no 'What If's?" as far as my banking career was concerned. I felt it was time to listen to my inner voice and spend time doing things that I felt added value to me and inspired me creatively.
Q. You are a self-published author. What advice do you have for budding writers on how to get started, and get their books published?
I decided to publish 'Amma Tell Me' series books myself. I had read a lot on self-publishing at the time and felt it was the right route for me. I wanted to have control over the creative process and the finances (I attribute that to the banker in me). When you self-publish, you play two roles – that of a businesswoman and a writer. I found that interesting.
My challenge was learning to run a business. It was one thing to write the book, but it was a completely different ball game to find an illustrator, get the book printed, find distributors and retailers, and do the marketing and the PR. I was thrown into the world of learning how to run a small business. It has been hard work, but at the same time, a great learning experience. The biggest reward of the journey has been the warm reception that the books have received around the world and the response that I have received from parents and kids telling me how much they liked the books and who their favourite characters were. Knowing that I have been able to create a special moment for someone has been very fulfilling.
I think the toughest part about self-publishing is distribution and running a small business. If you are entrepreneurial in nature, then self-publishing is for you. If you want to focus more on writing, then the traditional publishing route is probably better.
Penguin came up with the idea for the 'Amma Take Me' Series. The biggest difference in writing for a publisher is that you get to focus on the writing and the other aspects of printing, marketing and publishing are taken care of by the publisher.
Q. You are an avid reader yourself. Who are some of your favourite authors?
While growing up, many a lazy afternoon were made adventurous by stories from Enid Blyton, the Nancy Drew series, Agatha Christie, Sherlock Holmes, and JRR Tolkien. Some of my favourite authors are Daphne du Maurier, Somerset Maugham, and Jane Austen.
Q. Any plans to venture into fiction in the future? Or books for adults?
My inspiration to write is my children. I think I will follow their age as they grow up. My older son, now 12, is in Middle Grade. The 'Amma Take Me' series is for middle graders. Maybe I will write for young adults by the time he reaches High School!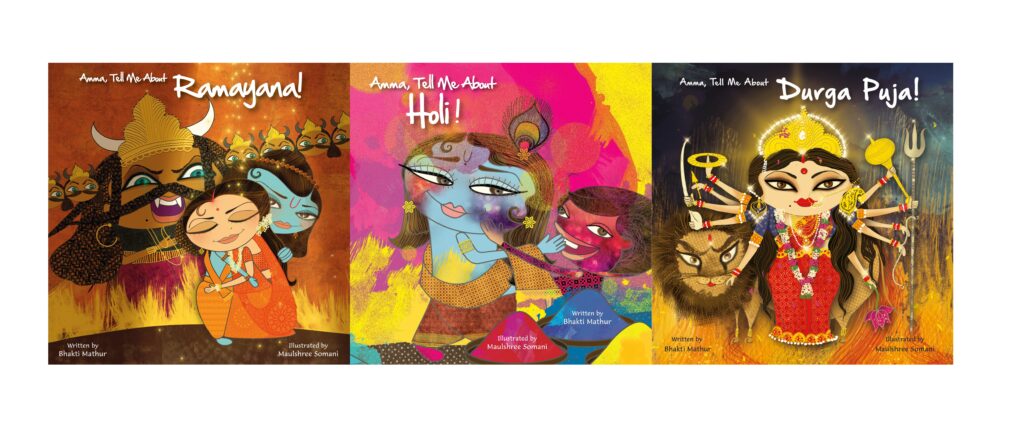 Interviewed by Shikha S. Lamba

---
---
Share
---
Picture Credit : Bhakti Mathur