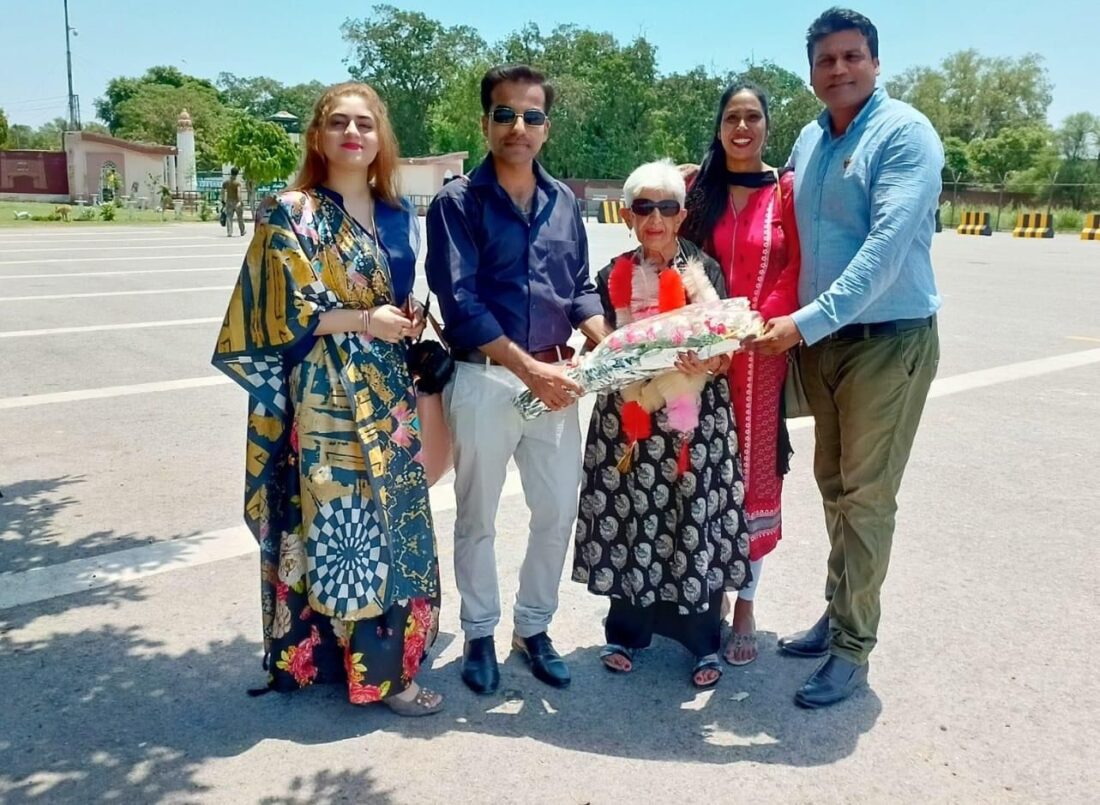 Flashback: 30th January 1932. Reena Varma, the youngest of six siblings – four sisters and two brothers – was born to Dharmpriya and Bhai Prem Chand Chhibber at Prem Nivas, Prem Gali, DAV College Road in Rawalpindi.
Flashforward: 20th July 2022. Reena Varma, 90+ yrs, a gregarious, spirited personality with the maxim "doing what needs to be fulfilled", defies norms, when after 75 years, she returns to the home where she spent the first fifteen years of her life. Nine decades later, the house that now belongs to the Hussain family, has proudly been renamed 'Reena's House'.
Dressed in a saffron salwar kamiz and green phulkari dupatta, Reena Varma was 'home again'. Welcoming her, Sajjad Haider who was instrumental in organising the Rawalpindi section and the symbolic 'last mile' to Reena's ancestral home, introduced her to the Hussains, the third owners of Prem Nivas since the Partition.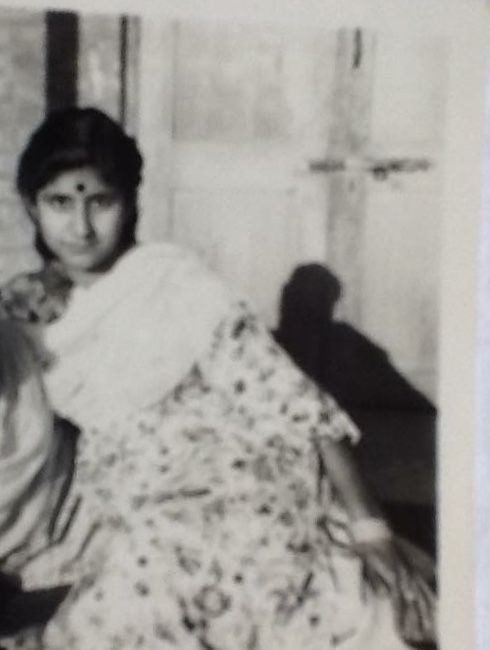 "This was a home where my entire family lived together. As the only survivor of the Chhibber family, I felt blessed that at least one member was able to finally come back home," the lady enthused.
Designed and built by her father, a government employee during the British Raj, numerous facets of the three-storey house and terrace remained unchanged: the Bari and Choti Baithaks (drawing rooms), dining room, and vedda (courtyard), plus eight bedrooms.
Entering the Bari Baithak, Reena recalls, "I could 'see' my parents standing there. The patterned floor tiles indoors were originals. Four almirahs, one for each older sibling, lined a wall. I 'felt' our music corner comprising the radio, gramophone and records collection. 'Hum sab music ke bahut shaukeen the'. Music, dance and travelling continue as preferred interests." 
Climbing the same familiar stairs to the first floor, Reena crossed her bedroom and stepped onto the grilled balcony. "I would spend hours here, singing," and she burst into 'Barsat ki ritu chayi ghata…'.
"During the three hours, neighbours and media kept me busy answering questions. Next night, the hospitable Hussains kind heartedly invited me to stay in 'my' precious bedroom. Sleep was evasive! Initial feeling was of pride that my father had built such a strong house which stood the test of time. I kept 'seeing' my family there. An inexplicable yet comforting feeling. Next morning after a breakfast of kulche channe and fruit, saying 'good bye' to a chapter of my childhood, I was overwhelmed when the Hussains presented me a plaque reading 'Reena's House'," she avers.

Ten days later, back home, Reena delved into her faraway past. "We left Rawalpindi in May 1947 taking a few belongings for our family's annual, summer vacation to Solan. Never realising we wouldn't return home again. Loud whispers about the Divide strengthened…."
Years rolled by. Reena, after graduating from Modern College, Amritsar, completed her B.Ed from Dev Samaj College, Ferozpur. In 1965 she married Inder Prakash Varma, fondly called Biki's, an engineer in HAL. They had two children, a son, Rahul whom they lost at 48, and daughter Sonali Khullar who lives with her family in Gurugram.
Reena's yearning to revisit her bachpan ka Prem Nivas manifested into a passion. "In 2021, Karachi-based Pakistani journalist Beenish Sadiqua saw my post on Facebook. She suggested I make a video about my mission, which went viral."
Early 2022, via Facebook, Zahir Mehmood, India Pakistan Heritage Club (IPHC) member, introduced Reena to Founder Imran Williams. This organisation was reputed for transforming post-Partition Indians' and Pakistanis' aspirations into reality by facilitating visits to their homes, family and friends on either side of the Border.
"Imran gave me such a positive feeling to pursue my desire, and assured me they would look after me in Pakistan," says the overnight celebrity and media darling.
In addition, print, visual and social media helped immensely in fulfilling her wish. Articles titled, 'I am finally going home,' Pune granny to visit Pak after 75 years; TV anchors vying for interviews, and Twitter and Instagram followers commending her fervour, zeal and determination, provided impetus.
"My application for a visa in March 2022 was rejected. By then journalist-film maker Beena Sarwar sent my video to Pakistan's Foreign Minister of State, Hina Rabbani Khar. Acting upon the Minister's instructions, the Foreign Office issued the visa. In May 2022 the Pakistan High Commission, New Delhi, called me to collect my visa!" she exclaims.
Finally, D-Day dawned. On 15th July, Reena, accompanied by her daughter, Sonali, arrived at the Attari-Wagah border between Amritsar and Lahore.
"Standing at a Line which became a Border dividing one country into two, tears of melancholy flowed. I just longed to see my home," she states.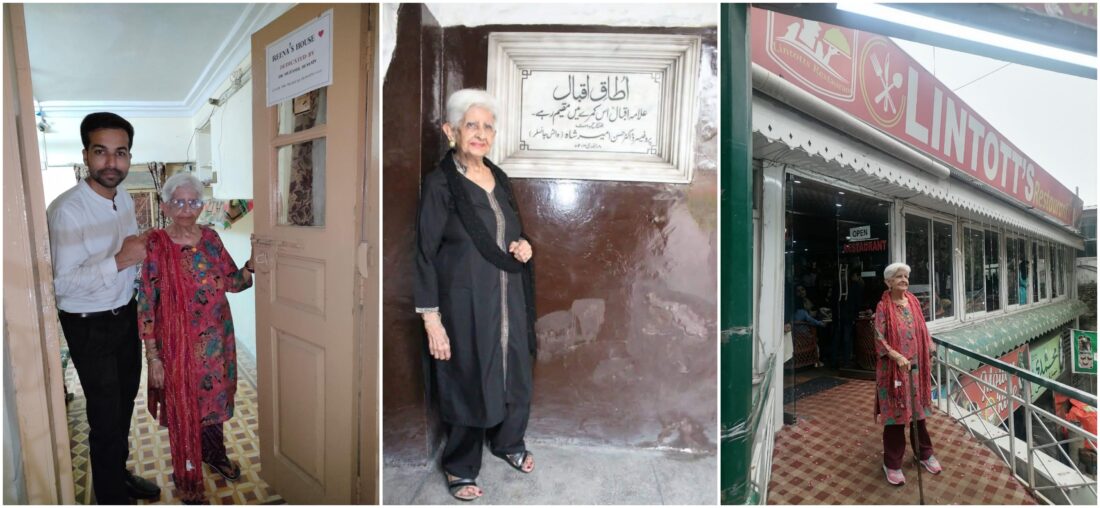 Meanwhile in Pakistan, along with the Welcoming Committee, Imran confirmed, "Our main responsibility is to take Reenaji to her home where she can touch the walls again."
Reena's Pakistani sojourn began with three days in Lahore. Zahir Mehmood had arranged one night at the Government College campus, where student-poet Iqbal's room is now a memorial. Reena revisited Jail Road and Waris Road where the Varmas, her in-laws, lived till Partition; and met a dear friend's relative, Iqbal Sahney.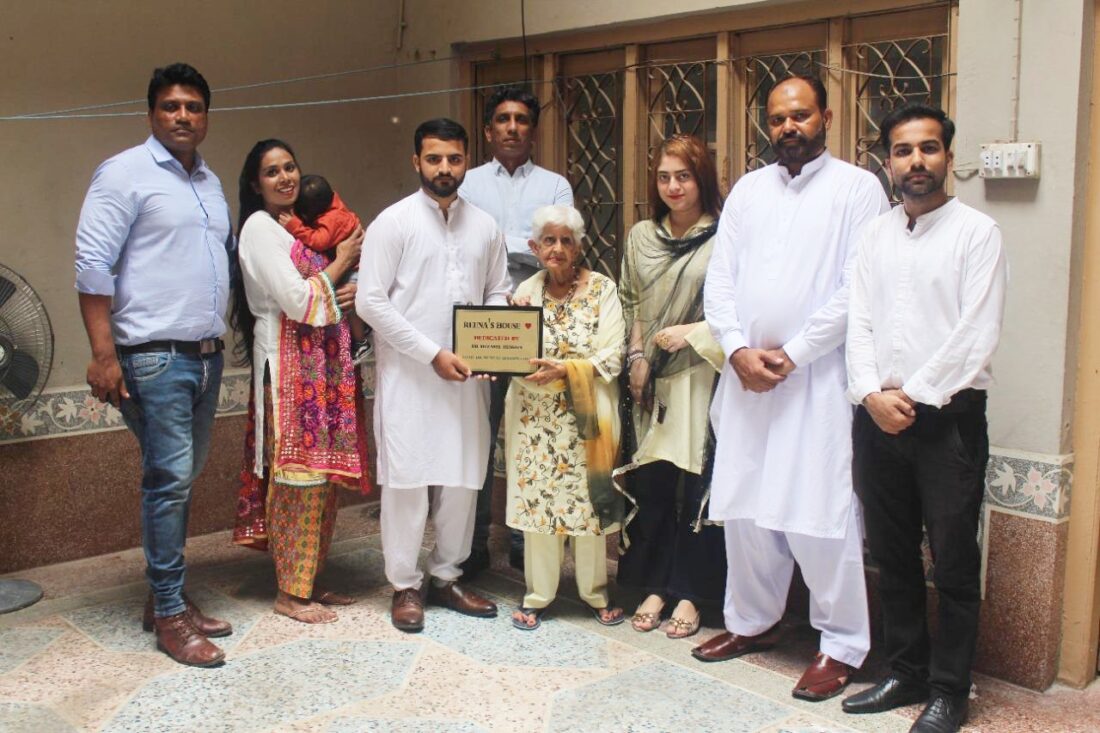 Enroute to Rawalpindi on the 19th, they stopped at the famed Katas Raj Temples complex. Here they had lunch with "our relative, Ravinder Chhibber, the happily settled only Hindu family in Karyala."
Later, in Rawalpindi, Reena Varma was graciously hosted at Hotel Avari Xpress Hotel for four nights plus one night in Lahore. "I cried to see my Modern School here replaced by a new building. Walked towards my Tayaji, Bhai Diwan Chand Chhibber's house, but it was demolished," she adds
Back in Lahore, Noshaba of IPHC and her husband Shehzad Masud hosted Reena with a filled itinerary. Next day, 25th July, "the wonderful Masud couple saw me off, crossing the Border to my homeland, India, again, my manat fulfilled," said the returnee.
"Among my keepsakes is a book of short stories authored by Zahir Mehmood. I feel proud he was recently awarded 'Youth Peace Award' on Pakistan's Independence Day 2022 for his role in my visit."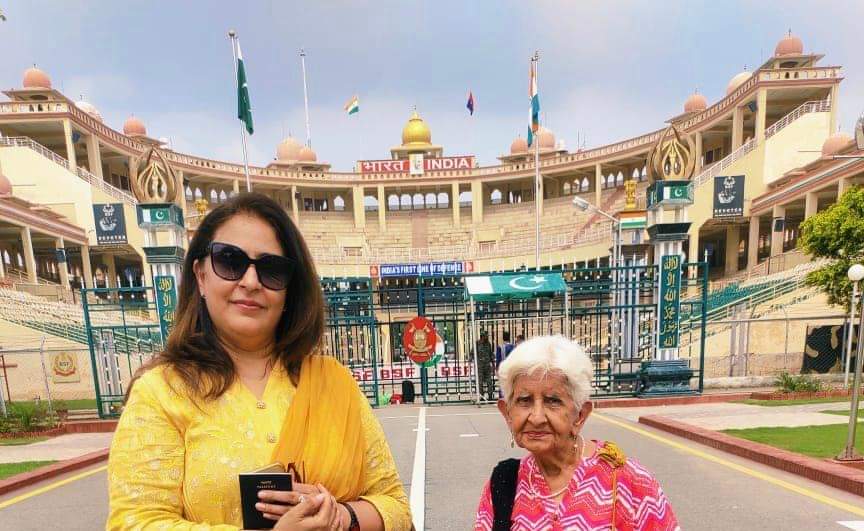 The feisty nonagenarian then sums up in conclusion, "My only request is that crossing between our countries should be easier – for those wanting to meet old friends and visit their homes. How can I forget the caring strangers who hosted me, took me around, not letting me feel alone for a moment? Most overwhelming was the fact that my parental home was still in such good hands. I believe Humanity should be everyone's top religion. Then we will respect all religions – Jai Hind!"

---
---